Banaue Rice Terraces
Key information: Banaue Rice Terraces
Ancient rice terraces, dotted with villages, hewn out of the mountainsides of Luzon's northern Cordillera. A deserved World Heritage Site.

Beautiful and fascinating walking along the rims of these terraces, some of which cling for hundreds of feet to the steep hillsides, and through the mountain forests that link the terraced areas.

This is a serious expedition - 7 to 10 hours getting there from Manila - so allow 4 days minimum.
Walkopedia rating
Walkopedia rating87
Beauty

30

Natural interest

13

Human interest

15

Charisma

32

Negative points

3

Total rating

87

Note: Negs: Haphazard sprinkling of ugly modernity.
Vital Statistics
Length:

Variable

Maximum Altitude:

About 1,200m

Level of Difficulty:

Variable
Top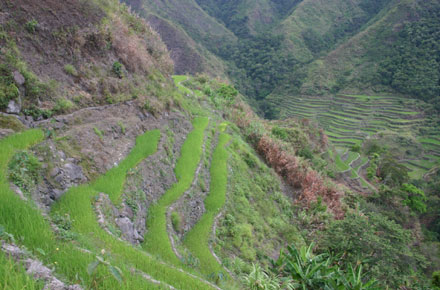 WALK SUMMARY
Banuanes rice terraces are beautiful and fascinating: ancient paddies and retaining walls dug from the steep mountainsides of the Cordillera (central mountains) of northern Luzon.
This is a marvellous area, and deservedly a World Heritage Site. These terraces are spread across a number of valleys, where plentiful water and fertile soil have combined to create good rice-growing conditions. The local Ifugao people were fierce warriors (and head hunters), who resisted the Spanish for centuries, so the culture and customs of this remote area has survived remarkably intact. It is probably losing its slow battle against that soft invader, the tourist.
It is not known how the rice or the terracing got here. There are theories about refugee Miao minorities form China. But what is clear is that the terraces are very ancient- said to date back 2,000 years, although rice cultivation probably goes back earlier. When you consider the tools available- or lack of them- the terraces are remarkable feats of engineering and ingenuity. The courses the water is taken on, and the clever bamboo piping and other devices used, will delight you.
It takes a while to get used to tottering along the rims of the terraces, frequently along narrow concrete paths, but sometimes hopping from rock to rock, always with the deep mud of the paddies on one side and a drop up to 20ft.- on the other.
The view, below the ridge to the north, does not disappoint. A huge bowl in the hillside has been carved into terracing that descends at least a thousand feet, I would guess, to the river in its gorge far below. What is startling is the uniformity of it all.
The walking options are endless, your only constraint will be time.
The consensus is that the terraces of Batad are the finest of all, and they certainly are magnificent. Draped around their huge, steep bowl and seemingly descending a thousand feet or more, they feel like they have been drawn by a single coherent hand rather than evolving over the centuries. Walk back out along the contours down the valley, through alternating forest and terraces. If you can, make time to do a 2-day walk via Batad, Cambulo and Pula. The latter two are further from the roadheads, so less visited. Stay in Cambulo. (The Batad roadhead is a tough, jolting 1hr 20 mins from Banaue.)
The terraces at Hapao are also fabulous, and different in character from Batad, a complex patchwork stretching across a fine valley and up its tributaries. (Getting on for 2 boneshaking hours by road from Banaue.)
There are many other magnificent terraces you can visit: Hungduan, Bangaan, and separate terrace systems further away.
This is tedious to get to (7-10 hrs from Manila), and needs a minium of 4 days including travel.
While it has some grubby charm, Banaue demonstrates some depressing features of tourism- and of prosperity of sorts: charmless half-finished concrete buildings and shacks line the roads for some way out of town. Dont expect too much of it.
WILLIAM MACKESY'S ACCOUNT
of this walk
Day 1 Hapao
Well, it's been tough getting here, so this had better be good.
An early flight from Hong Kong, some complicated shenanigans at Manila airport before we found Ric, our delightful driver- and careful too, a quality that is apparently in short supply around here. 8 hours later, we slid through thick cloud into the rather unprepossessing town square of Banaue. It was actually an interesting drive, a couple of hours of endless charmless Manila, then another couple crossing the lush rice basket of northern Luzon. Then long windy mountain roads, busy little towns, now.....
READ MORE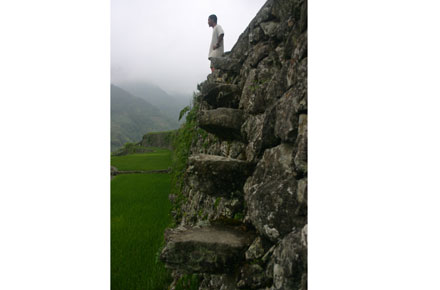 See also expedition planning, including our universal expedition checklist. Walkopedia encourages responsible travel.
Books and Maps
Books on this walk/area
Philippines Insight Guide – Insight Guides
Banaue Rice Terraces (rest of title too long to repeat) – F. Miller, A. Vandome and J. McBrewster (eds).
Other books
Maps
There don't appear to be any detailed maps of the area.
Best times to walk/weather
Best times to walk
February to mid-June, but this depends a bit on how you like to see your terraces: for green- February to June, golden- July/August; harvested or sky-reflecting pools- September to January. Fiesta time is April.
Weather
Rainy season is July/August, but rain and cloud are common until January. Roads can become difficult, you can encounter persistent rain and mist. But it can be gorgeous, with afternoon showers.
This is a mountainous area, so you can get rain and mist at any time.
For detailed weather information, have a look at: www.worldweather.org or www.bbc.co.uk/weather/world/country-guides
Getting there/transport/permits/fees
Getting there can be painful.
Overnight bus form Manila (around 7 hrs) is the main way. Check for current information on when/where they leave from. Florida are said to be most comfortable (leg room).
You can hire a car and driver. An expensive option (and will be slower (8-9 hrs) if you travel by day) but has its attractions. Various companies do this: we used Diamond Fleet Management, who provided an excellent driver. Cost: Ps 26,000 for four days.
See below for warnings about taxis.
You will need further transport to the terrace areas. You can join a bus (see guidebooks for information) or hire a jeepney (Ps 2,000 a day in 2010).
Route(s)
See Walk Summary above.
Possible problems, health, other warnings
Mountain weather:

rain and cold are possible at any time of year. Come prepared.

Heat

humidity and strong sun. Carry enough water and protect yourself.

Heights:

can be dangerous; not for those who have difficulties with heights.

Harmful animals

of all shapes and sizes

, including snakes, stinging/biting insects and plants. Take all appropriate precautions.

This is remote country:

help may be hard to get if things go wrong.

Health risks:

this is a relatively undeveloped country, and you will not get prompt medical help of a standard available elsewhere if you become ill. Come prepared, including getting all appropriate inoculations/medications.

Kidnapping or robbery

is possible in Manila. Be very cautious about hiring taxis at the airport - only do so officially within the airport.
See also the websites in our useful links page for more detailed, and up-to-date, information.
Safety and problems: All walks have inherent risks and potential problems, and many of the walks featured on this website involve significant risks, dangers and problems. Problems of any sort can arise on any walk. This website does not purport to identify any (or all) actual or potential risks, dangers and problems that may relate to any particular walk. Any person who is considering undertaking this walk should do careful research and make their own assessment of the risks, dangers and possible problems involved. They should also go to "Important information" for further important information.
Make sure you have appropriate insurance.
Guided or independent?
Once you have got to the terrace areas, you can more or less wander at will. But to get the best out of the area, have a guide. You will be putting money into the economy and won't regret it if you get someone knowledgeable. We used Elvis Dumauol (guitrek_v@hotmail.com), who was delightful and impressive: very knowledgeable and with strong entrepreneurial interests. You will meet guides pretty quickly. Elvis (what's in a name?) is in demand but would find you a competent guide if he was too busy himself.
Have a look at www.philippinetrails.com for some organised expeditions to Banaue, if this to your taste.
Accommodation
Various places are recommended in the guidebooks. We stayed at the Sanafe Lodge, which has spotless rooms and a great terrace with fine views (more interesting than gorgeous, though).
Other information and tips
Useful websites and information
There are many websites with relevant information. Here are some that we think are useful or have been recommended to us.
Other things to do in the area
Other walks
Other activities
Take in the live Easter crucifixions at Pampanga (near Angeles), en route.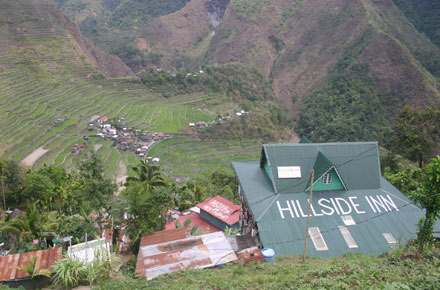 OTHER ACCOUNTS
share your experiences
Top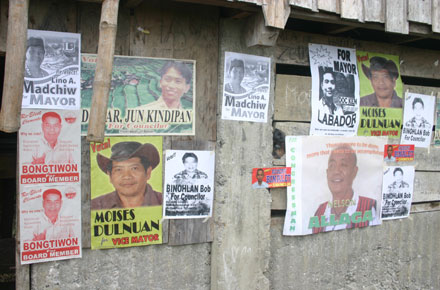 Top
Responsible travel matters, a lot. How you travel will make a real difference - for better or worse. PLEASE consider this when making plans. Read more