Waterloo Battlefield
Key information: Waterloo Battlefield
Wander the evocative battlefields of Waterloo, climbing the majestic (if often crowded) Lion's Mound monument and surveying the dilapidated chateau at the farm of Hougoumont.
Amidst the suburban sprawl of Brussels, explore a swathe of countryside bitterly fought over nearly two hundred years ago by thousands of soldiers; from Napoleon's chosen line at La Belle Alliance, to Wellington's defensive position behind the ridge of Mont St Jean.
Detour away from the main battleground to investigate the sites of its preludes at Ligny and Quatre-Bras.
ANYONE GOT ANY GOOD PHOTOS? WE WOULD BE DELIGHTED TO POST THEM!
Walkopedia rating
Walkopedia rating76
Beauty

22

Natural interest

8

Human interest

18

Charisma

28

Negative points

0

Total rating

76

Note: Negs: main monuments can be busy
Vital Statistics
Length:

Variable

Maximum Altitude:

N/A

Level of Difficulty:

Variable
Top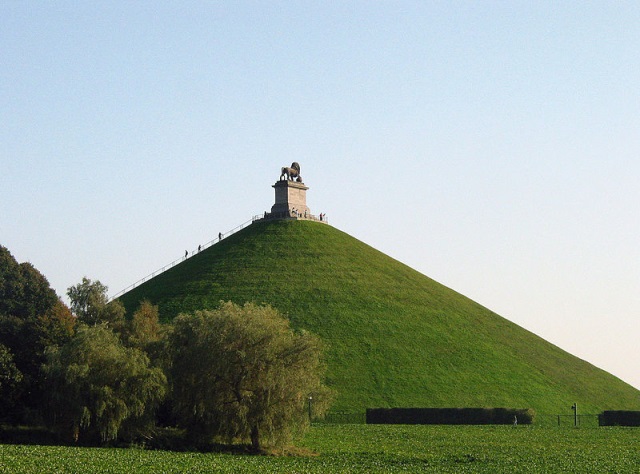 WALK SUMMARY
On the outskirts of modern-day Brussels, de facto capital of the EU, lie the famous fields of a nineteenth-century battle which was to shape the course of European history. Waterloo has captured the imagination of the public like few others: an iconic clash between two of the greatest figures of Europe's political and military past. For the Duke of Wellington, the battle was the culmination of years of tough but successful campaigning, much of it in the Iberian Peninsula; for the nation-conquering, legislature-reforming, road-building Emperor Napoleon, it was a final throw of the dice.
In spite of the encroachment of the suburbs, the green fields and farmhouses so bitterly fought over remain largely intact. The most significant additions here are often the memorials themselves: the Lion's Mound, an impressive artificial hill erected by King William I of the Netherlands a decade after the victory, dominates the skyline of an overwhelmingly level landscape.
The background to Waterloo is familiar to most. Rising to military prominence in the French Revolutionary wars of the 1790s, Napoleon established himself as First Consul in a coup d''état and was proclaimed Emperor of France five years later, in 1804. Having conquered and reformed vast swathes of Europe, he finally overstretched himself with the invasion of Russia in 1812. A series of costly battles on both sides led to his defeat at the hands of the Sixth Coalition, and his exile to the (beautiful) Italian island of Elba.
Less than a year later, hearing rumours of popular dissatisfaction in France and tensions between the coalition nations, he escaped. As he had predicted, his return triggered a popular uprising and he quickly gathered a large army. Hoping to benefit from the element of surprise, he sped up through France towards Brussels (then just over the border in the United Kingdom of the Netherlands), where Wellington and Blucher's allied forces were gathered.
In the early hours of the 16th June, 1815, at the Duchess of Richmond's now iconic ball, Wellington was given the message that Napoleon was crossing the border. Though well-prepared, he was shocked by Napoleon's speed and was unable to go the aid of Blucher at Ligny, who suffered a rapid defeat. French confidence grew, and they moved on assured that the Prussians were now out of action for the foreseeable future.
Following an inconclusive skirmish at the strategically important crossroads of Quatre Bras, Wellington positioned his troops on the reverse of the carefully-scouted ridge of Mont St Jean, and heavily fortified the three farmhouses in front and to its right, left and centre (Hougoumont, Papelotte and La Haye Saint respectively) - these were to play a crucial role in the 12 hour long battle to come.
Both Ligny and Quatre Bras are important addenda to walking Waterloo, and really warrant at least a day each. Although the points of interest are often not as clearly marked, the distinctive crossroads provide a good reference point for Quatre Bras. The small settlement of Ligny includes a church which saw considerable action in 1815, and a compact museum.
Unbeknownst to Napoleon, who had dismissed them as irreparably damaged at Ligny, Bl?cher?s Prussian forces were marching strongly just hours away from the site. It was, then, with an unwarranted confidence that he launched his attack from La Belle Alliance, midway through the morning of the 18th June.
The main French and Allied lines can be walked easily on an initial excursion, although earth which previously formed the ridge of Mont St Jean was in the 1820s used to construct the Lion's Mound. Most battlefield walkers are then keen to explore the strongholds at Hougoumont, Papelotte and Le Haye Saint.
The importance of these sites during Waterloo, Hougoumont in particular, appears interestingly to have been as much symbolic as it was real; both sides threw disproportionate resources into the battle for its control. Probably intended initially as a diversionary attack to draw some of the allied forces away from the main battlefield, the fight for Hougoumont escalated and ultimately backfired on Napoleon - by the end of the afternoon he had sent in 14,000 troops with no tangible result.
A beautiful old chateau built in the 14th or 15th century by the Knights of Malta, Hougoumont is now a charming and atmospheric site. Of the wood in which the attacking French took cover, three battle-scarred Chestnut trees remain. The farm itself, though dilapidated (there is an ongoing project working towards its restoration), has changed little from the sketches taken by a military artist in the days following the battle. Further, farmed right up until the end of the 20th century, it remains a nostalgic monument to the traditional Belgian countryside.
Le Haye Sainte, a still-privately owned farmhouse on the Brussels road between the two strategic sites of La Belle Alliance and Mont St Jean saw fighting as bitter as that at Hougoumont. Repeatedly commanded to capture the stronghold by Napoleon, Marshall Ney finally did so early in the evening, providing a base for a French assault over the ridge. However, their gunners were picked off by English riflemen, and by the time they were ready to launch an attack, the Prussians had arrived and the battle was all but over.
There are memorials dotted around the battlefield, marking key locations and moments in the battle, and making it relatively easy to conjure up a feel of how the day unfolded. In this sense, Waterloo is a much easier site to visit than other European battlegrounds. The most popular sites are likely to be busy, however, especially in high season. This is perhaps particularly true of the Lion's Mound and it may be worth arriving early to avoid the crowds.
The lack of British memorials is a sore point for many British visitors, who have almost inevitably grown up on an Anglo-centric history of Napoleon's downfall at the hands of Wellington's genius. As a result, they are often both shocked and disappointed to find that the rest of Europe have staked their own claims on glory at Waterloo more successfully.
For those interested in the preservation of historical sites, there is an ongoing campaign to preserve Chateau d'Hougoumont, tactically crucial in the battle of Waterloo and now an evocative fragment of the Belgian countryside. Any donations from the UK will be matched by the Belgians. Have a look at the website of Project Hougoumont for more information.
There are several expedition organisers running battlefield walking tours: have a look at The Cultural Experience, or Leger Holidays.
Have a look at TripAdvisor - there are tens of millions of reviews, so you may get good, current views on this walk.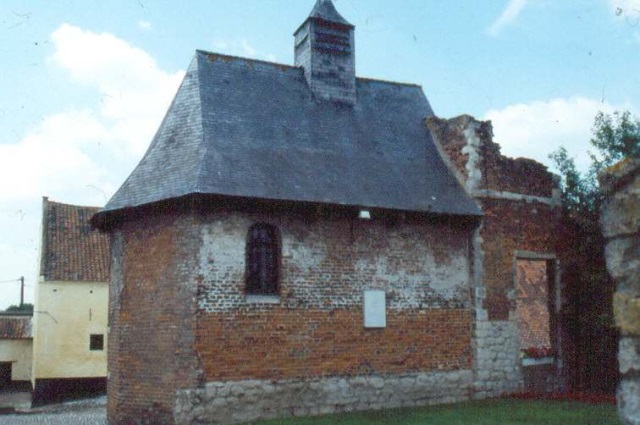 See also expedition planning, including our universal expedition checklist. Walkopedia encourages responsible travel.
Books and Maps
Books on this walk
Waterloo Battlefield Guide – David Buttery/Battlefield Guides: includes some very good maps.
Other books
Belgium and Luxembourg – Lonely Planet
Waterloo: The French Perspective – Andrew Field
The Battle: A New History of the Battle of Waterloo – Alessandro Barbero & John Cullen
Waterloo, A Near Run Thing – David Howarth/Great Battles
Fatal Avenue: A Traveller's History of the Battlefields of Northern France and Flanders, 1346-1945 – Richard Holmes/Vintage Books (2008)
Belgium and Holland: Handbook for Travellers – Baedekers' Guides (1897): worth searching out for a late nineteenth century perspective on the battlefields (available for pennies on Kindle)
An Infamous Army – Georgette Heyer – historical fiction written by a woman, and with even a whiff of romance, is frequently dismissed as light tosh. Heyer smashes the critics with this carefully researched and nicely written account of the battle of Waterloo: thanks to her vivid, accurate description, chapters of this book became recommended reading at some British military colleges.
Sharpe's Waterloo – Bernard Cornwell – few can resist the appeal of the straight-talking soldier, Richard Sharpe. Here he holds off the French at La Haye Sainte farmhouse, before finally getting a much-longed for glimpse of Napoleon.
Maps
The 'Waterloo Battlefield Guide' (above) has good accompanying maps.
Military history-buffs might want a look at the battle maps available on britishbattles.com.
For standard maps of the area see what's available on Stanfords, a good online specialist source of worldwide maps (it is also good for guidebooks). Also try Maps Worldwide and www.trektools.com.
Best times to walk/weather
Best times to walk
It will be warmer, and opening times for attractions such as Lion's Mound are longer, between April and October.
Weather
Belgium is mild all year round, although there is always a reasonable chance of rain, so bring a waterproof.
For detailed weather information, have a look at: Weather2Travel or www.bbc.co.uk/weather/world/country-guides.
Getting there/transport/permits/fees
For those flying in, Skyscanner is an excellent (relatively new) site for finding the flights you need; otherwise try Lastminute.com, or look at what's available on Tripadvisor. Brussels will be the closest airport.
The Eurostar is an good option for those travelling from London or Paris, and the train network in Europe is eminently usable in general – for advice Seat 61 is invaluable.
Brussels is a great base. Private transport will be useful for those walking independently, but there is also a good bus network running between Brussels and many of the main sights of the battlefield: information can be found on the Tec website.
Many British-organized expeditions leave on coaches or Eurostar from Britain.
No permits are needed to do this walk.
Route(s)
Walking here is composed more of wanderings than of a set route, so you can make your own way around the most important battlefield sites. Organised expeditions will, of course, guide your footsteps.
Possible problems, health, other warnings
See also the websites in our useful links page for more detailed, and up-to-date, information.
Safety and problems: All walks have inherent risks and problems can arise on any walk. Many of the walks featured on this website involve significant risks and possible problems. This website cannot, and does not purport to, identify all actual or potential risks, dangers and problems that may relate to a walk or a country. Any person who is considering undertaking this walk should do careful research and make their own assessment of the risks, dangers and possible problems involved. They should also go to "Important information" for further important information.
Make sure you have appropriate insurance.
Guided or independent?
Independent
You can easily do this walk independently, and this gives you maximum flexibility. There are some great guidebooks (see above), and one or more of these can prove invaluable if you're interested in the details of the battle.
Guided/supported
Some people form or join organised expeditions, and this can be a good way to learn about the battle from the experts. Check how much walking you will be doing – many walk because it is a natural way to see the main battlefields, rather than making it a specific focus of the trip, and this could leave only one day of walking.
Expedition organisers include:
Check Tripadvisor for some reviews of this walk and walk organisers which may prove helpful.
PLEASE HELP Walkopedia by recommending any reputable tour organizers that you know of – local or otherwise.
Accommodation
The closest hotel to the battleground is named, predictably enough, "Le 1815". It looks over the battlefield, and the Lion's Mount, but is on the pricey side. If you're looking for something cheaper you may need to head further away: the B&B's of Aux Anges and Granges des Marnieres are both fairly reasonably priced (in 2013).
A good range of hotels in and around the area can be found on the unimaginatively but effectively named Hotels.com, or perhaps try for some bargain luxury on Lastminute.com. There are a variety of youth hostels in Brussels (check out Hostelbookers), but campsites don't appear to be an option.
See what the commentary on Tripadvisor is on possible places to stay – although do take their reviews with a pinch of salt, as they can be "interested".
Other information and tips
- Current rates (2013) are €7 for entry to the Lion Mound, with concessions for children, students, teachers and the unemployed. The Mound is is open every day of the year: between April and September opening times are 9.30am-6.30pm, with last entry at 6pm; from October through to March, they are 10am-5pm, with last entry at 4.30pm.
- Throughout July and August there is an array of reenactment events, primarily at the weekends. Expect 2015, the 200th anniversary, to involve abundant activities and occasions – preparations have been gearing up for some time (see the British Waterloo200 site).
- There is no one official language in Belgium, and the area of Brussels and its environs is bilingual (Dutch and French). Many Belgians will speak English as a second or third language.
Useful websites and information
There are many websites with relevant information. Here are some that we think are useful or have been recommended to us.
· Walking Waterloo is a blog describing a walking tour of the battlefields.
· Another great blog, Walking Napoleonic Battlefields.
· Wikipedia is, as usual, a great starting place, with information on both the modern area and the battle.
· Try www.flickr.com for pictures of this walk.
· Have a look at Tripadvisor – there are tens of millions of reviews, so you may get good, current views on this walk.
Other things to do in the area
Other walks
Brussels is a lovely city to explore, and the City of Brussels website has some great, downloadable walking routes with various historical and architectural themes.
Other activities
Safety and problems: All walks have inherent risks and potential problems, and many of the walks featured on this website involve significant risks, dangers and problems. Problems of any sort can arise on any walk. This website does not purport to identify any (or all) actual or potential risks, dangers and problems that may relate to any particular walk.

Any person who is considering undertaking this walk should do careful research and make their own assessment of the risks, dangers and possible problems involved. They should also go to "Important information" for further important information.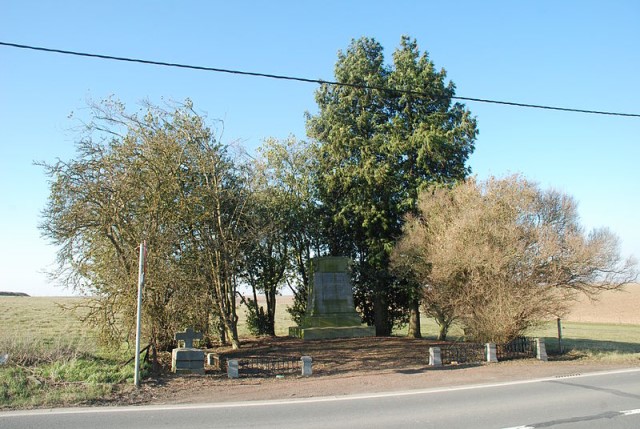 OTHER ACCOUNTS
share your experiences
Top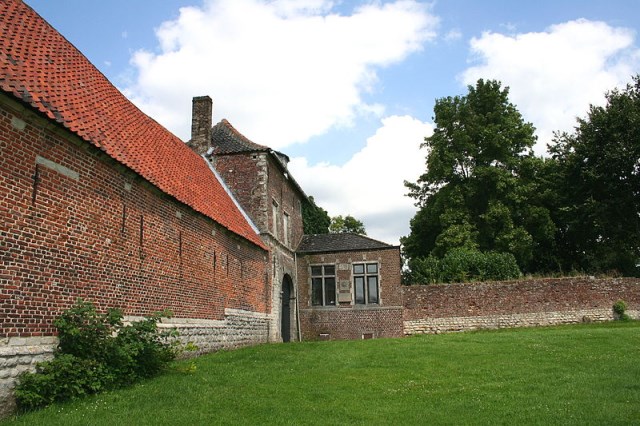 Top
Responsible travel matters, a lot. How you travel will make a real difference - for better or worse. PLEASE consider this when making plans. Read more