Montagne Sainte Victoire (Cezanne's Mountain)
Key information: Montagne Sainte Victoire (Cezanne's Mountain)
Provencal mountain made famous as a repeated motif in the paintings of Paul Cézanne.
A toughish slog to gain spectacular views from the top over the lavender fields of Provence and northwards to the Alps.
There are 250km of footpaths, from half-day to two-day walks, across and about this 18km by 5km protected massif.
Walkopedia rating
Walkopedia rating82
Beauty

30

Natural interest

14

Human interest

10

Charisma

30

Negative points

2

Total rating

82

Note: Negs: popularity; deforestation
Vital Statistics
Length:

Variable

Maximum Altitude:

1011m

Level of Difficulty:

Variable
Top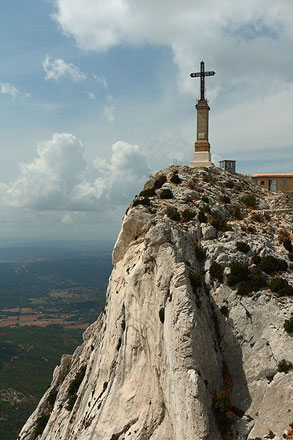 WALK SUMMARY
The Montagne Ste Victoire is a breathtakingly charismatic limestone massif, 1000m high, that rears suddenly from the vineyards and lavender fields of rural Provence, South-eastern France. Although alpine in nature, and affording great views of them, it is cut off from the Alps by the Rhone river.
The mountain is best known as a repeated motif in the work of the great post-impressionist painter, Paul Cézanne, who painted it more than fifty times, but has provided inspiration for the likes of Kandinsky and Picasso (who lived nearby between 1959 and 1962). Topped by a simple cross above a chapel, the mountain affords spectacular views across the rolling farmland of Provence, and north to the peaks of the southern Alps.
There are many routes across the massif, from a four-hour round trip to a segment of the Grande Randonnee (GR) 9 long-distance route which runs the full 17km of its length, but all involve a sharp 1 -2 hour uphill puff.
The general guide-books listed in our books section would be a good starting-point for seeking out some of Cezannes viewpoints. We would welcome any ideas about finding these.
As a result of a careless campfire in 1989, some 50 sq km of hillside was deforested, and is still only slowly recovering. Since then, access is heavily restricted, if not banned altogether, in July-September.
Also worth noting: the shooting season runs from 13 September-13 Jan. Hiking can still be done, but stick to the main paths at all times, and wear bright clothes.
This area is popular, with over 700,000 visitors a year, so can be busy at high times.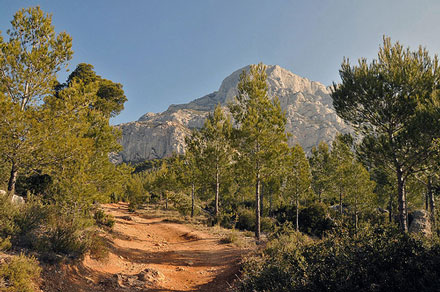 See also expedition planning, including our universal expedition checklist. Walkopedia encourages responsible travel.
See also expedition planning, including our universal expedition checklist.
Walkopedia encourages responsible travel.
Books and Maps
Books on this walk
Adventure Guide to Provence – Ferne Afin/ Hunter Publishing has a nice detailed route descriptions, though only a single route on Ste Victoire
Other books
– Neville Walker / Rough Guides
Cadogan Guide Provence – Dana Facaros, Michael Pauls / Cadogan]
Tourist Guide Provence– Michelin/Michelin
Fodor's Provence and the French Riviera – Fodor Travel Publications
A Year in Provence – Peter Mayle / Penguin – Mayle's witty, lyrical memoir of a year's expat living
Maps
Topo-guide, Le Montagne de Ste Victoire a pied – detailed French topographic survey map; in French, obviously. A larger map of the Bouche du Rhone also includes the MSV: http://www.stanfords.co.uk/stock/les-bouche-du-rhone-a-pied-170969/
The Association Excursionnistes Provencaux does a good Ste Victoire map. It can be bought at the site at Grand Tholonet (also a good kicking-off point for a number of routes) and at the Aix-en-Provence tourist office.
For a general, zoomable, picture of the area: try ViaMichelin
Stanfords: www.stanfords.co.uk. An excellent (and user-friendly) online specialist source of worldwide maps (it is also good for guidebooks).
Best times to walk/weather
Best times to walk
At times of greatest fire risk, Jul-Sept, access to the Montagne is severely restricted and sometimes banned altogether. It's frankly too darned hot to walk then, anyway. Also be aware of the hunting season, Sept-Jan, and take appropriate precautions: observe advice on noticeboards and at trailheads, stick studiously to the paths and wear colours that don't occur too readily in nature. A map of the general hunting schedule by area can be downloaded here: http://www.grandsitesaintevictoire.com/var/plain/storage/original/application/451c55b7376ab02258b21bed9ec2aa9f.pdf
Weather
Generally fine in season, but come prepared for rain and relative cold in winter.
For detailed weather information, have a look at: www.worldweather.org or www.bbc.co.uk/weather/world/country-guides
Getting there/transport/permits/fees
By car from Aix-en-Provence or anywhere on the Cote d'Azur (there are car parks at all trailheads) or by the reasonably plenteous local buses – details from the Aix tourist office or the gare routiere. Nearest airports: Avignon, Marseille, St-Tropez.
Route(s)
A good taster route: 4-5 hours, strenuous: Start at the La Sinne-Puits d'Auzon parking on the D10 road.Follow the yellow arrows to Col Des Portes, and then take the summit route marked with red arrows. 30-40 uphill minutes will take you through forest and juniper, passing the Observatory at La Sinne high up to your left, to a high grazing plateau. A few hundred metres after a cable across the path blocks car access, take the left-hand fork (south) for La Citadelle. The path climbs from cairn to cairn, passing a tumulus and a series of iron age burial sites, and quickly rejoins the yellow-arrow-marked path, where magnificent views of the Alps will open up ahead. You will come across the remains of a significant fortification where a painted stone marker in the ground shows directions to Col des Portes, La Citadelle and la Sinne. Take the Col des Portes path, crossing scrubland filled with juniper and herbs, some of which are unique to the area. Keep heading south, pass through a little pine wood and, where the path turns steeply downhill to the right, keep going straight, following a wall for a more gentle descent to the Col (roughly three hours altogether). To extend the route, follow the red arrows (Pic des Mouches/St Victoire) opposite where your path comes in – some steep bits here – through lovely scented vegetation for more fabulous Alpine views, and then follow the false summit, with its view of Sainte Victoire cross, until it joins the GR9, which will lead you on up to the summit, the Pic des Mouches and stunning, almost 360-degree, views (an hour or so). Return following the same path, then follow the yellow arrows back down to the car park.
A general map of all routes can be found here: Click an individual route for more detail.
Possible problems, health, other warnings
· Hunters: People hunt – with guns – here between September and January. Take care and follow local instructions on the day.
· Heat and strong sun. Though walking is generally banned during the height of Summer, it can still get pretty baking in June and September/October. Carry enough water and protect yourself.
· Heights: occasionally cliffy; not for those who have difficulties with heights – check detailed maps if unsure.
· Dangerous animals; the main quarry of the people with the guns is wild boar. Though generally they're quite timid and will avoid you, they can be aggressive. Snakes.
· Health risks: Sunburn, and some insect bites.
See also the websites in our useful links page for more detailed, and up-to-date, information.
Safety and problems: All walks have inherent risks and potential problems, and many of the walks featured on this website involve significant risks, dangers and problems. Problems of any sort can arise on any walk. This website does not purport to identify any (or all) actual or potential risks, dangers and problems that may relate to any particular walk. Any person who is considering undertaking this walk should do careful research and make their own assessment of the risks, dangers and possible problems involved. They should also go to "Important information" for further important information.
Make sure you have appropriate insurance.
Guided or independent?
Independent
You can do this walk independently
Guided/supported
While this walk can be done independently, tour organisers (crossing the hills of Provence) include:
• Wilderness Travel – http://www.wildernesstravel.com/trip/france/provence-hiking
• Sherpa Expeditions – http://www.sherpa-walking-holidays.co.uk/tours/inntoinn/jprrc.asp
• Great Walks of the World – www.greatwalks.net
• Alternative Travel Group (tailormade trips) http://www.atg-oxford.co.uk/trips1.php?tripcode=jlu
• Inntravel – http://www.inntravel.co.uk/Holidays/Walking/France/Provence/Scented-Hills-of-Provence.aspx
• Exodus – www.exodus.co.uk
Accommodation
The guidebooks have a selection of possible accommodation.
There are a lot of accommodation websites. Search "Provence accommodation". Or try:
Other information and tips
Don't light fires, and don't smoke. Vegetation here is seriously flammable.
Useful websites and information
There are many websites with relevant information. Here are some that we think are useful or have been recommended to us.
• http://en.wikipedia.org/wiki/Montagne_Sainte-VictoireAs usual, a good starting place.
• Try www.flickr.com for pictures of this walk.
• http://www.france-for-visitors.com/provence/aix-en-provence/mont-ste-victoire.html
• http://www.aix-en-provence.com/english/tourism/baladesinteractive/stvictoire.htm
• The official site, like many French government sites, is frustratingly useless and keener on telling you about its links with other government organizations, but here it is anyway. It does have the odd useful link: http://www.grandsitesaintevictoire.com/
Other things to do in the area
Other walks
France has a wonderful network of footpaths, the Grandes Randonnees. The lavender, juniper and herb-scented fields of Provence, the Luberon, the Alpilles and the Alpes Maritimes make for particularly fine leisurely walking, with huge amounts of Roman ruins, Medieval towns and grazing opportunities along the way. Guide books are a good place to start, or try the topo-guide maps in the maps section, above.
Other activities
It's France. You won't have a bad meal. But you should take the opportunity to have at least one magnificent one. The Michelin Guides are probably a good place to start.
Sightseeing: well, obviously. Start with: Avignon, the Pont du Gard (great swimming, too), Aix-en-Provence, Toulon, Marseille, Nice, St Tropez…
Shopping, if you must
There are some wonderful artisan perfumers about the area. And of course, some great vineyards. Think also about the vibrant local fabrics and ceramics.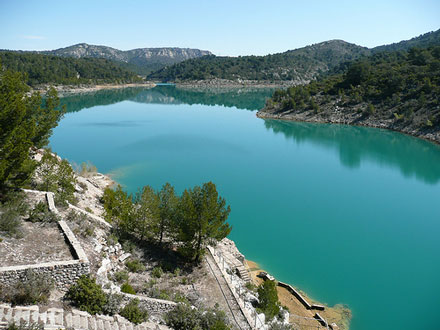 OTHER ACCOUNTS
share your experiences
Top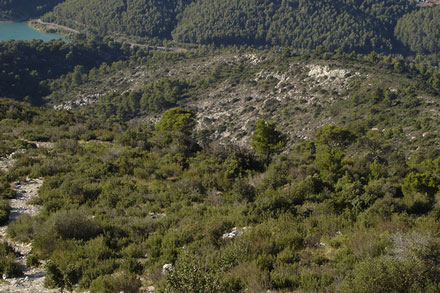 Top
Responsible travel matters, a lot. How you travel will make a real difference - for better or worse. PLEASE consider this when making plans. Read more