Mont Blanc Area
Key information: Mont Blanc Area
One of the world's great walking regions: superb mountain scenery, generally good weather in season, excellent huts or other accommodation, French food (albeit often of the tourist variety).
In many ways the neighbouring Aiguilles Rouges are the best walking of all, not least for some amazing views back to the Mont Blanc massif.
There is a huge variety of walking opportunities:
The area's supreme walk is the justly famous Tour du Mont Blanc.
Other multi-day walks include the Tour of the Aiguilles Rouges.
Life-enhancing day walks are endless.
These can be tough walks in high, remote mountains. Come prepared.
Walkopedia rating
(Top 100)
Walkopedia rating90
Beauty

36

Natural interest

16

Human interest

6

Charisma

35

Negative points

3

Total rating

90
Vital Statistics
Length:

Variable

Maximum Altitude:

Variable

Level of Difficulty:

Variable
Top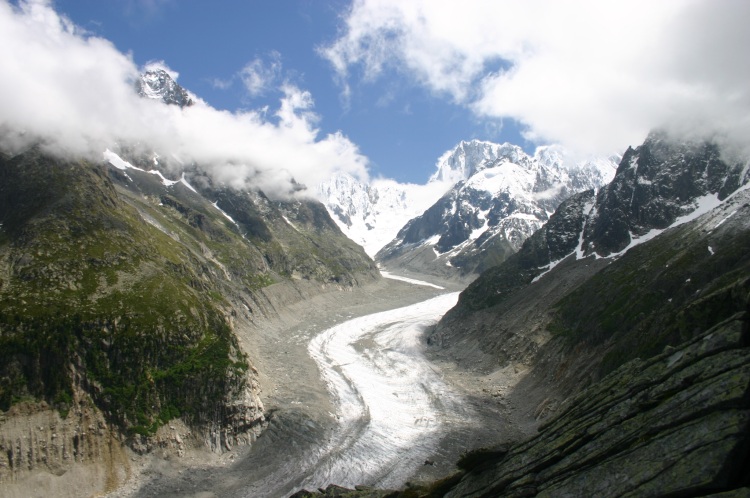 WALK SUMMARY
The Mont Blanc region is one of the world's great walking areas, with a myriad of varied walks in superb mountain scenery, with huge peaks and spires, glaciers galore, high meadows and comfortable (often atmosphere-starved) villages and towns in the deep valleys. Superb paths, plentiful huts and usually easy access to the delights of French and Italian cooking make this a paradise for walkers, albeit an occasionally damp one.
See also the superb neighbouring Aiguilles Rouges. These are arguably even better walking than Mont Blanc itself - particularly if you want multi-day but less trodden walks.
Around the dominating massif of western Europe's highest mountain (at 4,808m) is a ring of French, Swiss and Italian towns, perfect base camps for day excursions into the hills, or roadheads for longer treks.
As well as the famous long-distance trails;
The Tour du Mt Blanc (TMB), the 8-day Big Daddy of the region
The 4/5-day Tour of the Aiguilles Rouges in the spectacular neighbouring Aiguilles Rouges

The Tour du Pays de Mt Blanc, which circuits the Aiguilles Rouges, and covers similar ground to the Tour of the Aiguilles Rouges

Other multi-day walks in the Aiguilles Rouges

The great GR5 (Grand Traverse des Alps), which threads southward to the west of the Mont Blanc Massif
and other long-distance walks (it is easy to create your own with the good maps and plentiful refuges), the region has endless outstanding day walks and overnighters.
The must-take Cicerone book arranges the area's day walks by base towns: Chamonix, Argentiere, Vallarcine, Cormayeur etc, and we have arranged our walks following this logic. The selection is endless - don't just think of the walks here: your circumstances may mean other walks (the Cicerone features 50 in the region) give you even greater joy.
You can find a myriad of walks, wherever you are, on the map of the area (although these tend to be adequately- rather than well marked).
From St Gervais-les-Bains and les Contamines
From Les Houches
Aiguillettes des Houches.
From Chamonix
Lac Blanc and the Eastern Aiguilles Traverse and the south-eastern Aiguilles Rouges.

Le Chapeau and Tete des Prepators: an easy path (family starter-walk) leading into a tougher ridge ascent. Superb glacier and mountain views.

Grand Balcon Nord, a superb 2-hour climb to Signal Forbes, high above the vast Mer de Glace glacier, then a traverse across the Mont Blanc massif's northern slopes, high above the Chamonix Valley.

Montagne de la Cete: quite a tough but remarkable ascent of a ridge between two glaciers.
From Argentiere
Aiguillette d'Argentiere: a fine, long half-day circuit to a (lowish) nearly-needle, with the increased excitement of a short section of Via Ferrata.

Aiguillette des Posettes: Cicerone says it: "perfection is rare in this world, but the Aiguillette des Posettes comes pretty close." Quite a long, steady climb to this peak on the Aiguilles Rouges side, but much of it is outstanding.

Refuge Albert Premier: 4 hours of great walking from a cable car to this hut-with-a-view between a high Mont Blanc ridge and the Glacier du Tour. It is very popular, though.

Croix de Fer: a wonderful summit-laden half day circuit on easyish paths from a cable car to a peak in Switzerland. Much less uphill slogging than most!
From Vallorcine
The Aiguilles Rouges to the north-west are particularly fine walking. See the Cicerone for a number of great walks.
Mt Buet: an essential climb up the Aiguilles Rouges' highest summit.
Refuge de la Pierre - Berand.

Pointe de la Terrasse: fine one or two day trek to a gorgeous viewpoint.

Cheval Blanc: Two day walk to a well known and loved but remote mountaintop.
From Cormayeur (Italy - nicer but more chichi than Chamonix)
Punta della Croce: half day circuit to a very special viewpoint. Can be overcrowded at its lower sections.

Mout Chetif: 6 hour slog to superb viewpoint over Mont Blanc.

Mont della Saxe: tough full day slog to one of the best of all Mont Blanc viewpoints.

Tete de Ferret: peak on the Italian-Swiss border. Near the TMB, with fine, wide views.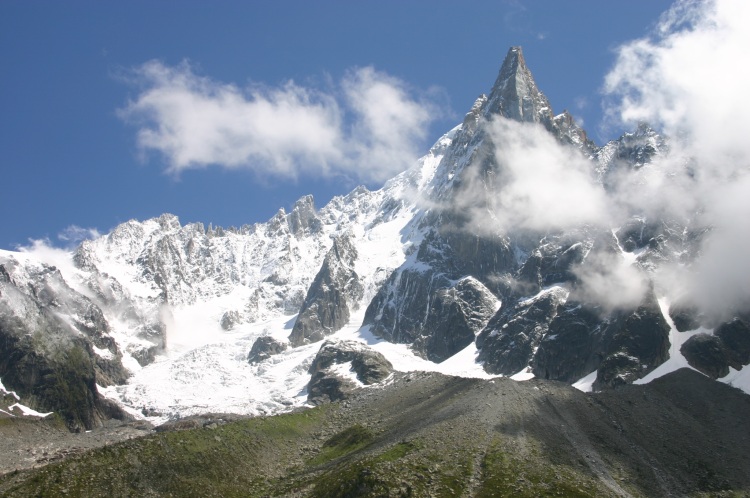 See also expedition planning, including our universal expedition checklist. Walkopedia encourages responsible travel.
Guidebooks/maps/background reading
Guidebooks
Walking in the Alps – Lonely Planet
Mont Blanc Walks: 50 of the Best Walks and 4 Short Treks – Cicerone: excellent information.
Tour of Mont Blanc – Cicerone.
Other books
France – Lonely Planet
Mont Blanc and the Aiguilles Rouges: A Guide for Skiers – Anselme Baud (author) and Vosephwe Cleere (translator)
Chapter on the Tour of the Aiguilles Rouges in Trekking Atlas of the World – Ed. Jack Jackson.
Chapters on the Tour of Mont Blanc in Classic Treks – Ed. Bill Birkett, and Trek! – Claes Grundsten.
Maps
Good maps can easily be bought locally in bookshops and activity shops.
Stanfords: www.stanfords.co.uk.An excellent (and user-friendly) online specialist source of worldwide maps (it is also good for guidebooks).
Best times to walk/weather
Best times to walk
The high country hiking season lasts only from late June through to mid September, and snow can remain in the high areas well into July. You can walk the middling slopes for much longer periods (late May to October): check the likely snow conditions in the area you are off to. Avoid the French high holiday season (14 July to 15 August) if you can. High refuges tend to only be open late June to mid September, but do check.
Beware of areas of névé – old snow; long icy slopes can be very dangerous to cross.
Weather
Weather and temperatures will vary hugely depending on your height and the general conditions, which can change rapidly even in high summer. Always come prepared for rapid changes. Snowfall is heavy during the winter, and remains on the highest peaks all year round. Altogether it is generally fine in season, come prepared for unpredictable mountain weather and cold nights.
Changing weather can cause difficulties, so keep a close track of developments if you're doing a longer walk, and be prepared to reconsider your route if the weather looks unstable.
For detailed weather information, have a look at: www.worldweather.org or www.bbc.co.uk/weather/world/country-guides.
Getting there/transport/permits
There are good road links to Chamonix, the main starting point, so driving in from any direction, at least outside of snowy times of year, should not cause a problem. There are plenty of flights to Geneva, and from here transport to Chamonix. For the trek up Mt Buet, you need to go out of the Chamonix valley to the town of Le Buet to begin the walk; for Lac Blanc it is 3km from Chamonix to Les Praz, a small village with a cable car to the beginning of the trail at La Flégère.
There are many other trailheads (see Walk Summary above), with Cormayeur accessible from Italy.
Route(s)
See Walk Summary above.
Possible problems, health, other warnings
·Altitude: will affect you a bit at the high points, come prepared to cope.
·Mountain weather: snow, rain, severe cold and wind are possible at any time of year.
·Heat and strong sun. Carry enough water and protect yourself.
See also the websites in our useful links page for more detailed, and up-to-date, information.
Safety and problems: All walks have inherent risks and potential problems, and many of the walks featured on this website involve significant risks, dangers and problems. Problems of any sort can arise on any walk. This website does not purport to identify any (or all) actual or potential risks, dangers and problems that may relate to any particular walk. Any person who is considering undertaking this walk should do careful research and make their own assessment of the risks, dangers and possible problems involved. They should also go to "Important information" for further important information.
Make sure you have appropriate insurance.
Guided or independent?
Independent
These walks (at least the day walks) are relatively simple and during high season can be crowded; they can be walked independently fairly easily.
Guided/supported
Various companies offer guided walks around Mont Blanc and its immediate surroundings, although there are fewer operators that run guided walks in the Aiguilles. It should be fairly easy to hire guides locally (see below). Some options include:
Compagnie des Guides de Chamonix -

www.chamonix-guides.com

who do a circular 'Aiguilles Rouges Tour' from Chamonix.

Mont Blanc Treks –

www.montblanctreks.com

, are based in Chamonix, and do guided hikes of both the Walkers' Haute Route

[link when page ready]

and the Tour du Mont Blanc.
Other companies who hike the Tour du Mont Blanc, or the Mont Blanc area in general, include:
Accommodation
There is plenty of accommodation in the roadhead areas, including some cheap options.
Chamonix
As a hugely popular destination for visitors to the Alps, there is a significant range of accommodation (and prices) around Chamonix. Some of the more luxurious (and more expensive) include the Hotel L'Oustalat, at the foot of the Aiguille du Midi, near the centre of town, and the Chalet Chocolat.
However, cheaper options are available: several hotels and guesthouses hover around the £40 a night mark, whilst the Mountain Highs Hostel offers great accommodation for people on a budget.
www.chamonix.net/english/accommodation/index.htm is a good website, providing a reasonably comprehensive listing of accommodation in the Chamonix area.
Argentiere
Vallorcine
Cormayeur
There are plenty of refuges around Mont Blanc and the Aiguilles Rouges. They can get crowded, so book early. And check when they open (mid-June onward).
Other information and tips
Useful websites and information
There are many websites with relevant information. Here are some that we think are useful or have been recommended to us.
Other things to do in the area
Other walks
Other activities
In the winter of course there is skiing, along with snow boarding and other snow sports. However there are also plenty of things to do in the summer, including:
·Paragliding
·Horse riding
·Mountain biking
·Mountaineering
·Climbing
·Water sports (including white water rafting)
COMMUNITY COMMENTS AND PHOTOS
Name: Jeff Black
Posted on: 12/09/2013
I did several other hikes around La Clusaz. I can recommend a terrific B&B chalet at La Clusaz. There are two rooms each with two single beds run by a delightful couple Chantal and Joel Collomb-Patton. It's called La Trace. www.laclusaz.com > se loger > chambres d'hôtes. It's a bit far from Chamonix but it has some terrific hiking paths although not as dramatic as Chamonix.


Your comments on this walk, your experiences and suggestions, and your photos are very welcome. Where appropriate, you will be credited for your contribution.
Top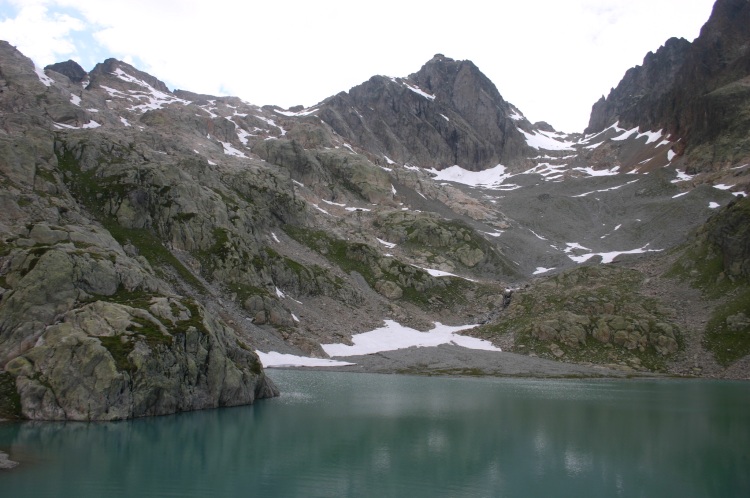 OTHER ACCOUNTS
share your experiences
Top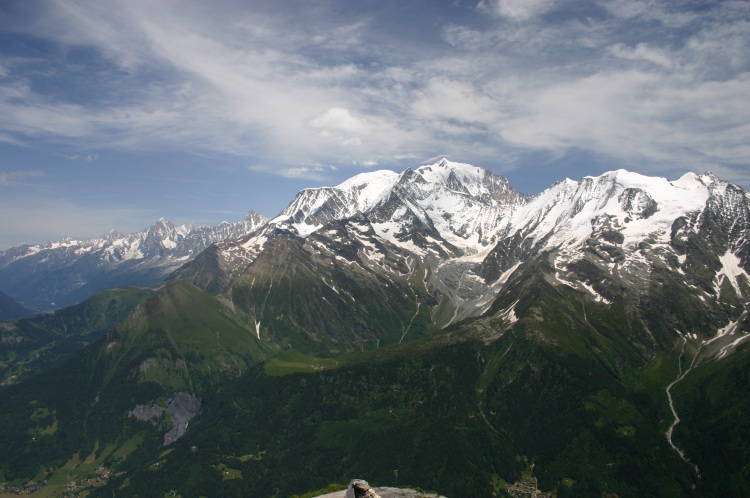 Top
Responsible travel matters, a lot. How you travel will make a real difference - for better or worse. PLEASE consider this when making plans. Read more