Marsascala to Marsaxlokk
Key information: Marsascala to Marsaxlokk
Coastal walk between two fishing ports
Sheer sandstone cliffs give magnificent sea views
A chance to go off the beaten track into a Malta tourists rarely see; farms, old fortifications and troglodyte dwellings.
Walkopedia rating
Walkopedia rating79
Beauty

27

Natural interest

10

Human interest

14

Charisma

28

Negative points

0

Total rating

79

Note: Negs: some ugly modernity.
Vital Statistics
Length:

14km

4 hours

Level of Difficulty:

Moderate
Top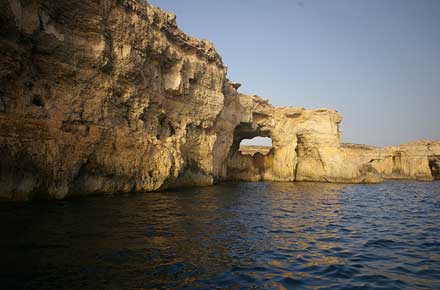 WALK SUMMARY
A rural walk between two of Malta's east-coast harbours takes in a series of towering cliffs and headlands, with constantly-changing scenery and new vistas opening up every few hundred metres.
It starts at Marsascala, an old fishing town that still retains traces of its its character in the face of touristic expansion, and ends at Marsaxlokk, one that has remained far more untouched, as a perverse outcome of having had a power station plonked in its eyeline.
In between, pass ancient (still-worked) salt-pans, farms, fantastic sea-carved rock-formations, a slice of Maltese leisure-existence that few get to see, bays only visitable by boat, fortifications, troglodyte dwellings still partially in use, stunning long-distance views from the strategically-vital cliffs of Delimara point and one of the island's best almost entirely locally-patronised swimming-places.
Passing through some of the few places on the islands that are inaccessible by car, this walk gives a perspective on Malta that few outsiders get to see and fills one with admiration for the very toughness of these people, who have retained a distinct personality in the teeth of the twin challenges of living on a desert rock and surviving wave after wave of invasion. To enjoy rural Malta, one needs to put aside all expectations of dinkiness, however: while the country affords moments of spectacular beauty, and a charismatic sense of its own dark history, it's not a place whose inhabitants would waste a defunct fridge when they could use it as the foundation for a wall.
It is not possible to go anywhere on Malta without encountering the odd eyesore in this case a power station and squatter holiday village.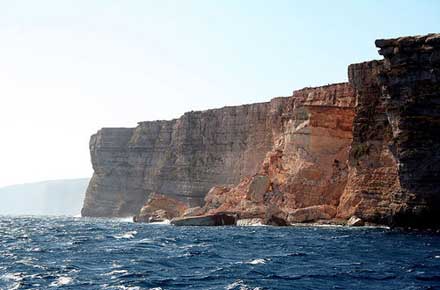 See also expedition planning, including our universal expedition checklist. Walkopedia encourages responsible travel.
Guidebooks/maps/background reading
Malta, Gozo and Comino - Simon Gaul/Cadogan. Gossipy and exhaustive exploration of the islands. The best guidebook bar none.
Walking in Malta – Paddy Dillon/Cicerone – chatty, informative and with good maps: specifically covers this walk.
Other books
The Kappillan of Malta – Nicholas Montserrat. A deeply moving novel which sets the WWII siege of Valletta and starvation of the islands in their historical context.
Maps
http://travel.nationalgeographic.com/places/maps/map_country_malta.html
Stanfords: http://www.stanfords.co.uk/. The best (and the most user-friendly) online source of maps (and is also good for guidebooks).
Best times to walk/weather Best times to walk
Malta can get excruciatingly hot. Avoid the midday sun June-September and be cautious about walking at all in August.
Weather
More North African than European. August, when there is no breeze, is almost unbearable. Though it sells itself as a winter sun destination, the truth is that there are a lot of storms here and waves can come a long way up the cliffs, which, while thrilling, also make any routes that pass close to the sea without easy escape extremely hazardous.
For detailed weather information, have a look at: http://www.worldweather.org/ or www.bbc.co.uk/weather/world/country-guides
Getting there/transport/permits/fees
Own steam: as this is not a circular walk, you will need someone to drop you off at Marsascala and pick you up at Marsaxlokk. Marsaxlokk is a good place for a basic waterside meal.
Public transport: leave your car near the Triton fountain just outside the Valletta city gates, and take the 19 or 20 bus to Marsascala. The 27 will take you back to Valletta from Marsaxlokk.
No permits are needed to do this walk.
Route(s)
Jump off the bus in central Marsascala, or stay on to the Jerma Palace hotel; the walk, up a gently sloping promenade, gives a nice taste of the harbor, which takes surprisingly large boats, and a set of old salt pans outside the harbor wall. Either way, you'll end up at the hotel; St Thomas's Tower, a knightly fortification on the headland beyond, is worth a brief detour to look at. Then drop down to the salt-pans down on the shore; this leads to a clamber up to a block-house and then a path which leads along the cliff-edge of Miguna point. A small road also leads in the same direction, for those of a slightly more nervous disposition. The path dips, passes through a car park and then along a promenade walk past gardens, a snack bar and restaurant. An unpaved road then leads past two more restaurants, and into a concatenation of what looks initially like Nissen huts left over from the war, and which turns out to be tiny holiday homes made out of Nissen huts, clustered along St Thomas's bay – complete with wee walled terraces and geraniums in paint pots: never let it be said that the Maltese were wasteful. The track will lead you past the stares of many grannies to a large parking space. A narrow track exits on the far side, which turns into a walled uphill path leading inland of the sharp point of Il-Munxar, hits the cliff briefly then turns inland again, cutting out the headland of Xrobb Il-Ghagin and heading for a fortified house, which doubles up as St Paul's chapel. Here, join the paved road for a short distance; at the point where it swings sharply right, a path diverges straight ahead: take it. It quickly turns sharply left then right again, through a set of – always remarkably productive - fields inland from the needle-thin, eroded point of Ras-il-Fenek.
When this path once again turns sharply right, continue straight along the cliffs; the bay to your left is Il-Hofra iz-Zghira. Be a little cautious about the edge here: the cliff is occasionally undercut; about halfway around, the path becomes a small road, marked for Peter's Pool. Follow the path, set back a little from the cliff-edge, all the way to Peter's pool. You will know you're there by the salt pans and (usually) gathered .bathers. This is a great spot for swimming and cliff-diving; but if you're not ready to cool off yet, the route passes close by here again on the way back from Delimara.
Skirt the bay, then follow the track upwards to Tumbrell point. There are a couple of houses here with dodgy dogs: give them a generous berth on the landside, and you will find a path that leads round the edge of another vertiginous inlet and inland to a small road junction. Turn left, and walk on toward the lighthouse at Delimara point. This is a set of giddy cliffs (with, somehow, a couple of tiny dwellings at their very base) overlooking a huge natural harbor – the shallow waters of Marsaxlokk ("Marsa-schlock") and the power station to your right, St George's Bay in the middle and the cranes of the deep-water Freeport at Birzebuggia further along. You'll either find the view riveting, almost romantic – tiny boats bobbing in the wake of city-sized container ships – or you'll bemoan the destruction of such a beautiful piece of coastline. That, in a nutshell, is the Malta experience.
Following the road on round will bring you back to the junction you reached earlier. (A short detour to the left leads to the derelict Fort Delimara and more good views.) Continue on down this road. After half a mile, the Peter's Pool track goes off to the right; just keep following this road, roughly 3km, ignoring all turns off, as it drops gently down towards civilisation. Eventually you reach a largeish crossroads, a nunnery to your left; turn left here, and the outskirts of Marsaxlokk will come into view over the next brow. Marsaxlokk is a delightful little town, the waterfront lined with old-fashioned bars and restaurants, all affording a fine view of traditional, brightly-painted fishing boats, bobbing before a backdrop of the Enemalta power station.
Possible problems, health, other warnings
Heat and strong sun. Malta is essentially desert country and should be treated as such. The weather is hot but bearable through July, but, on 1 August almost to the dot every year, the heat cranks up to oppressive levels when and sort of exertion would be foolish. Carry enough water and protect yourself.
Heights: can be dangerous; not for those who have difficulties with heights.
Friable limestone: Malta's limestone is beautiful but often fragile. Exercise caution on cliffs, and bear in mind that they might be undermined by the sea.
See also the websites in our useful links page for more detailed, and up-to-date, information.
Safety and problems: All walks have inherent risks and potential problems, and many of the walks featured on this website involve significant risks, dangers and problems. Problems of any sort can arise on any walk. This website does not purport to identify any (or all) actual or potential risks, dangers and problems that may relate to any particular walk. Any person who is considering undertaking this walk should do careful research and make their own assessment of the risks, dangers and possible problems involved. They should also go to "Important information" for further important information.
Make sure you have appropriate insurance.
Guided or independent?
You can do this walk independently.
Guided/supported
Not necessary.
Accommodation
Malta is covered with tourist accommodation, including good self-catering houses and flats for reasonable rents. Most places are habitable, but recommend avoiding the seedy seaside towns of St Paul's (and its ever-spreading satellites), Mielleha, Cirkewwa and the complex at the filthy Golden Bay beach.
Places to eat: not necessarily the best food you'll ever have, but some of the best views: Giannini, St Michael's demi-bastion; Blue Creek, Ghar Lapsi; weekend lunches (a local tradition) at Bobbyland on the Dingli cliffs – the story of how it got its name will bring a lump to your throat; Iz-sajjied, on a promontory south of Marsaxxlokk.
There are many websites with relevant information. Here are some that we think are useful or have been recommended to us.
· www.airmalta.com
· http://www.visitmalta.com
· http://en.wikipedia.org/wiki/History_of_Malta
See other pages on this site: Valletta; Zurrieq to Siggiewi.
Other activities
Malta - and Gozo in particular - are renowned as having some of the best dive sites in the Med.
Essential to visit: Mdina, the old capital, and the Citadel in Gozo's capital, Victoria. Both have notable cathedrals. Hagar Qim and Mnajdra on Malta, and Ggantija on Gozo – Neolithic temples that make Stonehenge look like a pile of stones.
A Maltese festa (Saturday nights – ask locals where this week's one is) is an unmissable, if noisy, experience that you will remember forever.
Avoid Comino Island like the plague. Even if they offer to take you there for free.
Shopping, if you must
Much of the stuff to buy here is bog-standard made-in-China Medi-tat. Look out, though, for excellent local coloured glass, silver filigree, Maltese crosses and religious iconography.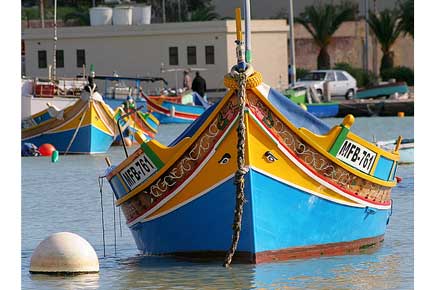 OTHER ACCOUNTS
share your experiences
Top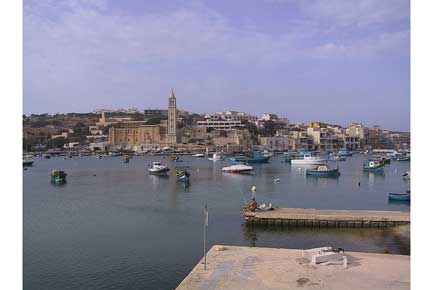 Top
Responsible travel matters, a lot. How you travel will make a real difference - for better or worse. PLEASE consider this when making plans. Read more