Zurrieq-Siggewi
Key information: Zurrieq-Siggewi
Glorious views from Malta's rugged sea-cliffs
Walk includes a wealth of cultural stop-offs, including two of the world's oldest temples, some splendid sea-caves and a fine Rococo chapel
Walk can be broken with excellent sea-swimming, essential in Malta's desertified Summer climate
Walkopedia rating
Walkopedia rating84
Beauty

30

Natural interest

13

Human interest

15

Charisma

30

Negative points

4

Total rating

84

Note: Depressing rubbish at times, some modern ugliness.
Vital Statistics
Length:

14km

1 day

Level of Difficulty:

Moderate
Top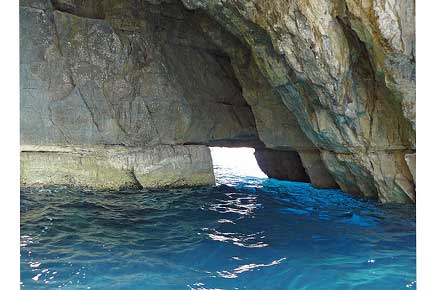 WALK SUMMARY
There are two types of unspoilt: the lovingly-restored and the as-it-actually-comes. Malta's eccentric charms are something which bypass a fairly large number of its visitors: partly because many of them fail to stray beyond the everything-with-chips conurbations round the sand beaches of the north, and partly because the Maltese have never particularly subscribed to the Make Poverty Picturesque school of thought. Those who can tune out, or assimilate into their aesthetic, the grand tradition of building walls with whatever you have to hand defunct fridges, tractor tyres, bits of dead car, oildrums love Malta with a passion that profoundly confuses those of more refined tastes. The reason is this: this tiny dot in the Mediterranean has, as well as clifftop views out over its tiny satellite island, Filfla, toward the African coast that rob one of breath, is blessed with more culture in a smaller area than practically anywhere else on earth. You never know when you're going to stumble over a Neolithic temple that makes Stonehenge look like a pile of stones, a rococo village church that in any other country would be a cathedral, a remnant of the Romans, the Arabs, the Knights of St John, the British Empire
This walk along the South coast from one of Malta's best villages, takes in a splendid collection of varied delights: two temple complexes, two sets of sea-caves (one only reachable by boat), a delightful rococo chapel and blue Mediterranean views that bring tears to the eyes.
Wear strong, supportive shoes Malta's Lower Globigerina limestone is hard on footwear and ankles take plenty of water, a hat and sunblock. In high Summer, the heat is merciless. Allow plenty of time for gawping/flinging yourself into the sea at the Wied iz-Zurrieq/Ghar Lapsi.
The Maltese partly rely on winter storms as rubbish-clearance in isolated areas, which makes the coast quite littered in late summer/Autumn; route from Ghar Lapsi to Siggewi leads past a quarry and a desalination plant.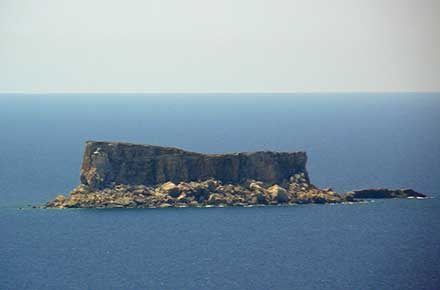 See also expedition planning, including our universal expedition checklist. Walkopedia encourages responsible travel.
Guidebooks/maps/background reading
Guidebooks
Malta, Gozo and Comino - Simon Gaul/Cadogan. Gossipy and exhaustive exploration of the islands. The best guidebook bar none.
Walking in Malta – Paddy Dillon/Cicerone – chatty, informative and with good maps: specifically covers this walk.
Other books
The Kappillan of Malta – Nicholas Montserrat. A deeply moving novel which sets the WWII siege of Valletta and starvation of the islands in their historical context.
Maps
http://travel.nationalgeographic.com/places/maps/map_country_malta.html
Stanfords: www.stanfords.co.uk. The best (and the most user-friendly) online source of maps (and is also good for guidebooks).
Best times to walk/weather
Best times to walk
Malta can get excruciatingly hot. Avoid the midday sun June-September and be cautious about walking at all in August.
Weather
More North African than European. August, when there is no breeze, is almost unbearable. Though it sells itself as a winter sun destination, the truth is that there are a lot of storms here and waves can come a long way up the cliffs, which, while thrilling, also make any routes that pass close to the sea without easy escape extremely hazardous.
For detailed weather information, have a look at: www.worldweather.org or www.bbc.co.uk/weather/world/country-guides
Getting there/transport/permits/fees
(Note: with links where available)
As this is not a circular walk, you will need someone to drop you off at Zurrieq and pick you up at Ghar Lapsi/Siggiewi. As the walk from Ghar Lapsi to Siggiewi is relatively unthrilling and involves a long uphill trudge past the desalination plant, we would recommend Ghar Lapsi.
Alternatively: leave your car near the Triton fountain just outside the Valletta city gates, and take the 32 or 34 buses to Zurrieq, or the less-frequent, later-in-the-day 38 and 138 to Wied-iz-Zurrieq and Hagar Qim. From Ghar Lapsi, the 94 bus to Siggiewi runs only on Thursday and Sunday, only in July and August. The 89 will take you back to Valletta from Siggiewi.
No permits are needed to do this walk.
Route(s)
From central Zurrieq ("Zoo-ree-eh") (whose church, like all Maltese churches is worth visiting), follow signs for the Blue Grotto and Wied-iz-Zurrieq to the main road. This is a pleasant, mostly pavemented, road with lovely sea views down the river valley of Wied Babu; the building on the far side is a fireworks factory that, according to local lore, stopped bothering to replace its roof after its third explosion, building a small chapel alongside instead. After about a mile, the road forks; the left-hand side going down to Wied-iz-Zurrieq, the right on towards Hagar Qim. Wied-iz-Zurrieq is a tiny harbor where boats ply back and forth to the majestic, luminous-coral-lined sea caves of the Blue Grotto; a half-hour trip well worth taking. You will also find cafes, bars and excellent snorkeling here. If you've taken the detour, you can work your way up a rough path to the right of the harbor to Hagar Qim ("Hajjar Eem"); otherwise continue along the road until you reach it. This, and the Mnajdra ("Im-nuy-dra") temple on the sea-facing hillside below it are fabulous examples of Neolithic temple-building, still remarkably intact after 6,000 years; one ticket covers both, and both are considerably more satisfying to visit than the roped-off distant views of Stonehenge. On the concrete path between the two, a track leads off to the left towards the 17th-Century Hamrija tower (a relict of the fortifications built by the Kinghts of St John) and the Congreve Memorial (dedicated to a governor of the islands, buried at sea in the channel in front of you). The tiny, enigmatic island in the distance is Filfla. It is currently a nature reserve, being covered in ordnance after being used for target practice in the war; mass is said annually in the tiny chapel there, but otherwise it never feels a human footfall.
Below the memorial, scout around until you find a rock with BEACH painted on it. This marks the route down the cliff; it's a scramble best approached on one's haunches and with care. Once on even ground, swing right (you will find the occasional painted arrow), keeping well in from the crumbly lower cliff-edge, to a little, white-pebbled inlet (the "beach"). Take the path exiting on the far side which, after a couple of giant boulders, drops down closer to the sea and crosses the river valley of Wied Maghlaq ("Wied Maa'la"). On the far side, a steep scramble (follow the painted arrows, again) up a rocky hillside leads you to the cliffs of Ras Hanzir. Again, take care of the cliff edge; Malta's soft limestone is great for ornate building facades, less great for stability. Once you have skirted this, you will arrive at Ghar ("Arr") Lapsi.
This tiny fishing hamlet – the remains of two collapsed sea-caves, boat sheds made simply putting doorways over smaller ones - is a hugely popular recreation spot for the Maltese. Its safe, sheltered waters and two cafés mean that, in the Summer months, it is so rammed it's hard to find a resting-place. Nonetheless, it's a brilliant place for – what well may be a much-needed – swim. The terrace at the Blue Creek restaurant furnishes great, and entertaining, views, and not-so-great food.
If continuing to Siggiewi ("Sidj-yay-wee"), follow the only road, a rather grander corniche than its destination would suggest, as it winds uphill past the desalination plant (referred to by locals, only half-jokingly, as the "Rivers of Moses"), or cut out the loop by clambering up a rocky slope past a crenellated building to rejoin it just before it crosses the ravine at Ix-Xaqqa ("ish-sha-a"). The road then swings round past a quarry and climbs up to a roundabout. Keep left here (signed Siggiewi); the road will level out at Tal-Bajjada and pass a big building, an airfield and an aqueduct. Half a mile from Tal-Bajjada, just before the Tal-Fokli winery, a small detour to the right will carry you past the statue-covered tal-Providenza chapel. It's unlikely to be open, but you can catch glimpses of its fine rococo interior through the window. Swing back to the left to rejoin the main road, then take the first right onto a much smaller one (pleasanter walking, and cutting out a loop). Turn left at the next junction (a very narrow road), then across the roundabout at its end and a second a little further on; you are now in outer Siggiewi. Look out for Triq Nicola Saura, a few hundred metres along to the left; it leads up to Siggiewi's main square, with it church, bars, shop and bus stop.
[Note: insert here any suitable route map that has been found. Can do link if appropriate.]
Possible problems, health, other warnings
PLEASE CREATE BULLET POINTS WHEN PUTTING INTO DATABASE. SEE OPERATING MANUAL.
Heat and strong sun. Malta is essentially desert country and should be treated as such. The weather is hot but bearable through July, but, on 1 August almost to the dot every year, the heat cranks up to oppressive levels when any sort of exertion would be foolish. Carry enough water and protect yourself.
Heights: can be dangerous; not for those who have difficulties with heights.
Friable limestone: Malta's limestone is beautiful but often fragile. Exercise caution on cliffs, and bear in mind that they might be undermined by the sea.
See also the websites in our useful links page for more detailed, and up-to-date, information.
Safety and problems: All walks have inherent risks and potential problems, and many of the walks featured on this website involve significant risks, dangers and problems. Problems of any sort can arise on any walk. This website does not purport to identify any (or all) actual or potential risks, dangers and problems that may relate to any particular walk. Any person who is considering undertaking this walk should do careful research and make their own assessment of the risks, dangers and possible problems involved. They should also go to "Important information" for further important information.
Make sure you have appropriate insurance.
Guided or independent?
Independent
You can do this walk independently.
Guided/supported
Not necessary.
Accommodation
Malta is covered with tourist accommodation, including good self-catering houses and flats for reasonable rents. Most places are habitable, but recommend avoiding the seedy seaside towns of St Paul's (and its ever-spreading satellites), Mielleha, Cirkewwa and the complex at the filthy Golden Bay beach.
Other information and tips
Places to eat: not necessarily the best food you'll ever have, but some of the best views: Giannini, St Michael's demi-bastion; Blue Creek, Ghar Lapsi; weekend lunches (a local tradition) at Bobbyland on the Dingli cliffs – the story of how it got its name will bring a lump to your throat; Iz-sajjied, on a promontory south of Marsaxxlokk.
Useful websites and information
There are many websites with relevant information. Here are some that we think are useful or have been recommended to us.
PLEASE CREATE BULLET POINTS WHEN PUTTING INTO DATABASE. SEE OPERATING MANUAL.
· www.airmalta.com
· http://www.visitmalta.com
· http://en.wikipedia.org/wiki/History_of_Malta
Other things to do in the area
Other walks
See other pages on this site: Valletta; Marsascala to Marsaxlokk
Other activities
Malta - and Gozo in particular - are renowned as having some of the best dive sites in the Med.
Essential to visit: Mdina, the old capital, and the Citadel in Gozo's capital, Victoria. Both have notable cathedrals. Hagar Qim and Mnajdra on Malta, and Ggantija on Gozo –
Neolithic temples that make Stonehenge look like a pile of stones.
A Maltese festa (Saturday nights – ask locals where this week's one is) is an unmissable, if noisy, experience that you will remember forever.
Avoid Comino Island like the plague. Even if they offer to take you there for free.
Shopping, if you must
Much of the stuff to buy here is bog-standard made-in-China Medi-tat. Look out, though, for excellent local coloured glass, silver filigree, Maltese crosses and religious iconography.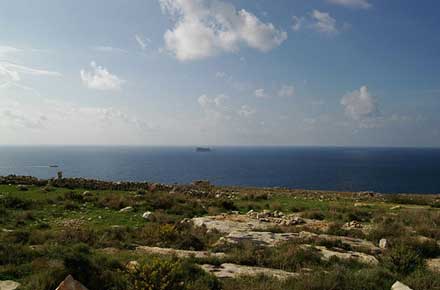 OTHER ACCOUNTS
share your experiences
Top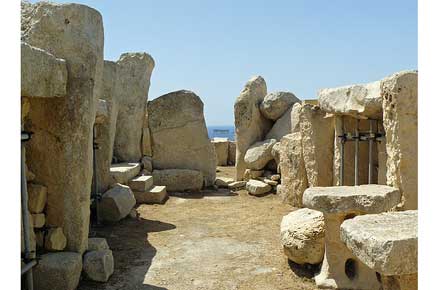 Top
Responsible travel matters, a lot. How you travel will make a real difference - for better or worse. PLEASE consider this when making plans. Read more