Lares Trek
Key information: Lares Trek
A remote, beautiful alternative to the throngs on the Inca Trail: a 2-3 day circuit in magnificent Andean scenery.
Visit secluded farms and ancient townships for a fascinating insight into authentic Quetchua (indigenous Peruvian) culture.
You are likely to meet rosy-cheeked Andean children and local people, in abundantly coloured, hand-woven, traditional dress; as well as a range of wildlife: from poised Llama and Alpaca to the affable Andean sheep.
This is a strenuous trek in remote mountains, where night-time can fall very swiftly. The toughest climb will be within the first six hours and altitude can be a problem. Take care to acclimatize yourself first, particularly if flying directly to Cusco, without respite.
Tricky to track down a detailed map; local guides are recommended and relatively inexpensive.
Walkopedia rating
Walkopedia rating93
Beauty

35

Natural interest

16

Human interest

12

Charisma

33

Negative points

3

Total rating

93

Note: http://www.inkanatura.com/map_lares_patacancha_ollantaytambo.asp
Vital Statistics
Length:

25km

16 hours or 2.5 days

Maximum Altitude:

4,500m

Level of Difficulty:

Strenuous
Top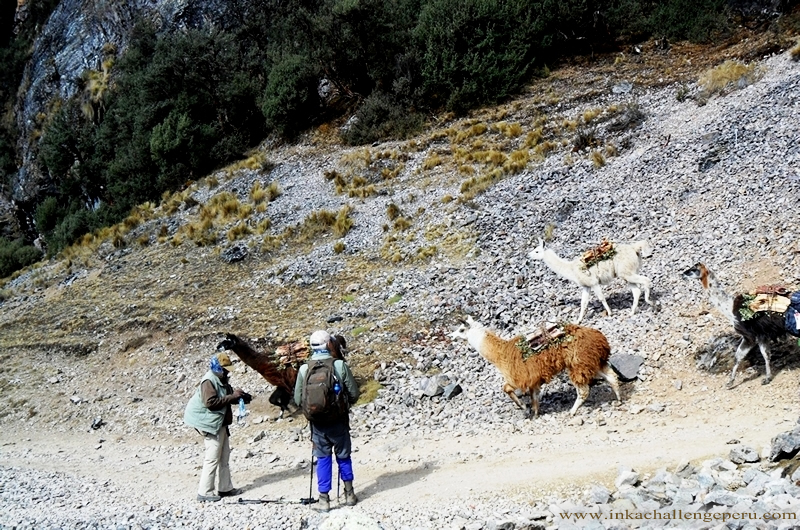 WALK SUMMARY
The Lares Trek is an excellent alternative to the Inca Trail, for those who seek an enthralling insight into Andean life further off the beaten track, as well as sensational views of the mountains and surrounding valleys. Lares is similar in duration, altitude and difficulty to the Inca Trail; it is easily accessible from Cuzco and, although in essence a circuit, can also culminate in a visit to the lost Inca city of Machu Picchu.
It is worth noting that there are several variants around the Lares Valley area, so do check out whether you would like to go further ? and higher!
The Lares Valley lies to the east of the Urubamba range, traversing part of the Sacred Valley. With ancient terracing carved geometrically into the side, like ranks of troops protecting the Inca strongholds below, we are poignantly reminded of the strong, pioneering - yet ill-fated - people, who worked this soil over 500 years ago. Blessed with fecund plains and a fruitful climate, the Sacred Valley was the cradle of the Inca civilisation during the 14th and 15th Centuries. Linking the majestic Andes with Peru?s tropical jungle lowlands, this lush agricultural region is the thrilling palimpsest of Inca toil, innovation and culture.
After exploring the spectacular fortress of Ollantaytambo - held to be the most intact surviving example of Inca town planning - you can wend your way up into the mountains, by minibus, to the spa town of Lares - then to the trail-head at the small village of Kiswarani.
If making an organised expedition, you are likely to be accompanied on your journey by a local crew, comprising of a guide and cook, as well as alpacas, llamas, herders, mountain horses and horsemen, who will carry the larger packs, tents and cooking materials, so that you may have the luxury of trekking with just a daypack and stick (if you don?t have your own, Peruvians recommend hiring retractable hiking sticks, rather than buying cheap wooden ones in Cuzco - these usually aren?t farmed ethically).
After a nutritious picnic lunch of quinoa and vegetables, you may begin your ascent to the Kiswarani Pass (4400 m). Observe a bucolic Eden of grazing alpaca, abundant lichens and puna grasses, and abounding glacial lakes - as well as incredible views of the snow-capped Urabamba mountains from the summit.
Descend to Kunkani before nightfall, to set up camp and investigate the hamlet of traditional adobe huts under grass roofs.
On the second day, it?s possible to interact with the locals, who, if you?re lucky, might invite you into their homes, to experience a flavour of Andean living ? not far removed from Inca times. Climb for four hours or so, to the rocky Kunkani Pass, then up to the most taxing summit, Ipsayqocha, at 4,500m. It is traditional to make an apacheta at the highest point: a pile of stones offered to Pacha Mama (the Inca Mother Earth). Descend to the grassy plateau below to sleep for the night, where curious children, traversing the mountains with absurd speed, may come to help guide you down.
The final morning stint is a relatively relaxed amble around the rim of the mountain, through woodlands, alongside gushing mountain streams and ethereal waterfalls and down to Patacancha, where the valley atmosphere is noticeably more temperate. Keep your eyes peeled for Andean geese, puna ibis, cara caras, chinchillas and condors.
The Machu Picchu extension is a train ride to the great ruins, rather than a further walk.
www.tourdust.com organise an expedition here : we have travelled with Tourdust, and were delighted. They were very nice and flexible to deal with, and evidently cared about quality, as their walk was meticulously prepared and our support team were outstanding in every way. We are proud to be their partners.​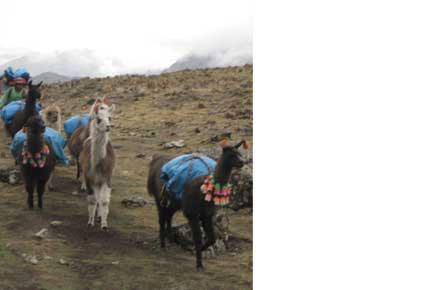 See also expedition planning, including our universal expedition checklist. Walkopedia encourages responsible travel.
Books and Maps
Books on this walk
The Inca Trail, Cuzco & Machu Picchu – Alexander Stewart, Trailblazer. A complete and very detailed guide.
Peru: Exploring Machu Picchu, Cusco, the Inca Trail, Arequipa, Lake Titicaca, Lima and Beyond - V!VA Travel Guides (Ricardo Segreda and Crit Minster): has an excellent, up-to-date section on additional treks and activities boasted by the Sacred Valley.
Other books
Peru – Lonely Planet. Recommended.
Backpacking and Trekking in Peru and Bolivia – Bradt
The Rough Guide to Peru – (recommended by Richard Danbury in a previous Trailblazer)
Peru Handbook – Footprint
Fujimori's Peru – ed. John Crabtree and Jim Thomas
The Incas and their Ancestors – Michael Moseley
The Conquest of the Incas – John Hemming
Maps
Trailblazer has good basic maps.
It can be tricky to track down a detailed map.
Stanfords: www.stanfords.co.uk. Online specialist source of worldwide maps. Also try www.mapsworldwide.com and www.trektools.com.
Best times to walk/weather
Best times to walk
April to October. Late April and May are best. June, July and August are over-busy (and, indeed, the Classic Inca Trail can get booked out). June, July and August get very cold at night. October and April can be very wet – but not necessarily miserable as long as you are well protected and in the right mental space.
Other times of year are doable – but usually very wet.
Weather
Generally fine in season, but come prepared for unpredictable mountain weather and cold nights.
For detailed weather information, have a look at: www.worldweather.org or www.bbc.co.uk/weather/world/country-guides.
Getting there/transport/permits/fees
Many people coming from Europe will use Iberia from Madrid to Lima. American Airlines flies there from Miami. Various airlines from Lima to Cuzco, the ancient Inca capital and the starting point for almost all Inca Trail treks. Cuzco is high, so take time to acclimatize properly – there is lots to see and do in this area.
Unlike the Inca Trail, permits aren't needed for the Lares Trek; so, in theory, you can book just two or three days in advance from any Cuzco travel shop/ agent (there are a multiplicity throughout the town). However, if you are on a combined tour, it might be worth exploring the options with your expedition organizer first; also ensuing that all transportation is booked and price covered by the main ticket.
Those on organised hikes are likely to be transported from Ollantaytambo to Chancachaca – and then back to Ollantaytambo, to board the scenic train to Aguas Calientes, for clear access to Machu Picchu.
Route(s)
There are at least four different routes to choose from through the Lares Valley; these include different points of interest and can vary in difficulty (eg. the so-called 'Weavers Way', from the Lares thermal springs to the Patacancha community is moderate in comparison to the 6-day hike from the Sacred Valley to Yanahuara, due the high altitude and steep incline of the latter). Consider liaising with your guide beforehand, to discover which would be most suitable for you.
Possible problems, health, other warnings
See also the websites in our useful links page for more detailed, and up-to-date, information.
Safety and problems: All walks have inherent risks and problems can arise on any walk. Many of the walks featured on this website involve significant risks and possible problems. This website cannot, does not purport to, identify all actual or potential risks, dangers and problems that may relate to a walk or a country. Any person who is considering undertaking this walk should do careful research and make their own assessment of the risks, dangers and possible problems involved. They should also go to "Important information" for further important information.
Make sure you have appropriate insurance.
Guided or independent?
Independent
You can do these walks independently, but they routes are demanding walks and suitable for the experienced and fully prepared only.
Guided/supported
Most people form or join organised/supported expeditions. Travelling here with a knowledgeable guide has real advantages.
You will pay less if you arrange an expedition locally, but you will have to take care as there are some unscrupulous operators.
If you are booking with a company, make sure you are using a reputable firm. Rip-offs are common, especially with online booking. Responsible travel means trying to ensure porter welfare and fair pay: try to use a responsible company (which can be hard to assess), and assume that very cheap expeditions may be thus because the porters are being underpaid. Complain if you think the porters are not looked after well. Check that operators guarantee to secure permits.
A middle course, and perhaps the preferable one (in that it provides flexibility and reduced burden to carry while enabling a small group), would be to hire a porter/guide or an arriero (muleteer with mules, invariably two). They can be hired through agencies or in some villages, which can be preferable from the point of view of getting money into the local economy. Non-porter guides are in theory hirable, but can be hard to find. Meet him/her/them and get comfortable before committing. Make sure all requirements are understood and agreed – including how you will eat, overnighting and, of course, remuneration!
Expedition organisers include:
See our Inca Trails overview page for more general organisers
Accommodation
There is a huge range of possible accommodation in Cuzco. The guidebooks have a selection. There are various accommodation websites. Search "Cuzco accommodation". Hostelbookers usually has a good selection of cheaper-end accommodation.
Camping is almost always the only realistic option on the trail.
Other information and tips
The local Andean people recommend chewing coca leaves to ease altitude sickness – it's possible to buy a bag of coca, along with binding mineral, at most local stores and markets in the area.
Befriend your porters, treat them with respect, and tip generously for good service.
Useful websites and information
There are many websites with relevant information. Here are some that we think are useful or have been recommended to us.
Other things to do in the area
Other walks
Peru has a huge variety of great walks. There is likely to be a good walk within range wherever you may be. Try:
Other activities
Explore the Cuzco and Sacred Valley areas.
Rafting, biking, riding, climbing; bird-watching; visit the natural thermal baths in Lares.
Shopping, if you must
We are not a shopping website. But, there are lots of genuinely interesting and beautiful things about and anything bought from local people must be of some help to this desperately poor area. So, wallets out!
Safety and problems: All walks have inherent risks and potential problems, and many of the walks featured on this website involve significant risks, dangers and problems. Problems of any sort can arise on any walk. This website does not purport to identify any (or all) actual or potential risks, dangers and problems that may relate to any particular walk.

Any person who is considering undertaking this walk should do careful research and make their own assessment of the risks, dangers and possible problems involved. They should also go to "Important information" for further important information.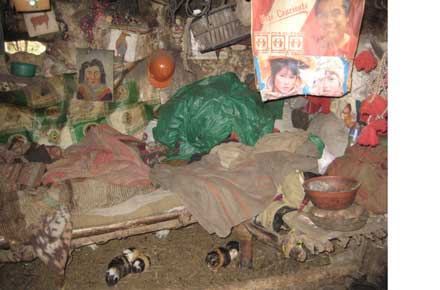 OTHER ACCOUNTS
share your experiences
Top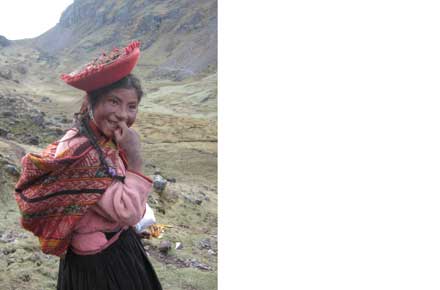 Top
Responsible travel matters, a lot. How you travel will make a real difference - for better or worse. PLEASE consider this when making plans. Read more