North Drakensberg Traverse
Key information: North Drakensberg Traverse
An outstanding 65km trek along the high edge of the very special northern Drakensberg escarpment. One of the worlds Top 10 walks: everyone should do this in their lifetime.

Superb views from the vast cliffs that form the edge of the high plateau of Lesotho, across to famous formations and down over spires and buttresses, ridges and gorges to the plains of Kwazulu-Natal.

Rich and beautiful vegetation, animals and birds. Sotho herdsmen and bushmen rock paintings.

A tough trek in remote mountains, on which you will have to be completely self-sufficient: be prepared.
Walkopedia rating
Walkopedia rating92
Beauty

35

Natural interest

17

Human interest

4

Charisma

36

Negative points

0

Total rating

92
Vital Statistics
Length:

Up to 65 km/5-6 days

Maximum Altitude:

3,200m

Level of Difficulty:

Strenuous
Top
WALK SUMMARY
The magnificent Drakensberg escarpment forms the edge, at around 3,000m, of the high Lesotho plateau.
Volcanic basalt was forced up some 180 million years ago, and spread to form a layer more than a kilometre thick over earlier sandstone. The eastern end has eroded into a line of tremendous over 200km long, which form the effective border between South Africa and Lesotho. Here you will gaze on famous and fantastical formations and long, grassy ridges and gorges descending into the plains some 1,800m (6,000ft) below.
The sandstone foothills the Little Berg are very special in their own right, a maze of canyons and rocky ridges. Their lush, flowery greenness for much of the year will surprise many travellers expecting desert and dry rock.
The scale here is deceptive: you have to concentrate to appreciate the vastness of the cliffs drops of 1,000 metres are not unusual. You can sometimes feel you are looking at the gorges of the Little Berg through the wrong end of a telescope.
Behind the escarpment is a broken, treeless plateau of rough grass and low alpine shrubs which is reminiscent of Scotland, or parts of Mongolia. Meeting the sudden jagged edge of the escarpment as you tramp across this beautiful but seemingly regular landscape never ceases to amaze.
Lesotho is a small, dirt poor kingdom trapped within South Africa. Here on the high plateau, you may meet the Sotho herdsmen living in rough little kraals in summer.
Drakensberg means Dragons Mountains in Afrikaans; they are the Barrier of Spears to the Zulus, whose kraals are scattered up the valleys of the Lower Berg, their herds grazing complacently on the lower slopes.
There are few real tracks here: much of the time you are crossing rough ground, sometimes on tenuous animal trails. That said, much of it is surprisingly easy going not like trying to traverse a Scottish heather hillside, for instance.
The walk along the northern end of the escarpment passes through arguably the most dramatic and remotest scenery of all. There are various ways of tackling the trail; most people start at The Sentinel, walking southward to the Rockeries Pass or (an extra day) the passes around Cathedral Peak.
Some highlights:
The trail from the roadhead, below the famous free-standing tower, The Sentinel is a delight, winding round the contours of the ridge, then zigzagging up to the first stupendous view, on the western rim of the Amphitheatre, immediately below The Sentinels thousand-foot red basalt cliffs.
After scaling the infamous chain ladders, the top of the escarpment is a revelation: rocky hillsides rising from shallow, grassy glens, thistles and even heather eking out a living amid the tussocks.
At the top of the nearby Tugela Falls, you will intoxicate yourself with the wondrous view out from the middle of the Amphitheatre. You can do a day walk to the falls and back down.
Day 2
A long but beautiful day, crossing the high plateau. You will pass Sotho kraals, ford streams, and enjoy wide and varied views, including the plateaus sudden, brutal termination at the escarpment edge. Behind the relative order and reason of the plateau hillsides, all is crazed anarchy: violent spikes and broken buttresses appear and then vanish again amid shreds of rising cloud.
Day 3
A long day near the escarpment edge. The highlight is the Hanging Valleys, which spill into the great hole that is the Mnweni Cutback. Fabulous spires may come and go through gauzy mist.
You have to sleep in the high Mponjwane Cave beneath a peak right on the escarpment edge. The berg is full of these caves - more wind-scoured overhangs, really - but this one is special, large enough to sleep 12, with views out onto the huge, free-standing Mponjwane Tower, across lower spikes and down to the sensuous green ridges and gorges of the Little Berg far below.
Day 4
Today takes you down the Rockeries Pass gorge, a superb descent on a zigzagging mule track, the route of marijuana smuggles and rustlers. You emerge into a new and wondrous world: a gorge winding amid tremendous cliffs and long tussocky slopes; waterfalls tumble in on each side, and the vegetation seems to change with each bend in the trail: meadow flowers, small shrubs, then cycads and remarkable proteas.
Day 5
The valley meanders between cliffs and sexily curved slopes and ridges. It can feel like a few minutes after The Creation. You will wade the thigh-deep river several times. The valley gets wider and softer and you pass grazing herds and neat kraals of round, thatched huts among little fields of maize.
WILLIAM MACKESY'S ACCOUNT
of this walk
South Africa's thrilling and magnificent Drakensberg look like mountains from the plains of Kwazulu-Natal, but are in fact a vast escarpment forming the edge, at around 3,000 m, of the high Lesotho plateau. Volcanic basalt was forced up some 180 million years ago and spread to form a layer more than a kilometre thick over older sandstone. The eastern end has eroded into a line of tremendous cliffs over 200km long, forming the effective border between South Africa and Lesotho. Here.....
READ MORE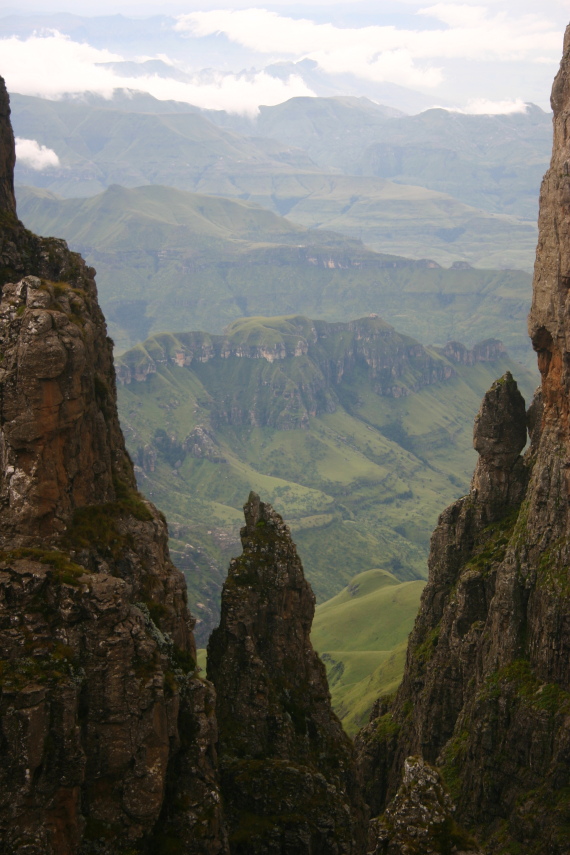 See also expedition planning, including our universal expedition checklist. Walkopedia encourages responsible travel.
Guidebooks/maps/background reading
Guidebooks
South Africa, Lesotho & Swaziland - Lonely Planet
Drakensberg Walks - David Bustone
Walking in the Drakensbergs - Cicerone
Other books
Barrier of Spears - Reg Pearse
Dragor's Wrath - Reg Pearse (out of print?)
Encounters with the Dragon

- John Hone - superb photography
Maps
Royal Natal Hiking Map No.1 (Rugged Glen-Mnweni), and No. 2 (Cathedral Peak) if you go that far across (see www.kznwildlife.com)
Stanfords: www.stanfords.co.uk. An excellent (and user-friendly) online specialist source of worldwide maps (it is also good for guidebooks).
Best times to walk/weather
Best times to walk
Mid March to June, September and October.
Summer (November - February) is hot, and frequently wet and cloudy but is best for wild flowers. March can be lovely, but expect thunderstorms in the afternoon, so start early.
April and May are the best months (but getting colder at night). June is getting cold. Winter (July - August) is dry and beautiful but colder (well below freezing at night and can snow). Spring (September and October) is good but less predictable weatherwise.
Weather
Depends on the season (see above), but come prepared for unpredictable mountain weather and cold nights at all times. And cold fronts (several days of rain) can't be ruled out, although they are rarer in autumn/winter.
For detailed weather information, have a look at: www.worldweather.org or www.bbc.co.uk/weather/world/country-guides
Getting there/transport/permits/fees
The nearest significant airports are Johannesburg (4.5 hours) and Durban (3.5 hours).
Those on organised expeditions will be transported from/to arranged start/departure points. Transfers to the main hotels can be arranged. Otherwise, you will need to get there by car - 4WD if going to the Sentinel Car Park. Always leave your car somewhere safe.
Permits are needed to do this walk. They can be readily obtained. Other small fees are payable. Expedition organisers should arrange these.
Route(s)
There is a wide choice of routes, to suit your time and inclinations.
Most treks start at The Sentinel in the north-west, at the Sentinel Carpark below it (or with a walk up to it from lower down), climbing the famous Chain Ladders and gawping from the top of the Tulega Falls.
You can then either follow the escarpment via Icidi / Ifidi to Fangs Pass, or cut inland along the Kubedu river. The former is tougher but very scenic. The latter is gorgeous (think Scottish Borders) and provides scenic contrast to the escarpment.
You are then likely track the escarpment (inland some of the time) around the fabulous Mnweni Cutback to Rockeries Pass. Camp in the deeply atmospheric Mponjwane Cave if possible.
Depending on your time available and inclinations, you can descend the extraordinary Rockeries Pass and then walk out through wonderful Little Berg valleys and Zulu villages (1.5 days), or (the most walked route) continue on past Cathedral Peak and descend to the luxurious Cathedral Peak Hotel via Twins Pass (2 days) or the superb Organ Pipes Pass.
Possible problems, health, other warnings
See also the websites in our useful links page for more detailed, and up-to-date, information.
Safety and problems: All walks have inherent risks and potential problems, and many of the walks featured on this website involve significant risks, dangers and problems. Problems of any sort can arise on any walk. This website does not purport to identify any (or all) actual or potential risks, dangers and problems that may relate to any particular walk. Any person who is considering undertaking this walk should do careful research and make their own assessment of the risks, dangers and possible problems involved. They should also go to "Important information" for further important information.
Make sure you have appropriate insurance.
Guided or independent?
Independent
Doing this walk independently is not recommended.
Guided/supported
Given the remoteness of the country and difficulty of getting supplies, an organized expedition is the only sensible option and traveling here with a knowledgeable guide has huge advantages. Expedition organisers include:
We cannot speak highly enough of our guide, Ian Shooter, who was charming and very experienced. Try to get him if you can. Ian@drakensberghiker.co.za. He is starting to organize expeditions in his own right, and is likely to be good value.
Accommodation
Camping is the only realistic option when on trek.
Accommodation at the start/end include:
Other information and tips
Although you won't need it, carry your passport as you will be crossing the border between South Africa and Lesotho.
If coming by your own car, leave it somewhere safe.
Do not expect "full Monty" Himalayan-style trekking. Small groups may not have a mess tent, and there may not be a loo tent.
Useful websites and information
There are many websites with relevant information. Here are some that we think are useful or have been recommended to us.
Other things to do in the area
Other walks
Endless. See Drakensberg Escarpment. See also The Fugitives' Trail. Drakensberg-tourism.com has a fantastic selection of day walks in the area.
Other activities
Game viewing.
Climbing.
White water rafting
Battlefields (Zulu / Boer Wars).
Shopping, if you must
We are not a shopping website. But, anything bought from local people must be of some help to this poor area. So, wallets out!
COMMUNITY COMMENTS AND PHOTOS
Name: JakeK
Posted on: 08/12/2012
Congratulations on a great website. As a South African living in the UK I was feeling homesick and typed my favourite place in all the world into google (= Mnweni) and so came across your site. So far I've done 9 of the top 100 = Inca Trail, Berg, Torres/FitzRoy, Hadrians wall, Colca canyon, Simien mountains, Tongariro crossing, Pembrokeshire Coast path and SW coast path. I agree superb walks one and all (personally would have scored the Ethiopian Simiens a little higher, for the Gelada Baboons alone!) I'm very glad you enjoyed the Northern Drakensberg as much as you did, it's such a forgotten part of the world which of course adds to its substantial charm. Having hiked all over the world since leaving South Africa I've always been surprised that the Drakensberg isn't better known as a superb walking destination by other travellers because I've always thought it world class, and I'm glad to see you agree. If I must add in a few notes - from the Escarpment above Rockeries Pass there are two potential caves to sleep in. William went for Mponjwana, which I agree is a fine cave, but not too far away is Ledges Cave and in my book there is no contest. Mponjwana may get the best sunrise view, but for sheer drama Ledges is hard to beat, and my favourite cave in the entire mountain range. As it's name suggests it's perched on a ledge overlooking the Mnweni Cutback and the Mnweni Valley, you descend to from the escarpment edge, and sleep a few yards from the cliff edge. The views are hard to beat. I'll attach a few photo's to show you what you missed (mean I know). The other big descision is on the Descent to Mnweni Cultural Centre, and again I'm afraid I'm disagreeing. Rockeries is no doubt a fine pass, and the views of the Saddle especially are grand. But go the other way down Mnweni Pass,and the Mnweni Pinnacles and the Mnweni Cutback are your comapnions on descent. It's a tough call but for me the clincher is the walk from the bottom of the pass back to the Cultural centre, where the Mnweni valley and the very awesome Mnweni pools (nicest Sandstone pools in the Berg bar none!) mean it's no contest I'm afraid. Thanks for scratching my homesickness itch.

Name: Govertical
Posted on: 23/09/2013
A great walk now being mentioned as one of the top 10 most dangerous hike by the Outside magazine. I would also suggest using a guide. i used www.govertical.co.za . An experience that i will remember for the rest of my life.


Your comments on this walk, your experiences and suggestions, and your photos are very welcome. Where appropriate, you will be credited for your contribution.
Top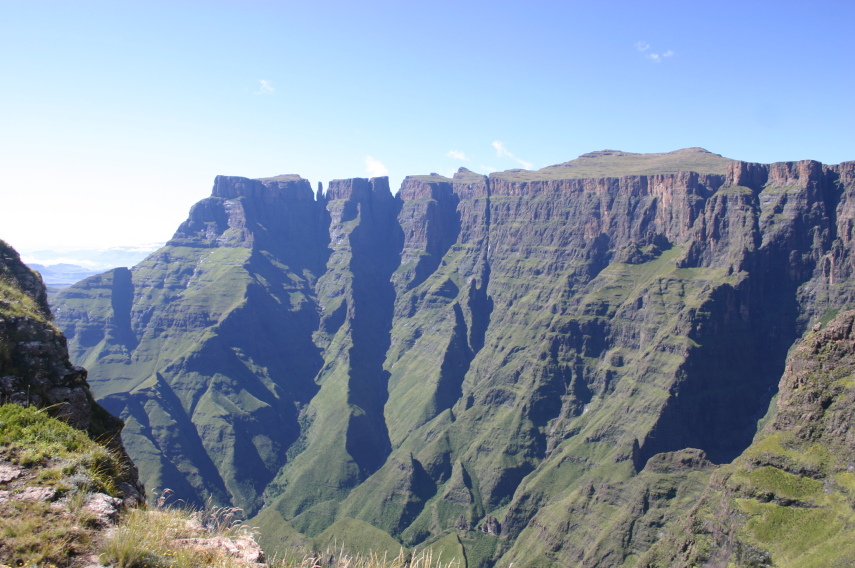 OTHER ACCOUNTS
share your experiences
Top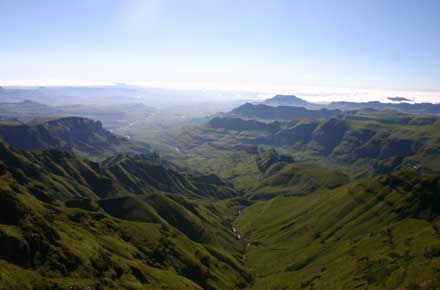 Top
Responsible travel matters, a lot. How you travel will make a real difference - for better or worse. PLEASE consider this when making plans. Read more