Cinque Terre
Key information: Cinque Terre
A group of five tiny sea-towns, each unique in personality, strung along Italy's Ligurian Riviera. Only accessible by road within the last 40 years.
Walk the High Trail' on old pilgrimage and trade paths through the hills behind the towns, or on the lower route along the coast between them.
Scenery that swings between the picturesque and the spectacular in this UNESCO World Heritage area.
Walks for many levels of enthusiasm, from the section-by-section sea route (11km in total, shortest section 20 mins) to the more strenuous 40km Alta Via (2 days).
We have been told that it is not currently (2013) possible to do the whole route due to landslides, but this is not mentioned much on the internet - does anyone have any more information?
Walkopedia rating
Walkopedia rating86
Beauty

32

Natural interest

14

Human interest

12

Charisma

32

Negative points

4

Total rating

86
Vital Statistics
Length:

1-40km

20mins - 2 days

Maximum Altitude:

around 1300m

Level of Difficulty:

Variable
Top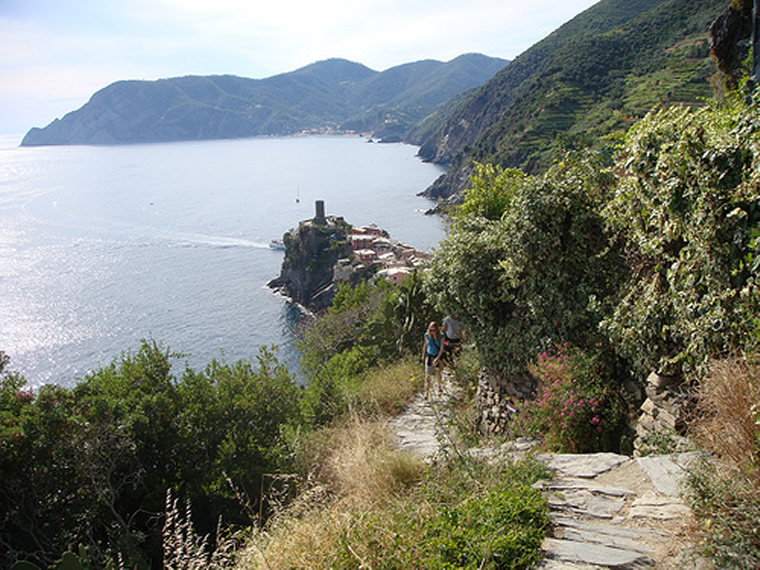 WALK SUMMARY
The Cinque Terre (five lands) of Italy's Ligurian coast is a group of tiny Medieval towns which defiantly grasp the inhospitably rugged coastline as protection from Turkish pirates, who regarded the area as easy pickings. Strung along the edge of the sea, at the feet of mountains covered in ancient terraced vineyards the area has been admired for its white wine since Roman times and the hand-built terraces would be as long, laid end-to-end, as the Great Wall of China - there are, as the name suggests, five of them in total: (from north-east to south-west) Monterosso al Mare, Vernazza, Corniglia, Manarola and Riomaggiore; sandwiched between Levanto to the north and Portonovere to the south.
The thrall of this arresting terrain lies in the isolation in which it passed the last thousand years: a road wasn't built until the 1960s and, largely poverty-stricken until National Park and UNESCO status transformed the economy into a tourist one, much of the towns' architecture and atmosphere has remained pretty much unchanged since they were built. The disadvantage is that the Cinque Terre's exquisite beauty is not a very well-kept secret: the lower (azzuro) trail has never been a spot for those dedicated to solitude, and the upper (rosso) trail is soon to become greatly more populous, courtesy of a cable car from Riomaggiore.
Each town has its own distinct personality. Monterosso is the most developed resort town, split into old and new, with functionall hotels, beach umbrellas and car parking concealing, beyond a tunnel, a huddle of medieval crookedness: tiny alleyways, a 16th-century Capucchin monastery with some fine paintings, an ancient castle and harbour. Vernazza rises straight out of the water and is dominated by its castle, with defensive views of the other towns. It is family-friendly and life centres around the large natural harbour and beach. The locals are much admired locally for having put up a barricade to stop an encroaching road; the town remains car-free to this day. Corniglia, a slightly gut-wrenching 400-rock-step climb up from the coast, has been the area's most celebrated vineyard since Roman times. Manorala is a tiny, straggly and peaceful fishing village, straddling a ravine. Riomaggiore, on first sight, is dull. However, stroll through the railside tunnel (or take the lift), under blousy washing lines and up through higgledy-piggedly alleyways, and it transforms into a fairytale of ancient pastel houses haphazardly piled up above the horseshoe-shaped dock.
As a roadless economy, communication between the villages was by foot until very recently, resulting in a magical network of footpaths between the villages that provide walking opportunities for pretty well everyone from toddlers to troopers. Walks vary from a paved 20-minute ramble (Manarola to Riomaggiore) known as the Via dell'Amore, to a full-on 40km hike on high, strenuous paths.
Hiking the Cinque Terre is an excellent opportunity to explore Ligurian marine life and five idiosyncratic models of age-old regional agriculture and industry, passing through abundant fragrant shrubbery, pine groves and flowering cacti and enjoying frequent and magnificent views of the sea, coast and its settlements.
Riviera di Levante tourist offices supply maps of the sentieri (paths), most of which are very well-marked and serviced. It might just be an idea to ask about the current status of the trail you choose, as they are regularly closed for improvements. The treks can be as relaxed or demanding as you wish, as the towns provide welcome watering-holes between steep climbs and gruelling steps. For those who wish to ramble over several days or take daily sojourns to Levanto, Portovenere or Lerici or the restored oil mill in Groppo (above Manarola) the towns provide an ample variety of accommodation.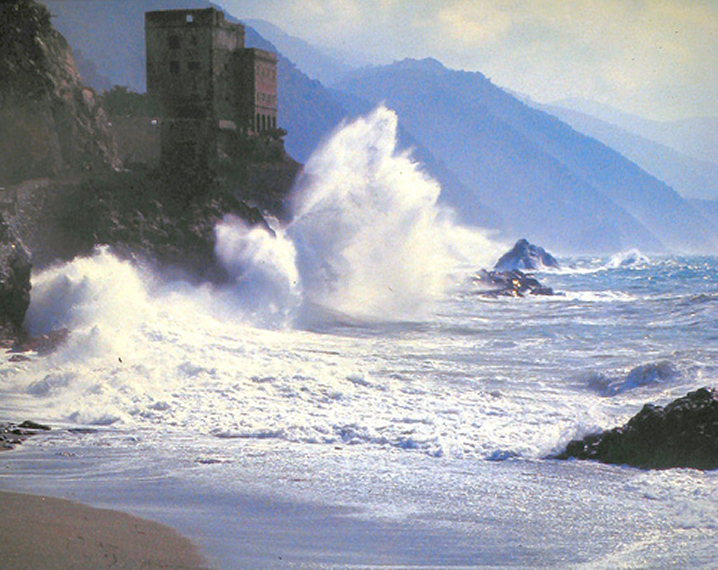 See also expedition planning, including our universal expedition checklist. Walkopedia encourages responsible travel.
Guidebooks/maps/background reading
Guidebooks
Italian Riviera and Piemonte – Cadogan (Dana Facaros and Michael Pauls)
Rick Steves' Italy – Rick Steves. Generous section in country guide by travel writer largely credited with "discovering" the Cinque Terre for the outside world, and who still lives locally.
Other books
Maps
Basic online map...
Detailed paper map...
Stanfords: www.stanfords.co.uk. An excellent (and user-friendly) online specialist source of worldwide maps (it is also good for guidebooks).
Best times to walk/weather
Best times to walk
Liguria's positioning in Europe makes the Cinque Terre a very popular weekend destination for both Italians and Germans, as well as all the world's other tourists; the towns can be almost overrun during high season. Recommend book accommodation well in advance, and possibly avoiding altogether in June, July and August.
Weather
Weather here is relatively temperate thanks to generous sea-breezes, but can get very hot in summer; sunshine is intense on the cliff-tops, so keep sunblock in your day-pack. It does, however, rain reasonably frequently throughout the rest of the year; so light waterproofs are recommended too, just in case.
Getting there/transport/permits
Nearest cities are Genoa and La Spezia.
Driving: The roads between the villages are hairily narrow, and parking once you get there almost non-existent. Recommend driving to either Riomaggiore or Manarola, where there is parking available, then using public transport if not walking immediately.
Public transport: TrenItalia runs frequent services from Genoa and La Spezia, and each town has a station. The park service also runs trains between the towns. The towns are also linked by a (fairly pricy, but deeply scenic) ferry service.
Permits are needed to do these walks. They can be obtained from kiosks near train stations, or from the tourist office in La Spezia station, off platform 1. The Cinque Terre card gives access to paths, lifts and a variety of museum and information sites; plus other options including unlimited use of trains or ferries, over a variety of day options. Single adult cards cost from E5 for one day to E20 for seven days. Train cards: E8.50 – E36. Ferry card: E19.50 for one-day.
There are also discounted cards for children, over-70s and families. These cards also need to be stamped in machines at the beginnings of trails/journeys: don't forget, or you could face a fine.
All prices are 2009. For more information and the most up-to-date price lists, you can visit: www.cinqueterre.com/eng/information/card/
Route(s)
The Alta Via de la Cinque Terre (trail no1, also known as the 'High Trail' or Sentiero Rosso) is an old pilgrim and trade route which runs up to and along the mountain ridges (avoiding peaks) from Portonovere to Levanto. Several hundred metres above the villages, it winds through a variety of landscape – vineyards and lush farmland, silent forests of olive, birch and chestnut, shrines and old pilgrims'=way stations – overhanging spectacular views of the coast hundreds of metres below. About 40km in length, the height variation is about 800m (the path avoids the peaks, following the mountains' shoulders and ridges), and it is well signed with red-and-white route markers.
Steep paths lead up to the Alta Via from each of the villages, allowing access at various points, but to cover the whole route start at the castle square in Portonovere. Follow the route markers up a 2-hour 500m haul through pine forests to Campiglia. Another hour will take you past the Chapel at the Valico di Sant'Antonio to the Telegraph Hill (there are refreshments available here).
The path then leads uphill to the Monti Verrugoli, La Croce (the Cross) and Monte Capri (785m). A menhir lying on its side near here speaks of ancient habitation. The path then zig-zags either side of the ridge, affording views inland to Volastra as well as seaward, past Monte Gaginara (812m and the highest point of the walk), Monte Castello (Castle Mountain), past Monte San Croce to the Sanctuary of the Madonna di Saviore. Soon after, this, the path swings steeply downhill, meeting the Levanto-Monterosso road near the coast. Although this path is listed as a 10-hour walk, every resource suggests that it should be tackled over two days. Accommodation can be found at Campiglia, Telegrafia, in Pavi at the Sanctuary Nostra Signore di Soviore and at the Colle di Gritta.
The Lower Trail (Blue; Sentiero Trail) more-or-less follows the line of the sea, linking the towns. 11km in total, it is divided in sections, which vary considerably in difficulty. The great thing is you can't get lost.
The famous Via dell'Amore trail, between Riomaggiore and Manarola (0.6km), is a charming 20 minute walk, concreted since a recent collapse. You frequently see local women negotiating its lovely sea views in stiletto heels.
Manarola to Corniglia: a 3km mild uphill walk with ocean views all the way along.
Corniglia to Vernazza: the toughest of the trails:only 4km, but with steep up-and-downs through vineyards, a lot of knee-work on rough stone steps and a few vertigo-inducing places where the metre-wide path runs along the edge of deep terracing. Good footwear and possibly a stick recommended. No sea views, until you get in sight of the next settlement, but a fascinating taste of an ancient landscape. Allow two hours.
Vernazza to Monterosso al Mare: another surprisingly tough, 4km (two-hour) trail – plenty of ups-and-downs, steps (700 straight at the end) and moments of vertigo – with great sea and vineyard vistas.
For a general map of the trails, see:
www.my-cinque-terre.com/cinque-terre-map.htm
Possible problems, health, other warnings
See also the websites in our useful links page for more detailed, and up-to-date, information.
Safety and problems: All walks have inherent risks and potential problems, and many of the walks featured on this website involve significant risks, dangers and problems. Problems of any sort can arise on any walk. This website does not purport to identify any (or all) actual or potential risks, dangers and problems that may relate to any particular walk. Any person who is considering undertaking this walk should do careful research and make their own assessment of the risks, dangers and possible problems involved. They should also go to "Important information" for further important information.
Make sure you have suitable insurance.
Guided or independent?
Independent
You can do these walks independently.
Guided/supported
While these walks can be done independently, guided holidays are also available. Organisers can also arrange for permits and accommodation. Expedition organisers include:
Accommodation
There are many options in this area, from hotels through rental rooms and hostels. Booking ahead, however, is advisable. Try:
Other information and tips
The area is a national park, and paid tickets are required for entry to the trails; income is used for maintenance of paths.
Useful websites and information
There are many websites with information on these walks. Here are some that we think are useful or have been recommended to us.
Other things to do in the area
Other activities
As in the rest of Italy, eat:this is the home of pesto. Seafood of all sorts is fresh and simply prepared.
Swim: each of the towns is attached to its own blue-flag beach.
Partake in the passagiatta: the time-immemorial Italian habit of people-watching, as the sun sets over the azure Riviera and day cools down to dusk.
Safety and problems: All walks have inherent risks and potential problems, and many of the walks featured on this website involve significant risks, dangers and problems. Problems of any sort can arise on any walk. This website does not purport to identify any (or all) actual or potential risks, dangers and problems that may relate to any particular walk.

Any person who is considering undertaking this walk should do careful research and make their own assessment of the risks, dangers and possible problems involved. They should also go to "Important information" for further important information.
COMMUNITY COMMENTS AND PHOTOS
Name: arose23
Posted on: 22/05/2013
Hello! I just got back from Cinque Terre and LOVED it. However, the trail is closed after the second village! After all of my extensive online research before I left, nothing told me this- I must have been reading outdated information at times. The trail has been closed for at least 3 years due to devastating landslides and flooding. Word on the trail it will open this June, but locals said it was impossible. Cinque Terre is a national park. I would suggest going to their website to contact them before planning a trip there! The sea was even too rough to go on the boats. Also, Cinque Terre was full of American tourists and I hear it is unbearably crowded in June and July. I was lucky to have good weather for mid May but wish I could've had a bit more privacy. The nickname of the trail is the "lover's walk," so don't go alone after a break-up! The food isn't great, either. I wish I could have gone here 20 years ago. Good luck and happy trails! Walkopedia says: THANK YOU!

Name: jdarracq
Posted on: 17/07/2013
I've been to Cinque Terre in May 2013, and indeed the path section between Manarola and Riomaggiore (via de'll amore) was not practicable (closed gate at Manarola train station). The path section between Vernazza and Corniglia was also officially closed, but without gates, so in practice, path was used by walkers as if it was open...and for free!
Walkopedia says: THANK YOU, O GENEROUS ONE WITH YOUR TIME! appreciated.
Name: Jude
Posted on: 02/12/2013
Have just completed the Cinque Terre trail and found it stunning, exciting and, in some sections, hard going. Each small village has it's own unique setting either by the sea or high up on a mountain top. The towns are somewhat commercial although the small shops are quaint and sell locate produce and hand-made goods only. We were hoping to walk the whole of the trek, however, the farthest walk, which is right by the sea and therefore quite beautiful, was closed off following a landslide. We were told that this section of the walk would be reopened in 2014, but I would suggest that if you don't want to be disappointed, you check before going. Having said that, all the other sections of the walk were open and were magnificent. Even though we live in Australia it is our plan to return one day and complete the walk. By the way, we chose to stay in Levanto at Villa Clelia and loved it.
Walkopedia says: THANK YOU for this. Very helpful.
Name: SGuastaferri
Posted on: 15/09/2016
In regards to the Cinque Terre the path leading from Riomaggiore into Manarola is closed. As well as the one leading from Manarola to Corniglia is closed as well.
Walko says: Thank you, SGuastaferri, very helpful and much appreciated!

Your comments on this walk, your experiences and suggestions, and your photos are very welcome. Where appropriate, you will be credited for your contribution.
Top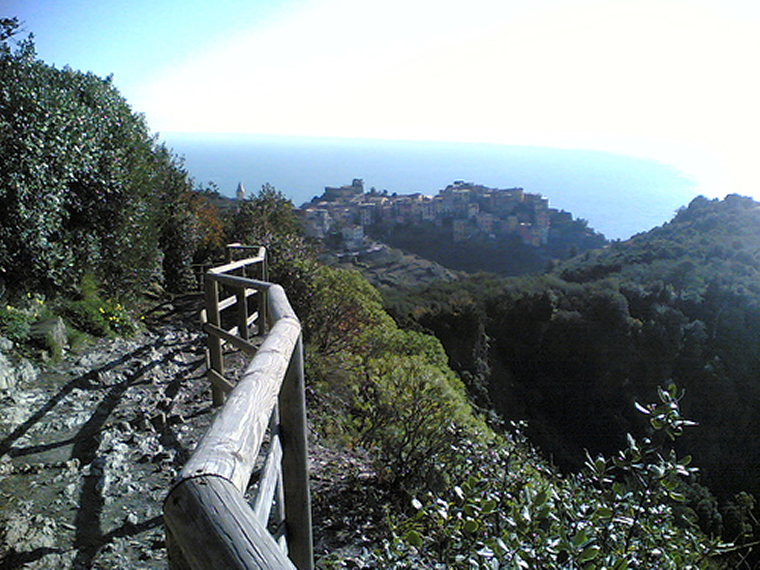 OTHER ACCOUNTS
share your experiences
Top
Top
Responsible travel matters, a lot. How you travel will make a real difference - for better or worse. PLEASE consider this when making plans. Read more