Dientes Circuit
Key information: Dientes Circuit
Few hikers venture to this isolated island wilderness, positioned seemingly at the edge of the world. Jagged mountain peaks jut into the sky above glaciers and freezing lakes, their stony sides buffeted by bitter Antarctic winds.
Circle from the small outpost of Puerto Williams, through a wilderness of lakes, over passes with outstanding views across Isla Navarino and its neighbouring islands, back to the coast of the Beagle Channel.
Explore the history of the remote Yaghan people, with their fascinating culture and hardy way of life; marvel at how they survived in the freezing temperatures and icy winds - with no clothes.
This is a tough walk in remote mountains, on which you will have to be self-sufficient and where extreme weather can cause real problems. Come prepared.
Walkopedia rating
Walkopedia rating84
Beauty

33

Natural interest

16

Human interest

6

Charisma

32

Negative points

3

Total rating

84

Note: Negs: bad weather likely; heavy loads to carry
Vital Statistics
Length:

53km

4 days

Maximum Altitude:

1,195m

Level of Difficulty:

Difficult
Top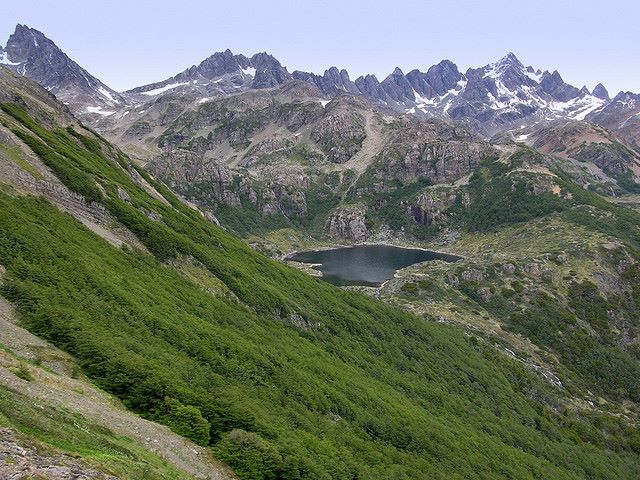 WALK SUMMARY
This is the world's most southerly hiking, a dramatic subantarctic trail around the jagged, spired peaks of the Cordon de los Dientes, on the Isla Navarino. Outstanding views from this looping trail reach across a rocky, windswept landscape and, further, out over the Southern Sea as far as the islands of the Cape Horn.

This hike is primarily about exploring Isla Navarino's bleak sub-Antarctic wilderness. However, the island is also home to the rich cultural history of the Yaghan people, and a visit isn't complete without a trip to the wonderful Martin Gusinde Museum in Puerto Williams. Living further south than any other aboriginal people, the Yaghan, or Yamani, lived off the sea, and spent most of their time in large canoes.
Both sexes covered themselves with the blubber of sea mammals, rather than with clothes and, fascinatingly, only the women swam. Whilst children continuously bailed out the water from the bottom of the canoes, and kept the fire burning (one sat in the centre of each canoe), men would hunt larger prey with harpoons, and the women dive into the icy waters in search of shellfish.

The arrival of Europeans brought with it (as ever) disease, religion and a desire for land. The Yaghan were moved into a small village just outside Puerto Williams, and there are now no speakers of the Yaghan language left alive.
The classic Dientes Circuit is that described in the Lonely Planet's Trekking in the Patagonian Andes; the reputation of its author, Clem Lindenmayer, is such that in 2001 the Chilean government took the rather astonishing step of naming several of Isla Navarino's landmarks after this adventurous pioneer. Now, the informal place names he used have been adopted officially, and the island has been endowed with a "Cerro Clem" and "Montes Lindenmayer". His guide is indispensable for this walk.
The walking style is self-sufficient, wild camping is necessary, weather can be awful, and you will be carrying everything including your tents and food. If taking along the extra weight may be a problem for you then you will have to both join a guided trek (Dragon de la Patagonia run one here) and specially request the presence of a porter - but bear in mind that if this is a problem, then this tough walk may not be for you.
The first stage of the circuit begins with a popular local day walk from Puerto Williams to Cerro Bandera, heading inland and climbing reasonably steeply to just above the treeline. From here, gaze out across the Beagle Channel back towards the Argentinian part of Tierra del Fuego, before continuing along a guanaco path not far below the natural line of the ridge, completing the stage near the shore of Laguna El Salto.
Lakes glimpsed from the ridge become the landscape of the second day; leave Laguna El Salto behind only to find yourself trekking past Laguna del Paso and Laguna de los Dientes, amongst their numerous unnamed counterparts. After some attractive valley walking, the day finishes at Laguna Escondida, set in harsher scenery, with three of its shores enclosed by sheer rocky peaks.
Leaving Laguna Escondida, cross its small outlet stream and head upwards again, following more guanaco trails to crest a pass with more panoramas of the surrounding countryside. Abundant lakes nestle in the glacial troughs below sharp peaks; forests cover some of the lower ground, with vegetation rapidly cut shorter by the harsh, bitter Antarctic winds as altitudes increase.

Follow tracks running almost along the ridge itself, to a second pass, before descending back below the tree-line. Edge around the lovely Laguna Hermosa, source of the Rio Guerrico, and an hour or so further on end the third day of hiking at Laguna Martillo.
Walk above the northern bank of the Rio Guerrico, with the steep, spiked summits of the island's more southerly ranges on one side and gentler peaks on the other, before branching to the northeast - back towards Puerto Williams and the Beagle Channel. Heading above the tree-line once more, clamber over the bleak terrain of Paso Virginia, with more stunning views over Isla Navarino and its neighbours, before trekking down through glacial scenery to Laguna Los Guanacos.

On the final day, follow an excellent guanaco trail edging the western side of this aptly named lake. The going becomes tougher as you continue alongside Estero Virginia, making your way through its densely forested valley. Exiting the forest, you will reach a crab processing plant, marking the beginning of the final 8km stretch of the Dientes Circuit. Follow the coastal road, from which it is often possible to hitchhike to the finish.
The route is marked with cairns and painted stones, but route-finding will still be needed, and some scrambling and bush-whacking may be necessary. Weather on this hike can be extreme, and this is a major concern: winds can be violent and snow can be heavy and unexpected. Tents must be strong and tied down well, and hypothermia is a real risk.
See also expedition planning, including our universal expedition checklist. Walkopedia encourages responsible travel.
Books and Maps
Books on this walk
Trekking in the Patagonian Andes – Lonely Planet/Carolyn McCarthy – an updated version of the classic Lonely Planet guide for trekking Patagonia, this is essential for anyone walking the Dientes Circuit.
Other books
Chile and Easter Island – Lonely Planet/Carolyn McCarthy
The Rough Guide to Chile – Rough Guides/Shafik Meghji & Anna Kaminski
Dictionary of Chilean Slang: Your Key to Chilean Language and Culture – Emilio Rivano Fischer: A useful insight into language use in Chile, which is significantly different to that in Spain or elsewhere in Latin America. Note: this book is in Spanish.
Voyage of the Beagle – Charles Darwin: Darwin spent some considerable time in Chile, with some arguing that this was as influential as his time spent on Galapagos Islands for the development of his later theories.
Chile: Travels in a Thin Country – Sara Wheeler
Tierra del Fuego – Francisco Coloane: a selection of short stories and anecdotes based in the Tierra del Fuego.
Tierra del Fuego – Sylvia Iparraguirre – a novel based on the fascinating history of Isla Navarino, focusing on the story of Jemmy Button, a young Yaghan man who (along with three others) was taken in 1830 by the English back to London on the famous HMS Beagle, to be "civilized".
European Encounters with the Yamana People of Cape Horn, before and after Darwin – Anne Chapman – a pricy book, but published relatively recently (2010)
Patagonia Chronicle: On Foot in Torres del Paine – Susan Alcorn
The Last Cowboys at the End of the World: the Story of the Gauchos of Patagonia – Nick Reding
The Motorcycle Diaries – Ernesto "Che" Guevara: It is almost impossible to escape the pervasive legacy of Che Guevara in South America; this bestseller charts the early travels which inspired his crusade for social justice.
Clandestine in Chile – Gabriel Garcia Marquez: here, the Colombian author describes the experience of exiled film director Miguel Litten when he returned to Chile in disguise during Pinochet's dictatorship. Part adventure story, part political reportage, this short book earned the ultimate accolade of governmental displeasure, with around 15,000 copies burnt upon publication.
In Patagonia – Bruce Chatwin: Although the veracity of some of Chatwin's encounters has been questioned, his stylized account of travelling through Patagonia transformed ideas about travel writing.
By Night in Chile – Roberto Bolano: A novella comprised of a dying priest's monologue, in which even as his ramblings become more disjointed, his ties to Chile's twentieth century political history become clearer.
The Essential Neruda: Selected Poems – Pablo Neruda, Ed. Mark Eisner: A collection of poems by Chilean national treasure, and Nobel prize winner, Pablo Neruda.
Maps
Stanfords: www.stanfords.co.uk. A good online specialist source of worldwide maps (it is also good for guidebooks). Also try www.mapsworldwide.com and www.trektools.com.
Best times to walk/weather
Best times to walk
This far south, the trekking season is short: the circuit must be walked between December and late March and, even in this timeframe, keep an eye on the weather and be prepared to change your plans accordingly.
Weather
Temperatures are not as extreme as might be anticipated this close to Antarctica; however fierce, bitter winds blow on to the mountains from the seas to the south, and snowfall during winter is heavy right down to the shoreline. The northern coast of the island, where most settlements can be found, is sheltered somewhat by the mountains themselves.
For detailed weather information, have a look at: www.worldweather.org or www.bbc.co.uk/weather/world/country-guides.
Getting there/transport/permits/fees
During high season, there is an almost daily flight to Puerto Williams on the Isla Navarino, departing from Punta Arenas. The flights takes about one and a half hours, flying over stunning wilderness and across the Beagle Channel (named for Darwin's ship). Note that there are no flights on Sundays.
An alternative is to get the boat from Punta Arenas to Puerto Williams, a trip of around 30 hours on reclining seats with meals included. These depart far less frequently; check timings, and book in advance.
The island is officially a military zone, requiring visitors intending to trek overnight to request permission at Puerto Williams' police station: this essentially involves simply leaving your details.
Route(s)
The route is laid out best in Lonely Planet's Trekking in the Patagonian Andes. See below for a rough route map, taken from Everytrail.com.
EveryTrail - Find
trail maps for California
and beyond
Possible problems, health, other warnings
Extreme mountain weather:

snow, rain, severe cold and wind are possible at any time of y

ear and the weather can change rapidly.

Trail-finding

can be difficult here; the route is relatively new and is marked by rocky cairns only marked with paint on one side. You should be confident with trail navigation, and come prepared.

Heights:

can be dangerous; not for those who have difficulties with heights.

This is remote count

ry:

you will have to carry all your food and other supplies and help may be hard to get if things go wrong.

Health risks:

this is a small country with limited facilities, and you will not get prompt medical help of a standard available elsewhere if you become ill.

Be sensitive about photographing people:

Ask permission if in doubt about whether they would mind.

This is the most southerly hiking in the world, from the furthest south permanently inhabited settlement in the world. Summer weather can be good, but is extremely changeable, and heavy snow and severe cold are possible at any time of year. Come prepared.
See also the websites in our useful links page for more detailed, and up-to-date, information.
Safety and problems: All walks have inherent risks and problems can arise on any walk. Many of the walks featured on this website involve significant risks and possible problems. This website cannot, and does not purport to, identify all actual or potential risks, dangers and problems that may relate to a walk or a country. Any person who is considering undertaking this walk should do careful research and make their own assessment of the risks, dangers and possible problems involved. They should also go to "Important information" for further important information.
Make sure you have appropriate insurance.
Guided or independent?
Independent
You can do this walk independently, but you will need to be self-sufficient, so come fully prepared.
Guided/supported
Some people form or join organised/supported expeditions. Given the remoteness of the country and potential trail-finding difficulties, some will prefer to do it this way, and travelling here with a knowledgeable guide does have advantages.
Expedition organisers include:
·Dragon de la Patagonia does a guided hike of the Dientes Circuit
·Wilderness Travel – www.wildernesstravel.com visits Tierra del Fuega on their scheduled itinerary.
·Steppes Travel – www.steppestravel.co.uk – can help you plan your holiday in Chile. Whilst they won't do guided holidays everywhere, they can link you up with tried and tested local guides in different areas.
·Far Frontiers – www.farfrontiers.com – can help you plan your holiday in Chile.
·www.journeylatinamerica.co.uk – a team of specialists on the region, offering a huge number of travel options. Worth contacting for possible trips to the area.
PLEASE HELP Walkopediaby recommending any reputable tour organizers that you know of – local or otherwise. [leave in unless enough sites in our list]
Accommodation
There are no refugio or official campsites on the trail, so the only option is pitching your own tent in a suitable spot.
In Puerto Williams, there are several options for accommodation, including some hostels. If you are interested in the cultural side of the island, it may be an idea to stay at Hostal Lajuwa, based in the Yaghan community. Again, Lonely Planet is the best way to find accommodation here – their writers have 'tried and tested'. Check their website.
Hostelbookersusually has a good selection of cheaper-end accommodation, although this may be more useful for larger cities in Chile, visited on your journey to Isla Navarino.
Always see what the commentary on Tripadvisor is on possible places to stay – although do take their reviews with a pinch of salt, as they can be "interested".
Other information and tips
Bear in mind that Chilean Spanish differs significantly from that spoken in Spain, and even that spoken in other Latin American countries. Therefore even if your Spanish is fluent it may be worth investing in a phrase book to help you get by here.
Tipping is expected in Chile, so come mentally prepared and with enough cash. Check guidebooks for current rates.
Useful websites and information
There are many websites with relevant information. Here are some that we think are useful or have been recommended to us.
·www.wikipedia.org is, as usual, a good starting place.
·TripAdvisor - www.tripadvisor.co.uk/ - tens of millions of reviews, including of popular walks and walk providers.
·www.islanavarino.com has useful general and practical information on the island, including details of how to get there.
·There are several good accounts of walking the Dientes Circuit. http://www.tezaur.net/photo/chile/islanavarino/ and http://thebigoutside.com/unknown-patagonia-the-dientes-circuit/, both complete with photos, are great; also try http://www.erraticrock.com/the-dientes-circuit-on-isla-navarino/
·Try www.flickr.com for pictures of this walk.
Other things to do in the area
Other walks
Chile has a huge variety of great walks, as does neighbouring Argentina. Excellent hikes in Argentinian Tierra del Fuego, just across the Beagle Channel, include the Sierra Valdivieso Circuit and the Montes Martial Circuit. Further to the north, Chile's Southern Patagonian Andes are home to some of the most amazing national parks in the world, including the justly famous Parque Nacional Torres del Paine and Parque Nacional Los Glaciares.
Other activities
Isla Navarino is home to the rich and fascinating culture of the Yaghan people, and if you have an interest in history and anthropology then several sites are unmissable. In Puerto Williams, the Martin Gusinde Anthropological Museum offers an intriguing insight into the traditional life of the Yaghan, and the impact of European settlement. If their story captures your imagination, you may want to visit Bahia Wulaia, an archaeological site on the west coast of the island and a small museum (the southern-most in the world) called the Wulaia Bay Archealogical Musuem. Getting here can be a challenge (you may need to access by private boat from the Argentine city of Ushuaia), and both the site and the museum are on private land. Therefore, plan carefully in advance.
Sailing is, along with hiking, a major draw for visitors to Isla Navarino. Although main shipping routes have been glad for the past century to use the Panama Canal rather than take the risky journey around Cape Horn, recreational sailors often take on the challenge, and Puerto Williams serves as an ideal base.
Safety and problems: All walks have inherent risks and potential problems, and many of the walks featured on this website involve significant risks, dangers and problems. Problems of any sort can arise on any walk. This website does not purport to identify any (or all) actual or potential risks, dangers and problems that may relate to any particular walk.

Any person who is considering undertaking this walk should do careful research and make their own assessment of the risks, dangers and possible problems involved. They should also go to "Important information" for further important information.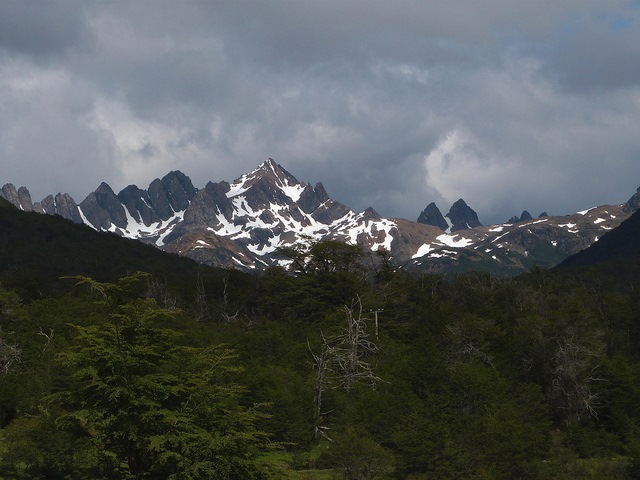 OTHER ACCOUNTS
share your experiences
Top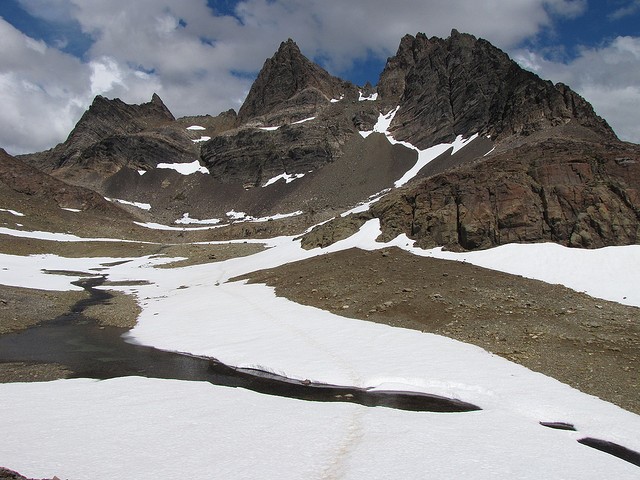 Top
Responsible travel matters, a lot. How you travel will make a real difference - for better or worse. PLEASE consider this when making plans. Read more