Tai Shan
Key information: Tai Shan
China's most sacred Taoist mountain, 1,545m of broken cliffs and boulders in which twisted little pines make a precarious living.


Huge cultural importance: some 3,000 years of religious significance have left a marvellous array of temples, pavilions, gates and calligraphy everywhere.


As one of China's most famous sites, it is usually very crowded: think people-watching, not quiet communion with nature.


This is a tough walk of over 6,000 steps. Some fitness will help - and come prepared for mountain weather.



Walkopedia rating
Walkopedia rating84
Beauty

29

Natural interest

14

Human interest

19

Charisma

32

Negative points

10

Total rating

84

Note: Negs: crowding; oppressive tourism infrastructure
Vital Statistics
Length:

Variable

Maximum Altitude:

1,545m

Level of Difficulty:

Strenuous
Top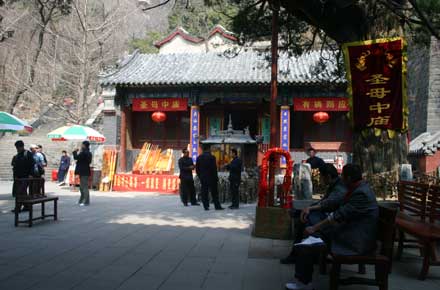 WALK SUMMARY
Chinas paramount Taoist Mountain, Tai Shan, is special; a place where emperors came to give sacrifice (it is Chinese slang for father in law), crammed with historic buildings (albeit not as ancient as they might have been, thanks to the glories of the Cultural Revolution), pullulating with myth and story, poetry and art. Even Mao Zedong got in on the act, declaring here that the east is red.

The area is, with justice, a World Heritage Site. It is said (by Wikipedia) that there are 22 temples, 25 gates and arches, 97 ruins, 819 stone tablets and 1,018 inscriptions on Tai Shan. There are many ancient trees to revere. You sometimes feel as if every stone and tree is significant.

The mountain rears, with little in the way of preliminaries, from the great North China Plain to its 1,545m height. And it does so dramatically: given the antiquity of its gneiss rock, it is remarkably jagged and new-looking. Below the cliffs and spires of the peak, steep edges are littered with huge boulders and patched with slopes of bare rock. Crooked little pines and pretty deciduous trees struggle to make a living in its crevices.

You will need to climb the Central Route (although there are alternatives, including a cable car, as described below): this was the imperial route, and has the detritus of history to show for it. From the Hong Men gate, it climbs fairly steeply up a valley. At first there are houses and orchards as well as the temples, pavilions and steles. These give way to wooded hillside, but there is consistency on the whole route: it is made of hewn stone steps and slabs, it is steep, it is pretty crowded at most times of year and you are seldom out of sight of a stall. It is heaven for people - watchers: all types make the climb, from the ludicrously old to the impossibly young.

The buildings and inscriptions that line the route are intriguing, although most are heavily restored. Foreigners are at a disadvantage, as their ignorance of the cultural and religious significance and illusions is exacerbated by missing out on the subtle poetry of the steles.

The deity you will get to know well is Bixia, the Princess of The Azure Clouds, who can be seen in many of the temples en route. She has serenely outlasted the worst that the Cultural Revolution could throw at her.

This is a tough walk, said to be 6,660 steps (figures range from 6,300 to 7,200) to the Nantian Men Gate at the top of the last, terrible, flight of steps.

While it is outgunned by Huangshan and Emei Shan, to name but two famous Chinese mountains, it should be high on the travelers list, unless he/she has explored another sacred mountain.

The circuit around the peak area is easily the most enjoyable part of the mountain, if you get a good day (even in the fairly regular mist, it can be deeply atmospheric). There are beautiful, interesting and ancient temples and pavilions, and some wonderful views of the range in its full glory (you have to forget the town (population of over 5m) of Taian huddled around the base). You can even find a scintilla of solitude at the further ends, away from the hoots and hollers of the groups, and you can feel your way toward the deep contemplation that was once essential to a pilgrimage here.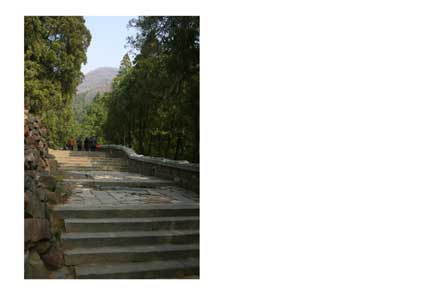 See also expedition planning, including our universal expedition checklist. Walkopedia encourages responsible travel.
See also expedition planning, including our universal expedition checklist.
Walkopedia encourages responsible travel.
Guidebooks/maps/background reading
Guidebooks
China – Lonely Planet
China – Rough Guide
All general China guidebooks will have a section on Taishan.
Other books
Maps
The main route is so obvious that a detailed map is not necessary (although it would be nice: but none seen locally in 2009)
Stanfords: www.stanfords.co.uk. An excellent (and user-friendly) online specialist source of worldwide maps (it is also good for guidebooks).
Best times to walk/weather
Best times to walk
Spring and Autumn for best temperatures and best chance of a clear day. October is said to be best of all. (We walked on a beautiful sunny day in late March - but snow were still to be seen in corners and it was a brown world.)
It is often cloudy and misty on top at all times of year, especially Summer. Winter is often clear, but will be very cold and probably snowy and icy.
Weather
See above. At all times, come prepared for cold and wet on top - i.e. unpredictable mountain weather.
For detailed weather information, have a look at: www.worldweather.org or www.bbc.co.uk/weather/world/country-guides
Getting there/transport/permits/fees
The nearest significant airport is Jinan (daily direct flights from Hong Kong).
Bus or taxi to Jinan, train to Tai'an. Taxi or walk to the start. Or you can negotiate a taxi direct from Jinan airport to Tai'an (80 mins, RMB260 in 2009).
Entrance fees (RMB125 in 2009) are payable.
Route(s)
There are a number of paths up the mountain, but the Central Route is the most famous; full of temples, pavilions, inscriptions, and redolent of history. But it is some 6,600 tough steps to the high gate, and you should allow at least 4 hours. You will need to be fit to do it at all.
There is no shame in taking a bus (up the Western Route, along a road to the Zhongtian Men gate, approximately half way up - or a cable car from there to the top. You can descend by these means (be prepared for long queues for the cable car at popular times), or along the western or other routes.
Allow time to make a good circuit of the top: it is fascinating and the back end of the peak is the only place where you are likely to get a scintilla of solitude.
Possible problems, health, other warnings
Mountain weather: rain, severe cold and wind are possible at any time of year, with snow likely in winter. Come prepared.
Heat, humidity and strong sun at certain times of year. Carry enough water and protect yourself.
Heights: cliffs are zealously marked, but take care at the top.
Health risks: this is a developing country. Come prepared, including getting all appropriate inoculations/medications.
See also the websites in our useful links page for more detailed, and up-to-date, information.
Safety and problems: All walks have inherent risks and potential problems, and many of the walks featured on this website involve significant risks, dangers and problems. Problems of any sort can arise on any walk. This website does not purport to identify any (or all) actual or potential risks, dangers and problems that may relate to any particular walk. Any person who is considering undertaking this walk should do careful research and make their own assessment of the risks, dangers and possible problems involved. They should also go to "Important information" for further important information.
Make sure you have appropriate insurance.
Guided or independent?
Independent
Almost everyone does this walk independently.
Guided/supported
There is no point hiring a guide (you may be approached) unless he/she is knowledgeable and has good language skills. Check this and agree a price before starting.
Accommodation
The guidebooks have a selection of possible accommodation in Tai'an. There are hotels at Zhongtian Men and on the peak, but it is only worth staying in them if you want to see the dawn.
www.ctrip.com has hotels in Jin'an and Tai'an (and is useful for making bookings) - but don't necessarily believe what they say about location, facilities and the like.
Other information and tips
Useful websites and information
There are various websites with relevant information. Here are some that we think are useful or have been recommended to us.
• www.wikipedia.org is worth having a look at, not least for its very Chinese list of statistics.
Other things to do in the area
Other walks
Kong Lin (Confucius Forest) in Qufu.
Other activities
Qufu, Confucius' birth place, contains an extraordinary selection of ancient buildings and sites and is roughly an hour by road from Tai'an (2 by train).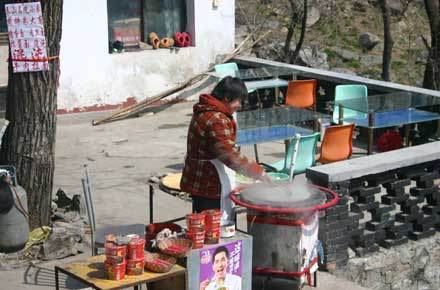 OTHER ACCOUNTS
share your experiences
Top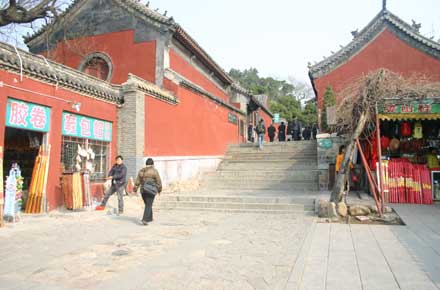 Top
Responsible travel matters, a lot. How you travel will make a real difference - for better or worse. PLEASE consider this when making plans. Read more