Cares Gorge (Garganta del Cares)
Key information: Cares Gorge (Garganta del Cares)
Deep, improbable gorge, a mile deep in places, that splits this stunning, jagged limestone mountain range close to Spains northern coast. Unmissable if you are anywhere near.
Walk on a dramatic old hydro-electric maintenance track carved into the cliff-faces, high above the river.
Magnificent throughout, with varying microclimates, vast rock walls on both sides; particularly beautiful in its upper reaches.
Gets crowded at popular times.
Walkopedia rating
Walkopedia rating87
Beauty

32

Natural interest

17

Human interest

4

Charisma

34

Negative points

0

Total rating

87

Note: Neg: can get crowded at high season and at weekends
Vital Statistics
Length:

15km / 3.5hrs one way

Level of Difficulty:

Moderate
Top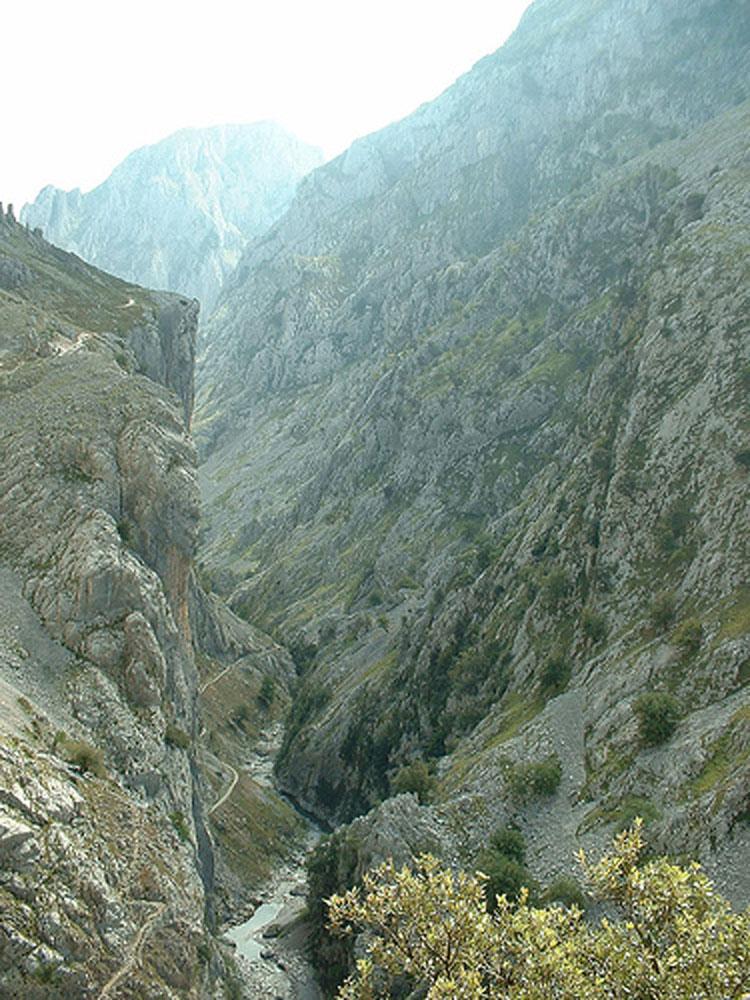 WALK SUMMARY
The Cares Gorge (Garganta del Cares) is enormous, outstandingly beautiful in its upper reaches, and unmissable if you are anywhere near the Picos de Europa.
The river Cares has carved an improbable gorge through the heart of the huge limestone Picos range, dividing its Western and Central massifs. This chasm is a mile deep in places, with vast rock walls on both sides.
The river has been partially diverted for hydroelectric power, water coursing down a canal built into the mountain itself, and walkers can use the related maintenance path. This is an impressive feat of engineering, clinging to the cliff face and tunnelling through live rock. Although the track is wide and easy, its not the best place for sufferers from vertigo.
The lower gorge is huge and grand, the path winding perhaps a thousand feet above the river after an ascent from the perfect Roman bridge (with wonderful swimming-pool beneath it) near Poncebos. You get big views along the gorge from ridgetops, where you will want to sit and marvel. On the southern side is the vast Murallon de Amuesa wall. The river is a small glistening thread from here.
Around the great bend, the upper (south-north) gorge is more beautiful, more verdant and more enclosed. Between cliffs and crags, thinly forested couloirs soar for hundreds of metres to the impossibly distant peaks framed between their walls. The deep recesses of the gorge rarely see the light and harbour a dank, ferny microclimate.
It is hard to do justice to the drama of the path as it winds, hundreds of sheer feet above the river, around the smooth walls of the gorge, sometimes dipping through arches or longer galleries. As you approach Cain, you will cross the gorge twice on spectacular bridges, and pass through a series of galleries.
Some people descend the gorge from Cain (where the gorge-proper begins) to Poncebos, although it is possible to start/finish at the villages higher up the Cares valley. However, ascending the gorge is probably preferable.
The gorge path from Poncebos to Cain is around 15km (figures vary wildly) and takes around 3.5 hours to walk but assume a lot of extra gawping time. Getting between the two roadheads is difficult 2 hours and E 130 by taxi so some people walk both ways along the gorge, or walk in as far as their time and inclination allow them before turning back.
The trail gets pretty crowded at weekends and in high season, although it is emptier around lunchtime go mid-week if you can.
Animals you may see include goats and huge vultures soaring high above the spikes.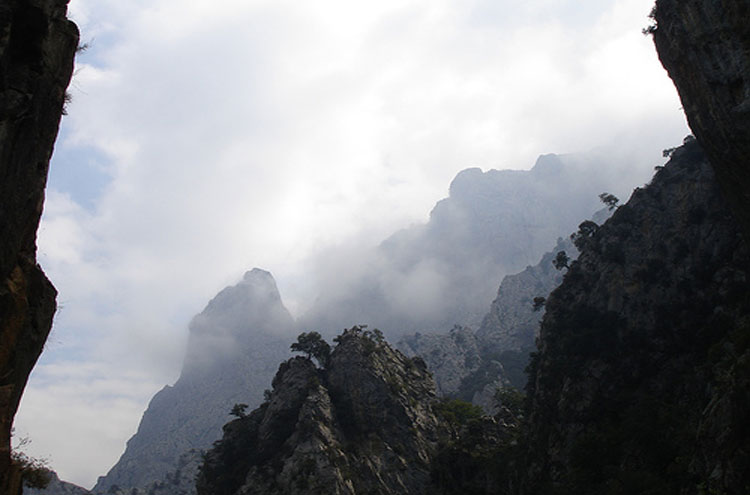 See also expedition planning, including our universal expedition checklist. Walkopedia encourages responsible travel.
Guidebooks/maps/background reading
Books on this Walk
Picos de Europa Car Tours and Walks – Teresa Farino/Sunflower Landscapes. Exhaustive step-by-step route summaries
Walks and Climbs in the Picos de Europa – Robin Walker/ Cicerone: Essential, good background information, but it has a heavy focus on rock climbing and is a bit "hair shirt" and a bit laborious to use.
Picos de Europa - Cordula Rabe/ Bergverlag Rother
Other Books
If you read Spanish:
Guia del Parque Nacional de la Montana de Covadonga – E. Rico and others.
Picos de Europa – P. Pidel and J. Zabala
Maps
http://www.viamichelin.com/viamichelin/gbr/dyn/controller/Cartes?strCountry=844&strAddress=picos+de+Europa&strMerged=&x=0&y=0&ie=UTF-8
Picos De Europa, Macizo Central y Oriental (Central and East) http://www.mapsworldwide.com/sku_10236.htm.
Picos de Europa National Park – Editorial Alpina http://www.mapsworldwide.com/sku_10237.htm
Best times to walk/weather
Best times to walk
The Cares Gorge has become increasingly popular, and summer weekends can feel a bit like a conveyor belt. Midweek, or off-season, recommended. Note also that the Gorge is prone to landslides: pay heed to notices posted at either end of the route, and take care
Weather
The Picos' maritime climate makes rapid weather changes, rain and sudden, thick mist quite frequent occurrences; afternoon thunderstorms are common in summer. The thick sea of cloud that can blanket lower ground is a common and (from above) beautiful feature – but is not a sign of bad weather. A lot of rain all year, particularly in winter (when it often falls as snow) and spring. Bring waterproofing and warm layers, even in summer, and stick to paths. Trails can get cut off by snow in winter.
Getting there/transport/permits
There is an airport at Santander, and buses (run by Palomera: http://www.autobusespalomera.com/1a.htm) run from there to Potes, on the south-west of the region. The mountains' deep rural communities are spread over three administrative regions, so buses are both scarce (aimed more at the locals' work commutes than visitors' convenience) and not-joined-up. The other main bus company is ALSA (www.alsa.es).
People also fly to Bilbao.
Travelling by car is much the most feasible option.
Route(s)
Start: Puente Poncebos (ALSA bus from Arenas de Cabrales, Summer months only, or park near the Hotel Mirador de Cabrales). With the river to your left, keep going until the road becomes unpaved. The well-signed "Ruta de Cares" leads upward to the right shortly after the Roman bridge. (Check here for signs posting problems with the route: pay attention to them and do not proceed if warnings are posted.) The path leads steadily upward – there are a lot of steps here – for about an hour (with increasingly rewarding views). From here, it's pretty much even going, and the path self-evident – it's hard to stray off a path when there's a huge cliff up on one side and a precipitous cliff down on the other.
Possible problems, health, other warnings
Mountain weather: Rain and thick sudden fog are possible at any time of year. Heavy snowfalls can cut off trails and roads, into May. Wear appropriate clothing, carry a compass and stick to paths. Rock falls can be a hazard; always follow posted advice.
Heights: very dangerous; not for those who have difficulties with heights.
This is remote country: It may be Spain, but some areas of the Picos are true wilderness.
See also the websites in our useful links page for more detailed, and up-to-date, information.
Safety and problems: All walks have inherent risks and potential problems, and many of the walks featured on this website involve significant risks, dangers and problems. Problems of any sort can arise on any walk. This website does not purport to identify any (or all) actual or potential risks, dangers and problems that may relate to any particular walk. Any person who is considering undertaking this walk should do careful research and make their own assessment of the risks, dangers and possible problems involved. They should also go to "Important information" for further important information.
Make sure you have appropriate insurance.
Guided or independent?
Independent
You can do this walk independently. The maps are not that detailed, and do not show all paths, so take great care if going into the remote high areas, and only do so if you are suitably experienced and equipped.
Guided/supported
A number of excellent operators run walk-stay holidays here.
Accommodation
For general information on the area, see our Picos de Europa page.
The towns and villages in Valdeón or Arenas de Cabrales near the bottom of the Cares Gorge. Cain and Poncebos at each end of the Cares Gorge are also particularly good. We used and liked (and thought good value) the following hotels/inns:
Casa Cuevas, Cain (www.casacuevas.es)

Hotel Garganta

del

Cares (+34 985846463) at Poncebos
Hostelbookers usually has a good selection of cheaper-end accommodation.
Other information and tips
Useful websites and information
There are many websites with information on these walks. Here are some that we think are useful or have been recommended to us.
Other things to do in the area
Other walks
Many. See our Picos de Europa page for ideas.
Other activities
Canoeing/rafting: lovely river routes here, from the doddle to the daring.
Caving: the peculiar geology of the Picos has left it riddled with caves and potholes; it's described as "the caver's Everest". Do not attempt without a guide unless very experienced.
Eating: Superb, sustaining bean-based peasant grub in every corner café. The area is also famous for its cheeses.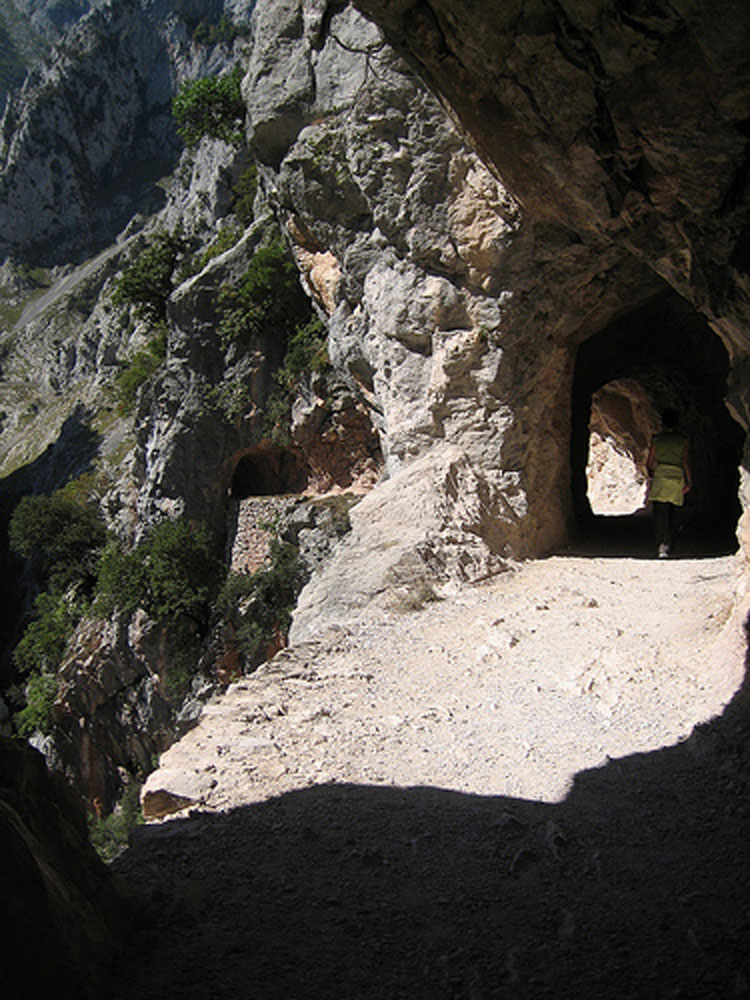 OTHER ACCOUNTS
share your experiences
Top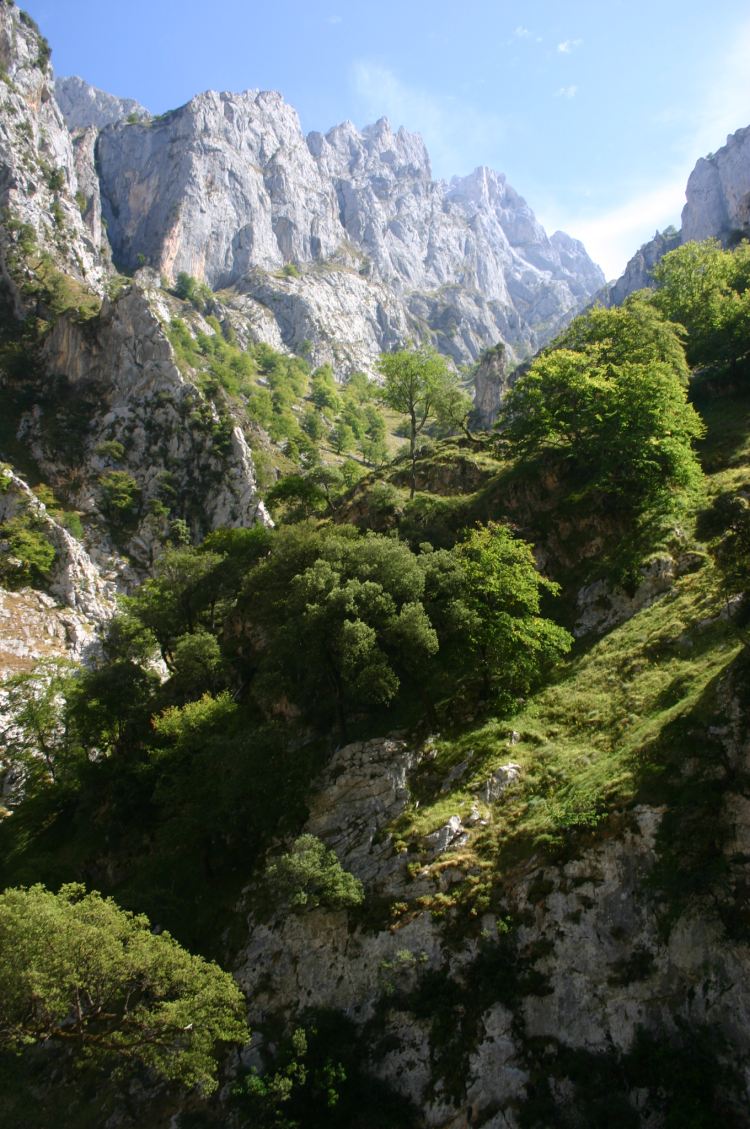 Top
Responsible travel matters, a lot. How you travel will make a real difference - for better or worse. PLEASE consider this when making plans. Read more