Glacier National Park
Key information: Glacier National Park
Montana's Glacier National Park is theatrical and dazzling: a vast area filled with stunning vistas of sheer mountains, foaming waterfalls and startlingly blue lakes, spilling into the US from the Canadian Rockies.
With hundreds of animal species as well as more than 1,000 different types of plant, Glacier's ecosystem is impressive and well-protected. Endangered species such as the grizzly bear and the Canadian lynx live here, as well as the remarkable mountain goats the area is famous for.
From gentle short strolls to very difficult long scrambles, Glacier NP has walks for everyone. And the best bit? They are all stunning.
This can be a tough place to walk, in high, remote mountains, on which you will often have to be self-sufficient. And, beware bears. Come prepared and take all precautions.
Walkopedia rating
Walkopedia rating84
Beauty

35

Natural interest

17

Human interest

0

Charisma

34

Negative points

2

Total rating

84

Note: Negs: best trails popular
Vital Statistics
Length:

Variable

Level of Difficulty:

Variable
Top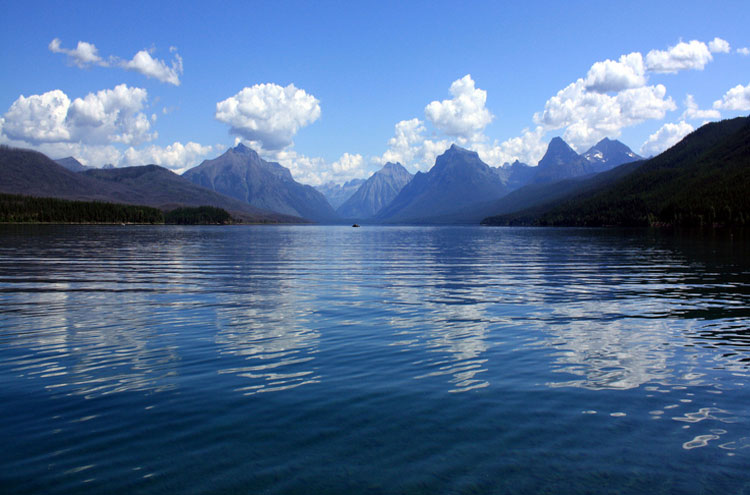 WALK SUMMARY
Stunning Rocky Mountains scenery, and a plethora of wild animals to thrill even the most jaded palate, make camping out in the backcountry of Montana's Glacier National Park a thrilling experience.
Described by the native Blackfeet as the "backbone of the world", the region's forest-coated peaks tower over the countryside, waterfalls crashing down their sides into the rivers feeding Glacier's myriad lakes. With heavy snow throughout the long northern winter, the park bursts into life for its short season, walkers freely roaming the 700 miles of glorious trails.
There have been humans living in this area since the native Americans moved there 10,000 years ago, but little evidence of human activity scars the wilderness. Camping here is basic, and seems even more isolated than Yellowstone's vast grandeur.
Known as the "Crown of the Continent" ecosystem, wildlife here is remarkably varied: with more than 1,000 species of plants, the range of vegetation is diverse, with some varieties found only in Glacier. The mammals here seem (appropriately) to step from the pages of a wilderness adventure - grizzly bears, black bears, wolves, wolverines and mountain lions are all found in the park in varying numbers, alongside less hazardous but equally interesting mountain goats (the parks official symbol), bighorn sheep, elk, moose, porcupine and mink. Birds of prey soar through the skies above the park, whilst geese, herons and colourful harlequin ducks paddle in the lakes and rivers.
Out towards the Great Plains, the Chief Mountain dominates the skyline; its 1,372m height may seem paltry against some of America's greats, but its steep sides rise alone from the flat ground, and it has a considerable impact on visitors and inhabitants alike.
Further in, the 53 mile long Going-to-the-Sun road, the only road to cross the park, attracts many people. There are gorgeous views over the vicinity, with a particularly fabulous vista overlooking Going-to-the-Sun Mountain, and it crosses the Continental Divide at Logan Pass. 2010 was the 100th anniversary of the park, and to mark it the road has been reconstructed.
Unfortunately, global warming is making itself felt in Glacier NP. With only 27 of the numerous glaciers which gave the park its name remaining, it is estimated that by 2030 they will all be gone. The effect this will have on the environment here is unknown, although it seems doubtless that some of the animals dependent on cold weather will face difficulties with the rising temperatures.
Now is therefore the perfect time to enjoy this fabulous place, and hiking here seems a privilege. There are stunning multi-day treks, with steep climbs to high altitudes, basic camping in remote backcountry, and a variety of beautiful backdrops through which to walk. However, a sense of this isolated wilderness and its sheer, dramatic beauty can be achieved even on its shorter walks.
In addition, since the park was opened in 1910 there have been 10 deaths from grizzly bear attacks.
Day hikes
Day hikes are abundant, and this ideal hiking country, with its spectacular panoramas, ensures a superb experience on any trail. Do not let a search for solitude push you away from either the Grinnell Glacier or the nearby Iceberg Lake Trails, which are popular simply by virtue of being some of the best hikes in the park. However, as two of the best areas - Many Glacier Valley and Logan Pass - are generally busy, those in search of isolation may find a multi-day hike the best way to experience Glacier.
The Grinnell Glacier Trail, beginning in Many Glacier Valley, follows a relatively flat path along the shorelines of Swiftcurrent Lake and Lake Josephine before rising steadily towards Upper Grinnell Lake, an expanse of milky white water fed by the retreating Grinnell Glacier. This is a gentle walk and relatively easy option, as well as providing stunning views over three glaciers - but as a result is one of the more popular hikes.
Iceberg Lake Trail is a great walk, with a stretch passing beneath the imposing Ptarmigan Wall, and a stunning final destination. Large chunks and slabs of ice float in the aquamarine water, whilst the 900m walls towering above cast deep shadows on the lake. Expect to see some ace wildlife: mountain goats cling to the cliff faces, pikas and ground squirrels play in the boulder fields, and grizzlies roam this area.
Multi-day hikes
Perhaps the best known, and the best, multi-day hike is the North Circle (also known as the Highline Trail/Ptarmigan Tunnel Loop), which was set up (along with the Inside Trail and South Circle) in the early twentieth century to link tourist camps and hotels set up in the park by the Great Northern Railway. Over around seven days, the trail passes over snow-capped mountains, across the Chaney glacier, past still blue lakes and the beautiful Dawn Mist Falls, and through meadows saturated with colourful wildflowers. The Ptarmigan Tunnel is a particular highlight; a 120ft tunnel through the Ptarmigan Wall, with the path blown into the mountain on its upper stretches.
The Continental Divide Trail, an epic hike following the continental divide for 5,000km across the US, begins (or ends, depending on your chosen direction) in Glacier National Park.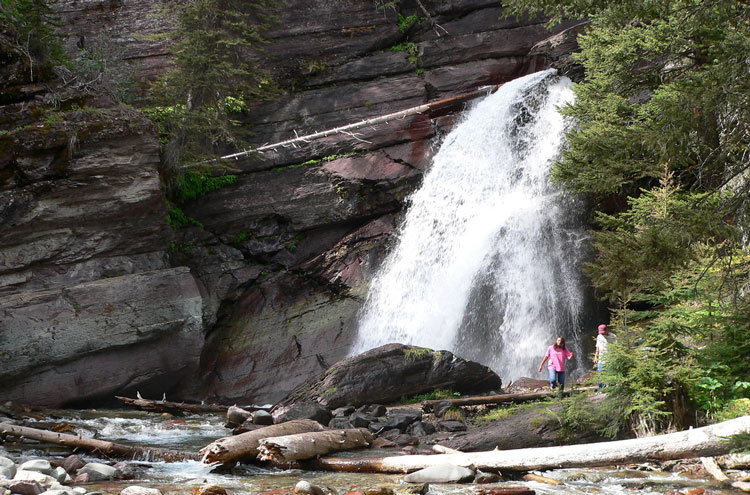 See also expedition planning, including our universal expedition checklist. Walkopedia encourages responsible travel.
Guidebooks/maps/background reading
Guidebooks
Hiking in the Rocky Mountains – Lonely Planet: This has an excellent overview of the North Circle and Highline Trail, full of Lonely Planet's characteristic detail and useful information. Now appears to be out of print, so best used in conjunction with more up to date guides.
Banff, Jasper and Glacier National Parks – Lonely Planet National Parks Guides.
Glacier National Park – Becky Lomax/Moon Handbooks.
Insider's Guide to Glacier National Park: Including the Flathead Valley and Waterton Lakes National Park– Susan Olin
Best Easy Day Hikes Glacier and Waterton Lakes National Parks– Erik Molvar
Other books
The Glacier Natural History Association online bookstore has a selection of books specifically on Glacier National Park, available either to order online or to buy once you are there.
Maps
For quite a good map of the park, along with slightly more detailed maps of the different areas, marked with day hikes, go to http://www.nps.gov/archive/glac/maps.htm. These are good for getting a general idea of the park and where you want to walk. Once you are actually there you will need more detailed maps, especially for longer hikes. The visitor centers sell topographic maps and guides to trails, both of which it is also possible to order online from the Glacier Natural History Association online bookstore.
Stanfords: www.stanfords.co.uk. A good online specialist source of worldwide maps (it is also good for guidebooks). Also try www.mapsworldwide.com and www.trektools.com. Lonely Planet recommend the Trails Illustrated map no. 215, Glacier/Waterton Lakes National Parks.
Best times to walk/weather
Best times to walk
Heavy snow means the trekking season doesn't really begin until about June. Many visitor centres and other facilities close around early September, but people do continue to visit through September and October, primarily to take advantage of this quieter period.
Weather
Generally fine in season, but come prepared for unpredictable mountain weather (snow can fall at any time, and has been known to fall reasonably heavily in August) and freezing nights. The amount of snow that falls in winter governs how soon trekking in the more remote areas is possible, and this can be as late as July, although the main roads tend to be open from around May.
The Continental Divide leaves the park split into two divergent weather patterns. The west is cooler that the east in summer, but with less wind and more cloud and precipitation – it is not unusual for wind at the base of mountains in the east to reach and sustain speeds of 40mph. In winter, the west is slightly warmer.
For detailed weather information, have a look at: www.worldweather.org or www.bbc.co.uk/weather/world/country-guides
Getting there/transport/permits
Those on organised expeditions are likely to be transported from/to West Glacier (where park headquarters is situated) or East Glacier. There are train services to both of these places. The closest town to the North Circle hike is Many Glacier.
The nearest airports to West Glacier are Glacier Park International Airport in Kalispell (25 miles to the west), Missoula airport (156 miles south) and the airport at Great Falls (200 miles east). The best way to get to Glacier from the more distant airports is to hire a car, if you fly into Kalispell then there are shuttles available.
If you are arriving by car, then from the north (Canada) you would approach on highways 89 or 17; from the east or west you would approach on highway 2. The main road in the park, the Going-to-the-Sun road, is opened along its length from around mid-June to mid-September. Whilst most other roads are open from May, the unpredictable weather means it is best to check before travelling.
Permits are needed to enter Glacier National Park and are available on entrance. There are 7-day permits for a vehicle with all occupants ($25, May-October 2008) and for individuals entering by foot/bicycle ($12, May-October 2008). Entrance is free on some public holidays. You can also get an annual pass for Glacier, costing $35 and admitting either a vehicle with pass-holder and other occupants, or else the pass-holder along with their immediate family when they are not in a vehicle.
If you are planning on visiting more than one National Park, then it might be well worth checking the cost of individual permits compared to the cost of an 'America the Beautiful' Pass ($80). This admits pass-holder plus three adults (under 16s are free), and is valid for a year. If you have done a certain amount of volunteer work, then you may be able to get a free pass. American citizens also have access to free passes if they are senior citizens or permanently disabled. Check all the options available here.
For camping in the park you will also need a Backcountry Camping Permit. Although they will be available upon entry to the park, reserve them if you can in order to get the campsite you want. Applications are available online and must be printed and sent to:
Backcountry Reservations
Glacier National Park
West Glacier
MT 59936
Route(s)
For route descriptions, see 'Walk Summary' above.
For a rough map of the North Circle trail, click here.
For quite a good map of the park, along with slightly more detailed maps of the different areas, marked with day hikes, then go to http://www.nps.gov/archive/glac/maps.htm. These are good for getting a general idea of the park and where you want to walk.
Possible problems, health, other warnings
Altitude:

prepare appropriately for the higher walks, come prepared to cope.

Extreme mountain weather:

snow, rain, severe cold and wind are possible at any time of year, and the cold temperatures and unexpected rainfall combine to make freezing to death in the backcountry a real possibility if you are caught out in the open without appropriately warm and dry clothing. Come prepared.

Dangerous/harmful animals

, including a major risk from

Bears

: come prepared to deal with an encounter and store camp food appropriately. There are plenty of websites with advice on hiking in bear country, and a particularly good one is the US National Parks Service site.Take all appropriate precautions.

Water:

Take care when drinking water, as there are areas infected with giardia, which causes stomach pain, diarrhoea and vomiting. Take all precautions and drink bottled water where possible.

Some walks are in remote country:

the park's trails cover around 700 miles, if you do a longer trek you will have to carry all your food and other supplies, and help may be hard to get if things go wrong.
See also the websites in our useful links page for more detailed, and up-to-date, information.
Safety and problems: All walks have inherent risks and potential problems, and many of the walks featured on this website involve significant risks, dangers and problems. Problems of any sort can arise on any walk. This website cannot, and does not purport to, identify any (or all) actual or potential risks, dangers and problems that may relate to any particular walk. Any person who is considering undertaking this walk should do careful research and make their own assessment of the risks, dangers and possible problems involved. They should also go to "Important information" for further important information.
Make sure you have appropriate insurance.
Guided or independent?
Independent
You can walk here independently, and with the day hikes this is often reasonably straightforward. But, if you want to do longer hikes (such as the North Circle), you will need to be self-sufficient, so come fully prepared.
Guided/supported
While walking here can be done independently, some people form or join organised/supported expeditions. Expedition organisers include:
Accommodation
While there are not many lodging accommodations in the east side of the park, there are plenty of options in the west. One of the more popular options are the historic lodges scattered around the park, but there are other options, with cabins to rent, hotels, motels, B&Bs and hostels, and it is possible to do day walks, especially in the popular Many Glacier area, from a comfortable base. The park's lodges fill up quickly and reservations are recommended.
However, for the most part, you will want to camp out, enjoying the unsullied mountains and forests (and if you want to do a multi-day hike, there is no choice). Remember to turn up early, the most popular places fill up quite quickly (especially Many Glacier campground, which is the only one in its area). Reservations are possible at several campsites, check on the National Park Service website for details.
Also, the facilities at Glacier are renowned for being fairly poor. The reputation for isolation and true wilderness which it builds upon, and which is the reason many visitors come here, mean that the campsites are primitive. You should also bring your own food, it is not easily available to buy, and costs are exorbitant.
Other information and tips
Be aware that you will have to apply for a Backcountry Camping Permit in order to camp on longer treks, and although you get to put down your choice of itinerary and try to reserve the campsites that allow it, this may not always be possible. Send in your application as soon as you can and be prepared to alter your itinerary.
Also remember to check permits and regulations for photography and filming.
Useful websites and information
There are many websites with relevant information, including several excellent sites devoted to hiking in Glacier National Park. Here are some that we think are useful or have been recommended to us.
·www.nps.gov/glac/ is a great site, rammed with useful information.
·www.wikipedia.org, great for some basic background to the park and its history.
·www.hikinginglacier.com/glacier-top-ten-hikes.htm has some good overviews of hikes in Glacier National Park, with pictures.
·www.glacierhikers.com/day-hikes.html has a variety of day walks.
·www.bigskyfishing.com/National_parks/glacier/hiking_overview.shtm
Other things to do in the area
Other walks
The Continental Divide Trail ends/begins here (depending on which way round you are walking it), as does the Pacific Northwest Trail.
Other activities
Guided horseback trips through the park are a lovely way to enjoy the scenery for those less inclined to long walks, but still keen on experiencing the wilderness.
Boat tours are another possibility, heading deep into the park on the glacial waters.
Safety and problems: All walks have inherent risks and potential problems, and many of the walks featured on this website involve significant risks, dangers and problems. Problems of any sort can arise on any walk. This website does not purport to identify any (or all) actual or potential risks, dangers and problems that may relate to any particular walk.

Any person who is considering undertaking this walk should do careful research and make their own assessment of the risks, dangers and possible problems involved. They should also go to "Important information" for further important information.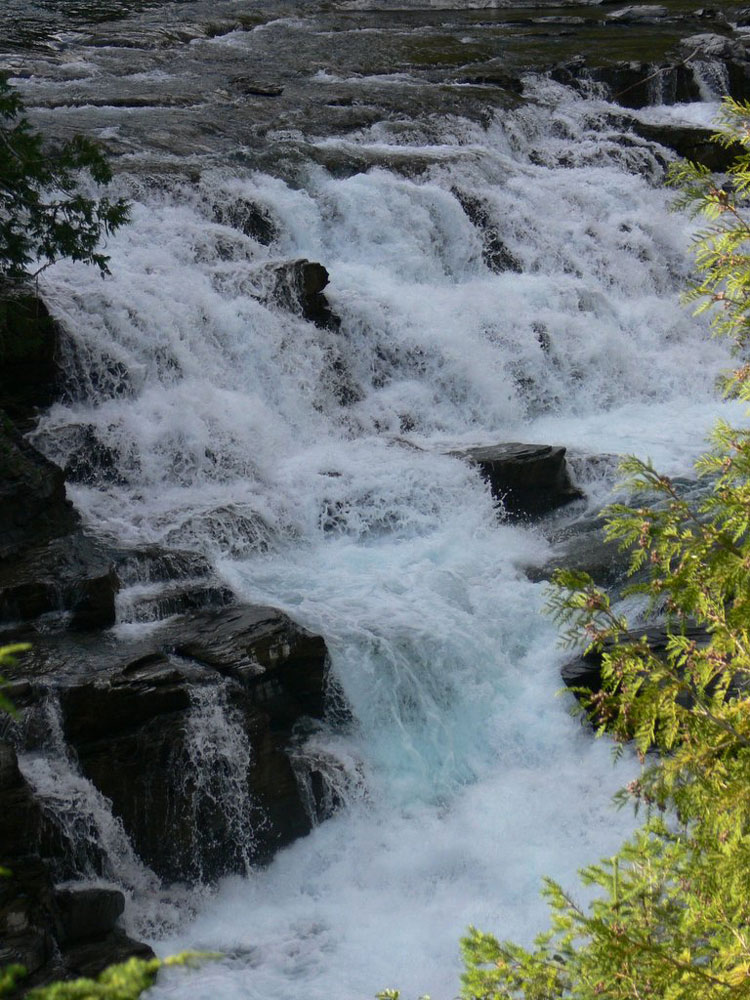 OTHER ACCOUNTS
share your experiences
Top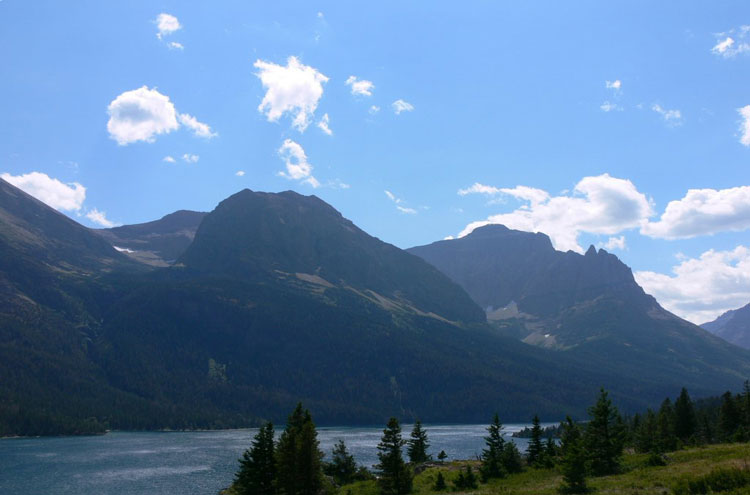 Top
Responsible travel matters, a lot. How you travel will make a real difference - for better or worse. PLEASE consider this when making plans. Read more