Yellowstone NP, Wyoming
Key information: Yellowstone NP, Wyoming
Huge, fabulous thermal areas, thick forests, waterfalls, canyons and steep peaks can all be seen in the wild and sometimes dangerous backcountry of the famous Yellowstone NP.
A splendid variety of flowering plants flourish here, along with fascinating wildlife, including bighorn sheep, bison, elk, bears and even wolves.
There are a large number of walks and hikes, varying in distance and difficulty, all over the park. Some of the best are:

Yellowstone draws more than two million visitors each year. Popular areas can be crowded, and in high summer the main sites are swarming with tourists. Its backcountry wilderness is surprisingly unvisited, however, and once you leave the visitor centers, boardwalks and bigger trails behind, people can be few and far between.
Several of these are tough walks, in remote areas, on which you will have to be self-sufficient and where weather, lack of water and bears can all cause real problems. Come prepared.
Walkopedia rating
Walkopedia rating84
Beauty

34

Natural interest

16

Human interest

0

Charisma

34

Negative points

0

Total rating

84

Note: Negs: crowding in some areas; unpredictable weather; heavy loads on longer hikes; bears.
Vital Statistics
Length:

Variable

Maximum Altitude:

3,462m

Level of Difficulty:

Variable
Top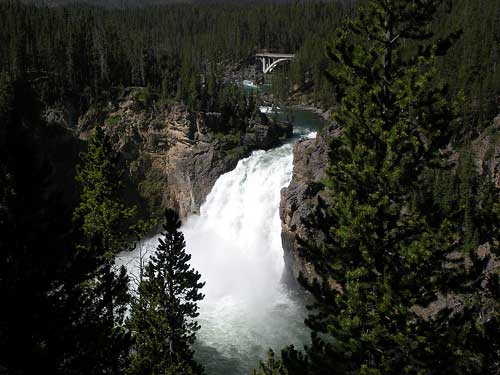 WALK SUMMARY
Yellowstone is a stunning wilderness, full of natural beauty and geological wonders. The mountains, forests, waterfalls and canyons are on a grand scale, the isolation once you leave the main tourist areas is headily reminiscent of old tales of Americas first explorers; you can almost see the fur trappers, and easily imagine their encounters with bears, wolves and, of course, native Americans.
It is believed that the first humans here were aboriginal Americans around 11,000 years ago; when the famous Lewis and Clark expedition entered the region in 1805, there were at least three tribes in the area and evidence of them trading with some much further away.
Once explorers began to penetrate the wilderness, the stories they brought back of waterfalls streaming vertically from the ground, tress petrified into shape and boiling mud were dismissed as exaggerated tales and myth; it wasnt until the second half of the nineteenth century that the area was properly explored, its landscape recorded and named, and the idea of protecting this astounding environment put forward. In 1872 the National Park was declared, the USs first.
Somehow the wildlife of the park fits in with its massive scale, with bighorn sheep, bison, elk, wolves and bears all living within its confines. Naturally, this brings with it problems, chief of which is the danger of bears ensure that before you leave, you have taken in all relevant information concerning how to avoid them, and what you should do if you meet one.
Despite the joy of spectacular scenery and beautiful views, and the pleasure of trekking through remote backcountry, walking in Yellowstone should not be taken lightly. Unpredictable weather, including lightning storms, bears and the dangers of the thermal areas should all be taken into account come prepared.
The park pullulates with walking wonders: the best are probably the following.
- The Thorofare Trail: Although the topography is not strenuous, this walk extends deep into the wilderness of Yellowstone, and so is rarely ventured on foot. However, those willing to take on the challenge are amply rewarded.
- Black Canyon: With steep, narrow canyons, the rushing Hellroaring Creek, fascinating rock formations and a suspension bridge, this trail offers Yellowstone finery in a short day walk.
- Mount Washburn: This trail is claimed to offer more in scenery, wildflowers and wildlife than any other Yellowstone day hike. The summit of Mount Washburn provides panoramic views, and it is sometimes possible to catch an eruption of Old Faithful.
- Bechler (River Trail and Canyon): Although usage has grown, its easy to see why, and this trail remains well worth hiking. Waterfalls, hot springs and geysers proliferate.
- Uncle Toms Trail: This is a popular, relatively short and easily accessible trail down into the grandiose Yellowstone Grand Canyon, with views of its breathtaking waterfalls.
- The Geyser Area Trails: As well as the longer Bechler Trail, there are many day walks which go through the Upper Geyser Basin an area of around two square miles in which nearly a quarter of all the geysers in the world are concentrated.
In addition, the Continental Divide Trail runs through Yellowstone, cutting though the south-western corner. If they have time then those walking the Divide can venture further into Yellowstone; several of the trails mentioned above are around this area, including the Thorofare Trail and Bechler River Trail and Canyon.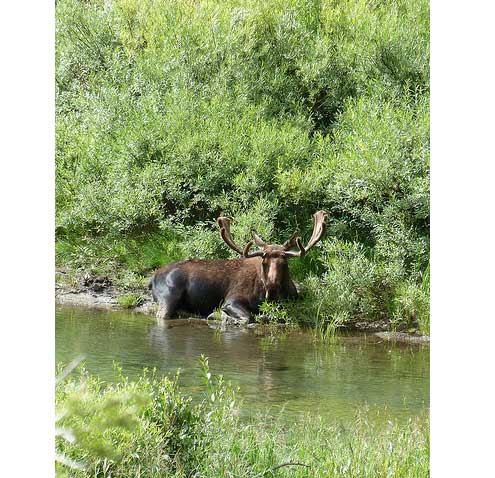 See also expedition planning, including our universal expedition checklist. Walkopedia encourages responsible travel.
Guidebooks/maps/background reading
Guidebooks
Yellowstone Trails - Mark Marschall/Yellowstone Association (2003)
Best Easy Day Hikes - Bill Schneider/Falcon Press (2003)
Hiking Yellowstone National Park – Bill Schneider/Falcon Press
Yellowstone and Grand Teton National Parks – Lonely Planet
Other books
Lost in My Own Backyard – A Walk in Yellowstone National Park – Tom Cahill/Crown Journeys Series (2004)
Maps
Topographic maps can be bought at any visitor center, if you want to get one beforehand, you should be able to get hold of Yellowstone National Park – Trails Illustrated, Topo maps USA (1992).
Best times to walk/weather
Best times to walk
Summer and Autumn are the best times to walk in Yellowstone, with winter bringing severe cold and lots of snow – which leaves snowy, muddy trails in spring, when the weather, generally chilly and with drizzling rain, is equally unappealing. Between July 4th and early September are the busiest times, so if you are keen to avoid crowds, then make sure you visit sometime between these dates and the start/end of the walking season.
Weather
During the summer, high daytime temperatures of around 25-30°C are common in the low-lying areas of the park, with thunderstorms likely in the afternoons and much cooler night temperatures (sometimes going below freezing at higher elevations). Winter in the park is extremely cold (daytime temperatures of -20°C to -5°C) and often brings lots of snow, ranging at different altitudes from around 150-300 inches in a year. During the seasons in between, spring and autumn, temperatures range from 0-20°C during the day to winter daytime temperatures during the night. Overall, the key feature of weather here is its sheer unpredictability – be prepared for all eventualities at any time of year!
Getting there/transport/permits
There are a few airports in the area around Yellowstone, including one in Cody and one in Jackson (both less than 60 miles away) as well as one 60 miles away in Bozeman. It is possible in summer to get buses from Cody or Jackson, and buses run from Bozeman to both West Yellowstone and Gardiner. There is, in addition, an airport at West Yellowstone.
However, it is often better to fly to one of the bigger airports (at Salt Lake City or Denver, for instance) and then rent a car to get to Yellowstone and wherever else you have in your sights. Cars are the best way to get into the park, and once inside there is no public transport available.
If you are on an organised expedition, it is likely that you will be expected to make your way to one of the main towns around the park, such as Gardiner. The best thing is probably to check for details about the best way to do this with the company you are walking with.
Permits are needed to stay overnight on a walk, although you do not need them for day walks. They can be obtained from the following places:
Bechler ranger station
Canyon ranger station/visitor center
Grant Village visitor center
Lake ranger station
Mammoth ranger station/visitor center
Old Faithful ranger station
South Entrance ranger station
Tower ranger station
West Entrance ranger station
These are open from 8am to 4.30pm, seven days a week, between June and August, but for the rest of the year they have no set hours, and you should check the closest one for opening times.
Permits are free, but they need to be obtained no more than 48 hours before your trip begins, collected in person, and then kept with you at all times.
Check if expedition organisers arrange these.
Route(s)
There are many different possible routes; the best are described above.
Possible problems, health, other warnings
Unpredictable weather:

snow, rain, severe cold, wind and lightning storms are possible at any time of year. If you are caught in a lightning storm, get off water or beaches, and stay away from ridges, isolated trees and exposed places. Come prepared.

Heat

and strong sun. Carry enough water and protect yourself.

Dangerous/harmful animals

, including snakes, stinging/biting insects and

grizzly bears

– read all information about how to avoid meeting any bears before you set off, and what to do if you do meet them. Take all appropriate precautions.

This is remote country:

you will have to carry all your food and other supplies and help may be hard to get if things go wrong. If you find yourself stuck on a trail through exhaustion or injury, stay where you are and wait for help.

Thermal areas:

do not swim or bath in hot springs, and do not stray from the path in thermal areas – boiling water is sometimes beneath a thin crust, and people have been badly injured and even killed by the scalding water.
See also the websites in our useful links page for more detailed, and up-to-date, information.
Safety and problems: All walks have inherent risks and potential problems, and many of the walks featured on this website involve significant risks, dangers and problems. Problems of any sort can arise on any walk. This website does not purport to identify any (or all) actual or potential risks, dangers and problems that may relate to any particular walk. Any person who is considering undertaking this walk should do careful research and make their own assessment of the risks, dangers and possible problems involved. They should also go to "Important information" for further important information.
Guided or independent?
Independent
There is so much advice and material, that you should be able to do these walks independently, but there are many and varied difficulties involved, so come fully prepared, and make sure that you read and take into account all of the information concerning the park. Also, ensure that you are not traveling alone, and have all the necessary equipment.
Guided/supported
While this walk can be done independently, many people form or join organised/supported expeditions. Given the remoteness of some walks and the difficulties you may face, many will prefer to do it this way, and travelling here with a knowledgeable guide has advantages. Expedition organisers include:
· www.wildhorizonsexpedition.com
· www.footloose.com (as part of a tour of the National Parks)
· Adventure Yellowstone, a NP Service licensed guide company, can be found at http://wildlife.visitmt.com
Accommodation
Camping is the only realistic option when you are out in the wilderness. There are official campsites, some of which it is possible to reserve places on in advance, although only by mail or in person, not by phone or fax. This reservation, however, costs a non-refundable $20, and you may decide to leave it until you arrive.
When you reserve the campsite, you are given a 'confirmation notice' which you then need to have converted into a permit, again no more than 48 hours before the date on which you are camping.
Campsites often have food storage poles to discourage bears, some have areas specifically for campfires, but many do not, and as they are forbidden outside of these areas, then it is advisable to bring a camping stove.
Numbers are limited for each campsite, as are the number of nights you can stay per trip (varying between 1 and 3 nights, depending on the campsite).
If you want to get hold of a form to reserve your space on a campsite, then either print one off the internet, from 'Backcountry trip planner', write to them at 'Backcountry office, PO Box 168, Yellowstone NP, WY 82190 or call on 307-344-2160.
If you don't want to camp, there are guided walks which take you back to comfortable accommodation each night, or you can arrange to stay in one of the lodges, cabins and hotels scattered around. With the exception of several which open in winter, most are only open from May/June through to October, and they definitely need booking (www.travelyellowstone.com; tel: 307-344-7311)
Other information and tips
Useful websites and information
There are many websites with information on Yellowstone National Park. Here are some that we think are useful or have been recommended to us.
Other things to do in the area
Other walks
Yellowstone is right next door to Grand Teton National Park, which offers some more great walks.
Other activities
- Cross country skiing
- White water rafting
Safety and problems: All walks have inherent risks and potential problems, and many of the walks featured on this website involve significant risks, dangers and problems. Problems of any sort can arise on any walk. This website does not purport to identify any (or all) actual or potential risks, dangers and problems that may relate to any particular walk.

Any person who is considering undertaking this walk should do careful research and make their own assessment of the risks, dangers and possible problems involved. They should also go to "Important information" for further important information.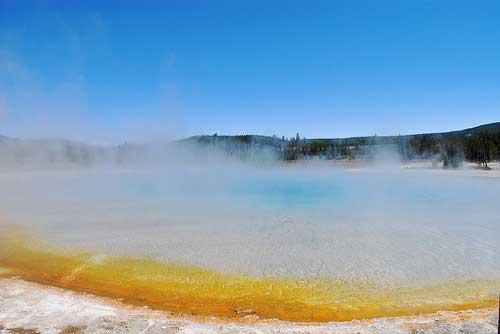 OTHER ACCOUNTS
share your experiences
Top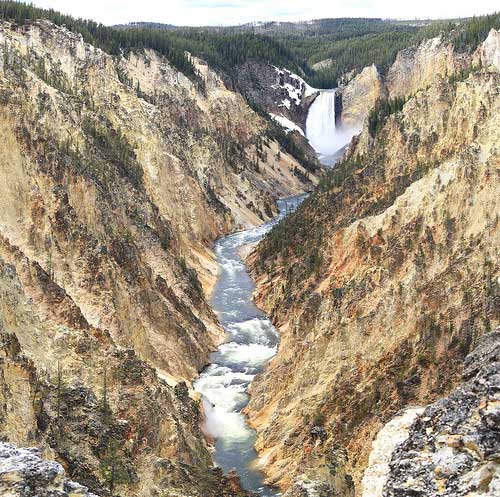 Top
Responsible travel matters, a lot. How you travel will make a real difference - for better or worse. PLEASE consider this when making plans. Read more
All material on this website is © Walkopedia Ltd 2008 - 2020, unless specified otherwise.
ALL RIGHTS RESERVED