Inca Path to Choquequirao
Key information: Inca Path to Choquequirao
Walk this trail, much of it on ancient Inca paths, to the "lost" city of Choquequirao.

Wonderful views of the high Andes, and at the end the magnificent, partially-excavated remains in their spectacular setting.
Less famous than its "sister" trail to Machu Picchu - but just as beautiful, historic and thrilling, and emptier and less spoilt.
This is a tough walk in high, remote mountains, on which you will have to be self-sufficient and where altitude can cause real problems. Come prepared.
Walkopedia rating
Walkopedia rating98
Beauty

34

Natural interest

15

Human interest

17

Charisma

35

Negative points

3

Total rating

98
Vital Statistics
Length:

4 or 7 days

(Includes day at the ruins.)

Maximum Altitude:

over 3,000m (4,500m on 7 day trek)

Level of Difficulty:

Difficult
Top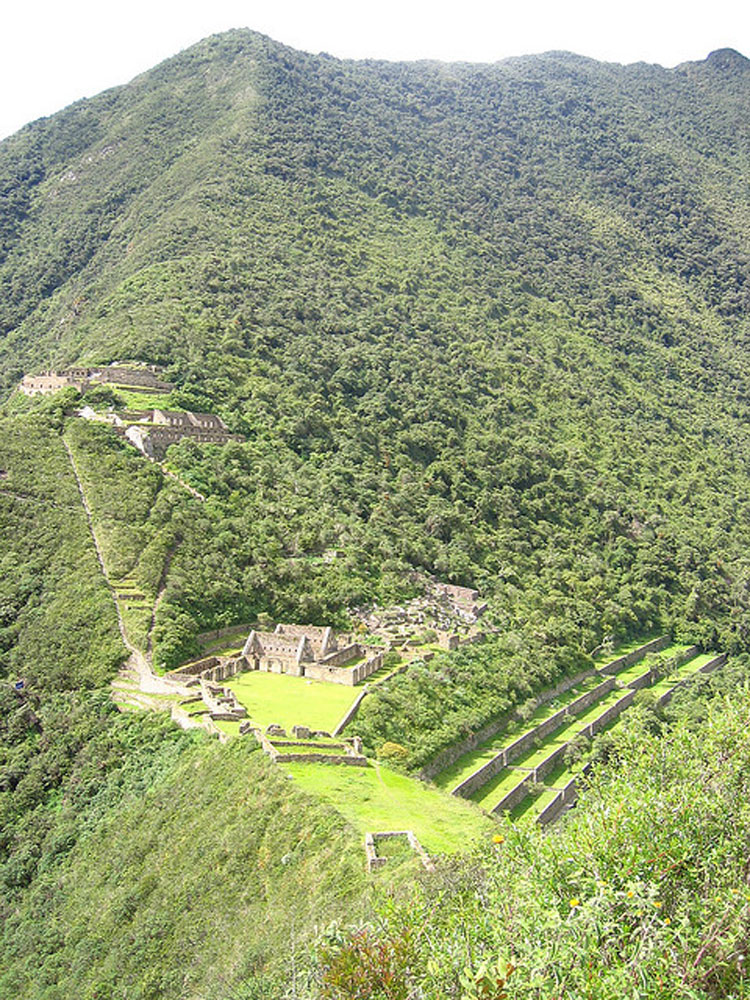 WALK SUMMARY
The remote Inca city of Choquequirao, where the last Inca royalty retreated after the Spanish conquered Cuzco, is superbly preserved, wonderfully sited ? and much emptier than Machu Picchu, its more famous ?sister site?.
Excavations only really started here in the 1970s, and only 30% has been recovered to date. Despite this, some claim that it is as spectacular as Machu Picchu, and many feel it to be more atmospheric as a result of its remoteness and the tough trek to get to it.
When it comes to your Choquequirao trek you aren?t lacking in choices:
Four-day trek:
the ?standard? Choquequirao trek means 4 days out-and-back from Cachora, c. 150km west of Cuzco. (Add an extra day at Choquequirao itself.)
This trek is demanding, with longer ascents and descents than the ?Classic? Inca Trail. It does not, however, go as high as the Classic Trail, instead descending 1,300m from Cachora before climbing back for 1,500m, in and out of the superb Apurimac gorge, to Choquequirao at a bit over 3,000m.
The trail is good and often follows the ancient paths. It passes through superb scenery ? 7,000m mountains ? that cries out to be admired in the clear dry season. Traverse the sides of deep, deep gorges, drop to sweaty jungle by their distant riversides, cross high passes with huge views.

You eventually achieve a Machu Picchu-esque first view of the city, laid out across a huge ridge with outstanding views of vast, snowy peaks all round.

*******

Seven-day trek:
the longer trek keeps to the ?standard? route?s first 2 days to Choquequirao, before balking at its return to instead descend northwards away from the ruins.
A day to explore Choquequirao, before taking the trail, is a must; then immediately pass more Inca ruins (Pincha Unuyoc) before winding around the 5,404m Corihuaynachina massif on its eastern and northern flanks. Cross a dubious bridge, when it?s even there, over the Rio Blanco (Rio Victoria) en route to the town of Maizal; then climb into high cloud forest and back out, descending towards Yanama.
Here the path splits off left (turning north again) for 3 days through punas, pampas, valleys and gorges, in gradually easier terrain, to the west of the towering Sacrachayoc range, heading towards Huancacalle. In the shelter of lonely Panta mountain (west of the trail) lie the Inca ruins of Arma.
The trek finally ends at Huancacalle, perhaps 200km by road from Cuzco along the Rio Vilcabamba valley. Or, take the Vilcabamba Trail [Link] onwards, spilling out from the highlands and massifs to yet more Incan ruins.
*******

Choquequirao to Machu Picchu (9-10 days): superb, high Andean traverse between the two Incan strongholds. Very long, very remote, and absolutely thrilling.

*******

Permits aren?t required for the ?standard? 4-day trek - although you do need to pay fees (as at 2011). You will need a permit for when you get to, or if you start from/towards, Machu Picchu (Choquequirao to Machu Picchu trek ? see above).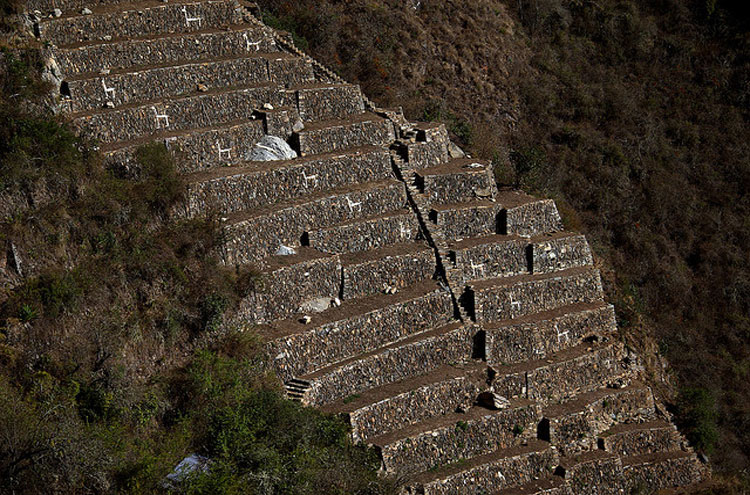 We have a lot of helpful practical information and tips about this walk, covering everything from the best books and maps, to timing and weather, geting there, possible problems, whether you need a guide and where to find them, and useful websites. This section is only open to members.
Membership is FREE AND JOINING TAKES 30 SECONDS. To login or sign up click here
Safety and problems: All walks have inherent risks and potential problems, and many of the walks featured on this website involve significant risks, dangers and problems. Problems of any sort can arise on any walk. This website does not purport to identify any (or all) actual or potential risks, dangers and problems that may relate to any particular walk.

Any person who is considering undertaking this walk should do careful research and make their own assessment of the risks, dangers and possible problems involved. They should also go to "Important information" for further important information.
Anyone planning an expedition to this place should see further important information about this walk.
COMMUNITY COMMENTS AND PHOTOS
Name: David Briese
Posted on: 08/12/2011

Many thanks to David Briese's Photodiary of a Nomad for allowing us to quote from his Choquequirao and Machu Picchu pages.
Day 1; Cachora to Chiquissca (16km; 250m ascent/1200m descent)
Leaving the village, our arriero, Felix, led us down through pastures on a dirt road. We soon started to climb gently, while the valley to our right fell away sharply as it joined the magnificent Apurimac Canyon. Before long, we were walking along its steep upper slope and, on odd occasions, could see right down to the river, 1300m below.
This long traverse took us to a viewpoint with impressive vistas both up and down the canyon. To the west, the track started its long descent into the canyon and we headed off into the late afternoon sun, descending a series of long switchbacks that traversed back and forward across the green, grassy upper slopes.
The traverse then dropped sharply. We continued on, along another long ridge across this level in the failing light. One last steep and winding descent led us to the rustic campsite at Chiquissca, 200m above the canyon floor.
Day 2; Chiquissca to Choquequirao (13km; 300m descent/1600m ascent)
We set off early, descending the last few hundred metres to the bottom of the Apurimac Canyon, the soft roar of the river gradually getting louder as we approached it.
After signing in at the track checkpoint, we crossed the suspension bridge over the fast-flowing Apurimac River. The early morning sun couldn't yet reach into the depths of the canyon and we started our 1400m ascent of its northern wall in welcome cool shade.
Pushing on into ever greener vegetation, we finally emerged from the shadows into the sun at about 500m into the climb.
Passing the 1000m mark, we were beginning to feel the effort as the path steepened and the pace slowed. Across the canyon, we could see the faint trace of yesterday's track disappearing into depths below. The whole aspect of the canyon was changing as the rising sun lit up the green-covered higher walls.
After lunch, we set off towards Choqeuquirao, meandering and undulating across the steep jungle-clad canyon wall, twice dropping down only to recover our elevation with short sharp climbs. The vegetation was taking on a distinct tropical air.
Rounding a bend, we were greeted with the spectacle beneath us of the agricolas andenes, the terraced gardens of the incan people, perched on the edge of a precipice of a side gorge leading off the Apurimac Canyon.
We crossed a stream in front of a long waterfall, source of irrigation water for the terraces, for one last climb and short descent to the campsite at Casa de Caida de Agua.
© David Briese. See his full account and much more in his fantastic website www.gang-gang.net/nomad.

Your comments on this walk, your experiences and suggestions, and your photos are very welcome. Where appropriate, you will be credited for your contribution.
Top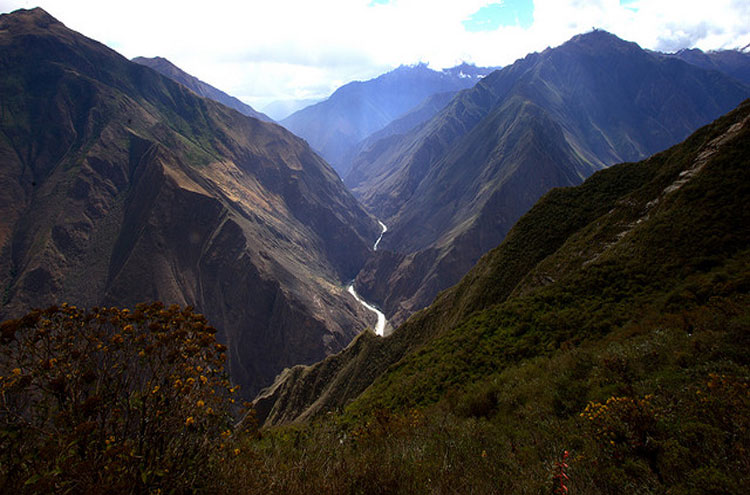 OTHER ACCOUNTS
share your experiences
Top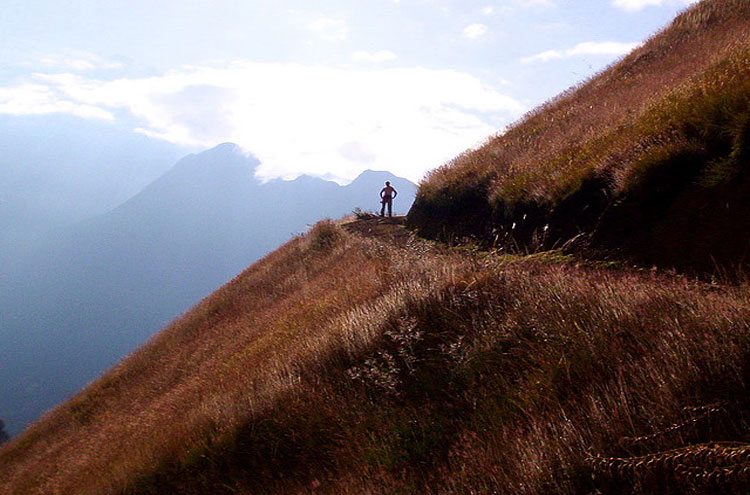 Top
Responsible travel matters, a lot. How you travel will make a real difference - for better or worse. PLEASE consider this when making plans. Read more