Mt Meru
Key information: Mt Meru
Climb this extraordinary horseshoe of cliffs around a chasm created by a cataclysmic explosion of this once vast volcano.

Two days of ascent through outstandingly beautiful and interesting forest, then heathery shrub, then alpine plants, onto raw rock and ash.

You should meet a lot of interesting animals: buffalo, giraffe, bushbuck, colobus monkeys, maybe an elephant or two.

Struggle to the 4,566m peak for a pre-dawn view across a sea of clouds to the vast bulk of Kilimanjaro silhouetted against the eastern sky.

This is a very tough walk in high, remote mountains, on which you will have to be self-sufficient and where altitude can cause real problems. Come prepared.
Walkopedia rating
(Top 100)
Walkopedia rating92
Beauty

35

Natural interest

20

Human interest

3

Charisma

36

Negative points

2

Total rating

92

Note: Neg: altitude
Vital Statistics
Length:

3-4 days

Maximum Altitude:

4,566m

Level of Difficulty:

Difficult
Top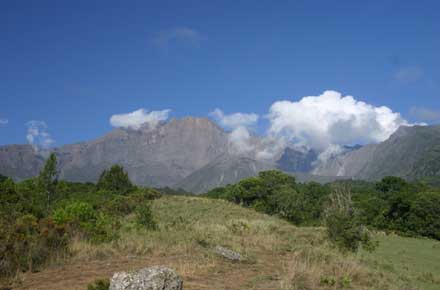 WALK SUMMARY
Mt Meru lies just off that vast cross-continental fissure, the Great Rift Valley, in an area of violent volcanic activity in northern Tanzania. It was once larger than its celebrity neighbour, Kilimanjaro, but was shattered by a cataclysmic explosion 8,000 years ago, similar to the 1980 blow-out at Mt St Helens in north-western USA. What is left is a vast horseshoe of dramatic cliffs around the abyss that was once the centre of the mountain, in which a youthful 1,000m high ash cone is growing.
The views at dawn, straight across the vast crater and a blanket of low cloud to Kilimanjaro silhouetted against the bright early sky some 70km away, are unforgettable.
A special joy of climbing Meru is the change of vegetation, wildlife and scenery as you progress from scrub and grassland to beautiful montane forest, to tree heathers festooned with Spanish moss, to coarse grass and alpine shrubs, to naked and smashed rock. All in 48 demanding hours.
At 4,566m and the 5th highest mountain in Africa, this is a tough walk and you will feel sorry for yourself near the top.
On the first day, as you climb to the Miriakamba Huts, you may encounter a fine array of wildlife giraffe, buffalo, bushbuck and colobus monkeys are all to be found as you pass from scrub to the magnificent forest. There are even elephants about. As you get properly inside the vast cauldron, you will walk through grey giant heathers, surrounded by the vast cliffs that form the crater rim.
The main activity on the second day will be the tough upward path to the Saddle Hut, clambering up steep wooden steps early on. There are compensations: the forest on the outer flank of the crater wall is gorgeous: Hagenia drip with their clusters of red flowers, twisted Augaria support miniature jungles of their own ferns, mosses and other parasites. The birdsong is delightful.
Reaching to the crater rim, you encounter another angle on the Meru abyss. Quite suddenly, you emerge from the trees and climb through thick clumps of giant heather, silver-leaved Phillippia and yellow St John's Wort. The views expand and you will see the fumerole peak of Little Meru above you.
The other half of the day can be spent exploring the crater floor in the morning, or climbing Little Meru in the afternoon.
The four-hour slog to the peak on day three starts early, walking by the light of headtorches across the saddle between the two Merus, then up a steep hillside to Rhino Point on the crater rim. You then labour around the rim between the sheer cliffs of the crater on one side and the steep, broken mountainside on the other. The walk develops into a battle in places; tiring clambers over smashed boulders alternating with miserable slopes of cinders, half a step back for every one taken. The final scramble up jumbled rock to the Socialist Peak is tough.
Descents are usually anticlimactic, but not this one. The different layers of the crater-edge rock tell enthralling tales of the aeons of ash deposit and lava flow before the final cataclysm. The hillsides to the west fall steeply, often in almost unbroken slopes of clinker thousands of feet high. You will be very tired when you get back to the Saddle Hut, some 8 hours after you left it.
The final descent to the Momella Gate takes a couple of delightful hours and is best done early in the morning. The trail winds down through beautiful forest, then follows long tongues of grassland between belts of forest on each side. Old lava flows, apparently. Ahead you may see Kilimanjaro appear through rents in the cloud, or Meru's crater rim high over the forest behind you.
WILLIAM MACKESY'S ACCOUNT
of this walk
This is miserable, but it is almost over. At 4,550m, we are pausing for breath every few steps as we scramble up the final mounds of broken boulders to Mt. Meru's peak. I am sweating and freezing at the same time.
Then, as I step onto Meru's Socialist Peak, suffering is in a scintilla replaced by wonder at the glory of existence. Straight across the vast crater, Kilimanjaro is silhouetted against the streaky pre-dawn sky, proud by two or three thousand metres of the rumpled cloud that blankets the east African plains.
We have been walking round the high ridge of this.....
READ MORE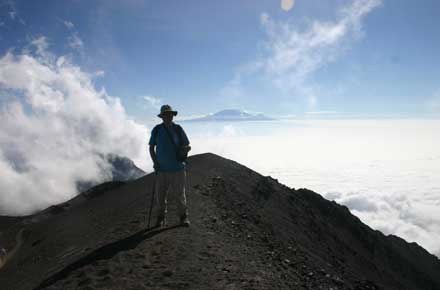 See also expedition planning, including our universal expedition checklist. Walkopedia encourages responsible travel.
Guidebooks/maps/background reading
Guidebooks
Tanzania and Zanzibar - Cadogan Guides - Annabel Skinner
Tanzania - Lonely Planet Country Guide – Mary Fitzpatrick: good information on Mt Meru trek
Kilimanjaro - The Trekking Guide- Henry Steadman, Trailblazer: a very good 13 page section on Mt Meru
Other books
North of South: An African Journey - Shiva Naipaul
The Zanzibar Chest: A Memoir of Love and War - Aidan Hartley
Filosofa's Republic - Thursday Msigwa
West With The Night – Beryl Markham
Maps
Maps can be obtained locally, or on http://www.stanfords.co.uk/
Consider getting locally the delightful illustrated map by Giovanni Tombazzi in co-operation with Hoopoe Adventure Tours Tanzania Ltd.
Best times to walk/weather
Best times to walk
Between June and early October. Avoid the rainy season (April and May) and be aware that the weather can be unpredictable late October to March.
Weather
Generally fine in season, but come prepared for unpredictable mountain weather and cold nights. Take lots of layers and waterproofs for the final ascent.
For detailed weather information, have a look at: http://www.worldweather.org/ or www.bbc.co.uk/weather/world/country-guides
Getting there/transport/permits/fees
How you get to Tanzania will depend on your origin and plans. The nearest international airport is Kilimanjaro, near Arusha.
You will need a visa to enter Tanzania.
There is no realistic public transport to the start of the Meru trek. A 4WD (usually with a driver) is needed. Those on organised expeditions will be transported from/to arranged start/departure points.
Park fees must be paid. They are payable at the Ngongongare Gate and include park, guide and hut fees, and come to quite a lot. Expedition organisers should arrange these.

Route(s)
A climb of Meru takes 3-4 days. There are two routes from the Momella Gate to the Miriakamba Hut (at 2,514m). We recommend ascending via the longer route through beautiful mountain forest and across the crater floor, descending via the shorter northern route, with its open grasslands and big views.
From Miriakamba to the Saddle Hut (at 3,570m) takes 2.5 to 3.5 hours. You can ascend Little Meru in the afternoon, or first make a trek into the beautiful crater floor.
The final ascent should be made at night to ensure the superb dawn views across to Kilimanjaro and avoid the daytime heat. Assume 5 – 6 hours to the peak and 3 – 4 hours back down.
You can either stay at Saddle Hut or go down to Miriakamba, thus enabling a short (2 hour) final walk down (at its best early in the morning) and a full day for other activities.
Possible problems, health, other warnings
Add a comment
Altitude

:

Can affect some; potentially fatal. Acclimatize appropriately, come prepared to cope, be ready to evacuate people in extreme cases.

Mountain weather:

Rain, severe cold and wind are possible at any time of year. Come prepared.

Heat

and strong sun. Carry enough water and protect yourself.

Heights

:

can be dangerous; not for those who have difficulty with heights.

Dangerous or unpleasant animals

of all shapes and sizes

, including snakes,

stinging/biting insects and plants. Take all appropriate precautions.

This is a remote country:

You will have to carry all your food and other supplies and help will be hard to get if things go wrong.

Health risks

:

This is a relatively under developed country and you will not get prompt medical help of a standard available elsewhere if you become ill. There are many potential problems, including malaria. Come prepared, including getting all appropriate inoculations/medications.
See also the websites in our useful links page for more detailed, and up-to-date, information.

Safety and problems: All walks have inherent risks and potential problems, and many of the walks featured on this website involve significant risks, dangers and problems. Problems of any sort can arise on any walk. This website does not purport to identify any (or all) actual or potential risks, dangers and problems that may relate to any particular walk. Any person who is considering undertaking this walk should do careful research and make their own assessment of the risks, dangers and possible problems involved. They should also go to "Important information" for further important information.

Make sure you have appropriate insurance.




Guided or independent?
Independent
You can do this walk independently, but you will need to be self sufficient, so come fully prepared. In any event, it is compulsory to have a guide.
Guided/supported
While it is possible to climb Meru "independently", most visitors form or join organised/supported expeditions. Organisers can also arrange for permits to be obtained. Expedition organisers include:
Accommodation
In huts, as described above. Book ahead. Camping is possible by the huts, but hut fees are payable anyway.

Other information and tips

Make sure your guide is experienced and understands that you expect to be taken to the top (altitude permitting).

Tip your guide and porters generously if they look after you well.
Useful websites and information

There are many websites with information on this walk. Here are some that we think are useful or have been recommended to us.
Other things to do in the area
Other walks
Mts Kilimanjaro and the lesser known Hanang.
Empakaai Crater, and Empakaai to Natron trek. The superb and very active volcano Ol Doinyo Lengai.
A new trail on the rim of the caldera of Ngurdoto Crater.

Udzungwa

Mountains

Nat

ional Park

is tough but beautiful.

Walking safaris (within a day or, better still, overnight) are the best way to experience the reality of "nature red in tooth and claw". This can be the only option in some of the southern national parks, but it is not allowed within the northern ones. However, superb treks can be made outside the national parks.
Other activities



Boating safaris

Riding safaris

Driving safaris

Ballooning
Shopping, if you must
We are not a shopping website. But, anything bought from local people must be of some help to this desperately poor area. So, wallets out – but try to avoid the more obvious rip-offs and "big" tourist-focussed set-ups.
Safety and problems: All walks have inherent risks and potential problems, and many of the walks featured on this website involve significant risks, dangers and problems. Problems of any sort can arise on any walk. This website does not purport to identify any (or all) actual or potential risks, dangers and problems that may relate to any particular walk.

Any person who is considering undertaking this walk should do careful research and make their own assessment of the risks, dangers and possible problems involved. They should also go to "Important information" for further important information.
COMMUNITY COMMENTS AND PHOTOS
Name: Marx Bro
Posted on: 19/02/2009
One of THE best ever. A better experience than Kili.

Name: H_Macklin
Posted on: 14/10/2019

This walk remains one of my best experiences to date, challenging for sure but infinitely rewarding. The views over Mt Kilimanjaro are magical. As you climb the mountain, you move through layers of flora which are so distinct they could be in a geography textbook. (NB: I completed this walk in July 2010.)
Walko says thanks, and for the lovely photos!

Your comments on this walk, your experiences and suggestions, and your photos are very welcome. Where appropriate, you will be credited for your contribution.
Top
OTHER ACCOUNTS
share your experiences
Top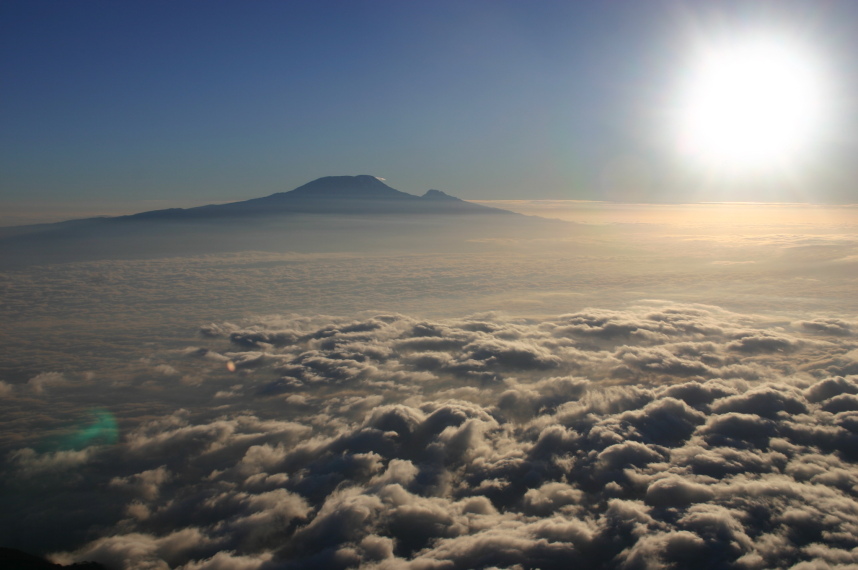 Top
Responsible travel matters, a lot. How you travel will make a real difference - for better or worse. PLEASE consider this when making plans. Read more