Exmoor
Key information: Exmoor
Endless walking opportunities in this unique and magical landscape.
While the South-west Coastal Path is the most famous walk here, the opportunities are endless.
Walkopedia rating
Walkopedia rating87.5
Beauty

31

Natural interest

14.5

Human interest

11

Charisma

31

Negative points

0

Total rating

87.5
Vital Statistics
Length:

Your choice

Maximum Altitude:

N/A

Level of Difficulty:

Variable
Top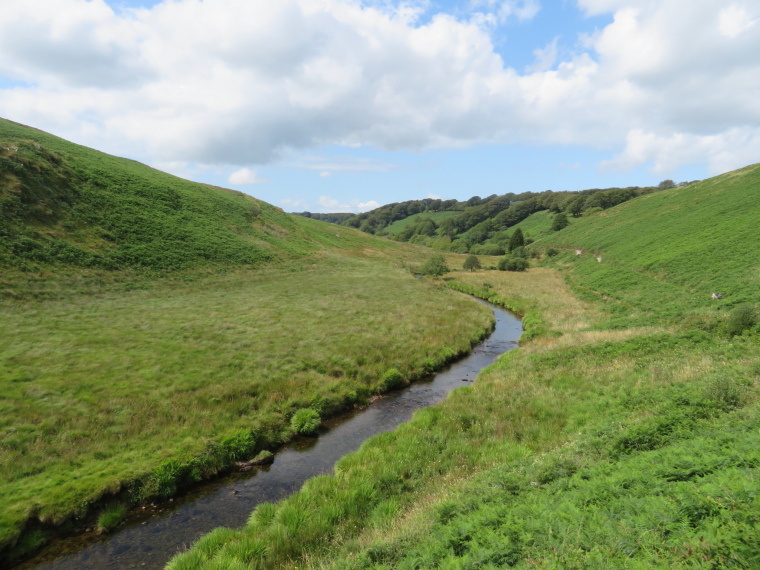 WALK SUMMARY
Exmoor is a unique landscape, in world as well as British terms. Highish and flattish grass and heather (and bracken) moorland is riven with deep wooded valleys, the mid-levels a patchwork of small pasture fields, divided by old walled banks and ancient beech hedges and narrow lanes which are similarly enclosed.
Its northern flank falls sharply into the Bristol Channel, with huge cliffs, beautiful coves and some characterful towns nestled in wooded slopes and rocky drama; it is explored by the North Devon Coastal Path, which is a section of the famous South West Coast Path.
Views are often priceless, whether across the Devon lowlands to Dartmoor or out over the sea to Wales, or up the meandering folds of some ravishing little upland valley.
The moors are grazed by deer and native Exmoor ponies and surveyed by a selection of raptors.
The villages and towns have history and charm, and the whole area enormous character.
Long-distance trails
The world-famous walk here is the North Devon Coastal Path section of South West Coast Path, which spends 2-3 days winding along the northern coast in what some claim, not unreasonably, to be one of England's best walks. Always attractive and interesting and often ravishing, it is a form of walking bliss, whether for the day walker or the long-distance merchant. Sections not to be missed for shorter walks are described below.
The other long-distance trail is the Two Moors Way which heads south across Exmoor, from Lynmouth to Simonsbath to Withypool to Hawkridge to Knowstone (or vice versa); then crosses the central lowlands to tackle Dartmoor. A wonderful 2-3 days across Exmoor, or you can make top-notch day walks on stretches.
Day walks
There is endless scope for inspiring shorter walks, whether across the high moorland or little green fields, or along a charming riverbank in deep beech-filled valleys. You can pick any footpath from the map, and are likely to be delighted.
Well-known or particularly fine walking includes:
Dunkery Beacon: a nice but not wildly remarkable steady climb to Exmoor's highest point is rewarded by gorgeous views, including a wide panorama over the Bristol Channel. You can then make a good swing round the seaward slopes and back round the eastern shoulder to the carpark on the south side.
The valley between Simonsbath and Withypool is a most beautiful and charming stretch of landscape, as its active stream meanders along its narrowish and in places wild valley, through meadows below often heathery hillsides.
The ravishing Barle Valley below Withypool laughs its way through beech woods and meadows, past the famous prehistoric Tarr Steps, where it crosses the river to climb and traverse to Hawkridge, whence it drops along a lovely ridge back to the river and wends its way down, eventually, to Dulverton. A gorgeous but (the first half, particularly) well-known walk, so you won't be alone.
These are both stretches of the Two Moors Way.
Cheriton Ridge climbs from the little fields above the wooded coastal slopes near Lynmouth to make a long crossing of the northern highlands of Exmoor, topping out at – gasp – 480m, before dropping to Simonsbath in the meltingly pretty Barle Valley. It commands superlative views of both high moorland and the sea This is part of the first leg of the Two Moors Way.
Coastal: stretches of the North Devon Coastal Path make for brilliant day walks.
Lynton to Combe Martin: The first part of this section is on a heavily walked tarmac path, for good reason, as it has beautiful views and visits the decidedly peculiar Valley of the Rocks, so is specular. Thereafter it is very special, winding above Lee Bay, then on generally excellent paths along the wooded mid-slopes to drop into the deep and steep-sided Heddon Valley. Beyond here it is more beautiful coastline to charming Combe Martin. Various circuits can be made – for instance, from Hunters Inn (in the deep, narrow Heddon Valley) eastward above the steep sea-slope to the Martinhoe Roman Fortlet and back along the North Devon Coastal Path on mid-slopes. 8km/5miles.
Porlock to Lynton: A superb walk high above the sea, much of it on steep slopes above vast sea cliffs. Colebridge wrote Kubla Khan above Porlock. Drop to wide Lynmouth bay, stopping to enjoy this nice (if touristy) town, which was devastated by a flood in the mid C20. Then climb to Lynton above it.
The hills between Minehead and Porlock: Climb steeply on the Costal Path onto the high (well, 1,000ft) hills west of Minehead, for sea views, atmosphere and historical trekking galore. 12km/7.5 miles. Lots of different circuits can be made here.
We want to give more - please help us by recommending your best walks and sending photos! Thank you!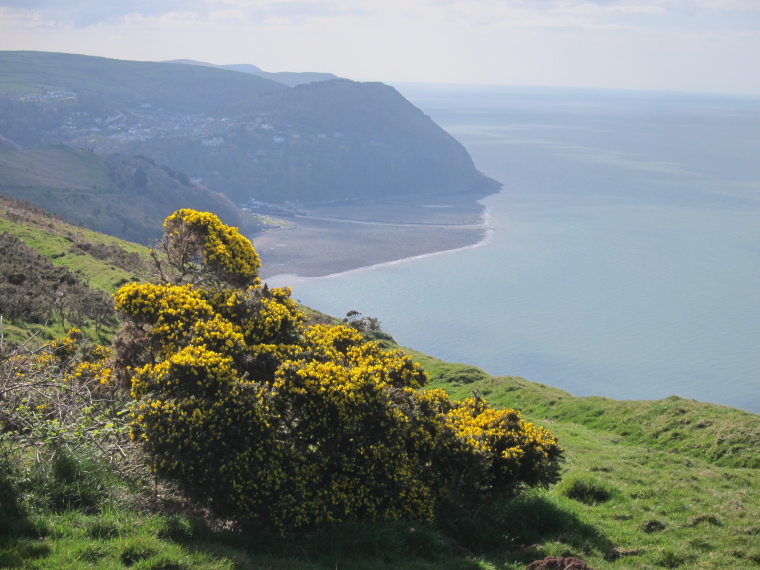 See also expedition planning, including our universal expedition checklist. Walkopedia encourages responsible travel.
Books on this walk (support us: find books using our Amazon links)
Exmoor & North Devon Coast Path, South West Coast Path Part 1 (Minehead to Bude) - Henry Stedman & Joel Newton / Trailblazer Publications
South West Coast Path: Padstow to Falmouth (National Trail Guides) - John Macadam/Aurum Press Ltd
The South West Coast Path: From Minehead to South Haven Point (British Long-distance Trails) - Paddy Dillon/Cicerone
Other books (support us: find books using our Amazon search box)
Find these and other books on Amazon
Maps
Excellent Ordinance Survey maps cover the area and are easily bought locally.
South West Coast Path 1: Minehead to Bude (Route Maps) - Harvey Map Services Ltd.
Stanfords: www.stanfords.co.uk. An excellent (and user-friendly) online specialist source of worldwide maps (it is also good for guidebooks).
Best times to walk/weather
Best times to walk
Parts of the coast can become horrendously crowded in high summer. The best times of year are May and June, when the wildflowers are at their heart-melting best and the days are long, and September. But be prepared for bad weather at any time. Autumn and winter walks can be thrilling – and alone.
Weather
The UK is generally blessed with a mild climate, but be prepared for rain at any time. Hardy types who like a good sea-storm will probably get a kick out of Winter, bearing the short daylight hours in mind.
For detailed weather information, have a look at: www.bbc.co.uk/weather/world/country-guides
Getting there/transport/permits/fees
Check the current UK visa position for people from your country.
Skyscanner is an excellent (relatively new) site for finding the flights you need; otherwise look at what's available on TripAdvisor.
Trains to Taunton.
There are buses between the main towns – but you will struggle to organise complex walks relying on buses, though.
Local taxi services generally exist in the towns and can (e.g.) take to or pick you up from a road head, or transport luggage.
Car hire is reasonably easy. Beware narrow roads.
Those on organised expeditions are likely to be transported from/to arranged start/departure points.
No permits are needed to walk here.
Possible problems, health, other warnings
See also the websites in our useful links page for more detailed, and up-to-date, information.
Safety and problems: All walks have inherent risks and problems can arise on any walk. Many of the walks featured on this website involve significant risks and possible problems. This website cannot, and does not purport to, identify all actual or potential risks, dangers and problems that may relate to a walk or a country. Any person who is considering undertaking this walk should do careful research and make their own assessment of the risks, dangers and possible problems involved. They should also go to "Important information" for further important information.
Make sure you have appropriate insurance.
Guided or independent?
You can do these walks independently, and you can slackpack on the SW Coast Path: Luggage Transfers will carry bags between pretty much every overnighting point along the path. There are other companies that provide bag-transfer services – see the guidebooks.
A number of companies run organised trips, guided or self-guided. They include:
See the guidebooks for other companies.
Accommodation
There are endless hotels, pubs, B&B's and campsites along the route. The guidebooks have suggestions.
Hostelbookers usually has a good selection of cheaper-end accommodation.
Other information and tips
Useful websites and information
There are many websites with relevant information. Here are some that we think are useful or have been recommended to us.
Other things to do in the area
Castles, fishing, swimming, diving, birdwatching, museums, many old market-towns and their churches, a range of great places to eat…
Safety and problems: All walks have inherent risks and potential problems, and many of the walks featured on this website involve significant risks, dangers and problems. Problems of any sort can arise on any walk. This website does not purport to identify any (or all) actual or potential risks, dangers and problems that may relate to any particular walk.

Any person who is considering undertaking this walk should do careful research and make their own assessment of the risks, dangers and possible problems involved. They should also go to "Important information" for further important information.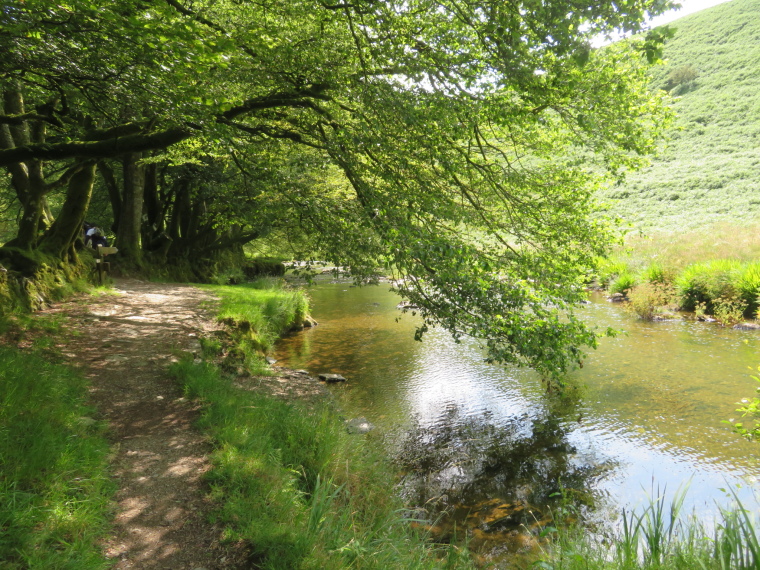 OTHER ACCOUNTS
share your experiences
Top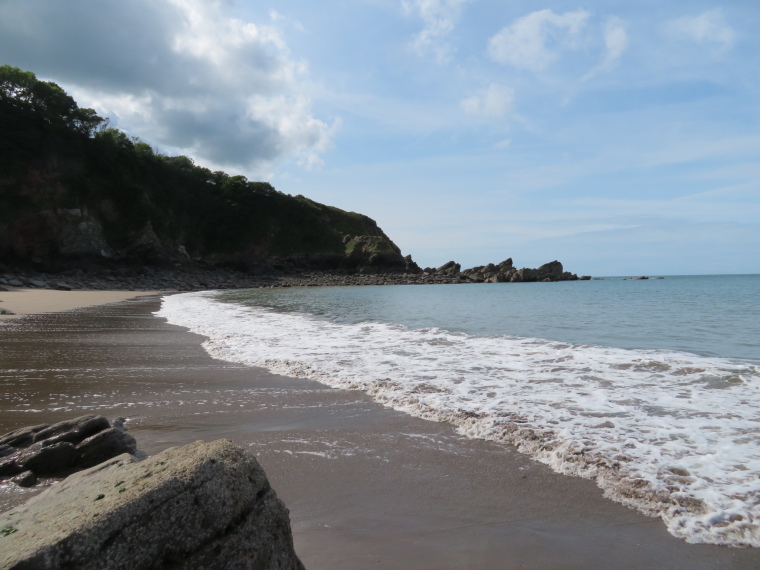 Top
Responsible travel matters, a lot. How you travel will make a real difference - for better or worse. PLEASE consider this when making plans. Read more