Mount Athos
Key information: Mount Athos
The mountainous monastery peninsula of Mt. Athos protrudes, as the easternmost finger of the Halkidiki Peninsula, some 60km into the northern Aegean Sea. It is home to a multitude of Orthodox monastic houses, fortified against the raiders of history, which perch on crags and slumber in sandy coves. They shelter beautiful, ancient buildings, paintings and other treasures.

Walk on the ancient paths, contouring cliffs and crossing the wooded hillsides, that link the monasteries. Enjoy big views of the rugged mountains and the sea and the beautiful and varied vegetation.

Only men are allowed on the peninsula. Access is limited and permits are hard to get.
Walkopedia rating
(Top 100)
Walkopedia rating91.5
Beauty

31

Natural interest

13.5

Human interest

15

Charisma

32

Negative points

0

Total rating

91.5
Vital Statistics
Length:

Variable

Maximum Altitude:

2,033m

Level of Difficulty:

Variable
Top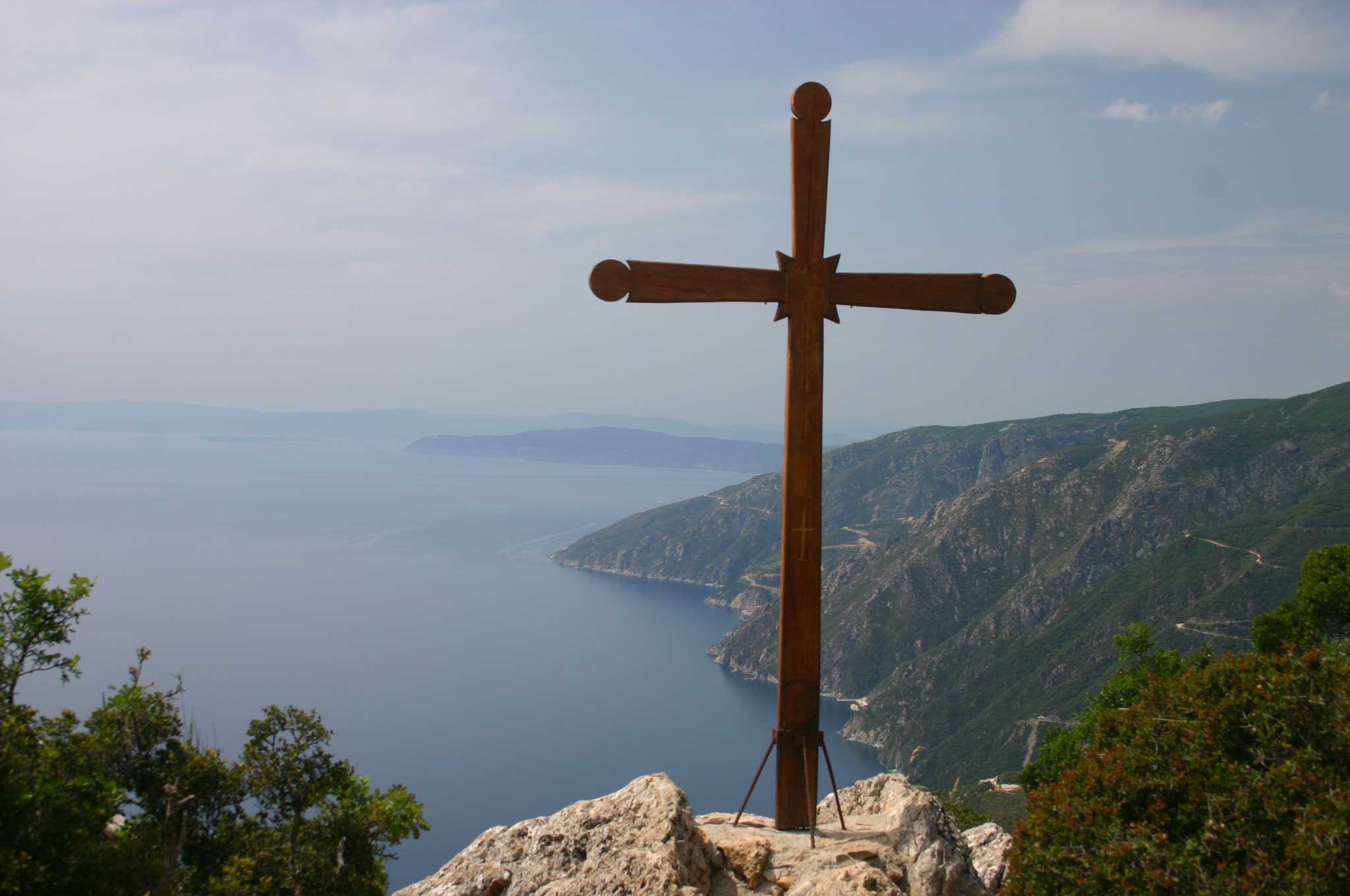 WALK SUMMARY
Mount Athos is a last living vestige of the Byzantine world, a unique, self-governing, monastic statelet, the eastern finger of Greeces Halkidiki peninsula. It is now a world heritage site.
Women and, famously, beardless youths and female animals are excluded, and only monks live here permanently. It is tough getting there. Athos is only accessible by sea, so access can be regulated - and you have to have a pass to be allowed in. A mere 10 non-Orthodox visitors can enter each day, and you have to apply for entry exactly 6 months ahead.
Nestling in Athos' gorges and forests, or looming on seaside crags, are a plethora of monasteries and lesser houses, many of them living museums housing priceless icons, paintings, books and other treasures, which shelter nearly 2,000 Orthodox monks. In its heyday there were tens of thousands here. Many still live in scattered hermitages and sketes groups of monks living idiorrhythmic, self-regulating, lives.
Remember: Athos is sacred, an Orthodox monastic place of retreat. Don't go unless you will go in a spirit of enquiry and respect. You can only stay in the monasteries and sketes, and it will be wrong not to attend services while there. Most houses now require advance booking, so plan ahead. Some are very small and only have a few places.
You can get round much of the peninsula by bus, but the traditional way is what will appeal to Walkopedians: on foot along the many remaining ancient paths and mule tracks, to Athos' remotest places. While this can be done throughout the peninsula, the only truly untouched area is in the wild south, below the great marble peak, at 2,030m the highest point for miles around.
This will mean taking a bustling little ferry from Ouranopoli just north-west of the boundary wall, getting off at your chosen destination.
There are many possible routes, but the best and most varied in the time available (a maximum of 3 nights for non-Orthodox visitors) would be to land below the Kavsokalivia skete and walk to the Grand Lavra, the oldest (and grandest!) monastery on Athos. The track contours the cliffside through gorgeous maquis.
The second day is a long march westward across the forested lower slopes. This is ravishing walking, though perhaps not as extravagantly furnished as yesterday's trail high above the sea. There is something delightful and deeply moving about the destination, the Kerasia skete, where we are to spend the night. The contrast with the grandeur of the Lavra could not be greater.
You will need to be up early for the big climb of Mt Athos, which is a demanding toil, but produces amazing views of the whole peninsula. There is a choice about where to spend that night, depending on how fit you are: St Anna, the mountain's oldest skete, is probably the nearest and has the sort of view that could cost hundreds a night on the Amalfi coast.
The last day follows glorious paths high above the west coast, visiting dour Pavlou and beautiful Dionysiou and Grigoriou. You can get a ferry at Grigoriou, or press on to the port of Dafni - but that will make for a long walk with a tight deadline to get the last ferry out.
The scenery on Athos is superb - precipitous mountains, pinnacled cliffs and sea - as is the vegetation; a marvelous mix of forest, much of it still virgin, in the south particularly; and bright and varied maquis of bush and shrub.
WILLIAM MACKESY'S ACCOUNT
of this walk
In May 2009, after interminable preparations, four middle-aged Englishmen made the pilgrimage-journey to Mount Athos, the sacred eastern finger of the Halkidiki peninsula in northern Greece.
It was an arduous process even getting there: they laughed the year before, when I tried to obtain diamonitiria, entry visas, in February for a May visit. Only 10 non-orthodox visitors (and 100 Orthodox) are allowed in each day, and you now have to apply 6 months in.....
READ MORE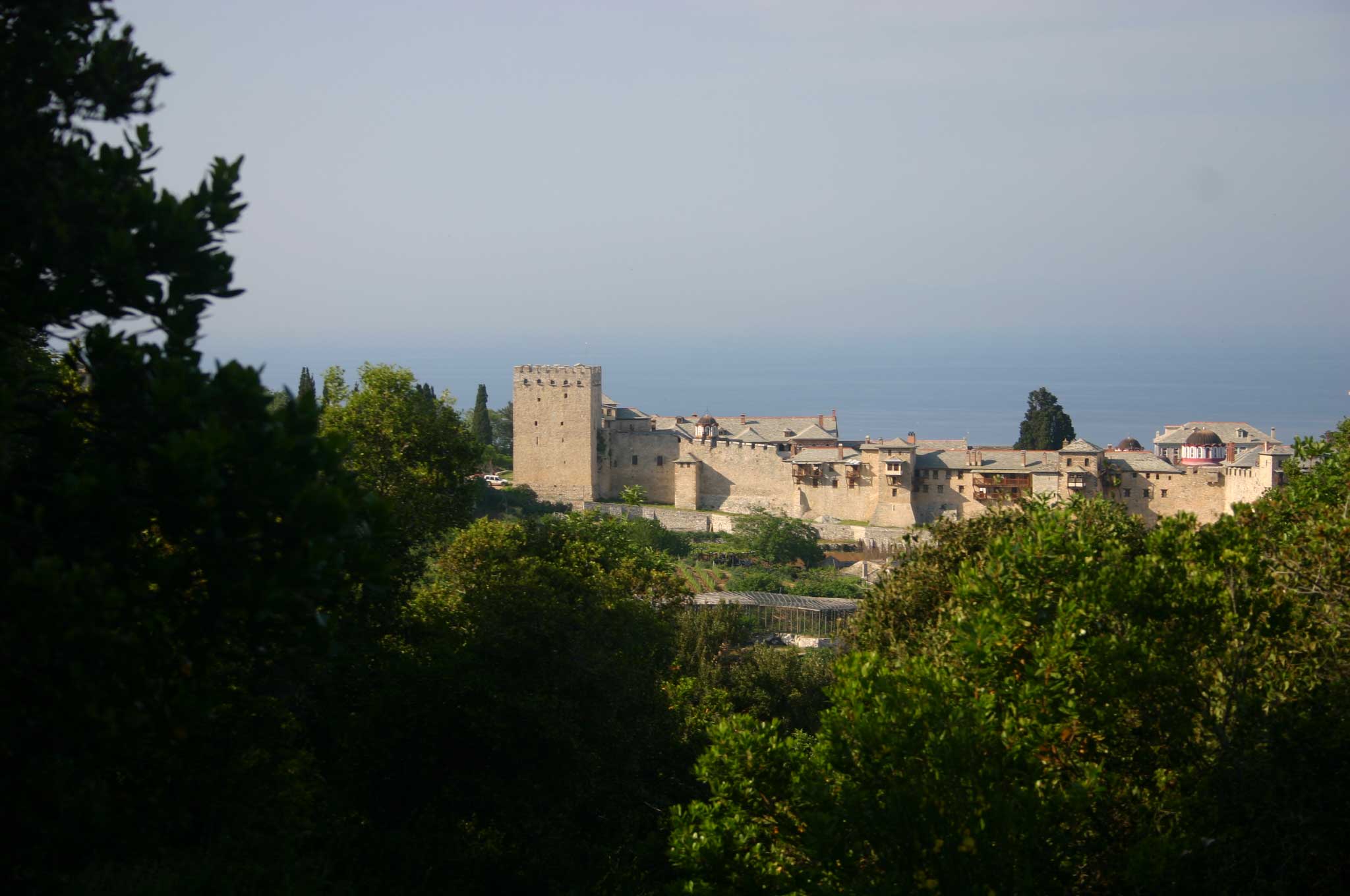 See also expedition planning, including our universal expedition checklist. Walkopedia encourages responsible travel.
Books and Maps
Books on this walk
A Pilgrim's Guide to Mount Athos – The Friends of Mt Athos: indispensible if brief, but you need to join the friends to get it. Worthwhile.
Athos Guide – Lectus.
Chapter in The Mountains of Greece - Cicerone – good on routes, a bit thin on other information (eg the monasteries).
The Station: Athos: Treasures and Men – Robert Byron: unmissable if at times annoying. Includes the claim he could see both Olympus and Troy from the summit.
Other books
Renewal in Paradise – Graham Speake: essential reading.
From the Holy Mountain – William Dalrymple: a general tours of the remains of the Byzantine world in Asia minor, starting at Athos
Vol [ ] [1979] of James Lees-Milne's diaries for an interesting if at times petulant account of his visit .
Lonely Planet: Greece – reasonable basic information on Athos, competent otherwise.
Maps
There are apparently not many walking-quality maps: the recommended one is Reinhold Zwerger's 2001 1:50,000 map which is itself a bit out of date, not showing new roads above the Nea Skete, for instance. Available from the Friends.
Stanfords: www.stanfords.co.uk. An excellent (and user-friendly) online specialist source of worldwide maps (it is also good for guidebooks).
Best times to walk/weather
Best times to walk
Spring for the flowers. Autumn is generally good. High summer gets very hot, although not a broiling as much of Greece by virtue of the proximity of the sea. Winter can get very cold and wet.
Weather
Generally fine in season, but come prepared for unpredictable mountain weather and cold nights.
For detailed weather information, have a look at: www.worldweather.org or www.bbc.co.uk/weather/world/country-guides
Getting there/transport/permits/fees
Access is by boat. Most people come via Ouranopoli on the northwest coast, just above the wall.. The most-used ferry leaves at 9.45am and takes about two hours to reach Dafni (and stops at many places, going on round the southern cape). The main return ferry leaves Dafni at noon.You can also enter from Ierissos in the north-east.
You can get to Ouranopoli by bus ( some 2.5 hrs) from Thessaloniki or by taxi or hire car from the international airport at Thessaloniki. There are a lot of flights to Thessaloniki, including British Airways from Gatwick.
A permit (diamoniterion) is needed to get onto Mount Athos. They are very limited in number – only 10 for non-Orthodox each day and for 3 nights maximum - and hard to get. Check carefully about the current procedure for getting permits, which can get abit stress.. As of 2009, you had to:
Reserve a place through the Mount Athos Bureau in Thessaloniki (tel +30 2310 252579, pilgrimsbureau@c-lab.gr – note that this can be frustrating as they often do not answer) exactly six months before you departure date, then
Pick up and pay for your permit from the Ouranopoli office, which can be done the morning before the ferry leaves, but you need to be quite fleet of foot.
Route(s)
See Walk Summary above.
Possible problems, health, other warnings
Mountain weather:

possible at any time of year. Come prepared.

Heat

and strong sun. Carry enough water and protect yourself.

Heights:

can be dangerous; Mt Athos itself is not for those who have significant difficulties with heights.

Dangerous animals,

including snakes, wild dogs, stinging/biting insects and plants. Take all appropriate precautions.

This is remote country:

help may be hard to get if things go wrong.
See also the websites in our useful links page for more detailed, and up-to-date, information.
Safety and problems: All walks have inherent risks and potential problems, and many of the walks featured on this website involve significant risks, dangers and problems. Problems of any sort can arise on any walk. This website does not purport to identify any (or all) actual or potential risks, dangers and problems that may relate to any particular walk. Any person who is considering undertaking this walk should do careful research and make their own assessment of the risks, dangers and possible problems involved. They should also go to "Important information" for further important information.
Make sure you have appropriate insurance.
Guided or independent?
Independent
Most people do this walk independently, but come fully prepared.
Guided/supported
We are not aware of organisers of visits here for non-Orthodox people.
Accommodation
In monastery/skete guesthouses. Most need to be booked ahead, which can be difficult as result of non-answering and only speaking greek.
Hotel Zeus in Ouranopoli (+ 30-2377071274, www.ouranopoli.com/zeus ) is good value, popular with pilgrims and helpful. You can leave bags with them.
Other information and tips
Useful websites and information
There are many websites with relevant information. Here are some that we think are useful or have been recommended to us.
Other things to do in the area
Other walks
Other activities
You will be mad not to spend some time in Thessaloniki while visiting the Mountain.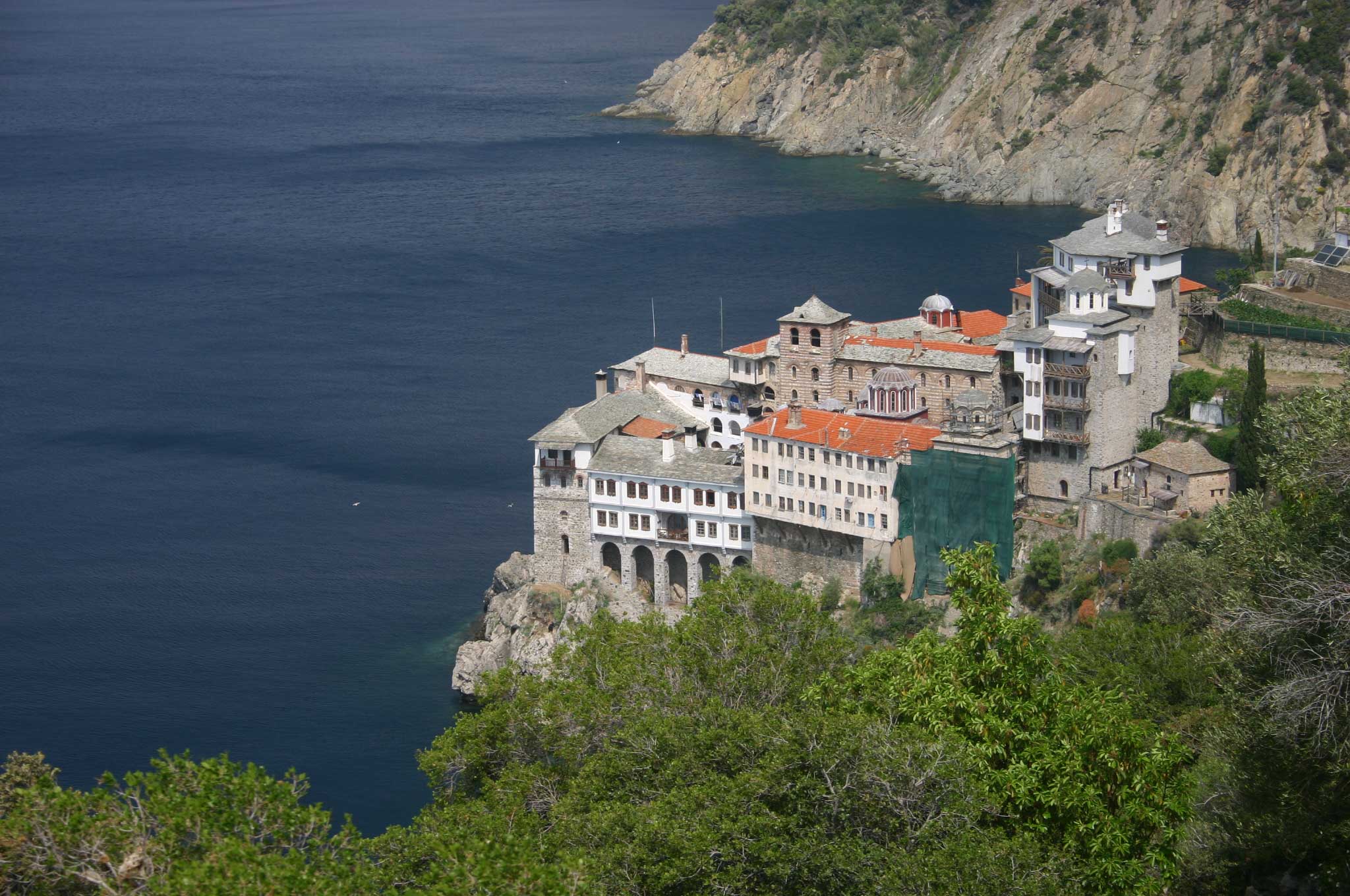 OTHER ACCOUNTS
share your experiences
Top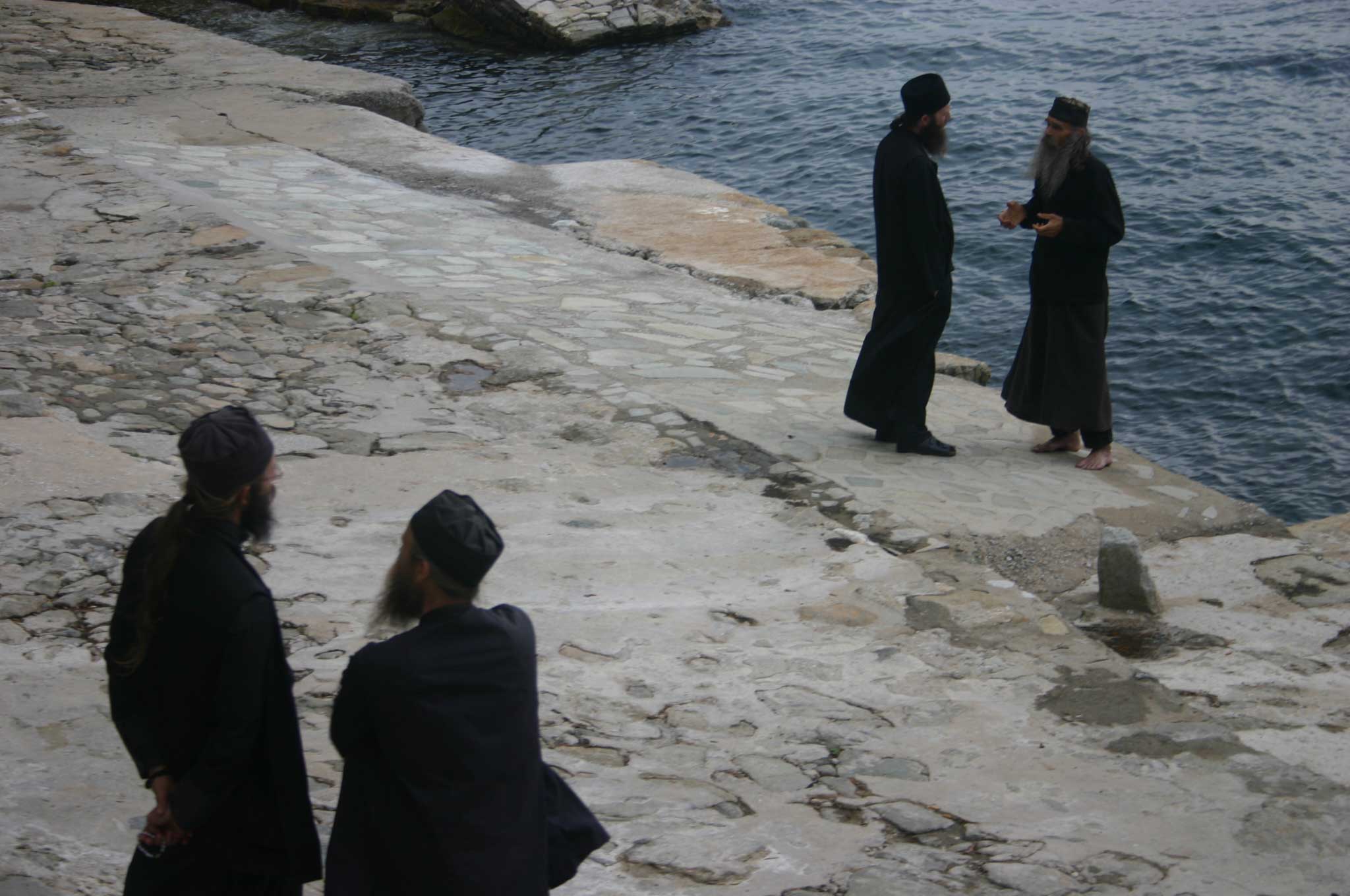 Top
Responsible travel matters, a lot. How you travel will make a real difference - for better or worse. PLEASE consider this when making plans. Read more