Lanzarote
Key information: Lanzarote
Lanzarote is a thrilling volcanic island replete with drama and mystery. There are huge areas of arid desolation; weird and wonderful volcanoes and formations; green hills in the north with beauty and fascination in spades; beautiful white and black sand beaches; and fertile farmland and vineyards.
While not known as a walking mecca, it should be.
Walkopedia rating
Walkopedia rating95
Beauty

34

Natural interest

16

Human interest

12

Charisma

33

Negative points

0

Total rating

95
Vital Statistics
Length:

Your choice

Maximum Altitude:

Well under 1,000m

Level of Difficulty:

Variable
Top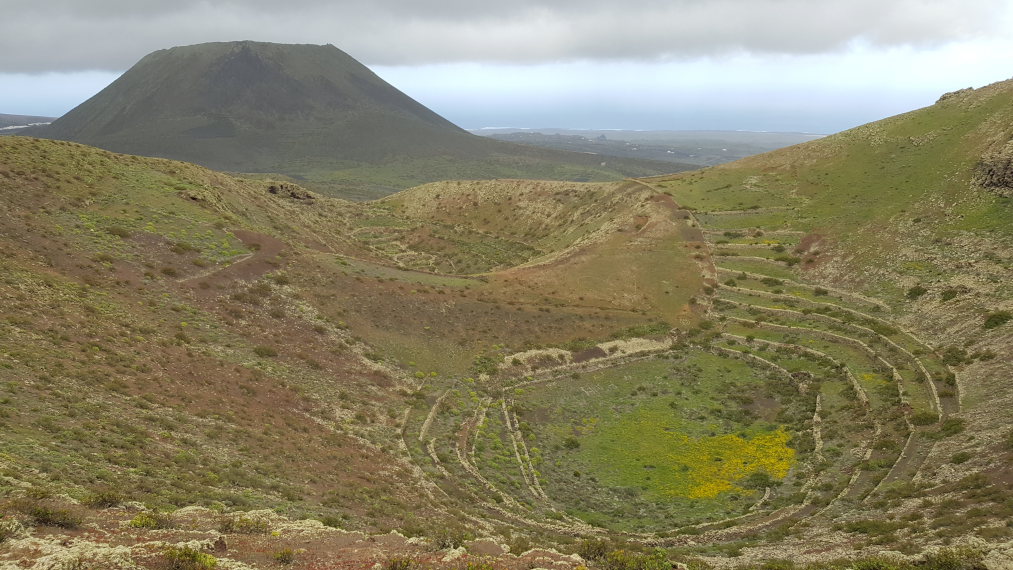 WALK SUMMARY
Lanzarote is a thrilling volcanic island replete with drama and mystery. There are huge areas of arid desolation; weird and wonderful volcanoes and formations; green hills in the north with beauty and fascination in spades; beautiful white and black sand beaches; and fertile farmland and vineyards.
The whole island is a UNESCO Biosphere Reserve, which has aided its (overall) relatively sensible and contained relationship with mass tourism, despite plenty of depressing scandals.
While Lanzarote has fascinating and beautiful arid vegetation, it isn't a mecca for resident birds (plenty of migrants) and is short on other animals.
Lanzarote is sprinkled with white villages, mainly of blocky concrete: with an impoverished history then mass tourism, not much of the local architecture is inspiring, although the green woodwork adds an attractive touch.
While Lanzarote isn't especially known as a walking mecca, it should be – there are a number of great walks here.
The south-west
This very dry region has some good walks, although it is not generally Lanazarte's finest.
The stand-out area is the group of hills around the village of Femés . There are two ridges and their outliers to choose from. Both drop away steeply on the outside of the massif, with some particularly fine, empty, ridges and valleys sinking to the sea to the south-west. The best walk appears to be the 7.5km circuit around the hills and barrancos to the south.
There are some good coastal walks, particularly on the unspoilt coast between the Playa Blanca conurbation and Playa Quemada; and west of La Hoya and around charming El Golfo on the northern coast.
The middle, including Timanfaya
Timanfaya is the island's national park, the area of the devastating eruptions of the 1730s and an extraordinary if at times so-harsh-as-to-be-sinister jumble of volcanic features, including, it is claimed, the world's biggest lava flow. It is such a difficult and thus pristine area that it is heavily protected, with foot access limited to a single coastal route and the Termesana route in the middle. A bus route explores the Montanas del Fuego, epicentre of the fun-and-games, with its 30+ craters and outlandish landscape.
Termesana Route: this worthwhile 3km trail in the south-west of the NP must be walked as part of a guided tour, so it is a wonderful condensed lesson in vulcanology. Brilliant colours. A huge variety of landscapes and formations – including an enormous lava tube. The groups are small and too few, so that you need to book ages ahead to get a place – more on walk page.
The Caldera Blanca really is rather amazing, a pale old collapsed volcano bobbing on the vast black sea of lava which buried a huge swathe of south-western Lanzarote in the cataclysmic eruptions in the 1730s. Its rim, above a deep and green bowl, is stunning walking with huge views. You first weave for half an hour or so through a desolation of wildly broken lava. After visiting the smaller caldera of Montaña Calderata, you puff up the pale and smooth side of the Caldera, to meet a gasp-inducing view at the caldera rim. The climb up the rim to the high point just gets better and better, as huge views open up. Amazing. One of Lanzarote's finest.
Coastal - El Golfo to Playa de la Madera: this is a fascinating and harshly beautiful 13km (but slow, 5-6 hr) slog through the hard wilderness of the Timanfaya lava fields, relieved by the restless beauty of the Atlantic pounding on the obdurate shoreline.
Through the lava fields to the west coast – Mancha Blancato Playa de la Madera: this starts through interesting farmland, then plunges into the heartless heart of the relentless lavafields, grand in their harsh lifelessness, to the black beaches (not necessarily safe to swim) on the coast – and back. 21km or so. Mainly for those who really want to experience what Mordor might be like…
La Geria and Montaña Tinasoria: La Geria is the main home of Lanzarote's most most-recognisable feature, the captivating dark/pale green tapestry formed by the fields, even hillsides, of horseshoes of stones protecting vines in depressions filled with black volcanic gravel. It lies in the southern centre of the island, and is bordered to the south by the ridge which includes the hills Tinasoriaand Guardilama, and to the north by the vast sea of black lava spewed out in the eruption of the Timanfaya volcanic complex. There is one unmissable circuit, heading east from Uga along a dirt road which climbs steadily through fascinating vinelands to the pass between Montaña Tinasoria and the higher Guardilama to the north, then swings back along the ridge toward Uga, climbing Tinasoria en route.
The north
Lanzarote's marvellous northern ridge is in Walkopodia's view the island's premier walking area. It runs as an undulating plateau-ridge, littered with the remains of volcanoes, especially in the dramatic far north around Maguez. Expect exceptional views: west out across to the endless sea (and in the north, La Graciosa); north or south along the splendid ridge itself, and east across the lowlands to the…er… endless sea.
Teguise and the high ridge: Teguise, Lanzarote's former capital, sits at the southern end of the northern ridge. To its north, the high ridge leads inexorably to/from the Ermita de las Nieves, a plain, rather special chapel on one of the highest hilltops. There is a network of fabulous trails in the hills and valleys to Tergiuse's north-east. The best half-day walk is to make a circuit between Teguise and the Ermita de las Nieves.
West of Haria: Pleasant Haria lies a tad more than half way up the northern ridge. There are various walks you can make in the area, including to walk the long high ridge south to Teguise. The best walk in the area is, though, to explore up the two interesting valleys west of Haria, out to the great sea cliffs at the edge of the high island ridge, crossing the low ridge between the valleys to make your return walk.
Far north: there are various great walks here, in the area of Maguez. The two finest walks are: Western Hill and Los Helechos – a climb up to a small farming plateau west of Maguez, then an ascent of a particularly fascinating volcanic group (centred on Los Helechos), all through lovely and interesting farmland and with some of the island's best views; and climbing Montaña Corona from Maguez to the south. Also very worthwhile is the descent of the winding path down the dramatic Risco cliffs west of Ye to the plain below, and some superb and empty beaches.
Isla Graciosa
This sandy yet still volcanic desert island has a very different feel from the rest of Lanzarote. While it isn't the best available walking, it makes a lovely change as you wander along empty sandy tracks to check out superb, empty beaches, sand dune, lagoon and little volcanoes. It would make a lovely day away, which Walkopedia regrets not having time for. Long and short walks available. The long (19km) circuit won't feel too onerous if you give it all day, with plenty of stops for beaches and feature-admiration on the way.
__________________________________________________________________________________________________________________________
An example of a possible walking itinerary, pretty full-on and largely based on our own journey, would be:
Day 1– Caldera Blanca and La Geria and Montana Tinasoria – quite a long starter day.
Day 2 – a walk in the far north - Western Hills and Los Helechos, and (if energy) Montaña Corona.
Day 3– Teguise and the high ridge and West of Haria if energy.
Day 4– Termesana Route then Around Femes if energy.
This can be tough demanding walking in remote mountains. Come fully prepared, including carrying enough water.
Lanzarote– Sunflower guides: 31 varied walks. Recommended. Find relevant books on Amazon.
Our friends and partners Responsible Travel have a selection of holidays here.
We want to tell more - please send us your ideas, suggestions, experiences and photos.
See also expedition planning, including our universal expedition checklist. Walkopedia encourages responsible travel.
Books and Maps
Books on this walk
Canary Islands: 2 East– Cicerone: 16 walks on Lanzarote.
Lanzarote– Sunflower: 31 varied walks. Very good.
Find these and other books on Amazon.
Other books
Canary Islands– Eyewitness Travel Guides – brief but very accessible.
Canary Islands– Lonely Planet Country and Regional.
Lanzarote – Marco Polo guides. Quite brief, but quite focused.
Native Flora of the Canary Islands– Miguel Angel & Cabrera Pérez.
Flora of the Canary Islands– David Bramwell.
Find these and other books on Amazon.
Maps
Lanzarote Tour and Travel Super-durable Map – very good – David Brawn
There are 1:25,000 and 1:50,000 maps available, but, if you have the Sunfloweror Cicerone, you just need a good island map as the books have good walk maps.
Stanfords: www.stanfords.co.uk. A good online specialist source of worldwide.
Best times to walk/weather
Best times to walk
All of the year is good for walking – although the summer is hotter and some say winter is therefore better for walking. Lanzarote is windy much of the time.
Weather
Lanzarote is dry and sunny for most of the year. If you get wind from the south-east, fine dust particles are blown in, making for unpleasant walking conditions if the winds are strong.
For detailed weather information, have a look at: www.worldweather.orgor www.bbc.co.uk/weather/world/country-guides.
Getting there/transport/permits/fees
Flights to the international airport, direct for Spain and the UK and elsewhere.
Hiring a car gives you a lot of flexibility and is easy and good value for much of the year. Some people hire taxis to get around: excellent for non-circular walks, although the cost is best shared! Local buses are reasonable, and the Sunflower Guide has info on routes that link up to walk roadheads.
Roads are good and empty and often beautiful; but the signage is variable and the driving decidedly so – Walkopedia was overtaken on the inside twice in near-accidents.
Possible problems, health, other warnings
Heat and strong sun. Carry enough water and protect yourself.
Unpleasant south-eastern winds at times. See 'weather' above.
Heights: can be dangerous; not for those who have difficulties with heights.
Parts of Lanzarote are remote: and help may be hard to get if things go wrong.
See also the websites in our useful links page for more detailed, and up-to-date, information.
Safety and problems: All walks have inherent risks and problems can arise on any walk. Many of the walks featured on this website involve significant risks and possible problems. This website cannot, does not purport to, identify all actual or potential risks, dangers and problems that may relate to a walk or a country. Any person who is considering undertaking this walk should do careful research and make their own assessment of the risks, dangers and possible problems involved. They should also go to "Important information" for further important information.
Make sure you have appropriate insurance.
Guided or independent?
Independent
You can do these walks independently, but come prepared.
Guided/supported
There are excellent organised/supported expeditions available. Organisers can arrange for permits to be obtained. Expedition organisers include:
Accommodation
Depends on what you want.
Staying in a town or village if you want character. Or in a coastal hotel if you don't mind hordes of tourists. The guidebooks have some suggestions.
Good accommodation websites. Hostel bookers usually has a good selection of cheaper-end accommodation.
Other information and tips
Theft for cars happens. Hide possessions. Park near other cars if you can.
Useful websites and information
There are many websites with relevant information. Here are some that we think are useful or have been recommended to us.
Other things to do in the area
Other walks
There is a huge variety of great walks on the other Canary Islands, if you want to travel around.
Other activities
Endless: windsurfing, sailing, cycling, diving, surfing, fishing. Sunning yourself and swimming! Some art/cultural experiences not to be missed.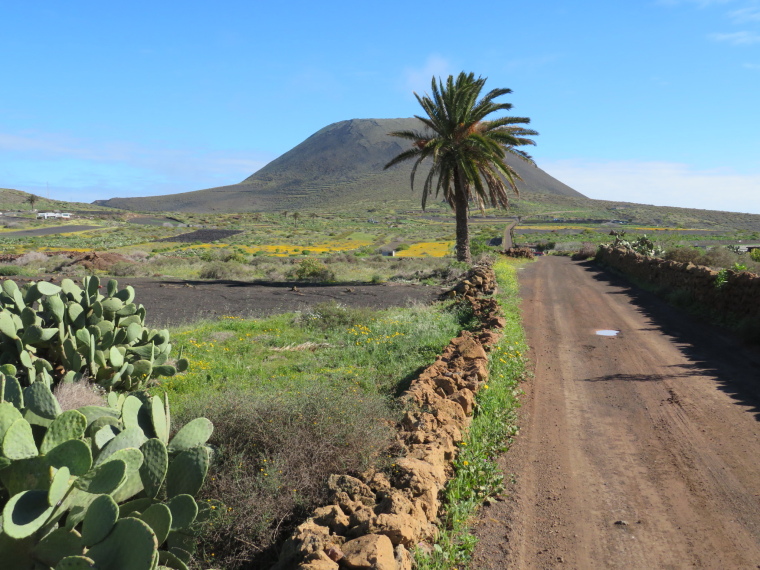 OTHER ACCOUNTS
share your experiences
Top
Top
Responsible travel matters, a lot. How you travel will make a real difference - for better or worse. PLEASE consider this when making plans. Read more