Hohe Tauern
Key information: Hohe Tauern
Austria's highest mountains, and many would say its single finest walking area. Spectacular peaks and glaciers.
A huge selection of thrilling walking.
Walkopedia rating
Walkopedia rating91.5
Beauty

35

Natural interest

16.5

Human interest

6

Charisma

34

Negative points

0

Total rating

91.5
Vital Statistics
Length:

Variable (e.g up to 11 days selected highlights)

Maximum Altitude:

Your Choice

Level of Difficulty:

Variable
Top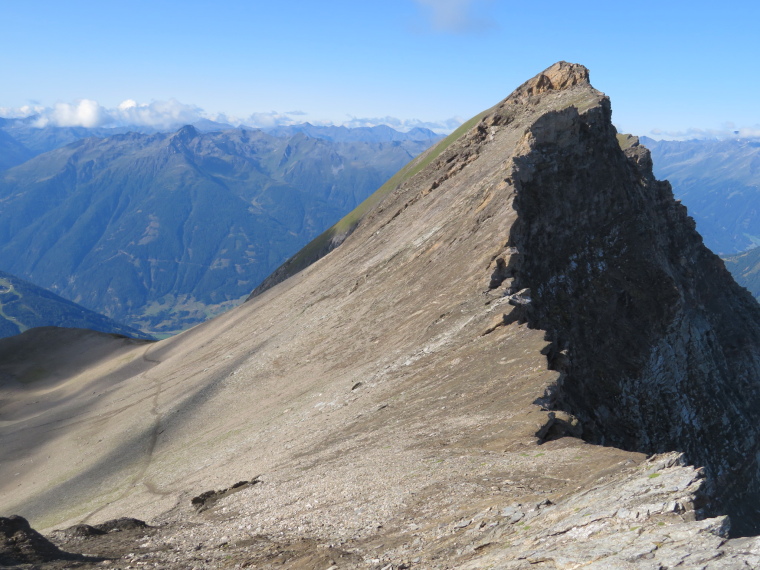 WALK SUMMARY
Austria's largest National Park is arguably the single finest walking area in Austria – although many would argue for some of its competitors! It lies a bit north of the Italian border and south-ish of Salzburg and consists of a number of sub-groups (they don't seem to be called ranges here – are they too small to qualify?), containing Austria's highest mountains as well as magnificent glaciers, lakes, waterfalls and lovely higher and lower valleys.
The most famous groups are the Glockner, home of that beautiful pyramid, Grössglockner, Austria's highest mountain at 3,798m, and the Venediger, which contains the largest areas of ice. There is of course fantastic walking in all the groups.
Wildlife includes shy ibex, chamoix and loveable marmots. A goodly selection of birdlife includes majestic eagles.
The Hohe Tauern are some of the best-hutted mountains in Austria (and saying that is saying something), with over 100 scattered through the region, usually in superb or at the least very pretty and charming locations. Good details and telephone numbers for some of the best are in the Cicerone guide.
There is a plethora of great walks here, from short explorations to multi-dayers. There are several important lifts open in the summer; check on arrival which are open and their times – many close for lunch.
Great multi-day walks
Crossing the Glockner group: the variants of this superb route cross the entire Glockner group, north-south, in 6 or 7 days. It takes in the very best of the Kaprun valley (see below), then swings west of Grossglocker to enjoy the finest walk above Kals (see also below). A Walkopedia priority to walk this route.
The Venediger Höhenweg: This is the most famous long walk in the Hohe Tauern, and one of the great walks of Austria. It is a demanding trek, circling round the southern flanks of the great group, crossing several high passes. It commands outstanding views into the icy heart of the group, and gets close to the base of some of its glaciers. 6 or 7 days, 48km.
Sudetendeutscher Höhenweg: this delightful 2-day walk takes you along the high ridge of the Granatspitz, with outstanding all-round views. A really soul-refreshing expedition. We loved this walk.
The high Spitzbrett ridge, between the Kaprun valley and the Fuscher valley to its east, makes for beautiful and thrilling – at times very exposed – 2 day traverse.
You can devise your own multi-dayer, to suit yout tastes and capacities. You just need to look at maps and guidebooks and salivate – in particular, you can extend/combine the great day walks described below. Note, though, that you do need to book many huts ahead.
Bases for day walking
You can base yourself around Matrei in Osttirol, in the deep Tauerntal to the south of the highest masses (including Kals am Grossglockner), for access to the Venediger and Glockner groups, as well as the Granatspitz, Lasörling and Schober groups. The Salzach and Kaprun valleys to the north gives access to the Venediger and Glockner groups. Their main towns are Zell am Zee and Kaprun. Various major valleys run south from there, including the Gasteinertal at the east of the range, with Badgasten its best base town.
From the North
There is fine walking from the Salzach valley to the north, and its south-running tributaries. But, it is further from the highest mountains, so less easily accessible to them than the various valleys to the South, except from the road in the Kaprunertal south of Kaprun.
Starting at a cable car top near Kaprun, the Alexander-Enzinger-Weg runs along a superb high ridge to the Krefelder Hut at 2,293m, with exceptional views into the Glockner group. Ski-spoilt in places.
At the head of the Kaprun valley are two reservoirs, with the higher, the Mooserboden, in a gorgeous position. From the roadhead here, you can make several walks of varying difficulty, from lakeside wanders to climbs to huts and viewpoints, with magnificent close-up views of the high range and its glaciers. See more
These walks form the start of the multi-day Crossing of the Glockner group (see above).
From the South
As well as beautiful valley walks, there are endless higher forays into the heart of the range.
Actually in the heart of the range and accessible from south and (by tunnel) north, the famously lovely Gchlösstal valley runs west into the heart of the Venediger group from the big Tauerntal, with exceptional views.
There are several valleys north into the Venediger group from the big Virgental, including the Maurer valley with the Essener-Rostocker Hut at its head. A long walk in, and you can go on to climb further in the upper valley. This is the first day of the Venediger Höhenweg (see above).
South of the Virgental is the Lasörling Group. While not as high or glaciated or famous as the Venediger, these have some excellent walks and are emptier. They are riddled with trails, including high ridge walks and peaks to bag. The group is well served with huts, too.
East of Matrei is the Granatspitz group, with some outstanding walking, including the Europa Panoramaweg and The Sudetendeutscher Höhenweg which continues along this ridge to the Sudetendeutscher hut to make two marvellous days.
For close-up encounters with the Glockner group's southern walls and slopes, there are some fine walks from Kals am Grossglockner, including to the Stüdl Hut at 2,800m and the Glorer Hut. Marvellous scenery and exciting walking.
From the East
A wealth of walking around Badgastein, into the Goldberg group to its west, and the Graukogel ridge (not technically in the Hohe Tauern) to the east. The 5 hour high ridge walk south from Stubnerkogel, over Tischkogel at 2,409m, looks compulsory if you are in the area.
_________________________________________
The Hohe Tauern are well loved, and well walked, so this won't feel like a wilderness on the main routes, although you can get away. This can be tough walking in high and remote mountains with uncertain weather. Come fully prepared.
Many roads up valleys are now closed to cars, requiring you to take mountain taxis (not cheap).
Have a look at TripAdvisor – there are tens of millions of reviews, so you may get good, current views on the area.
Walking in Austria – Kev Reynolds for Cicerone: more than 100 walks in the Austrian Alps, including 18 in this area. And Trekking in Austria's Hohe Tauern – Allen Hartley for Cicerone: long-distance trekking in the area. As usual, inspiring books (indeed, Walkopedia was alerted to some of these routes by the former), packed with valuable information, including good detail on the routes. As Austrian maps are good, Walking in Austria has less on each walk that some other Cicerones, but that is fine. Recommended.
Find relevant books on Amazon.
We want to tell yet more. Please help us by recommending your best walks, making suggestions, and sending photos! Thank you!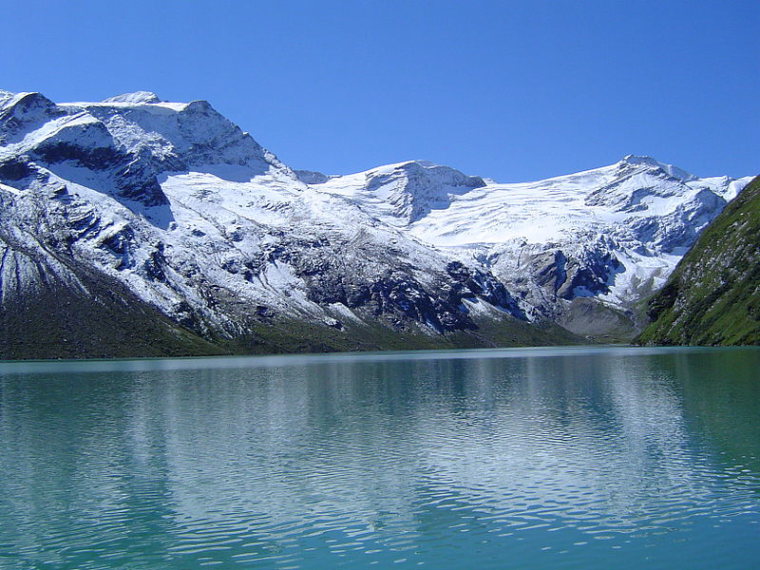 See also expedition planning, including our universal expedition checklist. Walkopedia encourages responsible travel.
Books and Maps
Books on this walk (support us: find these and many more using our Amazon search box)
Trekking in Austria's Hohe Tauern – Allen Hartley for Cicerone (on multi-day treks), and Walking in Austria – Kev Reynolds for Cicerone: more than 100 walks in the Austrian Alps, including 18 in this area. As usual, inspiring books (indeed, Walkopedia was alerted to many of these routes by them), packed with valuable information, including good detail on the routes. The latter has less on each walk that some other Cicerones, but that is fine. Recommended.
Find these and other books on Amazon.
Other books (support us: find books using our Amazon search box)
Find these and other books on Amazon.
Maps
Freytag & Berndt's WK123 map is a good 1:50,000 overview, with walking routes marked.
Alpenvereinkart – Walking/Ski Maps Austria, Germany and Italy. Obtainable really.
Stanfords: A good online specialist source of worldwide maps (it is also good for guidebooks). Also try Maps Worldwide.
Best times to walk/weather
Best times to walk
May/June to September/October, depending on how high you want to walk. That said, Spring and Autumn are good times to walk, as they avoid the busy high summer months of July and August.
Weather
Generally fine in season, but come prepared for unpredictable mountain weather (wet fronts can last for a few days) and cold nights.
For detailed weather information, have a look at: www.worldweather.org or www.bbc.co.uk/weather/world/country-guides .
Getting there/transport/permits/fees
The northern and eastern towns are accessible by train.
From your chosen airport (eg Innsbruck, Munich, Venice), you can then head by train or bus, or hire a car and drive. Skyscanner is an excellent (relatively new) site for finding the flights you need; or look at what's available on TripAdvisor.
Public transport is generally excellent – and integrated, with trains between the cities and plentiful buses, so it is viable to get to most places this way.
Car hire is reasonably easy.
Local taxi services generally exist in the towns, can (eg) take to or pick you up from a roadhead, or transport luggage.
Possible problems, health, other warnings
Altitude: Likely to affect you a bit: expect to puff and perhaps a mild headache.
Mountain weather: snow, rain, severe cold and wind are possible at any time of year and the weather can change rapidly. Come prepared.
Heat and strong sun. Carry enough water and protect yourself.
Heights: can be dangerous; not for those who have difficulties with heights.
This can be remote country: help may be hard to get if things go wrong.
Glaciers: are for the experienced/guided and properly equipped only.
See also the websites in our useful links page for more detailed, and up-to-date, information.
Safety and problems: All walks have inherent risks and problems can arise on any walk. Many of the walks featured on this website involve significant risks and possible problems. This website cannot, and does not purport to, identify all actual or potential risks, dangers and problems that may relate to a walk or a country. Any person who is considering undertaking this walk should do careful research and make their own assessment of the risks, dangers and possible problems involved. They should also go to "Important information" for further important information.
Make sure you have appropriate insurance.
Guided or independent?
Independent
You can walk here independently, but come prepared.
Guided/supported
Some people form or join organised/supported expeditions, particularly to do multi-day walks. This can have advantages – the firm will have chosen the best routes, will book you into huts etc. And, they can arrange "slackpacking" – ie, having your bags carried from one night stop to the next, and walking with a day pack only, although this can limit the selection of walks you can do, or you can need to carry night kit for some sections if you want to get remote.
Walking here with a knowledgeable guide has real advantages. Choosing a suitable guide or company is of course vital. If hiring a guide locally, meet him/her and get comfortable before committing. Make sure all requirements are understood and agreed – including the sort of routes you want to take, any overnight arrangements, and, of course, remuneration!
Expedition organisers include:
Inntravel- https://www.inntravel.co.uk/holidays/walking-holidays/Austria/zell-am-see?pg=sk
Check TripAdvisor for reviews of these walks and walk organisers.
PLEASE HELP Walkopedia by recommending any reputable tour organizers that you know of – local or otherwise.
Accommodation
The area has an excellent selection of accommodation, from comfortable hotels, to guesthouses, to flats and rooms to let, to camping. There are various local accommodation websites. See Useful Websites below.
There are plenty of mountain huts in the area, usually in superb or at the least very pretty and charming locations. They provide good food as well as comfortable sleeping, from dormitories to double or family rooms. Most require you to bring a sleeping bag liner, although some a sleeping bag too. You do, though, need to book ahead. The contact details of huts in a number of the best areas are in the Cicerone books as well as in local websites.
With the mountain hut network so good, there is less desire to wild camp in Austria than in many countries, and there isn't much clear information on the rules. It appears to be discouraged, but, as long as you're sensible and low-key, there shouldn't be an issue. (Please let us know if this can be clarified further!)
See what the commentary on TripAdvisor is on possible places to stay.
A good range of hotels can be found on the unimaginatively named but effective Hotels.com.
Other information and tips
www.aacuk.org.uk The Austrian Alpine Club (UK) is inexpensive to join, members benefit from reduced rates at alpine huts and full insurance cover.
Useful websites and information
There are many websites with relevant information. Here are some that we think are useful or have been recommended to us.
The local tourist offices are usually very helpful and have useful information, including accommodation and mountain hut contact details. They will happily send brochures. See http://www.hohetauern.com/en/.
www.austria.info - Official tourism site
www.wikipedia.org – As usual, a good starting place.
Try www.flickr.com for pictures of this walk.
[Have a look at TripAdvisor – there are tens of millions of reviews, so you may get good, current views on this area.
Other things to do in the area
Other walks
Austria has a huge variety of great walks. There is likely to be a good walk within range wherever you may be. The various books have a multitude of ideas.
Other activities
Climbing; Klettersteigs (via ferratas); mountain biking; some white water rafting; nature, including birdwatching; lake swimming.
Culture, history and people watching. Healthy ingredients turned into delicious if not necessarily healthy food!
***********************************************************************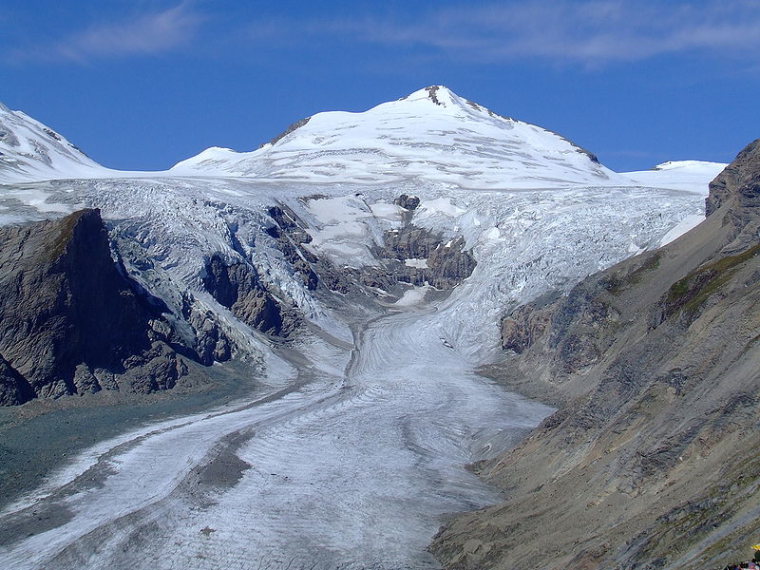 OTHER ACCOUNTS
share your experiences
Top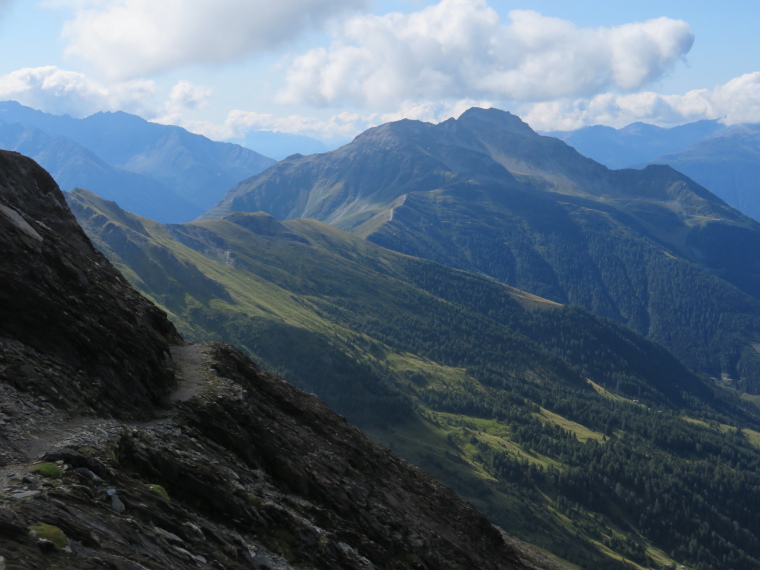 Top
Responsible travel matters, a lot. How you travel will make a real difference - for better or worse. PLEASE consider this when making plans. Read more