Stubaier Hohenweg (Runde Tour)
Key information: Stubaier Hohenweg (Runde Tour)
This magnificent trek follows a ring of excellent huts in the beautiful Stubai Alps.
Superb views of snowy peaks, mountain lakes, shimmering glaciers and classic "Alpine" meadows massed with flowers.
This famous walk can be varied in length and toughness to suit your fitness and timescale.
Walkopedia rating
Walkopedia rating91
Beauty

35

Natural interest

17

Human interest

6

Charisma

33

Negative points

0

Total rating

91
Vital Statistics
Length:

Up to 80km

/ Up to 9 days

Maximum Altitude:

2,888m or more

Level of Difficulty:

Strenuous
Top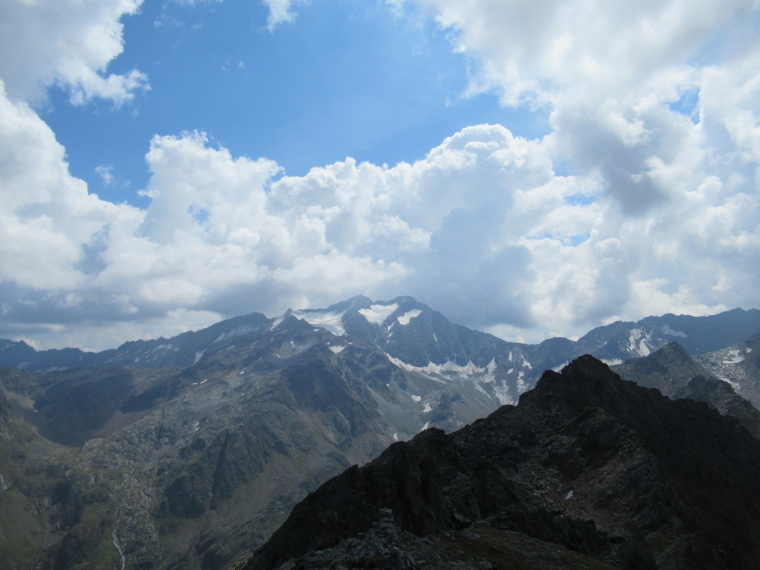 WALK SUMMARY
Walkopedia really covets this marvellous and rightly famous hut-to-hut walk, which follows a circuit along the upper slopes of the horseshoe of mountains above the Stubaital valleys, which straddle the border between Austria and Italy.
The scenery is spectacular, with superb views of snowy peaks, mountain lakes, shimmering glaciers and typical "Alpine" meadows massed with flowers. Far-reaching views from the highest points, from the Swiss Alps to the Dolomites. A variety of wildlife can be seen, including the lovable marmot, chamois, ibex and various raptors and vultures.
There is some confusion about this walk's name. The maps (and others) refer to it as the Stubaier Höhenweg. But it is also known as the Stubai Runde Tour or the Rucksack Route. The Cicerone book insists that the latter names are correct and that the Höhenwerg applies to the less used Glacier Tour.
The full route is some 80 km long and officially takes 9 days, staying in 8 huts, although the fit could combine some days. There are, however, several roadheads in the Stubaital and Oberbergtal, from/to which you can climb/descend to/from huts on the route, so you can walk shorter stretches: for instance, starting at the Nürnberger hut to make a truncated version, called by some the Stubai Horseshoe, a 6 or 7 day walk. (See our Stubai Alps page for other good shorter versions of this route).
From any start point on the valley floor, the path takes you up through the steep lower landscape, usually mixed (but pine dominated) forest, to the green pastureland above. Here you walk through classic Alpine scenery complete with grazing animals, traditional farming methods and verdant meadows, decorated by a profusion of wild flowers, streams and waterfalls. As the trail reaches higher altitudes the green gives way to harsher but magnificent mountain scenery.
Once you are up in the high country, this is a delightful walk, and strenuous but not inherently excessively demanding. (That said, the full route apparently involves some 8,000m of ascent and descent.) Altitude varies between 2200m – 2900m. The Weg's rocky tracks cross boulder fields and can climb steeply over slippery shale and loose stone, but afford magnificent views over ridges towards awe-inspiring peaks, or down onto turquoise lakes. The toughest parts of the walk negotiate narrow, steep ledges, cross patches of snow-covered ground and pass directly beside the formidable beauty of vast blue (albeit more often dirty) glaciers.
Day one of the main route is a 10km, 5hr, 1,400m ascent from the road at Neder to the Innsbrucker Hut, which you can reduce with a jeep lift to the Pinnisalm.
Day two is one of the best of all, a long (7-8hr) trek over three cols to the ridgetop Bremer Hut.
Day three is a beautiful 5km, 4hr traverse to the large Nürnberger Hut. Lovely glacier and peak views and some side climbs if you want. (A popular place to start a short version of the route is the Nűrnberger Hut car park above Ranalt in the Unterbergtal; a 2-3 hour, 5km walk, taking you up into the high mountains to the Nürnberger Hut. A stiff 900m climb though).
Day four has varying alternatives for getting across the magnificent western ridge to the Sulzenau Hut in its wide bowl, including the Wilder Freiger glacier (and summit at 3,413m) and Mairspitze. See our Above Nurnberg Hut.
Day five also has alternative ways of crossing the high ridge on the way to the Dresdner Hut. This hut sits in a ski-scarred area, so don't be disappointed. Note – there is an nearby summer cablecar open, so this is an easy place to get to leave the high ground.
Day six is 7-8 hour, 12 km walk which climbs the Grawagrubennieder (2,888m), descending by a steep, challenging route to the Neue Regensburger Hut. Optional side trip to the Egesegrat (1 hour).
Day seven is a 5 hour, 7km walk via the Schrimmennieder col to the Franz Senn Hut. Optional side trip to the Rinnensee (1.5 hours). See our Above Franz Senn Hut page.
Day eight is another classic, a 6-7 hour, 13km walk along the Franz Senn Weg (refreshments are available after 2 hours at the Seduck Hoch Alm) to the ridge of the Sendersjöchl with views to the Northern Limestone Alps, then on to the Seejöchl with views across the Innsbruck valley and finally descending to the Starkenburger Hut. Alternatively, you can head north and cross further ridges to the Potsdamer hut. You are on level ground here, so will enjoy a greener but still wonderous world.
Day nine is a 2.5 hour, 6 km walk, descending gently to the village of Neustift.Could be combined with Day 8 to shorten the walk.
There are variants on some of the days (some more suitable for experienced walkers), and you can divert to local peaks, so you can to a degree choose how long and strenuous you want your days to be. The walk can be extended at the beginning by a further two or three days if desired, and walked in either direction, although east-west is the norm.
Walkopedia has so far walked stretches above the Nürnberger Hut. We are keen to get back one day to tackle the whole route.
This is demanding walking in remote mountains with uncertain weather. Come fully prepared.
Some advise an early start each day, to allow you to complete the majority of the day's walking before midday. (You don't want to start too late, in any event.)
The sun can be strong yet the possibility of a sudden snowstorm should not be discounted at any time. The route is well signed and marked by cairns, with cables to assist the steepest parts.
The traditional mountain huts, where you can rest, enjoy the views, and spend the night, are staffed and welcoming. Accommodation is generally either in dormitory or twin rooms, and food is plentiful and good. A delight is that you can walk the whole route with a medium-weight pack as the huts are so good (sleeping bag not needed.)
See our Stubai Alps page for more information on the area and photos.
WILLIAM MACKESY'S ACCOUNT
of this walk
We spend two nights in the Nurenberger Hut in August 2018, climbing Mairspitze on a Hohenweg alternative route. I REALLY want to get back and walk the whole route.
We leave the Nürnberger Hut at a leisurely 9.15 - we aren't on the trail all day - after a filling breakfast of muesli with yoghurt and honey.
We are climbing to the minor peak of Mairspitze on the high ridge 500m above the hut, and we have a steep slog ahead. Our path heads off with purpose, straight up the hillside. The route to the Niederl col straight above continues ahead - lower, but an apparently.....
READ MORE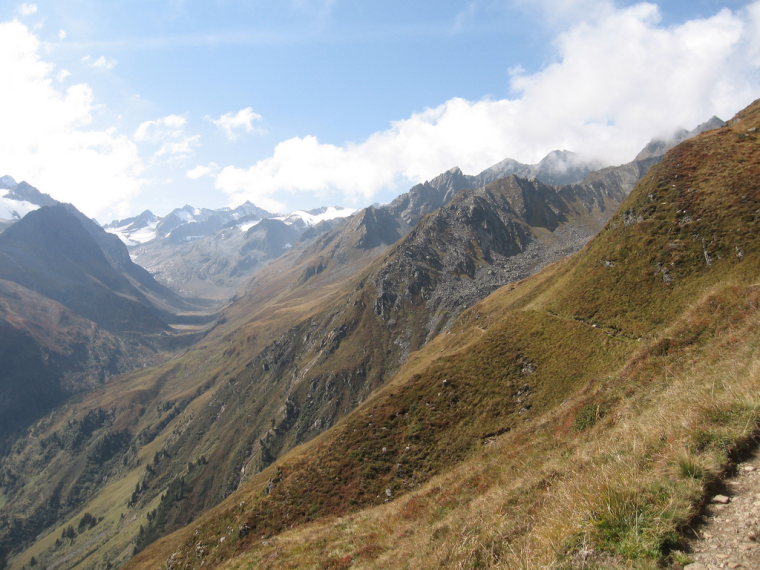 See also expedition planning, including our universal expedition checklist. Walkopedia encourages responsible travel.
Books and Maps
Books on this walk (support us: find these and many more using our Amazon search box)
Trekking in the Stubai Alps – Alan Hartley/Cicerone, about the Höhenweg (Rucksack Route) and the Glacier Tour. THE book on these trails, with all the detail and care you would expect.
A detailed description and good map of this walk can also be found in Walking in the Alps, Lonely Planet.
Find these and other books on Amazon.
Other books (support us: find books using our Amazon search box)
Chapter in Classic Treks – Ed. Bill Birkett
Maps
Alpenvereinkarte – sheets 32/1 and 31/2. Obtainable locally.
Also the Freytag & Berndt 1:50,000 map of the area (WK 241) – pretty sufficient if you also have the Cicerone book.
Stanfords: www.stanfords.co.uk. An excellent (and user-friendly) online specialist source of worldwide maps (it is also good for guidebooks).
Line map with links to live webcams on the route: www.publish.at
Best times to walk/weather
Best times to walk
June to end September (check if the huts are open if thinking of going after mid-September). June sees quite a lot of lying snow still, August is peak season. Mid July and early September are therefore arguably the best times.
Weather
Generally fine in season, but come prepared for unpredictable mountain weather (wet fronts can last for days) and cold nights high up.
For detailed weather information, have a look at: www.worldweather.org or www.bbc.co.uk/weather/world/country-guides
Getting there/transport/permits/fees
Innsbruck is the nearest main airport (Munich and Venice further afield – you can then head on train or bus or hire a car and drive). Skyscanner is an excellent (relatively new) site for finding the flights you need; or look at what's available on TripAdvisor.
Innsbruck is less than an hour by bus from the main starting points.
Public transport is generally excellent – and integrated, with trains between the cities and plentiful buses, so it is viable to get to most places this way.
The roadheads are reached by a service bus which shuttles to and fro all day along the valley bottoms, you can park a car there too.
Car hire is reasonably easy.
Those on organised expeditions are likely to be transported from/to Neustift im Stubaital.
No permits are needed to do this walk.
See our Stubai Alps page for more information on the area and photos.
Possible problems, health, other warnings
Altitude: can affect some; acclimatize appropriately, come prepared to cope.
Mountain weather: snow, rain, severe cold and wind are possible at any time of year. Come prepared.
Heat and strong sun. Carry enough water and protect yourself.
Heights: can be dangerous: not for those who have difficulties with heights.
Glaciers: are for the experienced/guided and properly equipped only.
This can be remote country: help may be hard to get if things go wrong, especially off the main route(s).
See also the websites in our useful links page for more detailed, and up-to-date, information.
Safety and problems: All walks have inherent risks and problems can arise on any walk. Many of the walks featured on this website involve significant risks and possible problems. This website cannot, and does not purport to, identify all actual or potential risks, dangers and problems that may relate to a walk or a country. Any person who is considering undertaking this walk should do careful research and make their own assessment of the risks, dangers and possible problems involved. They should also go to "Important information" for further important information.
Make sure you have appropriate insurance.
Guided or independent?
Independent
You can do this walk independently.
Guided/supported
While this walk can be done independently, some people form or join organised/supported expeditions. Guides can be arranged through local hotels, or through the tourist office.
Accommodation
It is huts or camping only on the tour. With the mountain hut network so good, there is less desire to wild camp in Austria than in many countries, and there isn't much clear information on the rules. It appears to be discouraged, but, as long as you're sensible and low-key, there shouldn't be an issue. (Please let us know if this can be clarified further!)
The huts are popular and can get booked up, so book well ahead if coming at busy times, especially if you want a private room rather than a dormitory. The contact details of the huts are in the Cicerone book and also findable online.
See our Stubai Alps page for more information on accommodation in the area.
Other information and tips
www.aacuk.org.uk The Austrian Alpine Club (UK) is inexpensive to join, members benefit from reduced rates at alpine huts and full insurance cover.
Useful websites and information
http://www.tyrol.com/things-to-do/sports/hiking/hiking-tours/a-stubai-high-trail
https://en.wikipedia.org/wiki/Stubai_Alps
See our Stubai Alps page for more.
Add a comment or suggestion
Other things to do in the area
See our Stubai Alps page for more information on the area and photos.
Safety and problems: All walks have inherent risks and potential problems, and many of the walks featured on this website involve significant risks, dangers and problems. Problems of any sort can arise on any walk. This website does not purport to identify any (or all) actual or potential risks, dangers and problems that may relate to any particular walk.

Any person who is considering undertaking this walk should do careful research and make their own assessment of the risks, dangers and possible problems involved. They should also go to "Important information" for further important information.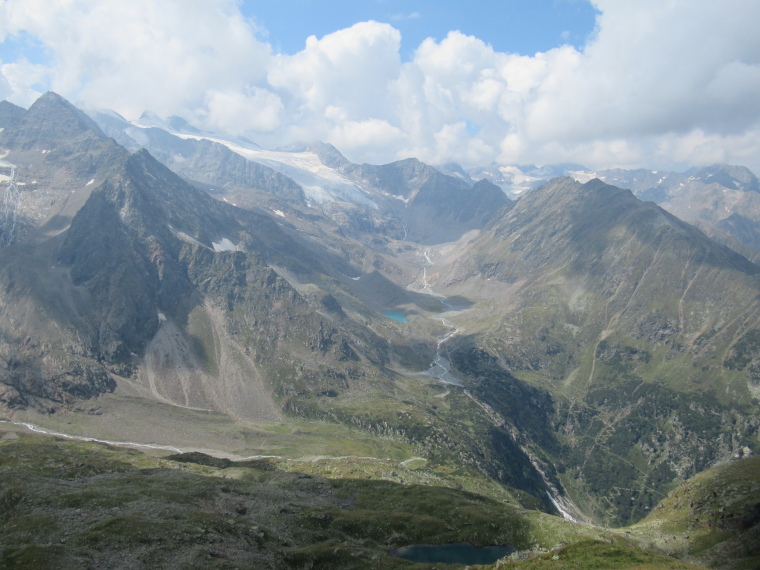 OTHER ACCOUNTS
share your experiences
Top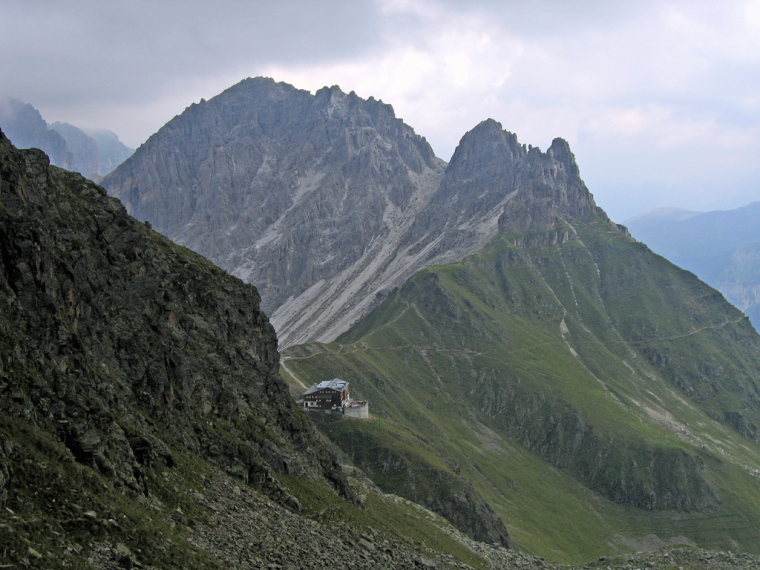 Top
Responsible travel matters, a lot. How you travel will make a real difference - for better or worse. PLEASE consider this when making plans. Read more