Mount Kenya
Key information: Mount Kenya
Enjoy spectacular, ever-changing scenery as you climb to the dramatic summit of this ancient volcano, Kenya's highest mountain, and many think more interesting (and certainly emptier) trekking than its more famous counterpart, Kilimanjaro.
Climb through a range of ecosystems (forest to moorland to alpine to rock and ice) in this World Heritage Site.
One of Walkopedia's favourite walks.
Walkopedia rating
(Top 100)
Walkopedia rating92
Beauty

35

Natural interest

19

Human interest

5

Charisma

36

Negative points

3

Total rating

92

Note: Negs: Altitude
Vital Statistics
Length:

4-7 days

Maximum Altitude:

4,985m

Level of Difficulty:

Difficult
Top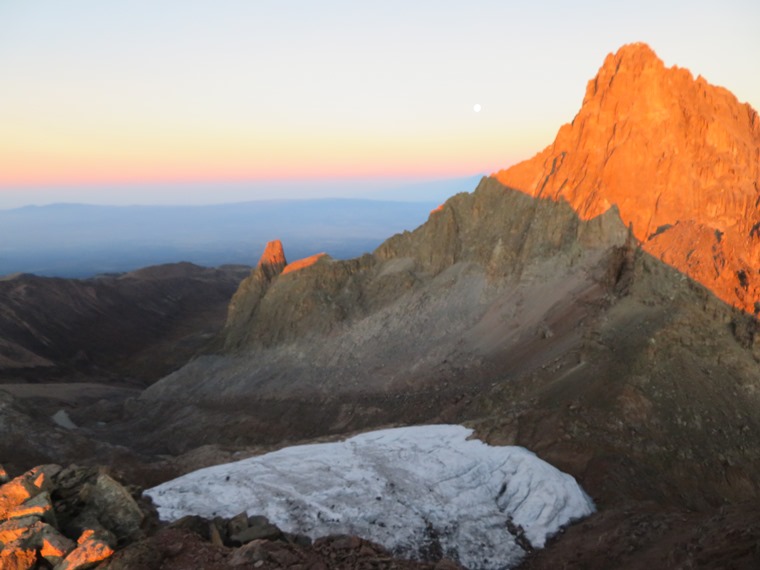 WALK SUMMARY
The highest mountain in Kenya (and second-highest in Africa) is a huge stand-alone extinct volcano, last active some 2.6 million years ago. Its mass is some 70km across, and its trekking peak is 4,985m, so it is a whopper in every sense. It is walking and climbing heaven. Walkopedia has yet to meet someone who has walked both it and Kilimanjaro and prefers the latter.
Mount Kenya is not just a single summit, but has eroded into a magnificent array of spire-peaks, with glaciers, numerous beautiful tarns and a selection of weird and wonderful formations all around. It is one of the few places near the equator in Africa with permanent glaciers, albeit shrinking – there are 6 or 7 of them (as at 2017 –how long until climate change reduces this number further?). Your first impression will be Mount Kenya's great mass topped by its broken peaks soaring above the fertile foothills – or, just as likely, a cope of cloud from which occasional dark glimpses will appear.
The trekking summit, Point Lenena, sits slightly lower than the conjoined climbing peaks of Batian (5,199m) and Nelion. It commands exceptional views of the surrounding rocky drama – when cloud free: it is very important to get up there early, for the best chance of clear views: even better, catch the dawn, although this will mean a very early start.
The mountain is a majestic geological and ecological wonderland, with very diverse ecosystems and some unique flora. Low down it is tea, coffee and farmland, and dryish scrub. You start climbing on slopes swamped by mountain forest; higher up are thick swathes of bamboo, and even higher it is cloud forest with cedars and smaller trees often dripping moss. On the Chogoria Route, you meet beautiful tussocky grasslands mixed with stately stands of rosewood at the highest forest zone. You emerge at around 3,200m into dramatic high moorland, where the at times fantastical vegetation ranges from boggy plants (indeed a vertical bog) to giant and ostrich-plume lobelias, sencio (giant groundsels) and cabbage groundsel, with a huge array of vivid heathers nearly ubiquitous. It is here that you get a true feel for the mountain's vastness, with ridges running relentlessly upward and expensive views across to sub-peaks and excrescences. Walkopedia believes that it is this area which gives Mount Kenya its unique allure and fascination: while its summit and highly volcanic upper regions are thrilling and magnificent, they have parallels elsewhere. Above the moorland is smaller but still varied alpine vegetation, then you are in bare rock and huge spires, with a sprinkling of tarns and a selection of glaciers and snowfields. Truly amazing.
Wildlife is abundant, more so than on Kili. Beware of and avoid surprising buffalo, which can be extremely dangerous, and elephants and the very occasional black rhino, which you can meet in the forests and moorland. Make a noise and keep back if you see them. Lions and leopards are occasionally on the lower slopes; servals are around but shy and nocturnal. Monkeys and baboons in the forests (watch your possessions). Rock hyrax. Eland, waterbuck, bushbuck and various types of antelope. You might see hyenas and jackals. There is a huge array of birdlife, including various eagles and other raptors, lammergeyers and vultures, and, in the woodlands, hornbills, orioles and turacos; several types of sunbird and various water birds around the streams and lakes.
It is no surprise that the area is a World Heritage Site.
Important rivers flow from Mount Kenya's glaciers and rainforests. It has deep religious and spiritual importance to the tribes which live around it, and is the home of the Kikuyu god Ngai.
Routes: There are several outstanding routes, which all reach the Summit Circuit Path, a… er… circuit of the peak area. Walkers should take different routes up/down if they can, thus traversing the mountain and viewing different aspects of his most remarkable place.
All the main ascents treat you to an extraordinarily interesting selection of vegetation zones and landscapes as you ascend. They all start in thick forest, climb out of the treeline into unique moorland and alpine areas. Then it is the rocky drama of the peak area.
See William Makesy's account of his crossing of the massif here.
For those intent on going full circle on Mount Kenya, the Summit Circuit Path is the only option. But you could build a partial circuit into your crossing of the massif.
The three main routes are described below. There are also the Burguret and the Timau routes, which are little used and hard to find.
_____________________________
The Chogoria route, from the east, is generally agreed to be the most beautiful approach, and Walkopedia concurs. It starts lower than the other routes, at 1,700m, and ascends to the Summit Circuit Path at the Austrian Hut at around 4,800m, which is substantially higher than the points where the other paths reach it, although this is done in 3 days rather than the 2 usually taken on the other routes. You sleep higher than on the other routes, if you stick to it all the way. (Note that you can turn north to Shipton's Camp, which at 4,250m is quite a bit lower than the Austria Hut.)
While some claim that it is the best ascent route from the point of view of altitude, it therefore appears to be arguably a better descent route, as you get the beauty and interest with reduced altitude risk, especially if you do the other routes in 3 days rather than 2. Walkopedia descended it, making a huge first day to down to Nithi, then diverting to a nearby waterfall and walking on to the Meru Bandas. We walked down a bit of the track below the Bandas on Day 3, getting picked up to rush off for our flight home.
See our Chogoria page for details and photos. See William Makesy's account here.
_____________________________
The Sirimon Route ascends from the north-west, to Shipton's camp at around 4,200m, on the Summit Circuit Path. It used to be less used (partly because it is furthest from Nairobi), but Walkopedia saw far more people on it than on the Chogoria in 2017. This may be because more of the expedition companies are based in Nanyuki.
Walkopedia considers it the best route to ascend because of its relatively gradual altitude gain, to the relatively lower Shipton's Camp, especially if you do it in 3 days via Liki North Hut rather than direct from Old Moses Hut to Shipton's Camp.
See our Sirimon page for details and photos. See William Makesy's account here.
_____________________________
The Naro Moru Trail from the west is said to be the most popular route with operators because the tourist hotels near the roadhead are best (and it is nearest Nairobi) and it ascends most quickly, which makes for speed and… er… profit.
The Naro Moru climbs in 2 days from 2,500m (at the park gate – you can drive in further, but better to start there for acclimatization purposes) to Mackinder's Camp at around 4,200m, a bit below the Summit Circuit Path. With the usual first night at the Met station at 3,050m, you would climb over 1,000m (in 5-6 hrs) to Mackinder's Camp the next day, which is likely to leave you feeling quite sorry for yourself, at the least.
The Naro Moru is claimed to be a bit less beautiful than the other main trails. With the treeline at around 3,200m, you spend the first and part of the second days in the beautiful and interesting forest. The moorland above is wet, and features a famous and self-explanatory area called the "vertical bog".
See our Naro Moru page for details and photos.
_____________________________
Burguret Route: this is a little-used and in places obscure way up the mountain, starting from the west near Nanyuki and joining the Summit Circuit Path of Mackinder Camp.
_____________________________
Walkopedia would have loved to walk the Summit Circuit Path, if time had allowed. This marvellous route winds around the base of the great peaks, through fascinating vegetation and passing tarns, towers and weird features galore. It is said to be around 10km (but it will feel longer), one very long day for the very fit to get the whole way round, although it would be shame not to take 2 or 3 days to enjoy this amazing area, with lots of time for exploration and side walks. Realistically, unless you are descending the way you climbed (and a traverse of the massif is preferable if you can), the whole Summit Circuit Path is unlikely to be on the cards.
_____________________________
Altitude: Mount Kenya is very high and rises quickly, so it poses a classic risk of altitude misery or worse. The slower you ascend, the better chance you have of avoiding the worst. The Sirimon and Naro Moru routes ascend to the Summit Circuit Path at around 4,200m in 2 days, but climbing this fast will really increase the risk. You are well advised to take at least 3 days to get to the peak area. The Chogoria route takes 3 days but ends up substantially higher. It is a very good idea to get to the base area the day before and do an acclimatizing walk that afternoon. If you can, try to "walk high and sleep low", ie make sure you have made an acclimatization walk above where you will sleep on the way up.
The best weather tends to be in the mornings, so start early!
Walkopedia's expedition was organised by Tourdust, and we were absolutely delighted. Carefully selected and planned options, very efficient and nice to deal with. Now our partners, and highly recommended.
Have a look at the dreaded TripAdvisor: you may get good, current views on this area.
Please help us by making suggestions and sending photos! Thank you!
WILLIAM MACKESY'S ACCOUNT
of this walk
Day 1
So, we're here at last: the Sirimon gate into the Mount Kenya National Park. Here at 2,650m, it is warm and gently breezy, sunny with a few clouds. Our group is cheerful and apparently thoroughly prepared, other than that I was up 5 times with the squits last night. Our guides, and the rest of our support team, seem competent and smiley, so all is looking good.
We stride off up the road at 1.30 – it is metalled all the way to our hut, which is a tad disappointing somehow, but makes for an easy climb. Elija, our leader, sets a deliberately.....
READ MORE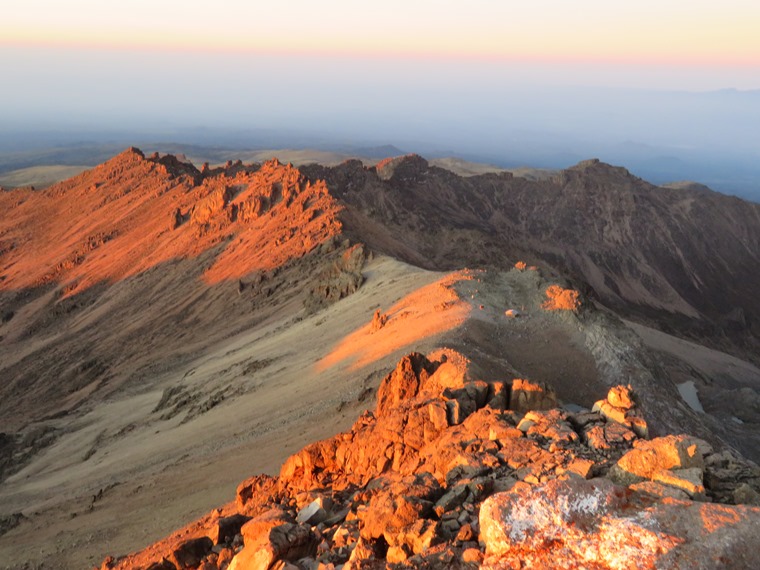 See also expedition planning, including our universal expedition checklist. Walkopedia encourages responsible travel.
See also expedition planning, including our universal expedition checklist.
Walkopedia encourages responsible travel.
Books and Maps
Books on this walk
Kilimanjaro & East Africa: A Climbing and Trekking Guide, by Cameron Burns, Cordee, 2006. A very good book, giving clear explanations of the mountain and the options. Not a country guide.
Guide to Mount Kenya and Kilimanjaro, edited by Iain Allan, Mountain Club of Kenya, 1990. Out of date now.
Find these and other books on Amazon.
Other books
No Picnic on Mount Kenya: A Daring Escape, A Perilous Climb – Felice Benuzzi. "In 1943, Felice Benuzzi and two Italian compatriots escaped from a British POW camp in equatorial East Africa with only one goal in mind--to climb the dangerous seventeen-thousand-foot Mount Kenya. No Picnic on Mount Kenya is the classic tale of this most bizarre and thrilling adventure, a story that has earned its place as a unique masterpiece of daring".
Chapters in Trekking Atlas of the World – Ed. Jack Jackson; Classic Treks – Ed. Bill Birkett
Find these and other books on Amazon.
Maps
Mount Kenya, Map & Guide – Wielochowski & Savage
Numerous not-great maps of Mt Kenya available locally.
Stanfords: www.stanfords.co.uk. An excellent (and user-friendly) online specialist source of worldwide maps (it is also good for guidebooks).
Best times to walk/weather
Best times to walk
There are two rainy seasons, mid March to June and September to December. You can climb the mountain in rainy season, but be prepared for heavy weather and restricted views. Best times are outside the rainy seasons, if you can. An undoubted highlight as you traverse and circle the mountain is the transition from summer to winter. Remember, Mount Kenya is all but astride the Equator and, depending on the season, one side of the mountain can, quite literally, be enjoying the northern hemisphere's summer while the opposite side is snowy as if in the depths of the southern winter.
Weather
Generally fine in season, daytime temperatures are usually warm, but come prepared for unpredictable mountain weather and often bitterly cold nights at higher altitudes.
For detailed weather information, have a look at: www.worldweather.org or www.bbc.co.uk/weather/world/country-guides
Getting there/transport/permits/fees
Check the current Kenya visa status.
AIRPORT: Nairobi. Mount Kenya is around 180km north of Nairobi.
TRANSPORT: The Nairobi-Nanyuki road and the paved Mount Kenya ring road, by bus or car. All the main trailheads are accessible from this road – turn east at Sagana Junction for Chogoria village, on the east side of the mountain, continue on northwards for Naro Moru and Timau, the village for the Sirimon trail.
Local buses (matatu) travel north on the Nairobi-Nanyuki road daily, but for a small party it is easiest to hire a taxi from Nairobi to the relevant National Park Gate.
You should expect to take a long half day travelling to your start, the precise length depending on which route – Sirimon in the north is some 4 hrs from Nairobi.
From Naro Moru, the road near Timau and Chogoria/ village, reasonable dirt roads lead to the entrances to the National Park and the start of the trails.
Those on organised expeditions may well be transported from Nairobi.
Permits as such are not required, but you must sign in and out, and park fees need to be paid to enter the National Park – don't try to dodge this. This can be done at the main gates, and were KS 1,720 for 4 days, and did not need to be pre-booked, in 2017.
Possible problems, health, other warnings
Altitude: will affect everyone, with varying symptoms; potentially fatal. Read ahead, take suitable precautions (eg drink lots), come prepared to cope, be ready to evacuate people in extreme cases. How you ascend will make a real difference – the slower the better.

Mountain weather: snow, rain, severe cold and wind are possible at any time of year. Come prepared.

Heat and strong sun. Carry enough water and protect yourself.

Heights: can be dangerous; not for those who have difficulties with heights.

Dangerous animals, including buffalo, elephants and other large animals, [smakes] and stinging/biting insects and plants. Take all appropriate precautions.

This is remote country: you will have to carry all your food and other supplies and help will be hard to get if things go wrong.

Health risks: this is a relatively undeveloped country, and you will not get prompt medical help of a standard available elsewhere if you become ill. Come prepared, including getting all appropriate inoculations/medications.
See also the websites in our useful links page for more detailed, and up-to-date, information.
Safety and problems: All walks have inherent risks and potential problems, and many of the walks featured on this website involve significant risks, dangers and problems. Problems of any sort can arise on any walk. This website does not purport to identify any (or all) actual or potential risks, dangers and problems that may relate to any particular walk. Any person who is considering undertaking this walk should do careful research and make their own assessment of the risks, dangers and possible problems involved. They should also go to "Important information" for further important information.
Make sure you have appropriate insurance.
Guided or independent?
Independent
You could climb Mt Kenya unsupported, but few do. You are not allowed to enter the park alone, but a guide is not compulsory, unlike on Kilimanjaro.
Guided/supported
Most people form or join organised/supported expeditions. Given the remoteness of the country and difficulty of getting supplies, many will prefer to do it this way, and travelling here with a knowledgeable guide has huge advantages.
Choosing a suitable guide or company is of course vital. If hiring a guide/porter(s) locally, and it is possible to do so, meet him and get comfortable before committing. Make sure all requirements are understood and agreed – including how you will eat and the importance of avoiding illness, as well as overnighting and, of course, remuneration!
Expedition organisers include:
Tourdust – Walkopedia travelled with them and we were absolutely delighted. Carefully selected and planned options, very efficient and nice to deal with. Now our partners and highly recommended.
https://www.keadventure.com/
Accommodation
Nairobi is an international city with every kind of accommodation.
Many trekkers opt to stay a night close to their trailhead and make an afternoon walk, to start the acclimatization process. There are plenty of places to stay near the trailheads, from luxury to the basic.
See what the commentary on Tripadvisor is on possible places to stay – although do take their reviews with a pinch of salt, as they can be "interested".
A good range of hotels can be found on the unimaginatively but effectively named Hotels.com. If you're on a budget, Hostelbookers usually has a good selection of cheaper-end accommodation.
Once on the mountain, it is mountain lodges/huts and camping only. Lodges/huts can be (need to be) reserved ahead of time to be sure of getting space, at popular times, at least. The guidebooks have quite of bit of information here, but may be out of date.
Other information and tips
Useful websites and information
There are many websites with information on this walk. Here are some that we think are useful or have been recommended to us.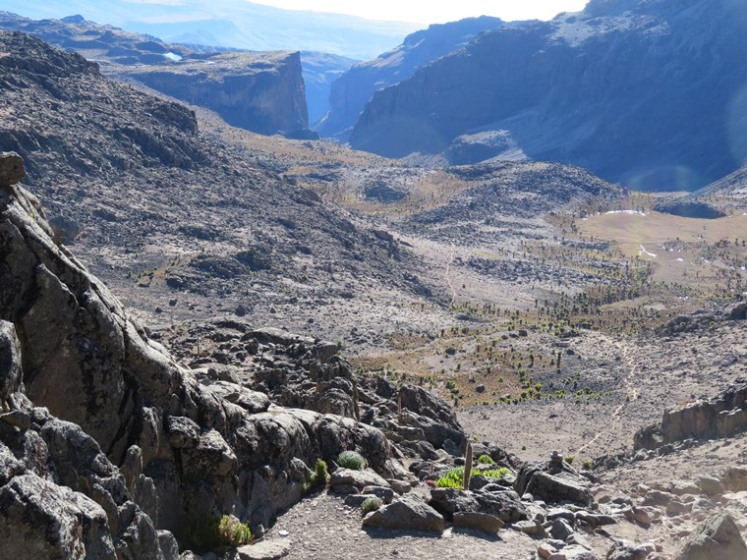 OTHER ACCOUNTS
share your experiences
Top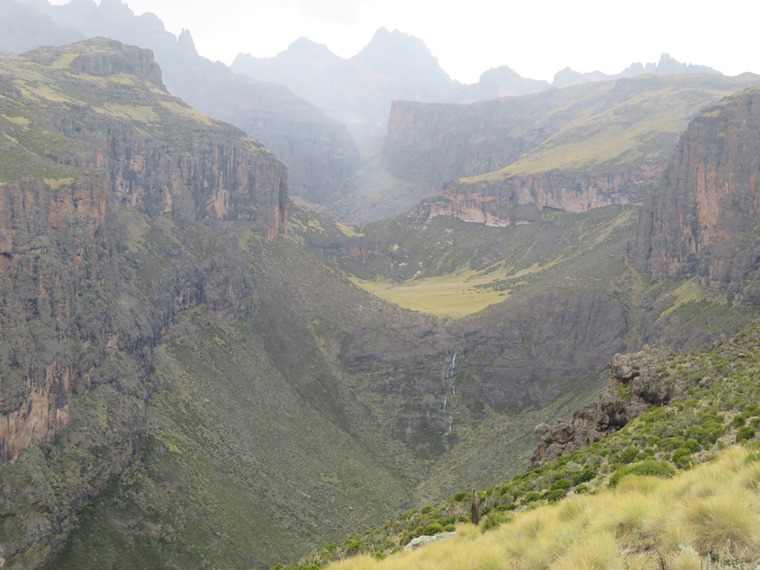 Top
Responsible travel matters, a lot. How you travel will make a real difference - for better or worse. PLEASE consider this when making plans. Read more