Pindos/Vikos Circuit
Key information: Pindos/Vikos Circuit
Follow old mule tracks on a magnificent horseshoe in the rugged Pindos Mountains of northern Greece.
Walk through the spectacular Vikos Gorge, claimed to be the steepest in the world, with its pristine forests and varied wildlife; then ascend to the highlands and take in a peak or two.
Superb scenery limestone cliffs, spires and gorges and a cracked alpine plateau.
Enjoy gorgeous wildflowers in May and June. Take in the Beloi viewpoint, with its amazing views down the Vikos Gorge, and the spectacular mule track of the Vradeto steps.
Stay in traditional villages of ancient stone houses, absorbing the remarkable history, architecture and culture of the Zagoria region.
Walkopedia rating
(Top 100)
Walkopedia rating90
Beauty

32.5

Natural interest

16

Human interest

8.5

Charisma

33

Negative points

0

Total rating

90
Vital Statistics
Length:

58km

4-6 Days

Maximum Altitude:

2,497m

Level of Difficulty:

Strenuous
Top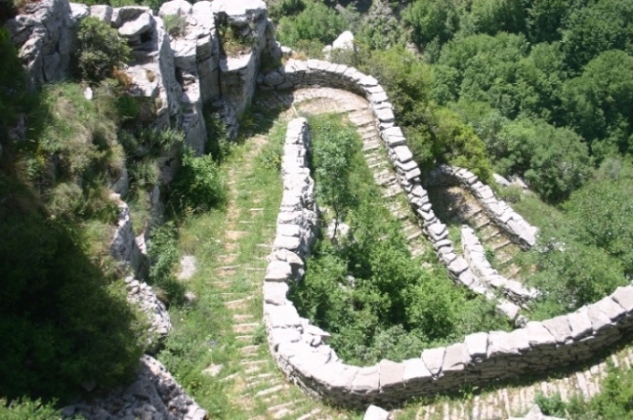 WALK SUMMARY
The wonderful region of Zagoria combines the wild grandeur of the north Pindos range - deeply eroded limestone peaks, cliffs and gorges - with glorious vegetation, intriguing wildlife and ancient villages that speak of a rich past. At its heart is the magnificent Vikos Gorge, claimed to be the world's deepest - although every country seems to have one of these.
Zagoria is a distinctive place, with a surprising past. Unlike most mountain country, its remoteness enabled it to prosper: it was effectively autonomous within the Ottoman empire, avoiding the tax collectors but enabling its people to trade widely. The area's superb Kalderini mule tracks and gracefully arched bridges are evidence of this long mercantile prosperity. Following the fall of Byzantium to the Ottomans, its remoteness protected the old religion, culture and art from the depredations of the Muslim overlords. It was a base for partisans during WWII, and was heavily fought over during the ensuing civil war; from this, and the lure of the cities, came depopulation and dilapidation.
This has left the area remarkably unspoilt, and some of its villages are now national monuments, with their limestone walls and heavy slated roofs, narrow cobbled streets and mellow little squares under vast, spreading plane trees. Their thick-walled churches, with low arcades sheltering stone seats from the summer furnace, have been restored by prospering descendents from the cities. The area's monasteries and simple wayside chapels are moving evidence of its role in preserving Greek Christianity in the dark times of Ottoman rule.
Zagoria straddles the far north of the Pindos Mountains, the spine of Greece, which march from Albania to the sea at Delphi. The range's limestone peaks and deep ravines make for thrilling if demanding trekking throughout its length, although the Vikos circuit is, justly, the most famous route.
The area's lower slopes are cloaked in richly varied forests (and ancient, too; they are relics of earlier habitats) of beech, oak, maple, birch, hornbeam, with twisted pines giving way to patches of flowery pastures amid the crags on the higher slopes. These mountains are home to abundant wildlife, although you are unlikely to see the bears, boar and wolves that lurk in their forests. If you are sharp-eyed (and lucky), you will see chamois half way up some impossible precipice. And the wild flowers in May and June, you will tramp through sparkling carpets of them in the higher meadows, and bright reception committees will line your path as you struggle up a cobbled track out of some abyss.
This walk is a circuit of up to seven days, often following the ancient mule tracks which linked the area's remote villages; it can be broken down into shorter routes (or even day walks) if time is short. You will trek through the extraordinary Vikos Gorge, staying in the historic villages of Monodendri, and Vikos or Papigo, at each end; then slog up to the Astraka refuge, perched on a narrow ridge under ferocious cliffs, with wonderful views to each side; walk to the outstandingly beautiful Dragon Lake; and ascend Astraka peak. Gamila I, with its huge views over the Aos gorge, can be tackled instead or as well, if you are really keen. You are then faced with nearly 2,000m of trudge back to the refuge and down to Papigo - or you can enjoy a beautiful walk across the plateau round to Tsepelovo and Vradeto. The tracks are well marked, and there are places to stay (and eat) every night.
You shouldn't miss the view from Beloi down the Vikos Gorge and the ancient Vradeto steps, a seemingly endless switch-backing mule track which negotiates a cliff face down to a slender bridge in the cool of the distant canyon bottom. And you must get to the Agia Paraskevi nunnery perched below Monodendri on the very edge of the vast gorge. A ledge above it winds round the cliff-face to the Megali Spilia, a high, shallow scoop from the cliff rendered inaccessible by a stout doorway on the path. The walk along this ledge - no more than a metre wide in places and 300 metres above the quiet forest of the bottom, with ravishing views out into the gorge - is thrilling, but horrible for anyone prone to vertigo.
WILLIAM MACKESY'S ACCOUNT
of this walk
In the remote mountains of north-western Greece, up by the Albanian border, lies the region of Zagoria, which boasts the wild grandeur of the north Pindos range – deeply eroded limestone peaks, cliffs and gorges – and ancient villages which tell of a rich past. At its heart is the magnificent Vikos Gorge, claimed to be the world's deepest - although every country seems to have a deepest gorge and those who have scrambled through the USA's slot canyons or trekked the Colca Canyon in Peru may dispute this particular claim.
Zagoria is a distinctive place, with a surprising past......
READ MORE
OUR FRIENDS' EXPERIENCES
Here is James Down's account of his Vikos Gorge walk from his blog of his walk from Greece to the UK, Down and Out: http://jamesdown.tumblr.com/
Back in Igoumenitsa after an early ferry, I caught the bus to the city of Ioannina, although buoyed by my new plan; I still watched the peaks of Corfu until they were out of sight with a heavy heart. Ioannina had another pleasant old town with Byzantine relics and pretty houses, but little else to offer in the way of Greek culture. In a café, again trying to connect to wifi to see if my excellently planned last minute couchsurf requests had been accepted I got chatting with a young student and her friend. We spent the day by the lake, and I was interrogated on all aspects of British culture, they invited me to stay and were fascinated by my trip, and even asked me to read long extracts from my journal, which even I had difficulty understanding sometimes.
An hour from the city is the highly mountainous region of the Zagori, left off Ottoman tax rolls due to its inaccessibility, it retains a very different culture to the rest of Greece, and I was surprised at just how different it felt. In climate, lush vegetation and architecture. It was much cooler, much greener, and often much more like England than the rest of Greece. I loved it. The first night I was there, I was offered a bed in a local house. But he had absented himself from the village for three days on account of the rain, understandable given the fact that his house didn't actually include a roof. He had also managed to destroy large areas of his beautiful traditional Zagori home though personal excavations in search of treasure buried under his floor, hidden there from fleeing invaders (this was not in any way substantiated by any.....
READ MORE
Your comments on this walk, your experiences and suggestions, and your photos are very welcome. Where appropriate, you will be credited for your contribution.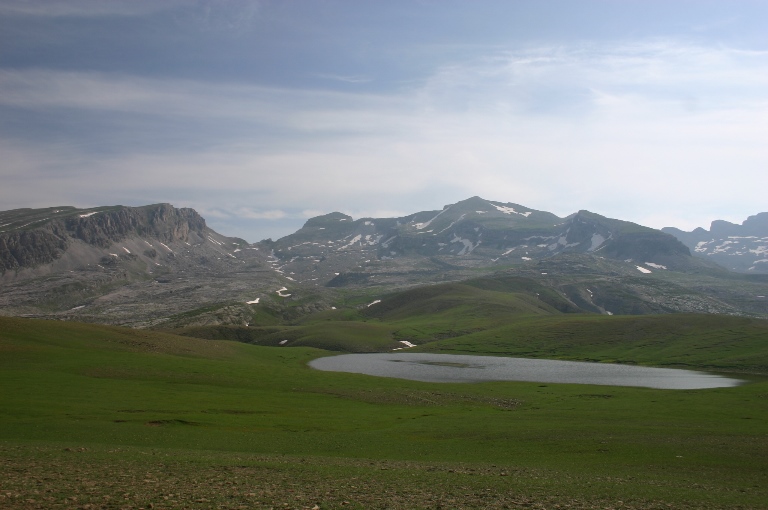 See also expedition planning, including our universal expedition checklist. Walkopedia encourages responsible travel.
Guidebooks/maps/background reading
Guidebooks
The Mountains of Greece – Cicerone: excellent information on all options in this walk-rich area.
Greece – Lonely Planet: useful if a bit thin.
Greece – Cadogan Guides: also quite thin.
Other books
"Pindos Horseshoe" chapter in Classic Treks – Ed. Bill Birkett. Excellent.
"North Pindos Mountains" chapter inTrekking Atlas of the World– Ed. Jack Jackson. Can be bought locally.
"North Pindos Mountains" chapter in The World's Great Adventure Hikes– Ed. Jack Jackson
"Roumeli: Travels in Northern Greece– Patrick Leigh Femor
Maps
Can be bought locally. Anavasi's Zagori map is good.
Stanfords: http://www.stanfords.co.uk/. An excellent (and user-friendly) online specialist source of worldwide maps (it is also good for guidebooks).
Best times to walk/weather
May and June for the wildflowers.
September and October (can be a bit dank) for autumn colour.
High summer is not as roasting here as elsewhere in Greece – although beware of the long climbs out of the Vikos Gorge. Flies can be tedious in some meadows at this time.
Weather
Generally fine in season, but come prepared for unpredictable mountain weather and cold nights.
Getting there/transport/permits
Nearest international airport: Preveza. Thessaloniki or Athens or Corfu are good options if this is part of a larger expedition.
Getting there is somewhat complex: get to Ioannina, the main local town, where there are buses around Zagoria (including to Monodendri, the Papigos and Tsepvelovo).
Various ways to get to Ioannina, including bus from Athens.
If you have a car: you can drive to Vikos start-points such as Monodendri, Vitsa, Mikro Papigo, Vradeto and Tsepelovo.
Those on organised expeditions will be transported from/to arranged start/departure points.
No permits needed.
Route(s)
There are a lot of walking options in this glorious area. See the Cicerone guide for a fabulous selection. The classic circuit starts at the village of Monodendri, clambering down into the Vikos Gorge, which it follows to the village of Vikos (or the Papigos, high up a side gorge). Thence it climbs to the Astraka Refuge, at around 1,950m, from where the Gamila I and Astraka peaks can be climbed. The trail then crosses a high, broken plateau to the roadhead at Tsepelovo. A day walk to the viewpoint at Beloi and down the extraordinary Vradeto steps, ending up with an inspection of the view from the Agia Paraskevi nunnery near Monodendri, should not be missed – either as a warm-up, or a final day. The stated distance of 58km assumes that side trips are made to the peaks of Gamila I and Astraka.
Possible problems, health, other warnings
Mountain weather

: possible at any time of year. Come prepared.


Heat

and strong sun. Carry enough water and protect yourself.

Harmful animals

, including aggressive sheepdogs (

beware

: brandish sticks and throw stones if they appear threatening) and snakes, stinging/biting insects and plants. Take all appropriate precautions.

This is remote country

: help may be hard to get if things go wrong.
See also the websites in our useful links page for more detailed, and up-to-date, information.
Safety and problems: All walks have inherent risks and potential problems, and many of the walks featured on this website involve significant risks, dangers and problems. Problems of any sort can arise on any walk. This website does not purport to identify any (or all) actual or potential risks, dangers and problems that may relate to any particular walk. Any person who is considering undertaking this walk should do careful research and make their own assessment of the risks, dangers and possible problems involved. They should also go to "Important information" for further important information.
Guided or independent?
Independent

You can do this walk independently, and you will be able to sleep in guesthouses/the Astraka refuge. But come fully prepared.

Guided/supported
Many people form or join organised/supported expeditions.
Expedition organisers include:
Accommodation
Plenty of delightful small hotels/guesthouses in the villages. The Lonely Planet has some suggestions.
The Astraka Refuge, run by the charming and helpful George and Alexander Rokas, is excellent (and serves delicious food). It is open from mid-May to the end of October. It needs to be booked in advance; see http://www.astrakarefuge.com/ (tel. 30-6973 223100 or EOS on 30-265-3041138).
Other information and tips
Useful websites and information
There are many websites with information on this walk. Here are some that we think are useful or have been recommended to us.
Other things to do in the area
Other walks
Walks up the magnificent Aöos Gorge, from the superb bridge at Konitsa to the Stomiou Monastry:

5 or 6 hours return.

Ascend Mt Gamila from Vrissokori, through Neraydorrissi and the Karteroc pass. A tough but beautiful walk.



Other activities
Many, in this land of history, culture, mountains, sea and sun.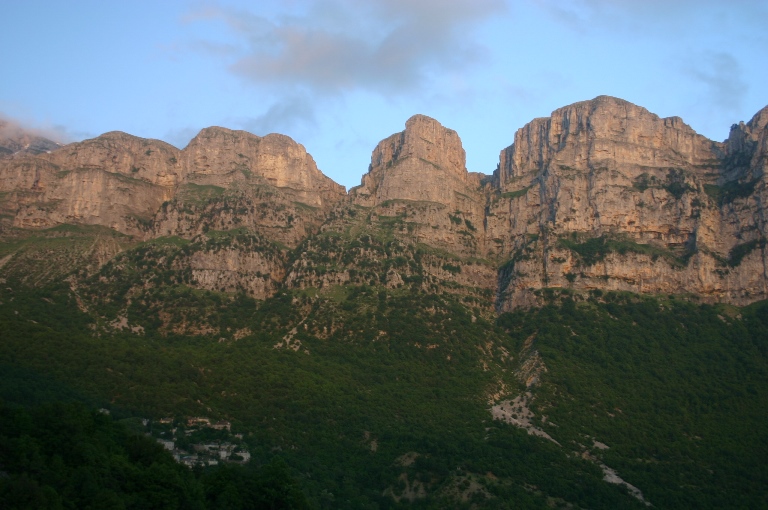 OTHER ACCOUNTS
share your experiences
Top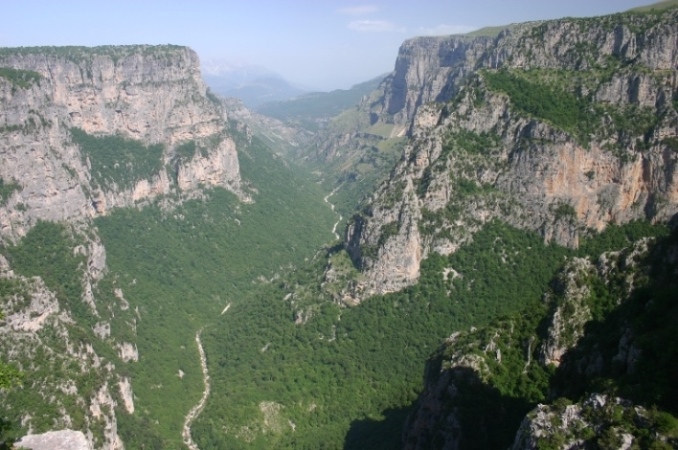 Top
Responsible travel matters, a lot. How you travel will make a real difference - for better or worse. PLEASE consider this when making plans. Read more