Caucasus Mountains
Key information: Caucasus Mountains
The Georgian Caucasus, at the meeting – point of continents, are wealthy in culture and history – and in landscape and wildlife.
Exceptional walking in magnificent surroundings – vast spires above flowery meadows above teeming forests.
Walkopedia rating
(Top 100)
Walkopedia rating91
Beauty

34

Natural interest

15

Human interest

10

Charisma

32

Negative points

0

Total rating

91
Vital Statistics
Length:

Your choice

Maximum Altitude:

Around 3,400m?

Level of Difficulty:

Variable
Top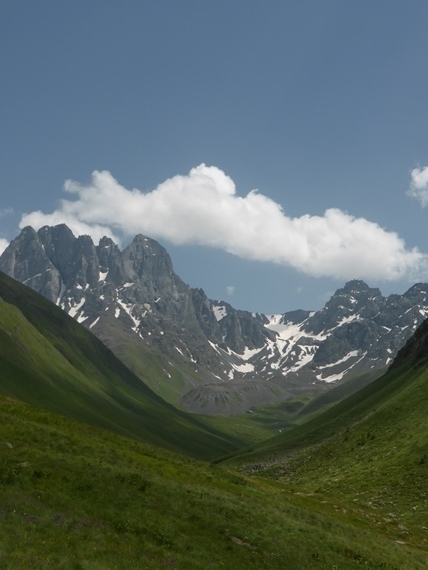 WALK SUMMARY
The Caucasus Mountains run for some 1,100km, from Russia in the north-west, to Armenia in the south. Georgia itself lies between the Black and Caspian seas, where Europe and Asia meet.
This position underlies its history and culture, at the crossroads between Europe, Central Asia and the Middle East. It was invaded and occupied repeatedly by the Greeks, Romans, Vikings, Mongols, Persians, Ottoman Turks, Russians, and others. Georgia was, rather remarkably, the second officially Christian country in the world, after Armenia. Georgians have a strong sense of identity, expressed through their heritage of defensive towers and splendid, very early, churches – and above all, in their love of wine and feasting and in their legendary hospitality to visitors.
The Caucasus are extraordinary beautiful, with an entrancing combination of high, grassy, flower-heaven pastures with huge peaks, spires and cliffs, and glaciers and meltingly beautiful lakes. Forests in the lower reaches.
Georgia is said to be among the world's top twelve countries for geographical diversity. It contains the heart of the Caucasus mountains – larger than the Alps – subtropical wetlands, a Black Sea coast, semi-desert, all peppered with ancient stone towers and an exceptional history.
The Caucasus include the Greater Caucasus to the north and the Lesser Caucasus to the south, divided by the plains of central Georgia. There is a gap in the middle of the Georgian Great Caucasus, which is South Ossetia, which was grabbed by Russia in 2008, and remains disputed territory.
There are endless great walks here, from short explorations to multi-dayers.
Greater Caucasus
Tusheti (east):
Ardoti to Dartlo via Atsunta Pass. A beautiful and fascinating trek (both naturally and in human terms) across this high pass in wild mountains. 4 days, up to 4,400m. (Recommended by our friend Nick Ince.)
Ardoti to Mutso(in Khevsureti), a classic fortified village, via the Khadotani pass.
Omalo to Shatili via the Atsunta pass. 5 days/70km between two ancient centres of Caucasus regions. (Recommended by www.caucasus-trekking.com)
Borbalo Pass: Tusheti to Khevsureti: cross the high central ridge of the Greater Caucasus. Landscape and views as magnificent as you would expect. 5 days/77km. (Recommended by www.caucasus-trekking.com)
Kazbegi (east): a region as well as a town:
To the Gergeti glacier, with grand views of Mt Kazbegi (5,033m) and passing the famous Tsminda Sameba church. 22km, 8hrs or so (Recommended by www.caucasus-trekking.com)
Kazbegi to Roshka or Gudani via the Sadzele Pass (at 3,056m). 2 days, superb-sounding walking. Or the 4 day walk over the Barbalo and Tsubrovana passes to Ardoti – or, indeed, one more day on across the Khadotani Pass to Mutso in Khevsureti, a classic fortified village.
Truso Valley day walk. (Recommended by www.caucasus-trekking.com)
Khevsureti (east):
A lot of trekking around Mutso, a classic fortified village, including multi-dayers across high passes.
Khevi (east of South Ossetia): around Juta:
Juta to Roshka via Chaukhi Pass: a superb trek across this high pass in wild, beautiful landscape: fascinating both naturally and in human terms.3 days, up to 3,430m. You can do a one-day alternative. (Recommended by www.caucasus-trekking.comand our friend Nick Ince.)
Juta to Gori via the Abudelauri Pass. 2 day walk over this 3,230m pass. Magnificent views of the heart of the range.
Tetu Peak(3,210m) near Juta – a superb day walk.
Up a flower strewn valley to the foot of Mt Chaukhi near Juta.
Around Gudauri: several walks here, including ridges and the Khada Gorge.
Racha Area (central, west of South Ossetia):
Baba Glacier: a day walk to gorgeous high meadows with stunning mountain (and glacier!) views.
The multi-day walk hike to Udziro Lake.
Keli Plateau (west-ish): a bare if beautiful once-volcanic plateau. Near troubled South Ossetia, so a permit is needed. Beautiful Kelitsadi Lake. 3 day/37km tour. (Recommended by www.caucasus-trekking.com)
Svaneti region (north-west): said to be Georgia's wildest and remotest area, riddled with ancient villages and towers. Mestia lies at its heart.
Mestia river valley to the base of the Chalati glacier, 5 hrs or so.
Around Ushguli, a landscape strewn with flowers and littered with the towers that make this landscape so unique. A valley walk to view Shkhara, Georgia's highest mountain at 5,201m (stated heights vary!).
Mestia to Ushguli: a 4 day, 58km hike through glorious scenery, village-to-village so tents are not required and you get into Georgia's history and culture. Said to be Georgia's most popular hike. (Recommended by www.caucasus-trekking.com)
Svaneti to Racha: 3 or 4 days, 39km. It crosses two high passes, in really remote country, so is a demanding hike. (Recommended by www.caucasus-trekking.com)
Guli Pass(Recommended by www.caucasus-trekking.com)
Latpari Pass(Recommended by www.caucasus-trekking.com)
Mkheri church(Recommended by www.caucasus-trekking.com)
Betcho valley: another flowery valley with superb views at its head.
Lagodekhi Park, in the far east: the country's oldest reserve teems with wildlife in its ancient forests. Huge views above the treeline. The Black Lake, at 2,800m is the best walk in the region. A wonderful 3 day trek. (Recommended by www.caucasus-trekking.com)
Lesser Caucasus
Borjomi-Kharagauli Park: this big park hosts fine forests. The 4 day (54km) St Andrew's Trailis the best-known of nine main trails. Also the one-day "Footprint trail", which sounds marvellous. (Recommended by www.caucasus-trekking.com)
______________________________
This is demanding walking in remote mountains with uncertain weather. Come fully prepared.
Generally, see the excellent http://www.caucasus-trekking.com, and their overview trekking map at http://www.caucasus-trekking.com/maps.
Walking in the Caucasus by Peter Naysmith is the book on walking here. Find relevant books on Amazon.
Special thanks to Jozef Antala (a new hero to the walking world!), who created www.caucasus-trekking.com, which has an excellent selection of treks, as well as a mass of valuable information.
We want to give you more! Please help us by recommending your best walks, making suggestions and sending photos! Thank you!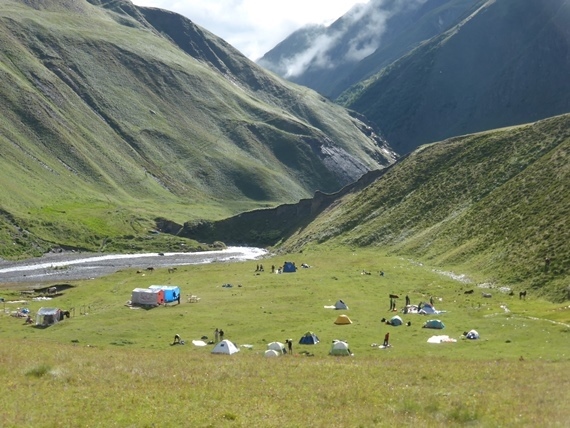 We have a lot of helpful practical information and tips about this walk, covering everything from the best books and maps, to timing and weather, geting there, possible problems, whether you need a guide and where to find them, and useful websites. This section is only open to members.
Membership is FREE AND JOINING TAKES 30 SECONDS. To login or sign up click here
Safety and problems: All walks have inherent risks and potential problems, and many of the walks featured on this website involve significant risks, dangers and problems. Problems of any sort can arise on any walk. This website does not purport to identify any (or all) actual or potential risks, dangers and problems that may relate to any particular walk.

Any person who is considering undertaking this walk should do careful research and make their own assessment of the risks, dangers and possible problems involved. They should also go to "Important information" for further important information.
Anyone planning an expedition to this place should see further important information about this walk.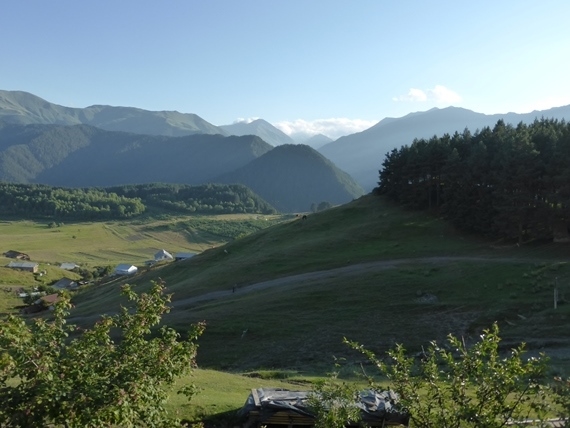 OTHER ACCOUNTS
share your experiences
Top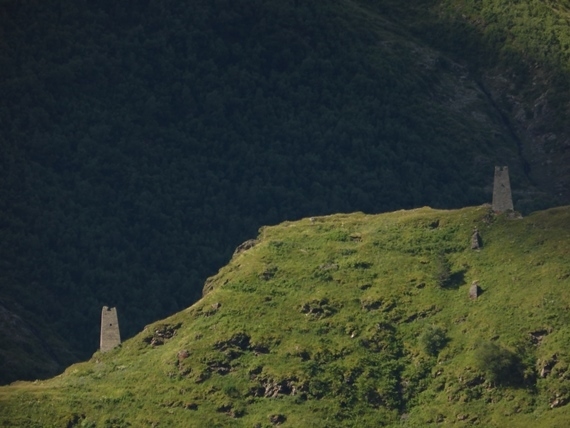 Top
Responsible travel matters, a lot. How you travel will make a real difference - for better or worse. PLEASE consider this when making plans. Read more