Cajas NP
Key information: Cajas NP
An unusual area of high, glaciated rocky peaks and moorland, harboring a myriad of lakes and tarns and beautiful paramo grassland, with rare cloud forest in its lower valleys.

A selection of excellent walking, short frolics to a 3 day traverse.
Walkopedia rating
Walkopedia rating84
Beauty

32

Natural interest

16

Human interest

4

Charisma

32

Negative points

0

Total rating

84
Vital Statistics
Length:

Your choice

Maximum Altitude:

4,167 m

Level of Difficulty:

Variable
Top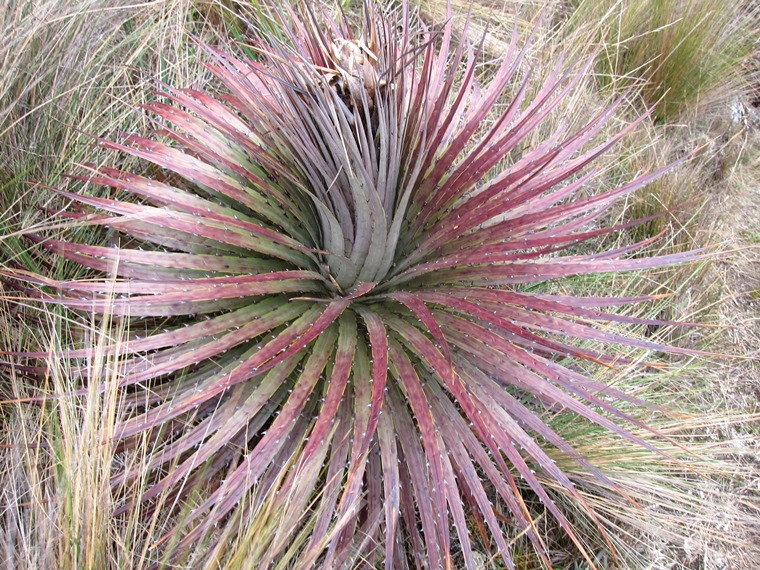 WALK SUMMARY
El Cajas is a "highland moor island", a secluded area of high, rugged, eroded mountains and lakes in the last southern gasp of the western cordillera near Cuenca, with a huge variety of landscapes and thus of walking. It ranges from peaks at up to 4,450m, to high and exceptionally attractive paramo grass and shrublands, to a rare example of cloud forest on the eastern flanks of the western cordillera at some 3,100m. Its grassy, treeless, rocky high lands will remind many of those other famous Highlands in Scotland.
This area of old andesite rock, the produce of long-gone volcanoes, was under an ice sheet in the last ice Age, and is, unlike much of Ecuador, heavily glaciated as a result. You will find many classic glacial features, including some 275 lakes and a multitude of tarns in glacial scoops, a generally heavily scraped and worn look, including drumlins, and spectacular U-shaped valleys in some of the lower reaches.
There is a rich variety of plant and animal life, as might be expected with such a range of habitats. While there are few condors left in the area, you could see several species of hummingbird, toucans, and the gorgeous blue tit-like dacnis. And paramo rabbits.
As if this isn't enough, an Inca road crossed the area, from roughly from east to west, running from what is now Cuenca to the lowlands. While most of it is in poor condition (indeed invisible), there are some stretches where remains of the road can be seen. And wherever you are on its course, there is a fascination to it. Other old trade routes over the high ground now form the basis of walking routes.
The continental divide runs across the heart of the area, marked at the Tres Cruces pass.
The area gets its share of cloud and mist (and rain!) which can increase the impression of something Gaelic.
There is a plethora of great walks here, from short explorations to multi-dayers. There are a number of walks recommended by the park which will be on better paths, but you really can just take off in the multitude of faint tracks, creating your own route. Note that most paths are not marked, so a map and good map-reading skills are needed if you are planning a longer walk.
High level day walks:
There are plenty of paths to follow, and wonderful scenery everywhere, so you can take off into the landscape almost anywhere, although there aren't a mass of places to park and only one road, so most people will park at the ranger station and explore at will in that area: you can tailor your route to your time and energy.
If you have transport available, you can get dropped and walk a linear route to an agreed destination. (Walkopedia did this, starting east of the ranger station and walking via several tarns and small lakes to Laguna Toreadara below the ranger station. Gorgeous scenery, and we saw some fabulous birds and a paramo rabbit to boot.)
Lakes and Inca road: A particularly exciting day walk would be a 4hr or so route dropping steeply south from just west of the high (4,167m) Tres Cruces pass to the fabulous Laguna Larga and Laguna Togilacocha lakes, then turn west on the Inca road and walk down a gorgeous paramo valley, back out to the main road.
2.5-3 hours north of the road and significantly lower is Patul, a village which (uniquely in this area) still has no road access, so is particularly interesting to visit - and the journey there is through fine Cajas scenery. The track leaves the road about 1 km on the Cuenca side of the 4,167m Tres Cruces pass, so the return journey involves a longish ascent at altitude. You can get there and back in a day, or, if you take a sleeping bag, they will accommodate you at the village.
Lower level/cloud forest walks:
The cloud forest around Laguna Llaviuco, on the eastern edge of the park and not far from the Cuenca road, is worth spending time in. A fine selection of epiphyte-and-moss ridden trees, bird life galore, an attractive lake and grassy valley bottom not yet taken back by the forest, high broken crags above, and a stretch of the local Inca road to contemplate. Walkopedia enjoyed it.
Multi-dayers:
You could create all sorts of treks of a length to suit your time and stamina. Camping is the only option. It is possible to hire horses to carry tents etc in the highlands if you wish. (Not available for cloud forest sections.)
Inca road: you can cross the area, roughly from east to west (or vice versa), on the old Inca road. A fabulous selection of habitats and scenery, from cloud forest to the high passes and innumerable lakes to the roof of the park. 2 days.
3 day tour of the NP: starting near the Tres Cruces pass, drop to the fabulous Laguna Larga and Laguna Togilacocha lakes, then cross the Inca road to pass Laguna Luspa and reach lovely Laguna Canutillos. Day 2 crosses two passes to reach dramatically sited Laguna Osohuaycu, then descends to finish by some Inca walls (4-6 hrs). The third day descends down a valley into rare and interesting cloud forest to Laguna Llaviuco.
This can be tough walking in high, remote mountains with unpredictable weather,frequently cloud-bound and thus difficult to navigate and with a reputation for being cold. You will have to be self-sufficient. Altitude can cause problems. Come fully prepared, including proper acclimatization.
Have a look at TripAdvisor - there are tens of millions of reviews, so you may get good, current views on guides, places to hike and places to stay on the Galapagos.
This page is at an early stage of development. Please help us by recommending your best walks, making suggestions and sending photos! Thank you!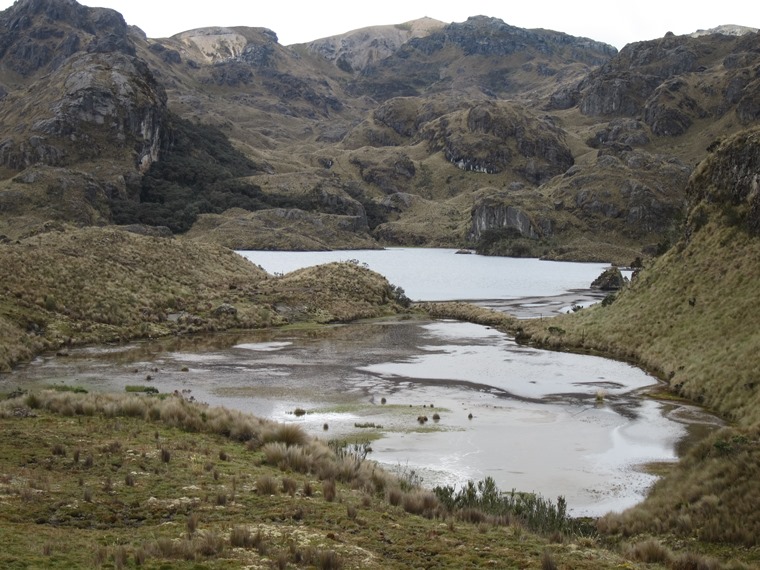 See also expedition planning, including our universal expedition checklist. Walkopedia encourages responsible travel.
Books and Maps
Books on this walk
Ecuador Climbing and Hiking Guide – Viva/ Rob Rachowiecki and Mark Thurber. THE book. But evidently out of print and vilely expensive second hand on Amazon as of end 2015. Available as an e–book. There is a Bradt predecessor from 2004, which is, obviously, out of date in places but much cheaper!
Trekking in the Central Andes – Lonely Planet – 2003, a good 3 day walk here but only 4 Ecuador treks in detail.
Find the books and maps listed above, and many more:
Other books
Ecuador and the Galapagos Islands– Lonely Planet/Regis St Lois.
LIVE Travel Guide to Quito, Ecuador and the Galapagos Islands.[check]
Peru, Bolivia, Ecuador Footprint Handbook by Robert Kunstaetter and Daisy Kunstaetter
Ecuador and Galapagos, Viva Travel Guides by Lorraine Caputo and Chris Klassen
The Rough Guide to Ecuador & the Galápagos Islands by Melissa Graham and Harry Ades
Ecuador – Insight Guides
Ecuador and the Galapagos Islands, Moon Handbooks. We have to say we were underwhelmed in 2015.
Travels Among the Great Andes of the Equator – the great C19 mountaineer Edward Whymper's classic account.
Ecuador and the Galapagos Islands - Travellers' Wildlife Guides – gorgeous, good illustrations.
Find the books and maps listed above, and many more:
Maps
Maps aren't great, but there are topographical maps available and worth getting, see guidebooks for latest info. The park sits on the cusp of 4 IGM maps. Note that they don't show walking trails.
The basic map in the Lonely Planet guidebook is useful.
Stanfords: A good online specialist source of worldwide maps (it is also good for guidebooks). Also try Maps Worldwide and www.trektools.com.
Best times to walk/weather
Best times to walk
Lying across the Equator, Ecuador does not have seasons as those from temperate climates would understand them. August to January are the "dry" season here. February to July are the wetter months.
Weather
Very changeable. Frequently cloud-bound (and rainy) and often cold. Even if you are there in the "dry" season, come prepared for both cloud/rain and hot sun, and freezing temperatures at night.
For detailed weather information, have a look at: www.worldweather.org or www.bbc.co.uk/weather/world/country-guides.
Getting there/transport/permits/fees
Cuenca is the nearby city (29 km east), although you can approach El Cajas from the western lowlands, eg Guayaquil.
Most people fly in to Quito or Guayaquil. You can fly internally in Ecuador, and Cuenca has an airport. Skyscanner is an excellent (relatively new) site for finding the flights you need; otherwise try Lastminute.com, or look at what's available on TripAdvisor.
There are plentiful buses in Ecuador, and it is viable to get to most places this way, but they can be crowded. Car hire is pretty easy, but driving isn't straightforward, not least because of the lack of roadsigns. Local taxi services generally exist in the towns, can (eg) take to or pick you up from a roadhead, or transport luggage.
Those on organised expeditions are likely to be transported from/to arranged points.
Foreigners need to pay a park fee. This can be done the ranger station. Expedition organisers should arrange these.
You can arrange a guide and pack animal. See below.
Route(s)
See Walk Summary above.
Possible problems, health, other warnings
· Altitude: can affect some; potentially fatal. Acclimatize appropriately, come prepared to cope, be ready to evacuate people in extreme cases.
· Variable mountain weather: snow, rain, severe cold and wind are possible at any time of year and the weather can change rapidly. Come prepared.
· Heat and strong sun. Carry enough water and protect yourself.
· Heights: can be dangerous; not for those who have difficulties with heights.
· This is remote country: you will have to carry all your food and other supplies and help may be hard to get if things go wrong.
· Health risks: you may not get prompt medical help of a standard available elsewhere if you become ill. Come prepared, including getting all appropriate inoculations/medications in good time.
· Be sensitive about photographing people: don't without permission. Ask permission if in doubt about whether they would mind.
See also the websites in our useful links page for more detailed, and up-to-date, information.
Safety and problems: All walks have inherent risks and problems can arise on any walk. Many of the walks featured on this website involve significant risks and possible problems. This website cannot, and does not purport to, identify all actual or potential risks, dangers and problems that may relate to a walk or a country. Any person who is considering undertaking this walk should do careful research and make their own assessment of the risks, dangers and possible problems involved. They should also go to "Important information" for further important information.
Make sure you have appropriate insurance.
Guided or independent?
Independent
You can do these walks independently, but you will need to be self-sufficient, so come fully prepared.
Guided/supported
Some people form or join organised/supported expeditionswhen doing multi-day walks. Given the complexity of the country, many will prefer to do it this way, and travelling here with a knowledgeable guide has real advantages. Choosing a suitable guide or company is of course vital.
If hiring a guide locally, meet him/her and get comfortable before committing. Make sure all requirements are understood and agreed – including, of course, remuneration!
Walkopedia walked here with Juan Muñoz, juanalmibar@hotmail.com. He was exceedingly knowledgeable and very helpful. We greatly enjoyed our time with him.
Expedition organisers include:
Explore! - reputable and experienced organisers.
Journey Latin America – do an Avenue of the Volcanoes.
Check TripAdvisor for some reviews of this area and walk organisers which may prove helpful.
PLEASE HELP Walkopediaby recommending any reputable tour organizers that you know of – local or otherwise.
Accommodation
Camping is the only realistic option once on trail.
There are various relevant accommodation websites.
See what the commentary on TripAdvisor is on possible places to stay – although do take their reviews with a pinch of salt, as they can be "interested".
A good range of hotels can be found on the unimaginatively named but effective Hotels.com.
If you're on a budget, Hostelbookers usually has a good selection of cheaper-end accommodation; or perhaps try for some bargain luxury on Lastminute.com. [check – Cuenca]
Other information and tips
Useful websites and information
There are many websites with relevant information. Here are some that we think are useful or have been recommended to us.
· Cajas NP has a somewhat old, but fantastic website – www.parque-nacional-cajas.org, and includes information on routes.
· www.wikipedia.org: as usual, a good starting place.
· thebestofecuador.com
· Ecuadorial.com
· Ecuador-Travel.net
· Have a look at TripAdvisor – there are tens of millions of reviews, so you may get good, current views on this.
· Wikiexplora is a useful site if you can read Spanish. The automated translation means it's not ideal for non-Spanish speakers, but it does have some good trail maps.
Other things to do in the area
Other walks
Ecuador has a huge variety of great walks. There is likely to be a good walk within range wherever you may be, in the mountains at least.
Other activities
Climbing, some white water rafting, birdwatching.
Culture, history (Inca, other pre-Spanish, colonial) and people watching.
We are not a shopping website. But, there are beautiful and interesting things to be found, and anything bought from local people must be of some help to this poor area. So, wallets out! (And don't try to extract the very last cent when bargaining…)
Safety and problems: All walks have inherent risks and potential problems, and many of the walks featured on this website involve significant risks, dangers and problems. Problems of any sort can arise on any walk. This website does not purport to identify any (or all) actual or potential risks, dangers and problems that may relate to any particular walk.

Any person who is considering undertaking this walk should do careful research and make their own assessment of the risks, dangers and possible problems involved. They should also go to "Important information" for further important information.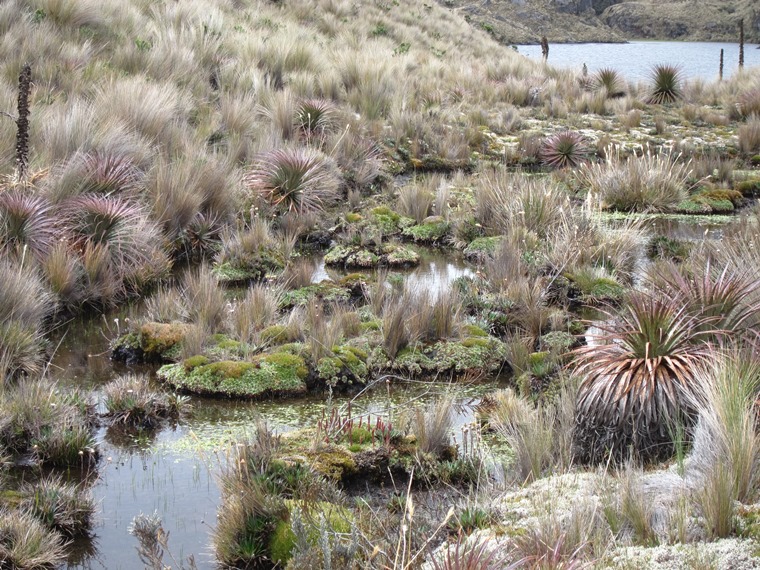 OTHER ACCOUNTS
share your experiences
Top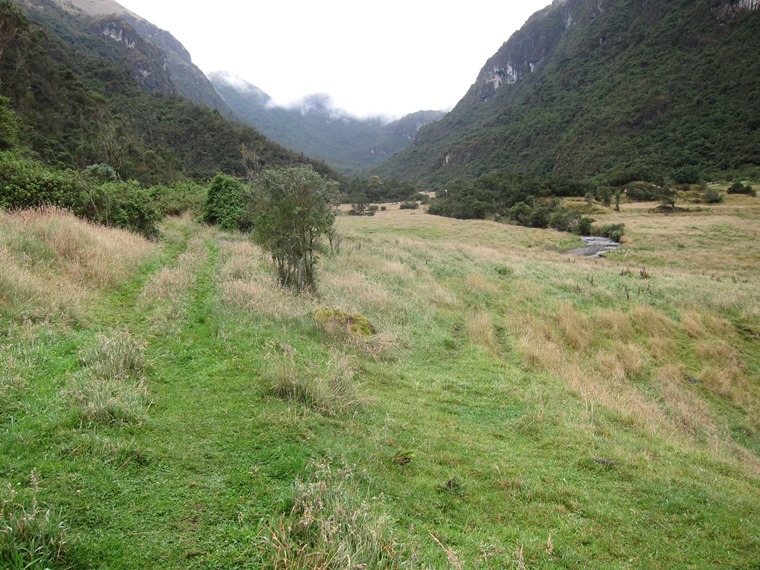 Top
Responsible travel matters, a lot. How you travel will make a real difference - for better or worse. PLEASE consider this when making plans. Read more