Annapurna Circuit
Key information: Annapurna Circuit
Magnificent trek round the back of the Annapurna massif, effectively onto the Tibetan Plateau.

Walk through forest and occasional villages as you ascend beautiful valleys to reach the high passes with their outstanding views of vast mountains and the high, dry gorges around Jomson and Mustang.

Meet a wide range of mountain peoples, passing from Hindu areas to the Tibetan Buddhists of the high mountains, passing close to the legendary enclave of Mustang.

Although a superb trek, this is popular (as many as 500 trekkers set off to the high Thorung La by torchlight each day) and you will meet a lot of fellow trekkers in high season. The local culture has inevitably been affected. You can "tea house" this trek which will save both weight and cost.

Most people now walk to Jomson, on the Kali Gandaki below fabled Mustang, in 11 days or more, and then fly or bus back to the lowlands. Many fewer now descend to the plains on the Muktinath/Jomson Trek as a result of the road which has been built up the great Kali Gandaki gorge and associated despoilation.

This is a tough walk in high mountains, on which you will have to be self-sufficient and where altitude can cause real problems. Come prepared.

Cicerone's "Annapurna: A Trekker's Guide" is the best book.

See our Annapurna Region page for further detailed information and photos.



Walkopedia rating
Walkopedia rating93
Beauty

36

Natural interest

17

Human interest

10

Charisma

37

Negative points

7

Total rating

93

Note: Negs: altitude; popularity
Vital Statistics
Length:

around 300km

17 days minimum

Maximum Altitude:

5,416m

Level of Difficulty:

Difficult
Top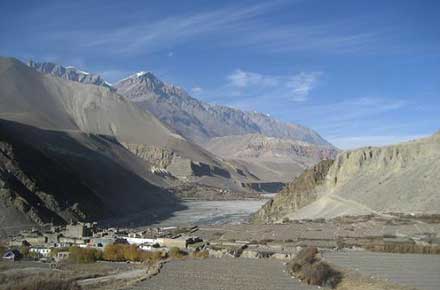 COMMUNITY COMMENTS AND PHOTOS
Name: Administrator
Posted on: 27/08/2012

The following is Bernard Koh's piece on walking here, which was an entry we much enjoyed for our 2011 Travel Writing Competition.
Annapurna Circuit
Day 1 - Namaste!
It was 6 November 2011. We reached Kathmandu's Tribhuvan International Airport later than expected. We were circling around the sky approximately 35km away from the landing due to bad weather conditions. We were told that Hotel Moonlight was full and we will be staying at Noring Resort on our first night instead. We had the initial briefing on our first day and went to Third Eye Restaurant for our welcome dinner. The food was fantastic. We decided that we will come back here to the restaurant again.
Day 3 - Surprise Night Trek
We finally reached Bulbule after a hellish undulating ride on the rocky tarmac road and across small streams. Our guide Buddhi did the TIMS registration and we trekked for approximately 3 hours in the dark. It was really cool to trek on our first day under the moonlight and I did not use much of my headlamp.
Day 5 - Impromptu Dharapani
We were separated for a brief moment when both me and Maria crossed one of the suspension bridge before it was closed by one of the ACAP folks. Unbeknownst to us, we heard a deafening loud blast from where we came. I ran towards the opposite side of the bridge but I was stopped by the ACAP personnel. He looked vehement and howled at me. I remain composed while I tried to articulate that we have got friends on the opposite side. He reassured me that everything is under control and I will see them soon. I am beginning to question why they are destroying the natural environmental for economical gains. All the international reports on the shrinking Annapurna is beginning to make sense to me.
Day 8 - Acclimatization beckons
Maria told us that she felt a slight earthquake this morning around 5am. We had some really tasty bread for the first time after passing Humde Airport when we reached Braga. I was happy that Jee Pek had come a long way and I am quite confident that he will cross Thorong La safely. Guess what? There is a movie theatre in Manang and it only costs 200 rupee with hot tea and popcorn. We watched 2 movies - Seven Years in Tibet and Into Thin Air.
Day 9 - Acclimatization Day
It was our acclimatization day. I woke up early before heading to Milarepa Cave at 4300m. It was a beautiful day and it was the same trail up to Annapurna III. We encounter snow on certain parts of the trail today and it was really nice to visit the Buddhist religious site. The hike up was steep thus the descent was a little bit tricky to avoid from falling off the cliff. It was shivering cold that night but I went ahead for the quick shower.
Day 11 - High Camp Push
The trek towards Thorong Pedi was smooth and the weather was chilling despite the hot sunny day. I took Jee Pek's daypack for the first time and went all the way up to High Camp while Buddhi assisted Jee Pek up the steep trail. Jee Pek decided that he will take the horse tomorrow and I said okay. I respect his decision. The food at High Camp was terrible and I had a bad headache that night. It was a bitter cold night. The worst night ever for the whole trek duration!
Day 12 - Thorong La!
I woke up late at 450am and my head was still spinning. I wondered if I ever slept the previous night. Buddhi was still sleeping when I got out of my down sleeping bag reluctantly. Maria was sitting motionless in her room while I asked her out for breakfast. We gathered for breakfast while my headache began to subside and I felt much better at 6am. After which we did not have much appetite for breakfast but I tried my best with the Snicker bar. Things were happening. Symptoms of AMS were all there. Jee Pek was coughing the whole night. Buddhi then did a test on Maria and said that she have to take the horse if not she would have to take the miserable option of descending by Thorong Pedi direction. After much discussion I decided to head towards Thorong La on the horse. I remembered that I told Jee Pek during training that crossing the pass was not important but the process of the trek proper was most memorable. We trained and we came. Now we do our best to cross this path together. It was not an easy decision but I do not wish to lose sight of both Jee Pek and Maria during the most crucial part of the trek. Crossing Thorong La was the coldest experience for me and I descent swiftly after taking pictures amidst many trekkers jostling around the strings of prayer flags.
Day 15 - Tatopani Bus Ride
We spend an hour trekking in the morning before we took mini buses along the way to Tatopani via Ghasa. We had begun to trek along the rocky undulating highway where we have to endure dust, smoke and travelling vehicle that shared the same path. This was the second time I was reminded of the BBC shrinking Annapurna reports. I am beginning to see why the ACT may be a thing of the past as commercialization and increased tourism is eroding the natural environment.
Day 17 - Ghorepani Ascent
Good Morning Sunshine! It was the toughest day of the whole Annapurna Circuit Trek as described on the travel guides. We crossed two bridges over the Kaligandaki River in less than an hour before trekking all the way up to Ghorepani. Time flies and we reached there by 3pm. We reached the peak of Poon Hill by 5pm just in time to soak in the sunset panoramic view.
Day 19 - Last Trekking Day
I ran down from Gandruk today. It was awesome! After which we spent approximately 90 minutes waiting for taxi to Pokhara. It was great to complete the Annapurna Circuit Trek and I was very happy that night. We had a local Nepalese celebration dinner and bid farewell to our dear porters. I thought that our porters were really great as compared to the other porters. Their lives are tough and I sincerely hope that they will find a better job option in the future. After the long journey trekking in Annapurna Circuit Trek, both Jee Pek and me spent the rest of the week in Pokhara, Lumbini, Bhaktapur, Nagarkot and of course Kathmandu for our last few days in Nepal. It was a wondrous trip in retrospect.

Your comments on this walk, your experiences and suggestions, and your photos are very welcome. Where appropriate, you will be credited for your contribution.
Top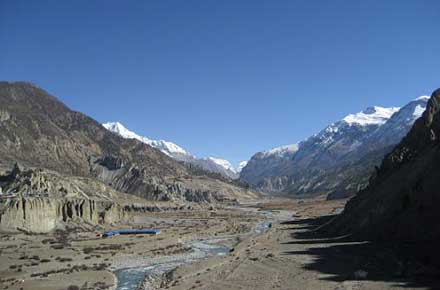 Top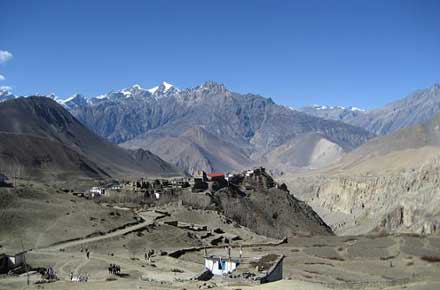 Top
Responsible travel matters, a lot. How you travel will make a real difference - for better or worse. PLEASE consider this when making plans. Read more