Mount Olympus
Key information: Mount Olympus
Olympus is famous as the highest mountain in Greece, and is steeped in legend and mystery as the home of its ancient Gods.

Climb this beautiful, exhilarating mountain: a horseshoe of jagged peaks around a vast cauldron which drains to the nearby Aegean sea through the magnificent Enipeas Gorge.

As well as the superb scenery of the high ridges, you will walk through beautiful forests and patches of bright wild flowers. The area is a UNESCO biosphere reserve.

This is a tough walk in mountains with variable weather. Come prepared.
Walkopedia rating
Walkopedia rating86
Beauty

33

Natural interest

16

Human interest

4

Charisma

33

Negative points

0

Total rating

86
Vital Statistics
Length:

3 days

Maximum Altitude:

2,918m

Level of Difficulty:

Strenuous
Top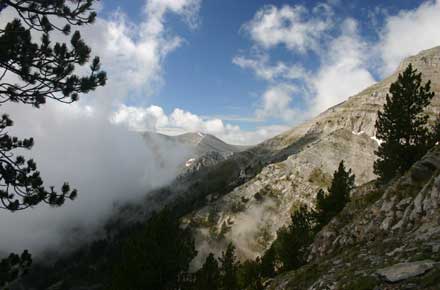 WALK SUMMARY
The Olympus massif rises alone from the plains and hills of north-east Greece, at its heart a vast cauldron circled by a dramatic ridge of rocky summits, which peaks at the saw-toothed Mitikas.
Mount Olympus is famous as the home of the gods of ancient Greece, in all their power, beauty and iniquity. They feasted, quarrelled and schemed here, raising and destroying their human playthings and proxies below.
The area is a UNESCO Biosphere Reserve, with four distinct vegetation zones. The usual route starts in the second of these, a forest of black pine mixed with beech and other deciduous trees, climbing into a band of smaller, hunched pines and shrubs, then tough little alpine plants nestling among the rocks of the highlands. The area is hugely rich in flora, with 17,000 recorded plants, a fair number unique to these mountains, as well as having a varied animal population.
Most expeditions start from Litochoro, a cheerful town at the foot of the dramatic Enipeas Gorge which drains the central bowl. The main route starts at the roadhead at Prionia at the top of this gorge, climbing some 1,000 steep metres to Refuge A (Zolotas), a well-run hut with superb views perched on a ledge behind an outcrop. The well-maintained path climbs steadily in beautiful forests of pine, with slender beech around the ravines. The volume and variety of the birdsong here can be miraculous - in early summer, anyway.
The forest gradually thins and the spires of the peaks begin to appear high above. In May and June you will find the bright flowers for which springtime Greece is famous, as more scattered, twisted pines take over.
The second day climbs to the high ridge that rings the central abyss. This is a slog in thinner air, but rewarded by an outstanding panorama as you crest the ridge and discover the 500m cliffs of the Kazania chasm and huge views to the north and west.
On a good day, you can turn right, along the broken ridge to an uncomfortable scramble (gut-wrenching for some) to the eroded spikes of Mitikas, the highest peak at 2,918m and once the Pantheon, the Gods' meeting place; or swing southward round the ridge to Antonis peak. On a cloudy day you can retrace your steps back down the ladder, then turn north along a narrow path which follows striations amid the precipices below Mitikas, emerging on the beautiful Plateau of the Muses, a surprising, rolling grassland which is surrounded by cliffs above and below and dwarfed by the extraordinary formation of Stefani, the throne of Zeus, king of the gods. You can make the difficult scramble to the jagged ridge of Mitikas from the plateau, and then pick your way down a steep path back to Refuge A (not always well marked avoid this in cloud), or stay in one of the refuges on the plateau.
You can start or finish your time on Olympus with a walk through the superb Enipeas Gorge, which drains the cauldron out to the plains by the sea: don't miss this if you can help it.
See Andrey Sal'nikov's excellent panoramas at http://www.360-vr.net/olympus.php
WILLIAM MACKESY'S ACCOUNT
of this walk
Mount Olympus is famous as the home of the gods of ancient Greece, in all their power, beauty and iniquity. They feasted, quarrelled and schemed here, raising and destroying their human playthings and proxies below.
The Olympus massif rises alone from the plains and hills of north-east Greece, at its heart a vast cauldron circled by a dramatic ridge of rocky summits, which peaks at the saw-toothed Mitikas. If you didn't know otherwise (it is in fact formed from limestone), you would think Olympus a collapsed volcano like.....
READ MORE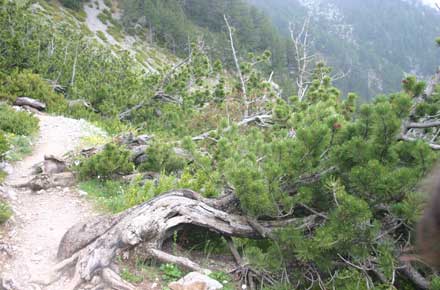 See also expedition planning, including our universal expedition checklist. Walkopedia encourages responsible travel.
Guidebooks/maps/background reading
Guidebooks
The Mountains of Greece – Cicerone: excellent information on the walking options.
Maps
Various available, including Anavasi's 1:50,000 map. Easily bought in shops in Litochoro.
Best times to walk/weather
Best times to walk
May – October. May and June for the wild flowers, September and October for autumn colour.
Weather
Generally fine in season (frequently cloudy on top in the afternoons), but come prepared for unpredictable mountain weather and cold nights.
Getting there/transport/permits
Those on organised expeditions are likely to be transported from Litochoro to the roadhead at Prionia. You can drive yourself there, too, or share a taxi from Litochoro. The availability of buses is unclear.
Route(s)
Most people walk from the roadhead at Prionia to Refuge A (approx. 3 hours), then tackle the high ridge. There are several routes, but the most usual is to climb to (or just short of) the second highest peak of Skolio (2904m), then swing north to scramble up Mitikas, the highest peak (a difficult scramble, only to be attempted by experienced walkers), coming down to spend the night in one of the two refuges on the Plateau of the Muses or returning to Refuge A.
Alternatively, you can cross the mountain along the striations below Mitikas to the Plateau of the Muses, tackling Mitikas from that end - or head left along the high ridge to the south of the massive cauldron.
You can return to Prionia on the third day, although you can also descend on the fine, but much less frequented, western side, or the beautiful northern ridge from the Plateau of the Muses to Gortsia (called Dhiakladhosi by Cicerone) on the Prionia road.
Some people hike in along the northern ridge from Gortsia to the Plateau of the Muses, a longer but lovelier walk than the slog from Prionia. Some walk in or out along the superb Enipeas Gorge, which can be done as a day walk in its own right.
See the Walk Summary above and William's detailed desription.
Possible problems, health, other warnings
Altitude

: While Olympus is not enormous, all will find the air thinner here and sickness is a remote possibility. Come prepared to cope.

Mountain weather

: snow, rain, severe cold and wind are possible at any time of year. Come prepared.

Heat

and strong sun. Carry enough water and protect yourself.

Heights:

can be dangerous; take care, especially if tackling Mitikas peak.
See also the websites in our useful links page for more detailed, and up-to-date, information.
Safety and problems: All walks have inherent risks and potential problems, and many of the walks featured on this website involve significant risks, dangers and problems. Problems of any sort can arise on any walk. This website does not purport to identify any (or all) actual or potential risks, dangers and problems that may relate to any particular walk. Any person who is considering undertaking this walk should do careful research and make their own assessment of the risks, dangers and possible problems involved. They should also go to "Important information" for further important information.
Guided or independent?
Independent
You can do these walks independently.
Guided/supported
Many people form or join organised/supported expeditions, and this can make transport and route-finding easy, with particular advantages if Olympus is to be part of a larger trip. Expedition organisers include:
Accommodation
Refuges on the Mountain – most people walk up from Prionia to Refuge A (comfortable and well-run by the friendly and knowledgeable Maria Zolota), and tackle the high peaks from there. Also Refuge SEO and Refuge C on the Plateau of the Muses. The refuges should be booked in advance, especially in high season (July – August) and for Saturdays (Refuge A can book you places in the other refuges).
Refuge A - +30 23520 81800; info@mountolympus.gr
You can camp near the refuges (small fee payable), but camping is prohibited elsewhere.
Many hotels in Litochoro, including Xenitos Dias [details]. A very pleasant town and good launching pad.
Other information and tips
You can hire a mule to carry baggage from Prionia to Refuge A for 35E.
Useful websites and information
There are many websites with information on this walk. Here are some that we think are useful or have been recommended to us.
COMMUNITY COMMENTS AND PHOTOS
Name: 360-vr
Posted on: 30/09/2012
Hello! My name is Andrey Sal'nikov. I'm a panorama photographer from Russian Federation. I went to Mitikas from Litihoro. During my 2-day trip i took a number of panorama pictures, 24 of which became a part of my virtual tour "Solo tracking and Climbing Olympus E4: Litohoro - Mitikas". You can check it out on my website: http://www.360-vr.net/olympus.php I think it can be used as links. Please contact me e-mail: studio360vr@gmail.com Best regards, Andrey Sal'nikov.


Your comments on this walk, your experiences and suggestions, and your photos are very welcome. Where appropriate, you will be credited for your contribution.
Top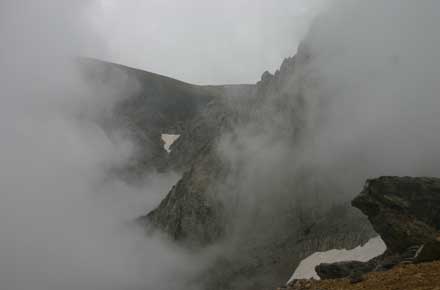 OTHER ACCOUNTS
share your experiences
Top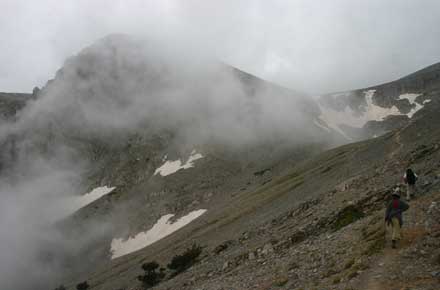 Top
Responsible travel matters, a lot. How you travel will make a real difference - for better or worse. PLEASE consider this when making plans. Read more