Lofoten Islands
Key information: Lofoten Islands
Extraordinary chain of granite mountain-islands off the coast of northern Norway, inside the Arctic Circle.
Ice-hewn peaks and spires rising sheer from the sea with fishing villages clinging to any scrap of flat land, often on stilts above the rocky shoreline.
A wide variety of outstanding walks, up among the crags and lakes of the mountains and the wild Atlantic coastline.
Walkopedia rating
(Top 100)
Walkopedia rating92
Beauty

35

Natural interest

17

Human interest

7

Charisma

33

Negative points

0

Total rating

92
Vital Statistics
Length:

Variable

Maximum Altitude:

1,029m

Level of Difficulty:

Strenuous
Top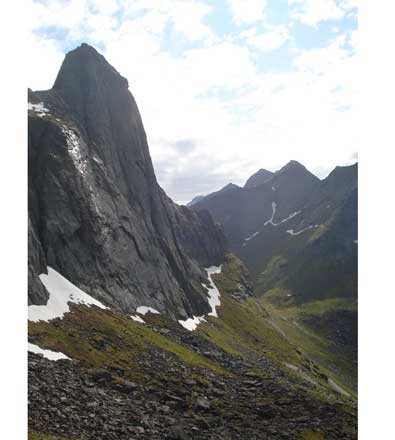 WALK SUMMARY
This chain of granite mountain-islands was carved by the last ice age into fantastic spikes and smooth sheer cliffs, gashed by deep fjords. Lying well inside the Arctic Circle, this is harsh but extraordinarily beautiful scenery. You can enjoy the rugged coastline or gasp at some of the world's most thrilling views from the high ridges.
From a distance, the Lofoten wall seems like an unbroken mass; close up, it reveals itself as a series of improbably carved peaks and ridges up to 1,150m (nearly 4,000ft) high, rising straight out of the sea, separated by deep sounds and sheltering inlets which cradle ridiculously atmospheric fishing villages with brightly painted houses - sometimes built on stilts out into the water. The whole area has been submitted for World Heritage Site status.
The Lofotens are reminiscent of the beauties of Milford Sound in New Zealand's Fjordland and - wait for it - Hong Kong, with its vast slopes of ice-smoothed granite and its remote little stilted wooden fishing villages (even the stink of the fish processing is strongly reminiscent). Maybe the water here is a little cleaner.
The islands are composed of ancient granite, sharing their origins with the Scottish Highlands and the Appalachians of the USA. They were ground into their current shape relatively recently: this area was at the edge of an enormous ice sheet, up to 2km thick, that covered all of Scandinavia and which tore and polished the rock into the extraordinary peaks, crags, lakes and fjords that we now see.
It was a tough life for the itinerant fisherman who rowed up in the dark of late winter for the cod fishing season. While fishing remains important, artists have moved up, attracted by the scenery and the long hours of cold summer light.
The Lofotens are a walker's paradise, every hill beckoning you and the coastline threaded with trails, the best along the wild, northern coast, where you can see dolphins and seals sporting in the surf. The whale watching can be superb here, and you can encounter elk on Austvgoy. Delicate arctic flowers bloom in early summer and rich colours and berries decorate the brief autumn.
Try to walk on more than one island and vary the drama of the high viewpoints with at least one coastal path. There is no single outstanding walk, so you are free to choose. The walks described here are some of the best known, listed (approximately) from west to east. These walks take a day or less, but can be connected with other walks to form a longer expedition, involving stays in guesthouses, old Fishermens cabins (rorbuer) or camping.
Route(s)
The following are some of the multitude of superb walks on the Lofoten. You will need to research which combinations of walks will suit you best. Try to walk on as many islands as you can and vary peak-bagging with at least one coastal walk.
The many (and good) tourist offices have maps and information (of varying quality) on local walks.
Hell and back: At the very tip of the southernmost island of Moskenesøy is the abandoned fishing hamlet of Hell. You can walk here, across a 600m high plateau with superb views, from the picturesque village of Å, the Lofotens' westernmost settlement. You can get a boat to take you to Hell, and walk back. This would be a very long walk and there may not be a marked track to follow.
Hermannsdalstinden:
The island of Moskensøy has arguably the most spectacular, improbable scenery in the whole of the Lofoten. Much of it involves technical climbing skills. The island's highest peak, Hermannsdalstinden (1,029m), a tough scramble with outstanding views, is one of the best hikes in the Lofoten. Can be combined with the Munkebu walk.
Reinebringen: This 670m crag on Moskensøy is a difficult scramble up a very steep, rough path but has one of the best views of all, down over the Reine basin and along the Lofoten chain. Approximately 2 hours.
Mt Munkebu: This is a superb walk on the westerly island of Moskensøy. It starts along a gravelled track around a lake, just above the village of Sørvågen, then branches off up a steep granite slope, from the crest of which is a view of a beautiful cascade tumbling from the upper valley. A short clamber takes you to a stunning lake, surrounded on three sides by cliffs, steep 500m slopes of ice-polished granite and woods of diminutive birch and rowan. To the left, a valley retreats to distant peaks. It feels like the Alps, not a small island.
The path meanders through the stunted forest above the lake. Near the far end, where the river drops from the higher valley in a lovely waterfall, the path cuts up a slope so steep that you need to pull yourself up on chains. From the shoulder at the top, the view is even finer ahead: a narrow lake, embedded in sheer cliffs, with the valley receding behind it into high slopes of bare, grey granite.
A beautiful stretch winds between tarns in an ice-scraped shelf. Slog up to the next ridge to reach one of the walk's outstanding views over the adjoining fjord, which is narrow at its entrance, where the coastal road crosses it on a graceful bridge, and then recedes for a couple of kilometres into the bowl of tough crags where you will be standing. The sea sparkles beyond the bridge in the afternoon sun. It was hot, sunburn weather when I was there – and well inside the Arctic Circle. Apart from the bridge, there is no trace of mankind here.
A further climb gets you onto the Djupfjordheia moor, surrounded by jagged ridges nursing patches of summer snow. At around the three hour mark, you reach the Munkebu hut. This is a magnificent spot, with views over Hermannsdalstinden, Ernthelltinden, three lakes on different levels and a tantalising peek over the lip of Ternnesvatnet into the slopes about Forsfjorden. You can spend the night here, provided that you have made the necessary arrangements with the Norwegian climbing club in advance, possibly alone in the long summer half-light, or you can get back to the trailhead for a round trip of around five hours.
The scramble back down has its own beauties with the changing light; the northern slopes across the lakes may become an opaque mauve, their features shrouded.
This walk can be extended with a climb of Hermannsdalstinden.
Nusfjord to Nesland: A lovely coastal path on Flakstadøy from the superbly preserved fishing village of Nusfjord to the hamlet of Nesland. Nusfjord is a World Heritage Site, with hordes of visitors and diminished atmosphere. While this route is not as strenuous (or spectacular) as others in the area, it can still claim magnificent views out across the Vestfjorden to the mainland and down along the southern Lofoten coast, as it winds around vast boulders, through grass and stunted rowans and conifers.
Takes about 3 hours.
Eggum to Umstad: This is a wonderful 9km hike between two fishing villages, along the wild western, ocean-facing, coast of Vestvågøy. It is relatively straightforward, although there is some awkward bouldering following recent falls, and has excellent views of the Lofoten massif as well as out to sea. You will encounter a marvellous array of wildlife from seals to, with luck, sea eagles.
Justadtinden: A longer walk up one of Vestvågøy's highest peaks (at 738m), with exceptionally beautiful views – even by exacting local standards - of the Lofoten mountains and the sea. It is mostly a gradual ascent, although hard work towards the end.
Coast to Coast*: From Å to Stokkvika and back: a path leads along the south shore of Lake Agvatnet. From the head of the lake, ascend through dwarf woodland and up a steep slope to the pass, where the views in both directions are outstanding. The last few hundred feet on both sides of the pass are tricky if wet. Descend to head of a second fjord and on to Stokkvika along south side. Extension of this walk along a ridge above mouth of the fjord on south side gives southward views down the west coast. There is no beach at Stokkvika, which is disappointing, but a delightful swim beckons in the shallows at the top end of Agvatnet if you can wait until after the precipitous return ascent/descent of the pass.
A short ridge excursion*: Ytresand to Stokvik: this charming jaunt at the north end of Moskensøy takes one to an area which one might otherwise neglect. The walk starts and finishes in a parking spot at the end of the road north of Ytresand. A path is marked up the hillside and on to the ridge which should be followed right round to the view up the Stokvikølva valley. Again, disappointingly for the arctic swimmer, there is no beach at Stokvik.
Another short excursion for a magnificent panorama*: Offersøykammen (436m) is a short walk to a great view at the west end of Vestvogøy. From the car parking spot just before the Nappstraumen tunnel entrance, follow the path to the end of the island, then double back up the ridge and follow that to the tarn before ascending through dwarf woodland on a well marked path up the moderate slope to the summit.
Steinstinden*: a circular walk above Stamsund: one can begin from the ski slope west of Stamsund and follow the lift to the ridge. Thereafter the route is much less straightforward and not for those who suffer from even minor vertigo.
Golf with a view*: Hoven (368m): Gimsøy is not a large or a fashionable island, but from the ninth green of the Lofoten's golf course a path leads to a pimple of a summit offering a charming panorama over the plain towards Vestvagøy and Austvågøy.
Two passes for the price of one*: Selfjorden to Krokhammar: from the end of the road at Selfjorden find a dry path across the marshy ground around the head of Stormakpollen into the stunted woodland. Strike uphill on the well defined path between two streams and leave the large freestanding boulder on your left as you ascend to the lake. Keep the lake on your left as you wind along a boulder strewn path and up to the first pass. This is a time consuming business. From this first col there are fantastic views back down the valley and ahead across Solbjørnvatnet. A welcome but thin track contours to the right and over a second col. From this second pass you are struck by sheer walls of rock opposite and on your left hand. The main peak of Krokhammartindan is so close as to appear to topple onto you as you eat your piece and contemplate the descent to the shore at Horseid. Here is a tricky choice: you can't see Horseidvik from the col; you would like a bracing dip on the beach; but unless you can make it to Kjerkfjorden in time for the afternoon boat that swim will cost you the 400+ metre of ascent back up to this second pass. Perhaps retracing your steps is the more attractive option?
Others:
- Higuravrstinden (1,146m) on Austvågøy is Lofoten's highest mountain.
- Skrova island of Svolvaer has superb views back to the Lofoten "wall".
*These are all the recommendation of the estimable Patrick Gibbs (THANK YOU). He packed them all into a week. That's probably why he remains thin.
WILLIAM MACKESY'S ACCOUNT
of this walk
The jagged, sheer Lofoten Islands face the North Atlantic like a line of tough veteran legionaries awaiting some wild enemy. From a distance, the "Lofoten wall" seems like an unbroken mass; close up, it reveals itself as a series of improbably carved peaks and ridges up to 1,150m (nearly 4,000ft) high, rising straight out of the sea, separated by deep sounds and sheltering inlets which cradle ridiculously atmospheric fishing villages. The whole area has been submitted for World Heritage Site status.
The Lofotens are reminiscent of the beauties of Milford Sound in New.....
READ MORE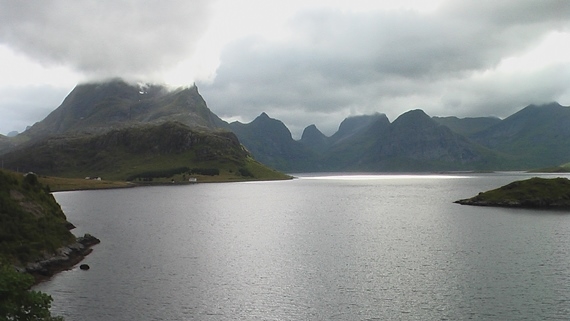 See also expedition planning, including our universal expedition checklist. Walkopedia encourages responsible travel.
Guidebooks/maps/background reading
Guidebooks
Good guide books (in English at least) seem to be in short supply. Lonely Planet Norway is indifferent on the Lofotens, perhaps as a result of trying to cover such a huge country.
Other Books
It is worth trying the following two publications as a starting point for further research into the area:
A. Dyer et al Walks and Scrambles in Norway.
Climbing in the Magic Islands: Climbing and Hiking Guide to the Lofotens - Ed Webster.
Maps
Good maps can be bought locally.
www.stanfords.co.uk sells a variety of Lofoten maps.
Best times to walk/weather
The best time to walk is between May and October, but if you wish to experience the midnight sun, you will have to walk in June or July.
Expect arctic island weather: while you may well get mild, sunny days in high summer, be prepared for cold and rain any time, and killer conditions in the long winter.
Winter temperatures in Lofoten are mild considering how far north they are, though for those accustomed to the British climate, it is still very cold, albeit beautiful.
Getting there/transport/permits
There are various airports in the area; Evenes (Harsted – Narvik), is the most significant.
You need a hire-car to make the best of the Lofoten. These can be rented at Evenes airport.
You can also get to the Lofoten by sea, for example on the famous Hurtigruten line (www.hurtigruten.co.uk), a Norwegian passenger and freight line with daily sailings along Norway's spectacular western and northern coast.
Possible problems, health, other warnings
These walks are inside the

Arctic Circle

. While the summer weather is generally good, bad weather is possible. Rain and severe cold are possible at any time of the year. Come prepared.
Some walks are poorly

marked, slippery and with potentially dangerous heights

. Some are not for those prone to vertigo.
Safety and problems: All walks have inherent risks and potential problems, and many of the walks featured on this website involve significant risks, dangers and problems. Problems of any sort can arise on any walk. These may include risks of injury from falling, cold, altitude sickness, other illnesses; risks of attack by or catching diseases from people or animals; getting lost; delays or problems arising from the weather or other natural causes or human failures or actions. This website does not purport to identify any (or all) actual or potential risks, dangers and problems that may relate to any particular walk, not least because they may change from time to time and we are not in a position to monitor relevant issues and developments. Any person who is considering undertaking this walk should do careful research and make their own assessment of the risks, dangers and possible problems involved.
Make sure you have adequate insurance.
Guided or independent?
Independent
Most people make their own way here and select their own walks depending on how the mood takes them and the weather.
Guided/supported
There are various tour operators who arrange walking holidays on the Lofoten. These include:
Accommodation
Accommodation can be found throughout the Lofoten. Most romantic are the rorbuer, converted from original fishermen's huts, but more generically any red painted cabin by the sea, which can be good value. There are also guest houses, hotels and campsites dotted around the area.
Other information and tips
Useful websites and information
There are many websites with information on the Lofoten, although we generally found these disappointing. Here are some that we think are useful or have been recommended to us.
There is an official guide to the Lofoten at

www.lofoten.info

(you can change to English language). See also

www.lofoten-info.no

Norwegian Trekking Association;

www.turistforeningen.no/english/

Also, suggested by Magdalena: "

I would like to suggest this web site:

www.hiking-lofoten.net

(written in English and French). It gives practical information for those you would like to visit the Lofoten ( bus and boat time tables, botanical info, weather forecast, gps tracks, interviews of local outdoor people, and much more to help people building their own trip).
Other things to do in the area
Other walks
Endless – www.lofoten.info and www.lofoten-info.no have useful sections including easier ones. Just buy a map, select and go. No walk here will be dull.
Other activities
· Explore the coastline and fjords (inparticular the famous Trollfjord) by boat
· Visit the infamous Maelstrom.
· Discover historic fishing villages such as World Heritage listed Nusfjord and Å.
· Fishing.
· Rock climbing – especially on Moskenstøy and up the famous Gieta (The Goat), a two horned peak above Svolvaer, with its infamous 1.5m jump between the horns.
COMMUNITY COMMENTS AND PHOTOS
Name: Roger
Posted on: 05/01/2011
The walksworldwide trip looks great BUT doesn't seem to attract interest. I've booked twice, but it didn't run in either year for lack of support

Name: Articlemming
Posted on: 31/03/2014
Hello and thank you for your fantastic site ;-) I would suggest you to add to your "Useful websites and information" the following link : www.hiking-lofoten.net. This site is made by local hikers and seems very complementary to your work although it is far more limited and specialized on the lofoten islands. Best regards, Dadou


Your comments on this walk, your experiences and suggestions, and your photos are very welcome. Where appropriate, you will be credited for your contribution.
Top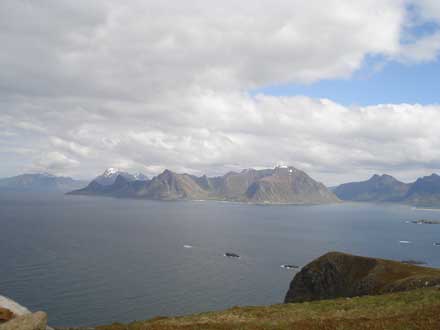 OTHER ACCOUNTS
share your experiences
Top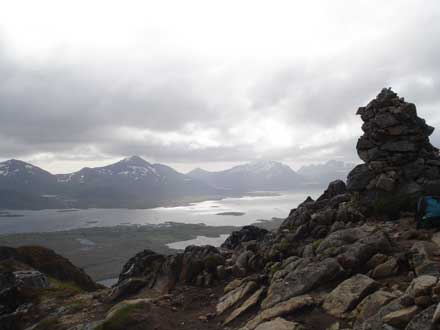 Top
Responsible travel matters, a lot. How you travel will make a real difference - for better or worse. PLEASE consider this when making plans. Read more