Yaku-shima
Key information: Yaku-shima
Hike through forests of huge, ancient cedars on this small but wild, rough and dramatic volcanic island off the south-western coast of Kyusku.

Exceptional landscape, and unusual and unsullied vegetation and wildlife.
Walkopedia rating
Walkopedia rating81
Beauty

31

Natural interest

17

Human interest

2

Charisma

32

Negative points

1

Total rating

81

Note: Neg: likely bad weather
Vital Statistics
Length:

Your choice

Maximum Altitude:

1,935m

Level of Difficulty:

Variable
Top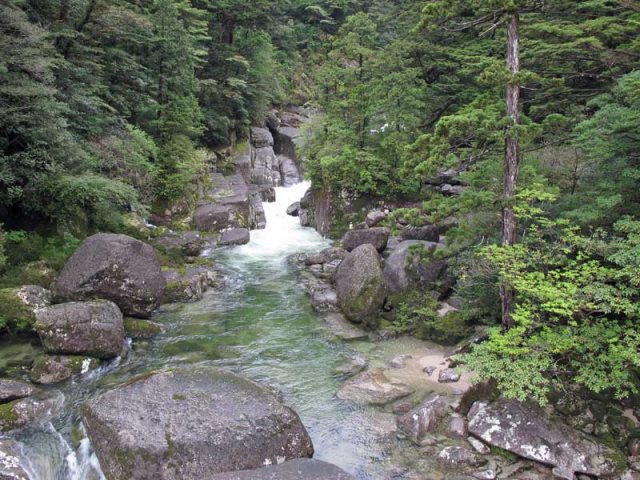 WALK SUMMARY
Yaku-shima is a thrillingly different place, a volcanic island 25km-ish across and some 60km off the south-west mainland. Yaku-shima is fascinating naturally, a recently-emerged mass of mainly volcanic and heavily eroded mountains with remarkable stone formations. It is home to ancient, sub-tropical rainforests including giant cedar trees and is one of Japan's few genuine wilderness areas. So spectacular and significant is its environment that it is a UNESCO World Heritage Site.
It has unusual and very varied plant and animal life, with some 1,900 species and sub-species of flora, including 94 endemic species. Special wildlife includes small deer and monkeys among 16 mammal species.
Yaku-shima has always been a backwater, a mountain fastness so remote it was paradise for Shugendō ascetic practitioners. Depredation for timber and farmland was stopped in the 1960s with the creation of a natural park covering much of the Island.
There are a lot of thrilling walking opportunities on Yaku-shima.
- Yaku-shima traverse: probably the best (and best-known) hike on Yaku-shima, of which there are variants. Hike hut to hut through forests of huge cedars, crossing all its highest peaks, including Miyanoura-dake and Jomon-sugi-dake (see below).
- Exceptional rugged landscape, vegetation and wildlife.
- Miyanoura-dake: At 1,935m the highest peak in Southern Japan. A fine day walk.
- Jomon-sugi-dake: An extremely youthful (7,200 years old) volcano. A stunning day walk.
- Mt. Mocchomudake: A demanding climb through fine forest leading to magnificent 360 degree views of the land and seascapes around this fine coastal peak.
Our friends and partners Walk Japan do a fascinating-sounding two days on Yaku-shima, starting/finishing at Kagushima on the mainland. Upon arrival, head for Shiratani Unsui-kyo, an impressive area of ancient cedar trees and fast flowing streams. Taking a little-used route through the area, wander amongst, around and in some cases underneath these venerable and giant forest inhabitants.The following day, weather permitting, you ascend Mt. Kuromi-dake, a peak of 1,831m (6,007ft) offering fabulous views over a canopy of granite monoliths and ancient, virgin forest, before making the return journey to Kagoshima.
Have a look at the dreaded TripAdvisor. You should get good, current views on this area.
Often demanding walking in remote hills with frequent bad weather. Come fully prepared. A section in Lonely Planet's Trekking in Japan on the Yaku-shima traverse and a chapter in the charming if now quite old Trekking in Japan: an Adventurer's Guide to the Mountain Trails by Paul Hunt.
Find relevant books by using our Amazon search function:
This page is at an early stage of development. Please help usby making suggestions and sending photos. Thank you!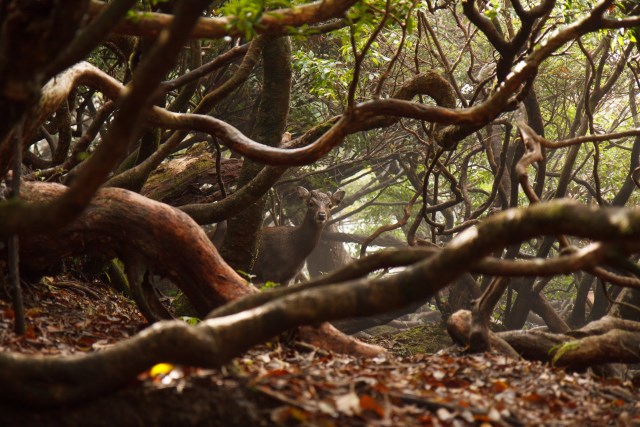 See also expedition planning, including our universal expedition checklist. Walkopedia encourages responsible travel.
Books and Maps
Books on this walk (support us: find these and many more using our Amazon search box)
Hiking in Japan – Lonely Planet. Covers the Yakushima traverse. Good.
Hiking in Japan – An Adventurer's Guide to the Mountain Trails – Paul Hunt – for a more literary take.
Other books (support us: find these and many more using our Amazon search box)
Japan – Lonely Planet.
Hyakumeizan! Japan's 100 Mountain Challengeby Craig McLachlan and Travis Taiaroa – account of their record-setting climb of Japan's 100 Famous Peaks.
A History of Japan- Conrad Totman. Maybe because it was so isolated, but Japanese history seems to be periods of stability interspersed with centuries of factional fighting between incomprehensible cliques, with little reference to events in the outside world – but producing sublime art and artefacts…
Wabi Sabi: The Japanese Art of Impermanence – Andrew Juniper. Fascinating subject and insights into Japanese aesthetics and their influence by Zen Buddhism, occasionally irritatingly written.
In Praise of Shadows – Janichiro Tanizaki, written in the 1920s. Very idiosyncratic but fascinating insights.
Bending Adversity – Japan and the Art of Survival– David Pilling, much admired overview of modern Japan
The Narrow Road to Oku – Matsuo Basko. The great haikuer's classic account of his travels in C17 Japan
Looking for the Lost (Journeys Through a Vanishing Japan) - by Alan Booth - "The best travel writer in Japan"(Ian Buruma)
The Roads to Sata (A 2000-Mile Walk Through Japan) – by Alan Booth - "The best travel writer in Japan"(Ian Buruma)
The Wages of Guilt– Ian Buruma
Find the books and maps listed above, and many more:
Maps
There is a 1:50,000 map which has the whole of Yaku-shima. It can be bought locally, fairly easily.
Stanfords: A good online specialist source of worldwide maps (it is also good for guidebooks). Also try Maps Worldwide and www.trektools.com.
Best times to walk/weather
Best times to walk
Spring to Autumn. June and July are rainy season. Winter is cool, with snow on the high ground. Yaku-shima is popular for domestic holiday makers, so it is best to avoid during Japanese holidays if you can.
Weather
Sub-tropical by the coast. Cooler the higher you go. It rains a lot! Come prepared for unpredictable weather at any time of the year. Summer Typhoons can happen!
For detailed weather information, have a look at: www.worldweather.org or www.bbc.co.uk/weather/world/country-guides.
Getting there/transport/permits/fees
Kagoshima on the mainland is the main access point. Fly or train in from Tokyo, Osaka or Nagoya. Ferry (3.45hrs) - or you can fly into the island. Bus on Yaku-shima.
Skyscanner is an excellent (relatively new) site for finding the flights you need; otherwise try Lastminute.com, or look at what's available on Tripadvisor.
Those on organised expeditions will be transported from/to arranged start/departure points.
Rail travel in Japan is excellent but not cheap – although it is reasonable with a Japan Rail pass, which must be bought overseas. Booking seats is also advisable.
The bus network on Yaku-shima is good and reliable value.
Route(s)
See Walk Summary above.
Possible problems, health, other warnings
· Unpredictable weather: rain, cold and wind are possible at any time of year and the weather can change rapidly. Some of the steep rock can get very slippery when wet. Come prepared.]
· Heat, strong sun and humidity in summer. Carry enough water and protect yourself.
· Heights: can be dangerous; not for those who have difficulties with heights.
See also the websites in our useful links page for more detailed, and up-to-date, information.
Safety and problems: All walks have inherent risks and problems can arise on any walk. Many of the walks featured on this website involve significant risks and possible problems. This website cannot, and does not purport to, identify all actual or potential risks, dangers and problems that may relate to a walk or a country. Any person who is considering undertaking this walk should do careful research and make their own assessment of the risks, dangers and possible problems involved. They should also go to "Important information" for further important information.
Make sure you have appropriate insurance.
Guided or independent?
Independent
You can do this walk independently.
Guided/supported
Some people (foreigners) form or join organised/supported expeditions. A knowledgeable guide would add a heap of interest. Choosing a suitable guide or company is of course vital.
Expedition organizers include:
PLEASE HELP Walkopediaby recommending any reputable tour organizers that you know of – local or otherwise.
Accommodation
The guidebooks have a selection of possible accommodation. Ryokans and other accommodation.
There are various accommodation websites.
See what the commentary on the dreaded Tripadvisor is on possible places to stay – although do take their reviews with a pinch of salt, as they can be "interested".
Other information and tips
Make sure you have lots of cash when away from the cities – machines can be hard to find.
Useful websites and information
There are many websites with relevant information. Here are some that we think are useful or have been recommended to us.
Other things to do in the area
Other walks
Japan, being largely mountainous, has a huge variety of great walks. There is likely to be a good walk within range wherever you may be.
Other activities
Endless cultural fascination, and a lot of other fun and interest.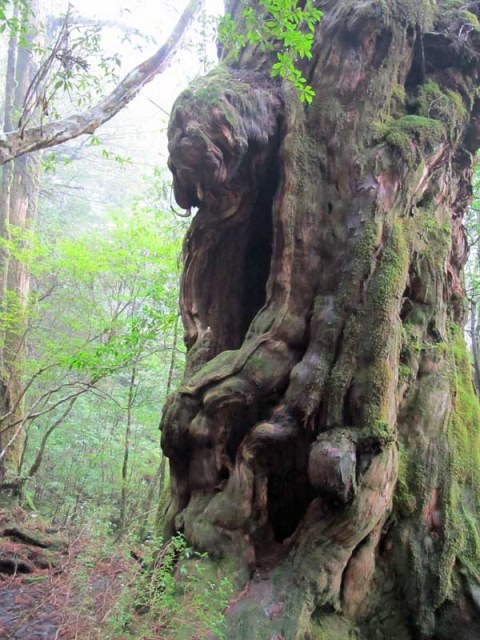 OTHER ACCOUNTS
share your experiences
Top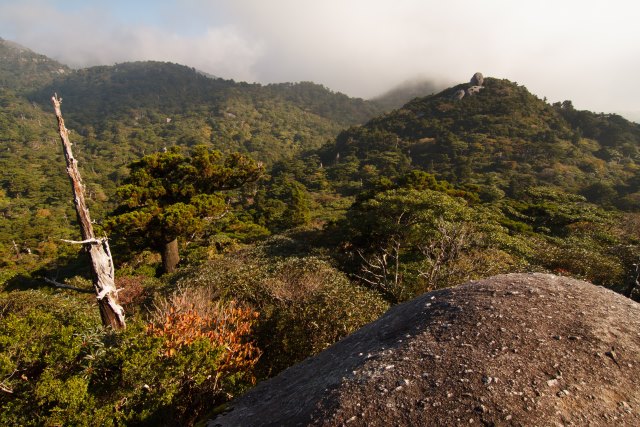 Top
Responsible travel matters, a lot. How you travel will make a real difference - for better or worse. PLEASE consider this when making plans. Read more