Annapurna Region
Key information: Annapurna Region
Some of the best trekking in the world is concentrated around the vast Anapurna massif in the high Himalayas.
See the Nepalese way of life – albeit inevitably affected by a high traffic of foreigners.
Trek round the massif in around 20 days on the marvellous Annapurna Circuit, of which the easier and shorter Muktinath/Jomsom Trek is the final third or so.
Or hike into the heart of the mountains for some of the world's best views at the Annapurna Sanctuary (10 days or so).
Or walk the gentler Annapurna Panorama trek in the (relative) foothills but with amazing views, in 6 days or so.
Or walk the easier Royal Trek, which follows a lower ridge with strong local culture and Annapurna views galore, usually in the mornings.
To the north is Mustang, ethnic and physical Tibet: amazing desert – gorge scenery and unspoilt villages in this remote, remarkable region.
Their fame has resulted in some of these walks being popular – even crowded in peak season, to the detriment of the environment and the integrity of the local cultures.
You can "tea house trek" most these routes, greatly reducing the cost and the weight-carrying involved in these routes.
These are tough walks in high mountains, on which you will have to be self-sufficient and where altitude can cause real problems. Come prepared.
Cicerone's "Annapurna: A Trekker's Guide" is the best book.
ANYONE GOT ANY GOOD PHOTOS? WE WOULD BE DELIGHTED TO POST THEM!
Walkopedia rating
(Top 100)
Walkopedia rating93
Beauty

36

Natural interest

17

Human interest

10

Charisma

37

Negative points

7

Total rating

93

Note: Negs: altitude; popularity
Vital Statistics
Length:

Variable

Maximum Altitude:

Up to 5,416m

Level of Difficulty:

Variable
Top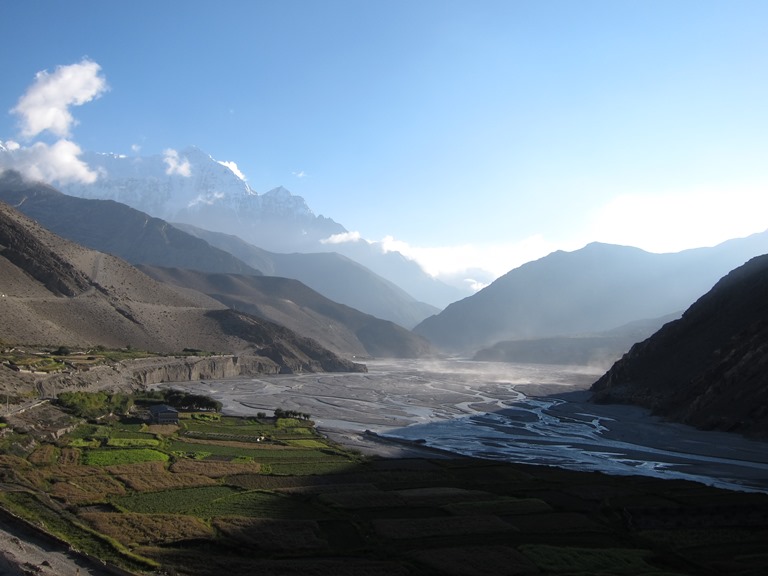 WALK SUMMARY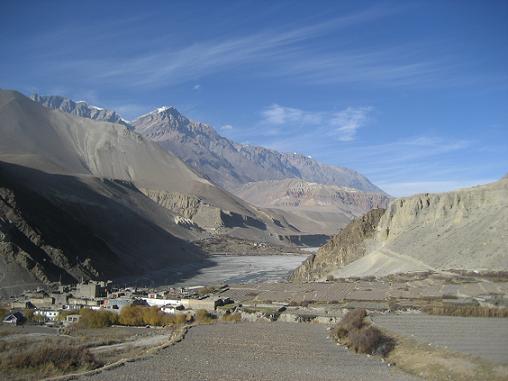 See also expedition planning, including our universal expedition checklist. Walkopedia encourages responsible travel.
Books and Maps
Books on this walk (support us: find these and many more using our Amazon search box)
Annapurna:A Trekker's Guide – Cicerone. Covers various options in this area, including The Circuit and The Sanctuary.
Nepal Trekking and the Great Himalaya Trail: A Route and Planning Guide – Robin Boustead/Trailblazer
Trekking in the Nepal Himalaya – Lonely Planet
Other books (support us: find these and many more using our Amazon search box)
Mustang – Lives and Landscapes of the Lost Tibetan Kingdom – Taylor Wiedman and Nika Wenger – get this.
Nepal – Lonely Planet
The Rough Guide to Nepal – Rough Guides
Nepal – Insight Guides
Nepal – Culture Smart! The Essential Guide to Customs & Culture – Tessa Fuller
Berlitz Travel Guide to Nepal – Berlitz Travel Guides
Nepali – Lonely Planet Phrasebook
Maps
Not very good maps can be bought locally, fairly easily
Stanfords: A good online specialist source of worldwide maps (it is also good for guidebooks). Also try Maps Worldwide and www.trektools.com.
Best times to walk/weather
Best times to walk
March to May, late September to November/December. June to September is monsoon months. Except in Mustang and other places north of the Annapurnas, where the light rain they receive mean lovely flowers during this season, although less good views.
Spring: you won't get the finest views, but these are the best times for flowers.May is very hot.
Autumn (October – November/December): cold nights, superb views.
Weather
Generally fine in season, but come prepared for unpredictable mountain weather and cold nights.
For detailed weather information, have a look at: www.worldweather.org or www.bbc.co.uk/weather/world/country-guides.
Getting there/transport/permits/fees
Most people fly in to Pokhara.
Skyscanner is an excellent (relatively new) site for finding the flights you need; otherwise try Lastminute.com, or look at what's available on Tripadvisor.
Those on organised expeditions will be transported from/to arranged start/departure points.
Permit requirements change, but as of writing, a permit is needed to walk in this area – whether the Nepali or Tibetan side. Expedition organisers should arrange these.
Route(s)
See Walk Summary above.
Possible problems, health, other warnings
·Altitude: can affect some; potentially fatal. Acclimatize appropriately, come prepared to cope, be ready to evacuate people in extreme cases.
·Extreme mountain weather: snow, rain, severe cold and wind are possible at any time of year and the weather can change rapidly. Come prepared.
·Heat and strong sun. Carry enough water and protect yourself.
·Heights: can be dangerous; not for those who have difficulties with heights.
·Harmful animals of all shapes and sizes, including snakes.
·This is remote country: food and other supplies will not be readily available and help will be hard to get if things go wrong.
·Health risks: this is a relatively undeveloped country, and you will not get prompt medical help of a standard available elsewhere if you become ill. Come prepared, including getting all appropriate inoculations/medications.
·Beware of dogs: throw stones if they threaten, keep well clear if possibly rabid.
·Be sensitive about photographing people: don't without permission. Ask permission if in doubt about whether they would mind.
See also the websites in our useful links page for more detailed, and up-to-date, information.
Safety and problems: All walks have inherent risks and problems can arise on any walk. Many of the walks featured on this website involve significant risks and possible problems. This website cannot, and does not purport to, identify all actual or potential risks, dangers and problems that may relate to a walk or a country. Any person who is considering undertaking this walk should do careful research and make their own assessment of the risks, dangers and possible problems involved. They should also go to "Important information" for further important information.
Make sure you have appropriate insurance.
Guided or independent?
Independent
You can do many of these walks independently, but, unless you are teahouse trekking, you will need to be experienced and self-sufficient: come fully prepared.
Teahouse trekking, ie staying in local hostelries so you can travel light, is very popular and can be done on some routes independently or with a guide.
Guided/supported
Most people either hire a guide or form or join organised/supported expeditions. Given the remoteness of the country and difficulty of getting supplies, many will prefer to do it this way, and travelling here with a knowledgeable guide has real advantages. Organisers can also arrange for permits to be obtained. Choosing a suitable guide or company if of course vital, nd the guidebooks contain good advice in this regard.
If hiring a guide locally, meet him/her and get comfortable before committing. Make sure all requirements are understood and agreed, including remuneration!
Expedition organisers include:
• Explore! - www.explore.co.uk - reputable and experienced organisers.
• Classic Journeys – www.classicjourneys.co.uk
• Wilderness Travel – www.wildernesstravel.com
• Sherpa Expeditions – www.sherpa-walking-holidays.co.uk
• Exodus – www.exodus.co.uk do expeditions on both the Nepali and the Tibetan side.
• High Places – www.highplaces.co.uk
• Walks Worldwide - www.walksworldwide.com
• Traverseline – www.traverseline.co.uk – do an Everest and Gokyo trek. We have used them elsewhere and been very happy.
• Happy Feet Travels Ltd. – www.happyfeetmountaineers.com - the brilliant Dendi Sherpa is the main man. Good value, too.
• Himalayan Glacier Trekking Ltd. – www.himalayanglacier.com
• Himalayan Paradise Trek and Expedition – www.himalayasherpatrek.com
• The Mountain Company – www.themountaincompany.co.uk do a "full monty" of both north base camp and the Tseram area.
Have a look at Infohub to see if they have any good deals for this expedition.
PLEASE HELP Walkopediaby recommending any reputable tour organizers that you know of – local or otherwise
Accommodation
Camping is the only realistic option on most routes (teahouses are possible on some).
Other information and tips
Tipping is expected, so come mentally prepared and with enough cash. Check guidebooks for current rates. Do err on the side of generosity if unsure – it will make a big difference to them.
Do be careful, considerate and respectful in all dealings with the locals.
Useful websites and information
There are many websites with relevant information. Here are some that we think are useful or have been recommended to us.
·https://en.wikipedia.org/wiki/Annapurna_Circuit
·Try www.flickr.com for pictures of this walk.
·http://www.walksworldwide.com/holidaySearch.html?keywords=annapurna&gclid=CjwKEAiAlb6lBRCBw4jC-bb3uykSJAB55Ti9-UySCdIL0p8feZ1s2QyUqH4shBM9OT9gZVTlhSMUXxoCzDHw_wcB
·http://welcomenepal.com/promotional/tourist-destination/annapurna-region/
·http://www.roughguides.com/destinations/asia/nepal/trekking/the-annapurna-region/
Other things to do in the area
Other walks
Nepal and Tibet have a huge variety of great walks.
Other activities
Shopping, if you must
We are not a shopping website. But, there are beautiful and interesting things to be found, and anything bought from local people must be of some help to this desperately poor area. So, wallets out! (And don't try to extract the very last cent when bargaining….)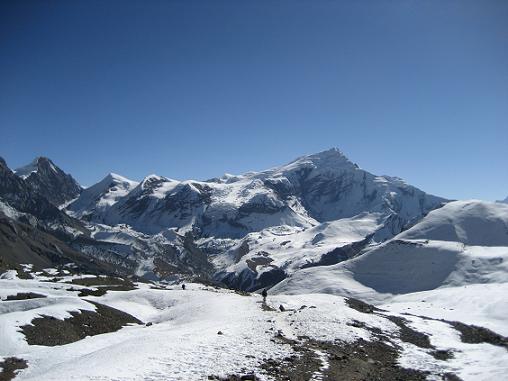 OTHER ACCOUNTS
share your experiences
Top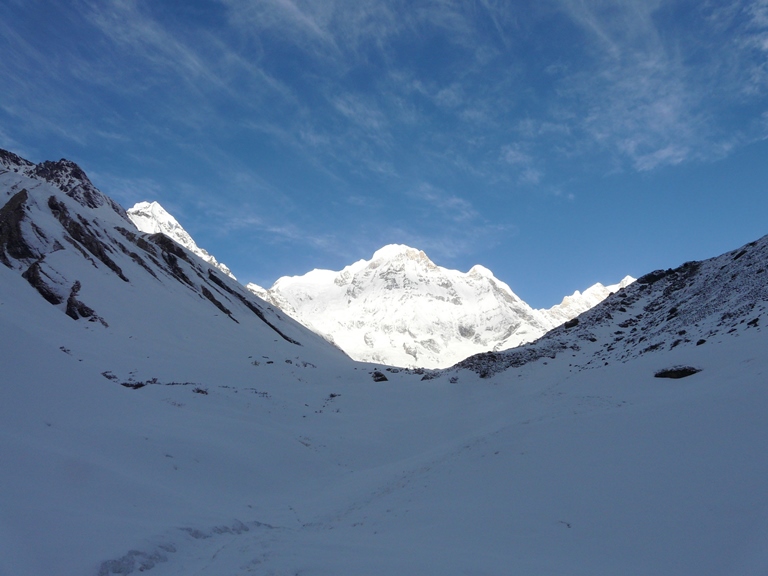 Top
Responsible travel matters, a lot. How you travel will make a real difference - for better or worse. PLEASE consider this when making plans. Read more