Durmitor National Park
Key information: Durmitor National Park
Durmitor NP's classic glaciated limestone landscape includes 48 peaks over 2000m.

A highlight is the Tara River Canyon, a wild, winding and exceptionally deep canyon.

Both Mediterranean and alpine flora and fauna, with a correspondingly big selection of plant and animal life.

While many visitors come to Durmitor to climb its peaks, there are easier options too.There are over 200km of trails, mostly well marked.

This can be tough walking in high, remote mountains, where the weather is famously changeable and where you may have to be self-sufficient. Come prepared.

ANYONE GOT ANY GOOD PHOTOS? WE WOULD BE DELIGHTED TO POST THEM!
Walkopedia rating
Walkopedia rating85
Beauty

32

Natural interest

16

Human interest

5

Charisma

32

Negative points

0

Total rating

85
Vital Statistics
Length:

Your Choice

Maximum Altitude:

2,523m

Level of Difficulty:

Variable
Top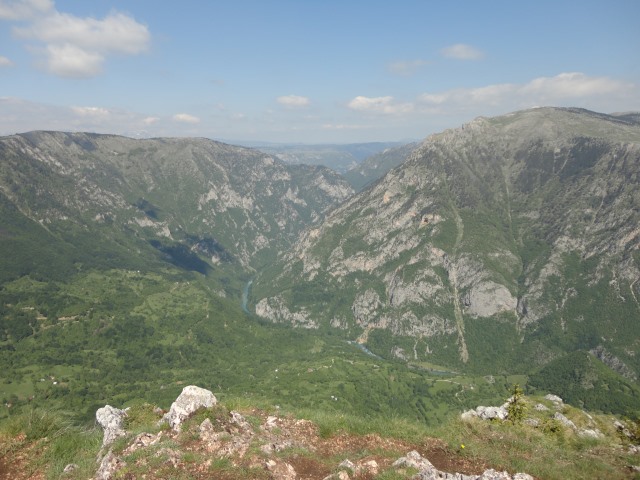 WALK SUMMARY
Durmitor in northern Montenegro is the country's largest national park, covers an area of 39,000 ha. The glaciated limestone landscape includes the Durmitor mountain massif, with 48 peaks over 2000m.
The scenery is classic weathered/eroded limestone: enjoy cliffs, towers and spires, underground rivers, karstic features such as sinkholes and of course the deep, dramatic canyons. A highlight is the Tara River Canyon, a wild, winding and exceptionally deep canyon which is around 80km long and reaches depths estimated up to 1,300m. It is considered the deepest river canyon in Europe, although Walkopedia knows of at least two other claimants. Various walks can be made to high viewpoints; some of the best must be around Curovac. Glaciation has left 16 glacial lakes and two great canyons in addition to the Tara, the Susica and Draga.
The area sees both Mediterranean and alpine flora and fauna, with a correspondingly big selection of plant and animal life, particularly in the Tara River Canyon. There are deciduous and coniferous forests as well as the subalpine and alpine zones of the uplands. Animal life includes brown bears, wild boar, wolves, chamois, wild cats, eagles, grouse and partridge.
While many visitors come to Durmitor to climb its peaks, there are easier options with spectacular views of the massif or the Tara River Canyon. There are over 200km of trails, mostly well marked.
Great hikes include:
- Bobotov Kuk, at 2,523m the highest mountain in the park. The best views of the Durmitor. 8 hours or so return.
- Lokvice (1,800m), a straightforward hike into the massif; there is a basic shelter here and you can camp. You can then return the way you came, or head on further into the mountains for a multi-dayer, carrying on to Bobotov Kuk or the narrow, exposed Meded Ridge to Terzin Bogaz at 2,303m (5.5 hours or so return).
- Ledena Pecina, a fine cave which is either accessible from Lokvice or as a day walk from the Black Lake
- A 3 day circuit of the area via Lokvice to Surutka and on to Skrčko Jezero, finally decending to Jablan Jerezo.
- Crno Jezero, the famous Black Lake, which is 40 mins from Zabljak. Extend this by walking on for another 1.5 hours to Jablan Jerezo Lake under the vast cliffs of Crvena Greda (2,175m) - which you can climb for a proper day's walk.
- Planinica (2,330m), a long day hike. Lovely forests lead to the gorgeous glaciated Alisnica Valley. An easyish ascent gets you to its plateau-summit, with its superb views of both the high peaks and the Tara River Canyon and nigh of 600m chasm down to the Skričko Lakes. 4 hour/7 hour round trip to Crno Jerezo - or you can continue west to the hostel in the Skričko Valley (pre-booking needed).
- Jezerska Povrs (Plateau of Lakes) to the east, and Sinjajevina mountain further east again.
- Others of the 16 gorgeous glacial lakes.
- Savin Kuk - a chairlift gets to near the top, so this is the easy way to bag the views.
Most visitors use Zabljak, the not specially thrilling regional administrative centre, as a base. There are hotels, pensions and hostels, shops and restaurants. At 1,450m it is already quite high, which means a lot of the peaks and superb high country are accessible as day walks.
Best times to walk are June to September. In June and July, the meadows are a paradise for botanists, with swathes of wildflowers including orchids.
Have a look at the dreaded TripAdvisor . You should get good, current views on this walk/area.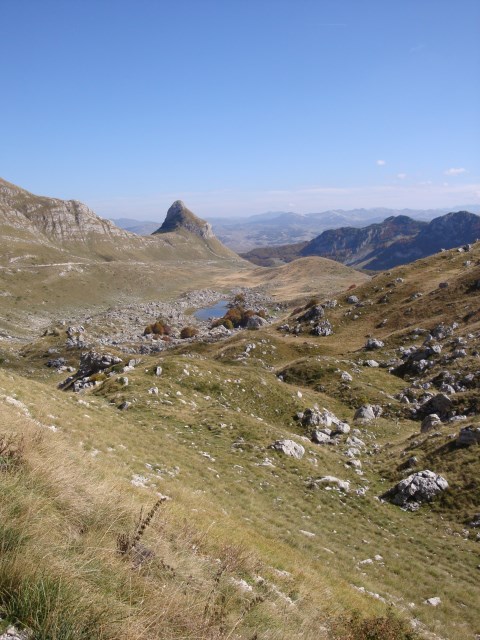 See also expedition planning, including our universal expedition checklist. Walkopedia encourages responsible travel.
Books and Maps
Find these and other books on Amazon, using our handy search box:
Books on this walk
Durmitor and The Tara Canyon – Branislav Cerovic – has numerous routes described in detail, but said to be currently out of print – but available for the NP office. Associated map.
The Mountains of Montenegro – Rudolf Abraham – small handbook which mentions several Durmitor hikes.
Discover the Mountains of Montenegro - Cicerone; excellent information on the route as usual.
Other books
Montenegro – Lonely Planet
Montenegro – Bradt Travel Guides
Maps
There are maps available, which can be bought at the NP info allice.
Stanfords: A good online specialist source of worldwide maps (it is also good for guidebooks). Also try Maps Worldwide and www.trektools.com.
Best times to walk/weather
Best times to walk
Best times to walk are June to September. In June and July, the meadows are a paradise for botanists, with swathes of wildflowers including orchids.
Weather
Generally fine in season, but come prepared for unpredictable mountain weather and cold nights.
For detailed weather information, have a look at: www.worldweather.org or www.bbc.co.uk/weather/world/country-guides.
Getting there/transport/permits/fees
Flights to Podgorica or Tivat. From the UK, Montenegro Airlines or Ryan Air. Or flights to Belgrade then on to Zabljak via Užice may be quicker.
Skyscanner is an excellent (relatively new) site for finding the flights you need; otherwise try Lastminute.com, or look at what's available on Tripadvisor.
It is a long but very beautiful journey by car or bus to Zabljak. Local buses are available, reasonably plentifully. Car hire is reasonably easy.
Those on organised expeditions are likely to be transported from/to arranged start/departure points.
Permits don't appear to be needed to do these walks.
Route(s)
See Walk Summary above.
Possible problems, health, other warnings
· Mountain weather: rain, severe cold (even snow) and wind are possible at any time of year and the weather can change rapidly. Come prepared.
· Heat and strong sun. Carry enough water and protect yourself.
· Heights: can be dangerous; not for those who have difficulties with heights.
· Harmful animals of all shapes and sizes, including snakes, bears and boar.
· This can be remote country: food and other supplies will not be readily available and help may be hard to get if things go wrong.
See also the websites in our useful links page for more detailed, and up-to-date, information.
Safety and problems: All walks have inherent risks and problems can arise on any walk. Many of the walks featured on this website involve significant risks and possible problems. This website cannot, and does not purport to, identify all actual or potential risks, dangers and problems that may relate to a walk or a country. Any person who is considering undertaking this walk should do careful research and make their own assessment of the risks, dangers and possible problems involved. They should also go to "Important information" for further important information.
Make sure you have appropriate insurance.
Guided or independent?
Independent
You can walk here independently, but you will need to be self-sufficient, so come fully prepared.
Guided/supported
Some people form or join organised/supported expeditions when doing multi-day walks. Given the remoteness of the country and difficulty of getting supplies, many will prefer to do it this way, and travelling here with a knowledgeable guide has real advantages. Choosing a suitable guide or company is of course vital, and the guidebooks contain good advice in this regard.
If hiring a guide locally, meet him/her and get comfortable before committing. Make sure all requirements are understood and agreed – including how you will eat and the importance of avoiding illness, as well as overnighting and, of course, remuneration!
Expedition organisers include:
Have a look at Infohub to see if they have any good deals for this expedition.
Check Tripadvisor for some reviews of this walk and walk organisers which may prove helpful.
PLEASE HELP Walkopedia by recommending any reputable tour organizers that you know of – local or otherwise.
Accommodation
The main base is Zabljak. The guidebooks have a selection of possible accommodation.
There are various accommodation websites. See Useful Websites below.
See what the commentary on Tripadvisor is on possible places to stay – although do take their reviews with a pinch of salt, as they can be "interested".
A good range of hotels can be found on the unimaginatively named but effective Hotels.com.
If you're on a budget, Hostelbookers usually has a good selection of cheaper-end accommodation; or perhaps try for some bargain luxury on Lastminute.com.
Other information and tips
Useful websites and information
There are many websites with relevant information. Here are some that we think are useful or have been recommended to us.
· see if http://travel.nationalgeographic.com/travel/ has any relevant pages
· www.wikipedia.org As usual, a good starting place.
· Try www.flickr.com for pictures of this walk.
· Have a look at Tripadvisor – there are tens of millions of reviews, so you may get good, current views on these walks and area.
Other things to do in the area
Other walks
Montenegro has a huge variety of great walks. There is likely to be a good walk within range wherever you may be. The Cicerone book has a multitude of ideas.
Other activities
Rafting the Tara River for superb views of this utterly remote gorge.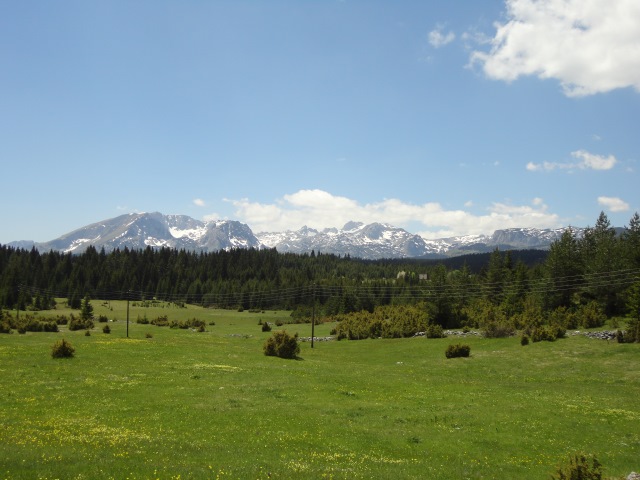 OTHER ACCOUNTS
share your experiences
Top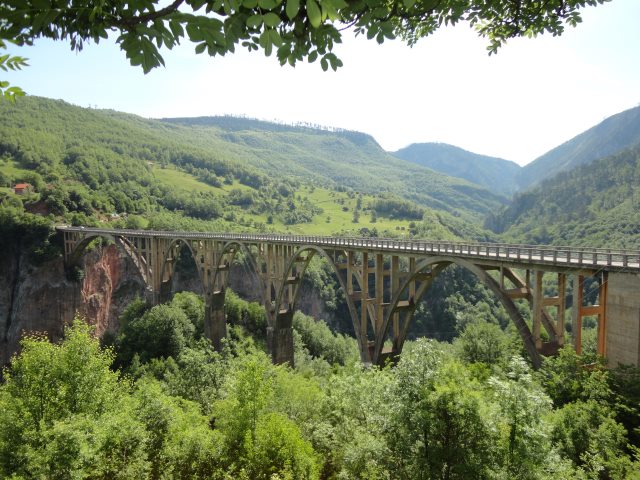 Top
Responsible travel matters, a lot. How you travel will make a real difference - for better or worse. PLEASE consider this when making plans. Read more