Fuji-san (Mount Fuji) Area
Key information: Fuji-san (Mount Fuji) Area
? Mount Fuji is the perfect volcano and the symbol of Japan; calling it 'iconic' is not the usual lazy cliché. The views from the top are amazing (at dawn - it is likely to be cloudy thereafter).

? While Mt. Fuji is a great walk, it is overrated by some: a long pre-dawn trudge (not alone - the trails can be thronged) up an endless clinker slope takes the edge off the experience. Be prepared for the cold and the effects of altitude.

? The superb day walks in the area with Fuji views are in many ways preferable - more to see and enjoy en route, better views, even - and few of the miseries.

This page is at an early stage of development. Please help us by making suggestions and sending photos! Thank you!
Walkopedia rating
Walkopedia rating87
Beauty

32

Natural interest

16

Human interest

10

Charisma

32

Negative points

3

Total rating

87

Note: Negs: altitude; dreary slog up clinker slope; popularity; crowding.
Vital Statistics
Length:

Variable

Maximum Altitude:

3,776m

Level of Difficulty:

Variable
Top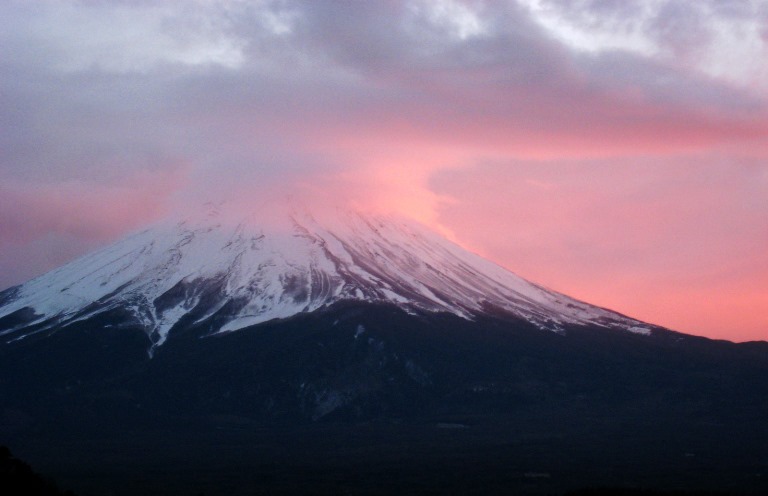 WALK SUMMARY
Mount Fuji is one of those walks that are famous for being famous.
This 3,776m (12,388ft) stratovolcano, the highest mountain in Japan, rises in lonely majesty above the coastal plains to the west of Tokyo. On a good day, views of it a gasp-inducing - but beware, it is often cloud-girt, and you will need to come in winter-time (and about) to have the best chance of views, and even they are likely to be morning only. Its huge and perfectly symmetrical cone, snow-capped from late autumn to spring, is the symbol of Japan around the world, and has been the subject of painting and poetry for hundreds of years. Fuji has been sacred for millennia, and was forbidden to women for much of history.
Fuji has had three (or four) main periods of growth, pilling cone ever higher on cone. Its last real eruption was in 1707. It sits on the junction of the Eurasian, Okhotsk and Philippine tectonic plates.
Japanese saying: "It is wise to climb Fuji once, but only a fool does it twice." In many ways a walk to a nearby viewpoint is preferable to a climb of Fuji itself: the crowds, the litter and the night-time exhausting, unfun, altitudinous slog up its dreary clinker slopes to get to the top for dawn mean that the main purpose is to have done it, unless you have some spiritual reason to be there. Someone likened the climb to walking up a giant ashtray. Let's be fair, the top has drama and huge views and spiritual resonance for some, but it is almost too high above its surroundings. Nevertheless, the challenge draws tens of thousands of people each year.
There are numerous walk to fine viewpoints in Fuji's neighbourhood, which are preferable to an ascent in many ways.
The Izu-Hanto Peninsula to the south has famous views, as does the Hakone area, to the south-east (the nearby Myōjin-ga-teke ridge walk is particularly worth doing).

To the north, the (popular) Mitsu-tōge-yama climb gains truly spectacular views.
Climbing Mt Fuji
The official season to climb Fuji is in July and August, so these times are particularly crowded (200,000+ people a year climb the mountain), and late June and early September are accordingly better times to be on the trails - although there will be fewer huts etc open. Most people climb Fuji at night, to arrive at the peak to enjoy the dawn views. There are huts on the mountain where you can eat and indeed sleep, so an evening ascent and then a kip higher up is an option. Although beware - some of the roads up to the start-points can be closed in the evenings and require a shuttle bus.
See on Mt Fuji Ascent page for details of climbing Mt Fuji, in particular about routes.
At the top itself, there is a proper and suitably dramatic crater with eight "peaks" around it. Walk it anticlockwise.
The altitude will get to you; expect a headache at least, and some people carry aerosol oxygen.
Walkopedia climbed Fuji during the 2002 World Cup - and got caught in the edge of a typhoon: gale-force, horizontal rain. We had to abandon our climb near the top as our companion was showing signs of hypothermia.
You can get to all the roadheads by different methods, including a few direct buses from Shinjuku bus terminal to Kawaguchi-ho. To/from Gotemba is a combination of train and bus from Tokyo.
Some of the tracks are divided into ascending and descending stretches.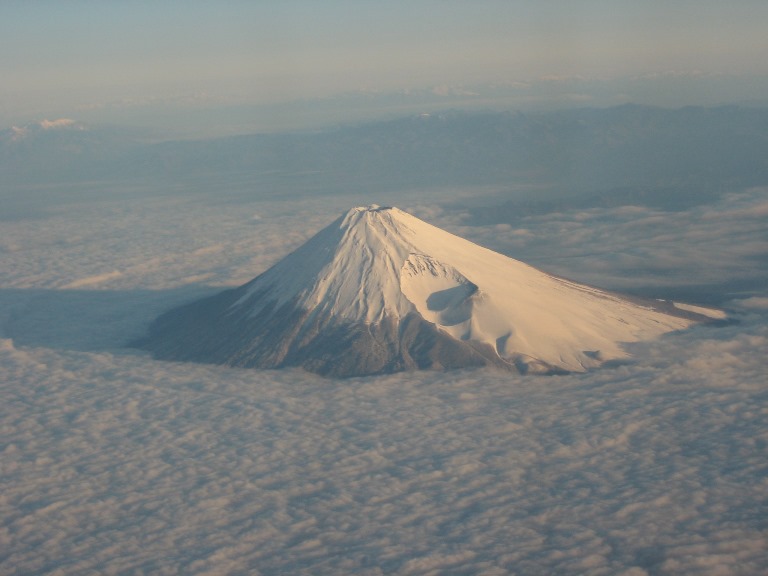 See also expedition planning, including our universal expedition checklist. Walkopedia encourages responsible travel.
Books and Maps
Find these and other books on Amazon, using our handy search box:
Books on this walk
A free brochure "Climbing Mount Fuji" from major tourist info centers has current information.
Hiking in Japan – Lonely Planet – good practicalities.
Hiking in Japan – An Adventurer's Guide to the Mountain Trails – Paul Hunt – for a more literary take.
Other books
Hyakumeizan! Japan's 100 Mountain Challenge by Craig McLachlan and Travis Taiaroa – account of their record-setting climb of Japan's 100 Famous Peaks.

A History of Japan - Conrad Totman. Maybe because it was so isolated, but Japanese history seems to be periods of stability interspersed with centuries of factional fighting between incomprehensible cliques, with little reference to events in the outside world – but producing sublime art and artefacts…

Wabi Sabi: The Japanese Art of Impermanence – Andrew Juniper. Fascinating subject and insights into Japanese aesthetics and their influence by Zen Buddhism, occasionally irritatingly written.

In Praise of Shadows – Janichiro Tanizaki, written in the 1920s. Very idiosyncratic but fascinating insights.

Bending Adversity – Japan and the Art of Survival – David Pilling, much admired overview of modern Japan

The Narrow Road to Oku – Matsuo Basko. The great haikuer's classic account of his travels in C17 Japan

Looking for the Lost (Journeys Through a Vanishing Japan) - by Alan Booth - "The best travel writer in Japan"(Ian Buruma)

The Roads to Sata (A 2000-Mile Walk Through Japan) – by Alan Booth -"The best travel writer in Japan"(Ian Buruma)

The Wages of Guilt – Ian Buruma
Find the books and maps listed above, and many more:
Maps
National Parks sell good walking maps (in Japanese) to their parks.
There are a lot of good maps available for most walking areas. But most (all) are in Japanese, which doesn't render them useless to the foreigner, but a bit harder to use.
Maps of Mt. Fuji itself can be bought locally, fairly easily, but aren't strictly necessary as the trails are so well marked.
Stanfords: A good online specialist source of worldwide maps (it is also good for guidebooks). Also try Maps Worldwide and www.trektools.com.
Best times to walk/weather
Best times to walk
Spring and early Summer for flowers, including the famous cherry blossom in mid Spring. June and July are rainy season. Summer is hot and humid. Bright mid-autumnal colours.
The official season to climb Fuji is in July and August, so these times are particularly crowded (200,000+ people a year climb the mountain), and late June and early September are accordingly better times to be on the trek – although there will be fewer huts etc open.
Weather
As above. (And come prepared for unpredictable mountain weather at any time of the year.)
For detailed weather information, have a look at: www.worldweather.org or www.bbc.co.uk/weather/world/country-guides.
Getting there/transport/permits/fees
Fly in to Tokyo or Osaka. Train and bus.
Skyscanner is an excellent (relatively new) site for finding the flights you need; otherwise try Lastminute.com, or look at what's available on Tripadvisor.
Those on organised expeditions will be transported from/to arranged start/departure points.
Rail travel is excellent but not cheap – although it is reasonable with a Japan Rail pass, which must be bought overseas. Booking seats is also advisable.
The bus network is good, reliable and reasonable value – although it can be hard to get about if you don't have some Japanese.
Route(s)
See Walk Summary above.
[Route Map]
[paste code here: see separate note / Mapping]
[By [ … ], licensed under [Creative Commons Attribution-Share Alike 3.0 Unported / GNU Free Documentation] license.]
Interactive Map
[paste code here: see separate note / Mapping]
Possible problems, health, other warnings
·Mountain weather: rain, cold and wind are possible at any time of year and the weather can change rapidly. Some of the steep rock can get very slippery when wet. Come prepared.
·Heat, strong sun and humidity in summer. Carry enough water and protect yourself.
·Heights: can be dangerous; not for those who have difficulties with heights.
·Altitude: will affect you on Fuji-san. Come prepared to cope.
See also the websites in our useful links page for more detailed, and up-to-date, information.
Safety and problems: All walks have inherent risks and problems can arise on any walk. Many of the walks featured on this website involve significant risks and possible problems. This website cannot, and does not purport to, identify all actual or potential risks, dangers and problems that may relate to a walk or a country. Any person who is considering undertaking this walk should do careful research and make their own assessment of the risks, dangers and possible problems involved. They should also go to "Important information" for further important information.
Make sure you have appropriate insurance.
Guided or independent?
Independent
You can do this walk independently.
Guided/supported
Some people (foreigners) form or join organised/supported expeditions. A knowledgeable guide would add a heap of interest. Choosing a suitable guide or company is of course vital.
Expedition organizers include:
Walk Japan – real experts
Wilderness Travel – do many expeditions in Japan
World Expeditions – Good guide company
Fiji Mountain Guides – name speaks for itself
FYG – good website/ guides
Check TripAdvisor for some reviews of this walk and walk organisers which may prove helpful.
PLEASE HELP Walkopediaby recommending any reputable tour organizers that you know of – local or otherwise.
Accommodation
The guidebooks have a selection of possible accommodation.
There are various accommodation websites.
See what the commentary on the dreaded Tripadvisor is on possible places to stay – although do take their reviews with a pinch of salt, as they can be "interested".
A good range of hotels can be found on the unimaginatively named but effective Hotels.com.
If you're on a budget, Hostelbookersusually has a good selection of cheaper-end accommodation; or perhaps try for some bargain luxury on Lastminute.com.
Other information and tips
Make sure you have lots of cash when away from the cities – machines can be hard to find.
Useful websites and information
There are many websites with relevant information. Here are some that we think are useful or have been recommended to us.
·www.Japan-guide.com is excellent for general travel information.
·www.wikipedia.org. Has good starter information and photos.
·Try www.flickr.com for pictures of this walk.
·Have a look at the dreaded TripAdvisor – you should get current views on this walk and area.
·http://www.stenseth.org/japan/mtfuji.html has a helpful account.
·Fiji Mountain Guides – name speaks for itself
·FYG – good website/ guides
Other things to do in the area
Other walks
Japan, being largely mountainous, has a huge variety of great walks. There is likely to be a good walk within range wherever you may be.
Other activities
Endless cultural fascination, and a lot of other fun and interest.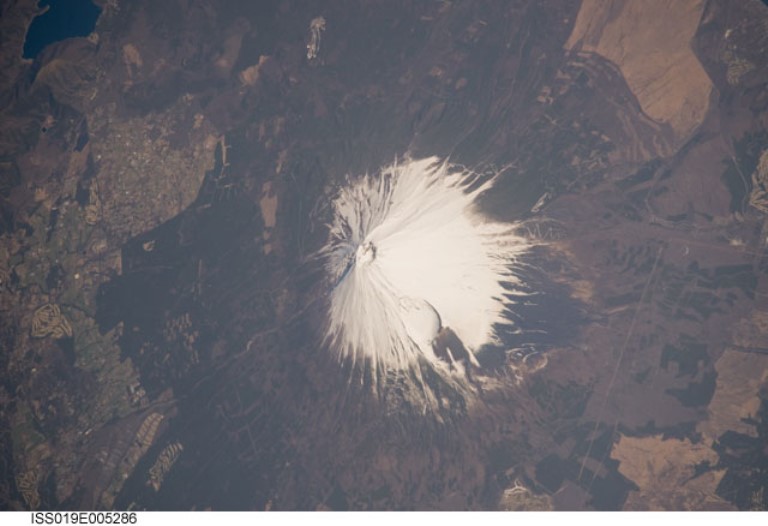 OTHER ACCOUNTS
share your experiences
Top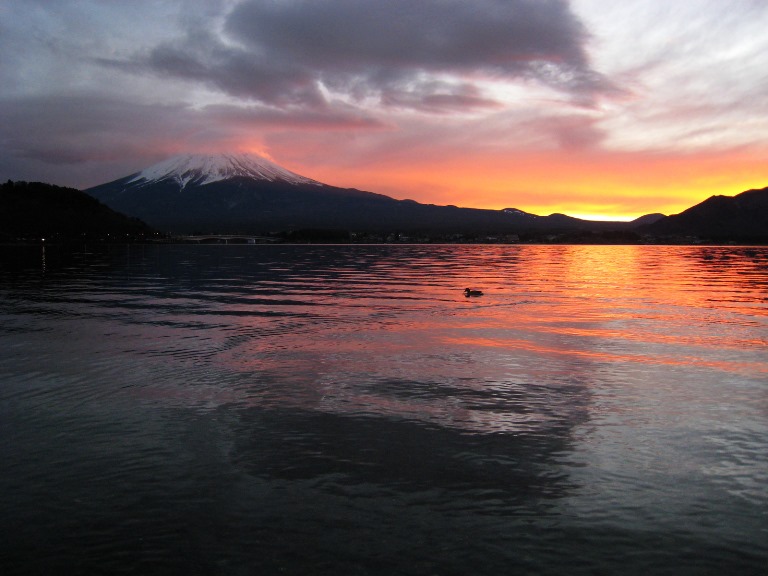 Top
Responsible travel matters, a lot. How you travel will make a real difference - for better or worse. PLEASE consider this when making plans. Read more