Kumano Kodo
Key information: Kumano Kodo
A network of old pilgrimage routes to the Kumano Sanzan or Three Grand Shrines of Kumano, the spiritual heart of Japan.
As well as the ancient Kii-ji route down along the west coast and then inland on the Nakahechi Route or on round the coast, there were other ways which crossed the rugged and remote mountains of the interior, including the Omine-michi Route between lovely Yoshino and Kumano, via the central mountainous Omine-san area, the Kohechi Route ] from Koyasan.
Fine forested landscape littered with evidence of an ancient, rich and indeed unique spiritual history. Stay in remote villages, steam in hot baths, and eat like a god.
This can be tiring walking in a frequently wet area. Come prepared.
Walkopedia rating
Walkopedia rating90
Beauty

30

Natural interest

13

Human interest

18

Charisma

31

Negative points

2

Total rating

90

Note: Negs: crowding at popular sites
Vital Statistics
Length:

Variable

Maximum Altitude:

1719m

Level of Difficulty:

Strenuous
Top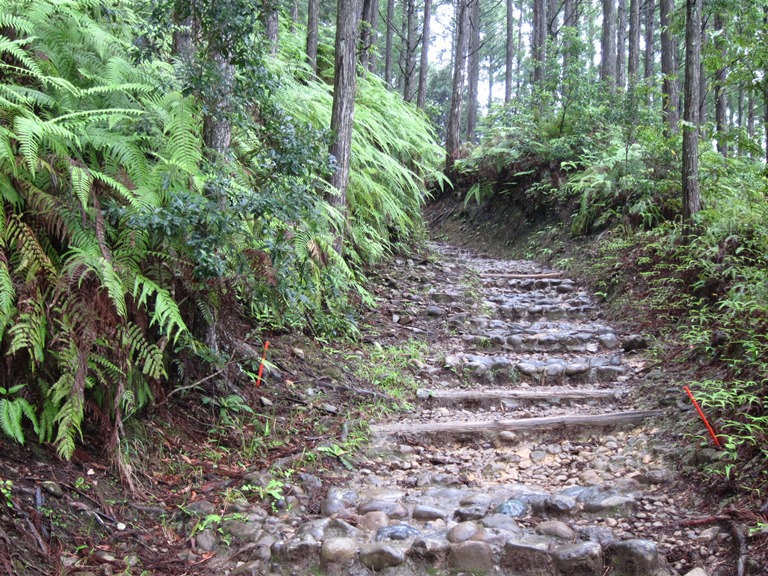 WALK SUMMARY
The Kumano Kodo is a network of old pilgrimage routes on the Kii Peninsula, south of Kyoto and Osaka on Japan's largest island, Honshu, which lead to the Kumano Sanzan, the Three Grand Shrines of Kumano, an area which, along with Koyasan to the north and Ise to the north-east, constitute the spiritual heart of Japan. They are associated with the introduction of Buddhism to Japan and centuries of pilgrimage by all levels of society, from emperors to merchants to peasants.
The Hongu Taisha is the northernmost of the three great Kumano shrines, a harmonious group of buildings dedicated to a god of mountains and trees which is beautiful and perfect in its rich plainness. It stood for over 1,000 years on an island in the Kumano river valley until it was destroyed by flood in the late 1800s and was subsequently rebuilt up the hillside. The base of the old shrine still sits quietly in its trees, by the largest torii gate in the world. Nachi Taisha lies south-east of Hongu, a shrine and busy complex on a steep slope near a spectacular 133m waterfall, the highest in Japan. The Hayatama Shrine at Shingu on the coast north-east of Nachi (and around 35km down river from Hongu) is sacred to a Shinto god of healing.
The huge complex of mainly Buddhist temples and other buildings at Koyasan in the mountains to the north of the peninsula sits in a lovely basin said, with its eight surrounding peaks, to resemble a lotus flower. As well as the beautiful and famous buildings which make it one of the most important Buddhist centres in Japan, there is a vast, ancient graveyard which contains the ashes of more than 200,000 notables, from shoguns to corporate citizens in a collective Sony monument.
The great Shinto site at Ise contains 125 shrines and is steeped in atmosphere. It is Japan?s most important Shinto shrine, focused on the sun goddess, who is said to be the source of the Japanese imperial line, and it is accordingly the site of important ceremonies.
It is not just these great sites that were sacred, though: Kumano is a spiritual realm as well as a physical area. The routes are littered with oji (subsidiary shrines), statues, the remains of tea houses and other reminders of the routes' rich past.
History
The spirit-worship and reverence for nature and ancestors of Shinto emerged with the dawn of the Japanese people. Buddhism was first introduced to Japan in the sixth century AD. It remained a preserve of the elite for many years, but was gradually popularized, particularly after Kobo Daishi (Kukai), founder of the great complex at Koyasan, introduced what became the Shingon sect of Buddhism.
Reverence of the mountains was an important aspect of Shinto and, over the centuries, a tradition of mountain asceticism also developed, particularly the elusive Shugendo school promulgated by the semi-legendary En-no-gyoja in the late 600s, which elided elements of Shinto and shamanism with an ascetic form of Buddhism . The mountains around Kumano, especially north toward Omine-san, became special haunts of its adherents.
Over the centuries, Buddhism and Shinto did more than merely live comfortably side by side, they became closely intertwined. While Koyasan is distinctly Buddhist, the Kumano Sanzan show a remarkable level of sycretization, with Buddhist and Shinto features in the same temple.
Followers of all these faiths and schools come to Kumano, which has also always been open to women, unusually among sacred sites in Japan.
The first major pilgrimage to Kumano was made in 907AD, when the retired emperor Uda made the long and arduous journey. Many retired emperors and aristocrats followed, often coming here many times. The pilgrimage gained huge popularity with all levels of society, to the extent that is thought that, by the C13, 30,000 people a year made the journey: they were said to look like ants.
These mountains must have been impenetrable before proper trails were cut, with their flanks steep to the point of sheer and the native forest thick and tangled. A pilgrimage took 30 or more days, and was arduous - we passed memorials to pilgrims who had succumbed to its rigours - and risky, with bandits and even a teahouse where pilgrims were said to be woken artificially early so they could be thrown off a nearby cliff before there were witnesses on the trail.
The pilgrimage and the routes
As well as pilgrimages to particular sites, these were symbolic journeys through a sacred landscape. The pilgrim moved from the diamond realm of clear Buddha thought in the north to the womb realm of death and rebirth on Mt Myoho near Nachi, with purifications and other rituals on the way.
The pilgrims had many purposes, some venal; but most sought, on this journey into the spiritual realm, to gain greater understanding, even enlightenment, and travel, with purifications and physical suffering, toward the world of the divine and a symbolic death and hoped-for rebirth. Later on, people sent monks to Kumano in their place to seek their salvation.
The ancient Kii-ji routes, down along and inland from the west coast from the old capital at Kyoto, consisted of several alternatives: follow the coast and then turn inland at Tanabe to cross the interior mountains on the Nakahechi Route, the most-used ancient trail, to the great shrine at Hongu Taisha in the heart of the peninsula, and then head for the other two great shrines nearer the south-east coast; or continue from Tanabe on round the coast on the Ohechi Route to the coastal shrines; or go first to the great Buddhist temples at Koyasan in the north and then cross the rugged interior on the shorter but tougher Kohechi Route.There were other ways which crossed the rugged and remote mountains of the interior, including the Omine Okugake-michi Route between lovely Yoshino and Hongu, via the central mountainous Omine-san area. There was also the easier and later-developed Iseji Route down the east coast.
Various of these routes and sites are now a World Heritage Site: "the Sacred sites and Pilgrimage Routes in the Kii Mountain Range". The Kumano Kodo is (as of 2015), along with the Camino de Santiago, the only pilgrimage route that has this status.
This is fine walking on numinous routes which are often lined with oji, torii gates, stele inscribed with poems, all evidence of the area's, and indeed Japan?s, ancient, rich and indeed unique spiritual history. "Cultural landscape" indeed.
Most of your time will be in attractive, rugged forested landscape, although much of it is blanketed in planted conifers, which makes for limited variety and in the thicker areas almost a monoculture... but, most of the time, there are shrubs or low bamboo or ferns below, and in dappled sunlight or drifting mist it is very pretty. Every so often you pass into natural woodland of mixed trees and shrubs which make a welcome change.
A fascination of walking here is the view you get of rural Japan; rich remains of a tough but unique way of life are everywhere, even if the population is shrinking and rice terraces returning to forest. You will stay in remote villages and eat like gods morning and evening.
The Nakahechi Route: Most modern walkers follow the Nakahechi trail from Takijiri-oji, the beginning of the "Passage into the precincts of the sacred mountains" for three days to Hongu Taisha, then continue on across two more days' worth of rough hills to Nachi Taisha, which is nowadays the most walked stretch (but often done in reverse). You can also travel by boat from Hongu Taisha to Shingu, following in the wake of the emperors (They used to do this then move on the Nachi then walk back over the hills to Hongu) . Hardier folk may take the Kohechi trail. See William Mackesy's account of walking the Nakahechi.
The Kohechi Route linked the Koya-san sacred area and the Kumano area. It survives now as a gorgeous 70m walk through remote, forested mountains. It is a tough walk against the grain of the land, involving a lot of climbing and steep descents on moss-slippery steps and roots, crossing three peaks over 1,000m high.
At the heart of the Kii peninsula lies Omine-san, a mountain of limestone precipices topped with virgin forest in which nestle temples, shrines and lodging-houses. This very rugged area has long been the retreat of ascetics and hermits. It became an important centre of pilgrimage and retreat for the idiosyncratic Shugendo school. The sect's practitioners, yamabushi (mountain priests), dressed in white from their flat wide brimmed hats to their shoes, still labour up the mountain, mainly as pilgrims now rather than residents. Although Shugendo was suppressed in favour of Shinto during the Meiji period, it still has a surprising number of adherents. This remains a rugged landscape of remote valleys and a nearly impassable series of high, sheer, interlocking ridges. It remains mysterious and off the beaten track, even to the Japanese.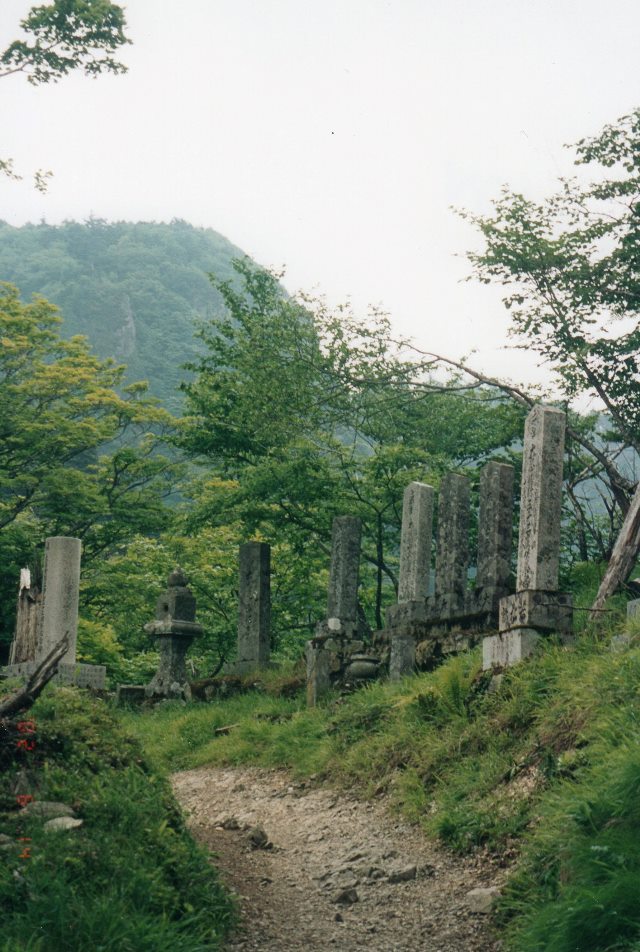 See also expedition planning, including our universal expedition checklist. Walkopedia encourages responsible travel.
Books and Maps
Find these and other books on Amazon.
Books on this walk (support us: find books using our Amazon links box)
Other books (support us: find books using our Amazon links box)
Japan- Lonely Planet has some information on relevant places.
Hiking in Japan – An Adventurer's Guide to the Mountain Trails – Paul Hunt – for a more literary take. A decent Omine-San section
A History of Japan- Conrad Totman. Maybe because it was so isolated, but Japanese history seems to be periods of stability interspersed with centuries of factional fighting between incomprehensible cliques, with little reference to events in the outside world – but producing sublime art and artefacts…
Wabi Sabi: The Japanese Art of Impermanence – Andrew Juniper. Fascinating subject and insights into Japanese aesthetics and their influence by Zen Buddhism, occasionally irritatingly written.
In Praise of Shadows – Janichiro Tanizaki, written in the 1920s. Very idiosyncratic but fascinating insights.
Bending Adversity – Japan and the Art of Survival – David Pilling, much admired overview of modern Japan
The Narrow Road to Oku – Matsuo Basko. The great haikuer's classic account of his travels in C17 Japan
Looking for the Lost (Journeys Through a Vanishing Japan) - by Alan Booth - "The best travel writer in Japan"(Ian Buruma)
The Roads to Sata (A 2000-Mile Walk Through Japan) – by Alan Booth -"The best travel writer in Japan"(Ian Buruma)
The Wages of Guilt – Ian Buruma
Japan by Rail – Ramsey Zarifeh. Excellent practicalities and some great ideas for places less travelled.
Maps
The Nakchechi Trail is well marked, and summary information on the trails is fairly readily obtained.
There are (as of 2015) detailed maps of the area, but in Japanese. They can be got through amazon.co.jp and can be bought locally (if you know where!).
Stanfords: A good online specialist source of worldwide maps (it is also good for guidebooks). Also try Maps Worldwide and www.trektools.com.
Best times to walk/weather
Best times to walk
May to Sept, if you want to get up high. Late spring and early summer for flowers, including the famous cherry blossom, in Yoshino particularly, in mid Spring. Summer is hot and humid. Bright mid-autumnal colours.
Weather
This is the wettest area of Japan, so come prepared for rain and unpredictable mountain weather.
For detailed weather information, have a look at: www.worldweather.org or www.bbc.co.uk/weather/world/country-guides.
Getting there/transport/permits/fees
Fly in to Tokyo or Osaka. Train and/or bus to your selected departure place.
Skyscanner is an excellent (relatively new) site for finding the flights you need; otherwise try Lastminute.com, or look at what's available on Tripadvisor.
Those on organised expeditions will be transported from/to arranged start/departure points.
Route(s)
See Walk Summary above.
Interactive Map
Possible problems, health, other warnings
Mountain weather: rain, cold and wind are possible at any time of year and the weather can change rapidly. Some of the steep rock can get very slippery when wet. Snowy in winter. Come prepared.
Heat, humidity and strong sun. Carry enough water and protect yourself.
Steep and slippery steps and roots. Bring at least one walking pole/stick.
See also the websites in our useful links page for more detailed, and up-to-date, information.
Safety and problems: All walks have inherent risks and problems can arise on any walk. Many of the walks featured on this website involve significant risks and possible problems. This website cannot, and does not purport to, identify all actual or potential risks, dangers and problems that may relate to a walk or a country. Any person who is considering undertaking this walk should do careful research and make their own assessment of the risks, dangers and possible problems involved. They should also go to "Important information" for further important information.
Make sure you have appropriate insurance.
Guided or independent?
Independent
You can do this walk independently.
Guided/supported: walking and trekking holidays
Some people form or join organised/supported expeditions. A knowledgeable guide will add a heap of interest. Choosing a suitable guide or company is of course vital.
Expedition organizers include:
Walk Japan - http://www.walkjapan.com/ - real experts
Transindus - http://www.transindus.co.uk/ - does a Kumano walk
Explore! - reputable and experienced organisers.] (potential affiliate)
Check Tripadvisor for some reviews of this walk and walk organisers which may prove helpful.
PLEASE HELP Walkopedia by recommending any reputable tour organizers that you know of – local or otherwise.
Accommodation
The guidebooks have a selection of possible accommodation.
Ryokans and other accommodation along the various routes.
There are (various) Kumano accommodation websites. See "useful websites" below. See what the commentary on the dreaded Tripadvisor is on possible places to stay – although do take their reviews with a pinch of salt, as they can be "interested".
A good range of hotels can be found on the unimaginatively but effectively named Hotels.com.
If you're on a budget, Hostelbookers usually has a good selection of cheaper-end accommodation; or perhaps try for some bargain luxury on Lastminute.com.
Other information and tips; responsible tourism and charities
Useful websites and information
There are many websites with relevant information. Here are some that we think are useful or have been recommended to us.
www.japan-guide.com is excellent for general travel information.
www.wikipedia.org. A brief starting point.
www.tb-kumano.jp (www.tu-kumano.jp.en/kumano-kodo) – the area's tourist board, a lot of good information including accommodation.
Re Omine san, see the article: "An ancient path to Nirvana leads a Buddhist monk up a mountain—again and again and again". http://www.backpacker.com/skills/the-japanese-monk-who-hiked-a-mountain-1000-days-in-a-row/
Try www.flickr.com for pictures of this walk.
Have a look at the dreaded Tripadvisor – you should get current views on this walk and area. Add a comment
Other things to do in the area
Other walks
Japan, being largely mountainous, has a huge variety of great walks. There is likely to be a good walk within range wherever you may be.
Other activities
Endless cultural fascination, and a lot of other fun and interest.
Safety and problems: All walks have inherent risks and potential problems, and many of the walks featured on this website involve significant risks, dangers and problems. Problems of any sort can arise on any walk. This website does not purport to identify any (or all) actual or potential risks, dangers and problems that may relate to any particular walk.

Any person who is considering undertaking this walk should do careful research and make their own assessment of the risks, dangers and possible problems involved. They should also go to "Important information" for further important information.
COMMUNITY COMMENTS AND PHOTOS
Name: RichardZen
Posted on: 31/05/2015
Kumano Kodo is a large pilgrimage walk but I had little time so I took the train and bus to Nachi. The highlight of Kumano Kodo is the Nachi Taisha which is a Shinto and Buddhist shrine situated in the same location. I felt that it being rainy and humid was perfect for foggy photos of the area. I started walking at the train station but this was dangerous with sharp shoulders on the road. It's best to take a bus to the start of the trail. It starts with a quaint bridge and then the Daimon-zaka staircase. It was difficult to get pictures without people in front as this is a popular area. The best time to go is during a weekday and in the morning. When finally reaching the shrine it was rainy but beautiful nonetheless. One can continue past the Shinto shrine to the Buddhist temple and then down some stairs to the Seigantoji temple with the Nachi No Taki waterfall in the background. With the fog it was magical. To get further towards the waterfall one has to go down some treacherous rock steps to a small bamboo grove and a Zen temple at the bottom. For those who don't know, the Shinto Torii gate is a symbol of leaving the profane into purity. Since death is considered impure then Buddhism was needed to deal with the inevitability of death. Hence there's a symbiotic relationship between the two religions.

Name: Xtinemd
Posted on: 27/03/2017

A wonderful way to experience one of the UNESCO world heritage sites of Japan by walking the Kumano Kodo. I have walked the Camino from Sarria to the city Santiago and immersing in the culture , in Galician nature and gastronomy was amazing. Walking the Kumano Kodo and having done the Camino makes one a dual pilgrim as both walks are UNESCO Heritage sites . The Kumano had its own character and beauty of nature , interesting folklore , wonderful people , hospitality that makes the walk more meaningful and inspiring despite some challenges along difficult routes

Your comments on this walk, your experiences and suggestions, and your photos are very welcome. Where appropriate, you will be credited for your contribution.
Top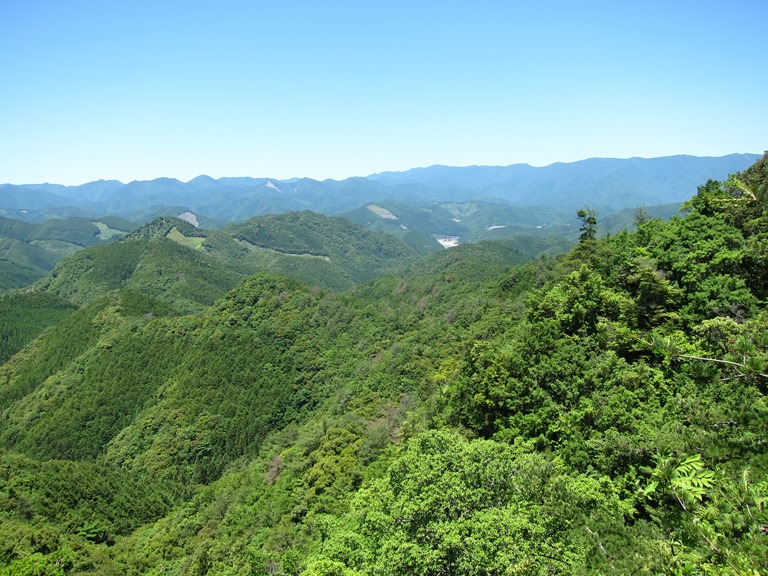 OTHER ACCOUNTS
share your experiences
Top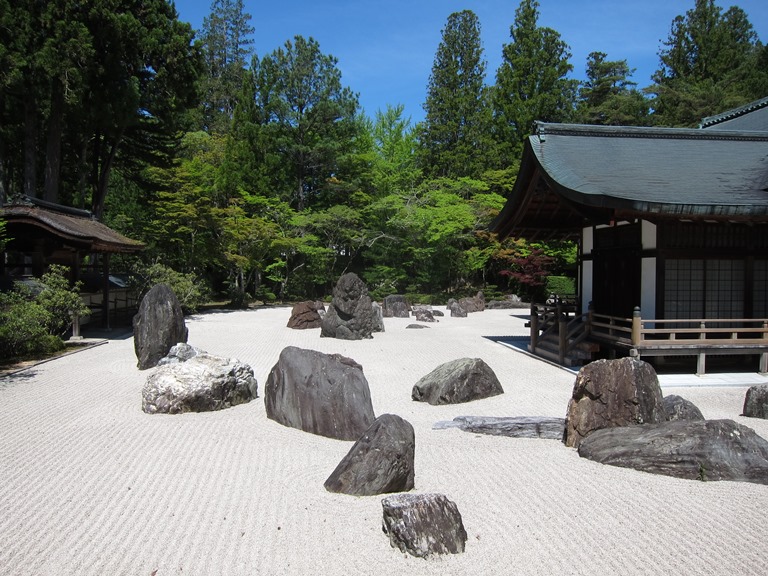 Top
Responsible travel matters, a lot. How you travel will make a real difference - for better or worse. PLEASE consider this when making plans. Read more