Jebel Toubkal Area
Key information: Jebel Toubkal Area
At the heart of Morocco's Atlas Mountains is Jebel Toubkal, its highest peak at 4,167m, from which high ridges radiate toward the dry plains nestling oasis-valleys with their mud-brick semi-fortified traditional Berber villages and high patches of summer pasture.

Enjoy magnificent views along the spine of the Atlas and down toward the slumbering Sahara. This is rugged country, wildly broken in places, with varied and interesting flora and fauna.

A huge variety of excellent walking, from the gentle(ish) to the famous Jebel Toubkal Circuit. Climb north Africa's highest peak.
Walkopedia rating
(Top 100)
Walkopedia rating91
Beauty

33

Natural interest

16

Human interest

10

Charisma

32

Negative points

0

Total rating

91
Vital Statistics
Length:

Variable

Maximum Altitude:

4,167m

Level of Difficulty:

Variable
Top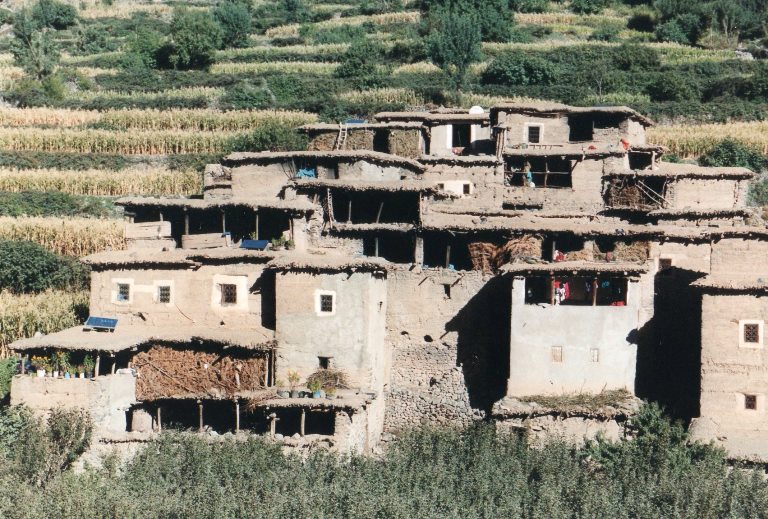 WALK SUMMARY
The long, thin spine of the Atlas Mountains rises abruptly from the baking plains of northern Morocco to heights of over 4,000m. These are tough, dry mountains, with sheer and broken ridges and deep valleys; expect scree and boulder crossings as well as idyllic patches of high meadow and spectacular high traverses.
At the heart of the High Atlas sits Jebel Toubkal, at 4167m (13,750 ft), North Africa's highest mountain, from which high ridges radiate toward the dry plains, nestling irrigated oasis-valleys with their mud-brick semi-fortified traditional Berber villages. These tribal areas used to be so wild and remote that the influence of the Moroccan Sultanate often depended on the goodwill of the local strongmen at the time. Each village or valley was its own little state, even when some warlord was extracting tribute from it. The valleys are still remote, and often seem unchanged since mediaeval times, the need for their fortifications not long past. Their Berber inhabitants retain their rugged independence and the rough charm of mountain people. Rather than an armed escort, however, the modern traveller will take a Berber guide, muleteers and perhaps a cook.
The area's varied habitats shelter diverse fauna and flora. The northern slopes are more forested - look out for stands of ancient cedar - with scrub on the higher and southern slopes. Spring brings gorgeous wildlowers. Birds include eagles and Iammergeier, while mammals include Barbary apes (macaques), gazelles, Barbans, sheep and (rare) leopards.
There is a wide variety of walks in the area, approachable from the north and also the south of the range, from the famous Jebel Toubkal Circuit, to an ascent of Toubkhal itself, to numerous day walks.
The 5+ day Jebel Toubkal Circuit takes you round the great ridges of its massif, crosses three passes of over 3550m (approaching 12,000ft). The circuit usually starts in the mountain village of Imlil. Walk up long dry valleys to high passes; drop back to irrigated valleys, starkly contrasting with the bare, dun-coloured hillsides above, nestling traditional Berber villages. Enjoy some magnificent views along the spine of the Atlas and down toward the slumbering Sahara. Take in the amazing Lac D'Ifni behind its barrier of lava; scramble up the long steep gulley to the 3,600m col on the high ridge above it, then down to the Toubkal Refuge, base for climbing the famous peak. Slog up icy rock and scree to the Toubkal peak. Return on a final, suitably gorgeous, day's walking to a roadhead in the Ouarzane valley to the west. One of the world's truly great walks.
Jebel Toubkal Ascent. This demanding 2-4 day ascent of north Africa's highest mountain (at 4,167m) starts at Imlil in a northern approach-valley, and follows a long uphill (1,467m) slog to the Toubkal Refuge with a punishing 900m ascent and descent of the peak (much of it is on a long scree slope). Consider taking two days to get to the refuge, which will help the acclimatization process. The peak is often cold and windy, but the 360 degree views are as exciting as could be expected, and it is memorable for the peak-baggary as well as the thrilling views.
Great walks can also be made around Imlil. These range from day-explorations of the nearby valleys and hillsides, to longer crossings into neighbouring valleys and indeed onward to make multi-day linear or circular treks. You could also climb to the Toubkal Refuge for a night, a tough slog with 1,467m of altitude gain but an increasingly gorgeous scenery, then make a return walk to the roadhead in the westerly Ouarzane valley. Start with a beautiful, gradual climb up the western side of the valley. At the Agazin pass, drink in a final view back up the valley to Toubkal. Then look across the Ouarzane valley to the sharp cliffs of the high Tazughart Plateau. A long descent down a huge scree slope, taking in 66 zig-zagged bends, gets you to a long, delightful walk down into rugged valleys, past a grand waterfall, through a belt of boulders and gnarled juniper trees, and past hamlets of shepherds' huts. A long traverse, as the river falls away into a deep gorge, gets you to the roadhead village of Irkoubeline, where you can stay. You can swing back to Imlil from here if you want.
The superb Amsouzert Area and Lac d'Ifini to the south of the high range provides excellent walking, perhaps based in the interesting Berber village of Amsouzert. Walk up the beautiful valley toward the famous Lac d?'Ifni. Ancient Berber hamlets nestle timelessly among little terraces and walnut trees which give way abruptly, where the irrigation stops, to stark, barren hillsides. After climbing a great lava wall, survey the unforgettable view of the dark turquoise waters of the Lac d'Ifni, trapped far below between the cliffs of the valley side and the lava dump.
www.tourdust.com organise an expedition here : we have travelled with Tourdust, and were delighted. They were very nice and flexible to deal with, and evidently cared about quality, as their walk was meticulously prepared and our support team were outstanding in every way. We are proud to be their partners.​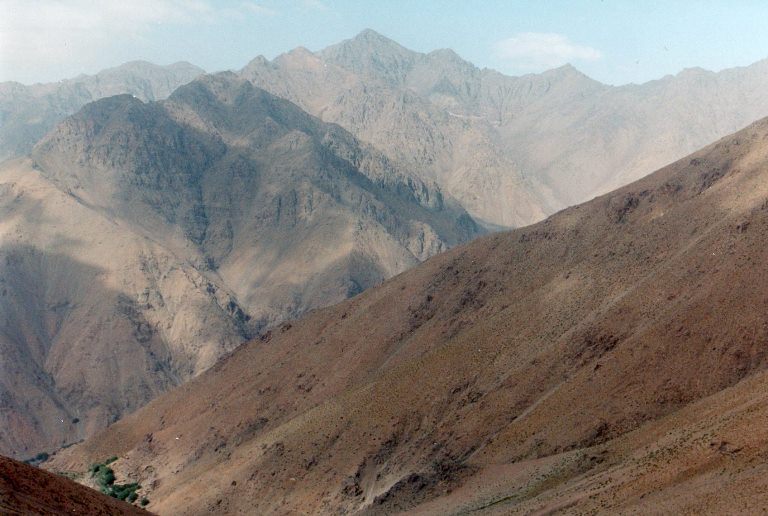 We have a lot of helpful practical information and tips about this walk, covering everything from the best books and maps, to timing and weather, geting there, possible problems, whether you need a guide and where to find them, and useful websites. This section is only open to members.
Membership is FREE AND JOINING TAKES 30 SECONDS. To login or sign up click here
Safety and problems: All walks have inherent risks and potential problems, and many of the walks featured on this website involve significant risks, dangers and problems. Problems of any sort can arise on any walk. This website does not purport to identify any (or all) actual or potential risks, dangers and problems that may relate to any particular walk.

Any person who is considering undertaking this walk should do careful research and make their own assessment of the risks, dangers and possible problems involved. They should also go to "Important information" for further important information.
Anyone planning an expedition to this place should see further important information about this walk.
COMMUNITY COMMENTS AND PHOTOS
Name: Birkman
Posted on: 13/07/2015
This area of Morocco surprised me, the beauty, peace and great ride quality. The trails are reliable and camp sites well located, not causing much loss of time with unnecessary stops.It is not very exhausting and gives satisfaction to walk through native villages. I recommend and it is very gratifying. Paulo
Walkopedia says thank you very much!
Name: wildcatfan
Posted on: 20/11/2017

We hiked in Imlil Valley in October, 2017. Stayed at the Kasbah du Toubkal. The Kasbah arranged for guide and muleteer (muleteer not really necessary, but the lunches on the trail provided by the chef were fantastic!), and we hiked 5 days, including one overnight in the Azzadan Valley. We did not summit Toubkal, but really enjoyed hiking over passes and through villages. This was really a special experience, and I highly recommend hiking in this region of the world.
Walkopedia says THANK YOU!
Name: Toubkal Trekking
Posted on: 20/06/2018

Submitted by Toubkal Trekking: "I have a high atlas circuit for you. It is as below: Day 1: Marrakech-Imlil-Tacheddirt. We leave Marrakech after breakfast and drive to Imlil via Asni. Imlil is the principal trailhead for walkers, and a busy market town. There is a constant movement of people coming down from the mountains, and an equal supply of activity from those about to embark on their adventure. We meet our mule team and once all our gear is loaded we begin walking along the valley towards Tacheddirt, some 8kms beyond Imlil. Soon the trail begins to rise as we climb up to the pass at Tizi n'Tamatert (2279m). We then descend to the pretty village of Ouaneskra and continue, for a further half-hour or so, to Tacheddirt (3000m), where we generally camp near the river. Day 2: Tachdirt - Tizi n'Likemt (3550m) - Azib N'Likmet (2250m) After breakfast, we leave for 3:30 of ascent to Tizi n'Likemt (3550m), where we stop to admire the view Tachdirt Valley and the surrounding mountains. After a short descent, we stop for lunch, then continue for an hour before reaching our camp near Aazib n'Likemt, where we meet nomadic shepherds with their flocks (goats, sheep). 6H walk. Day 3:Azib N'Likmet (2250m) - Amsouzarte (1740m) A day's walk from the high mountains pastures to reach the Tizi Ourai (3109 m). The descent to the valley Tinzar stop to have our lunch and enjoy the Berber villages architecture houses in this valley and we cross the ridge of the High Atlas to reach the southern slopes of the Atlas. Overnight in a berber lodge. Walking 5:30. Day 4: Amsouzarte (1740m) - Imhilene - Lake Ifni (2295m) We descend into the valley of Islani through Ibrouane and villages Tisgouane Takatert reach Lake Ifni (2295 m), which is at the bottom of a valley surrounded by the peaks of Jebel Toubkal. We spend an awesome night at the lake. 5 hours walking. : Lake Ifni (2295m) - Tizi ouanoums (3670m) - Neltner Refuge (3207m) We start the day with a nice climb slowly to the neck of Ouanoums (3670m). From the pass, we enjoy the view on the other 4000m peaks, then descend down to the shelter, meeting place for hikers and nature. Overnight in tents near the refuge. 6h walk. Day 5: Neltner Refuge (3207m) - summit of Toubkal (4167m) - Imlil (1740m) - Marrakech Early departure for the summit of Toubkal (4167 m), the North African roof. We enjoyed the scenery on the other mountains and valleys around. Then the descent to the refuge for lunch, and then we go down to the village of Chamharouch and up Imlil where you will spend the night at a guesthouse. Day 6: Drive back to Marrakech."

Your comments on this walk, your experiences and suggestions, and your photos are very welcome. Where appropriate, you will be credited for your contribution.
Top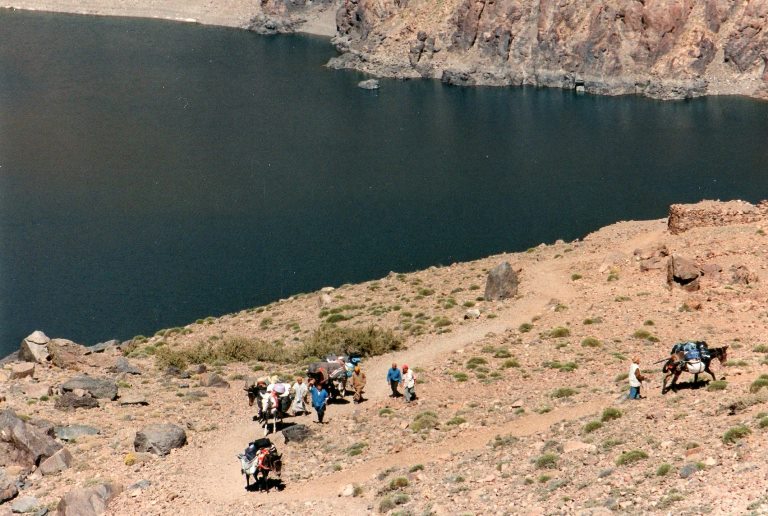 OTHER ACCOUNTS
share your experiences
Top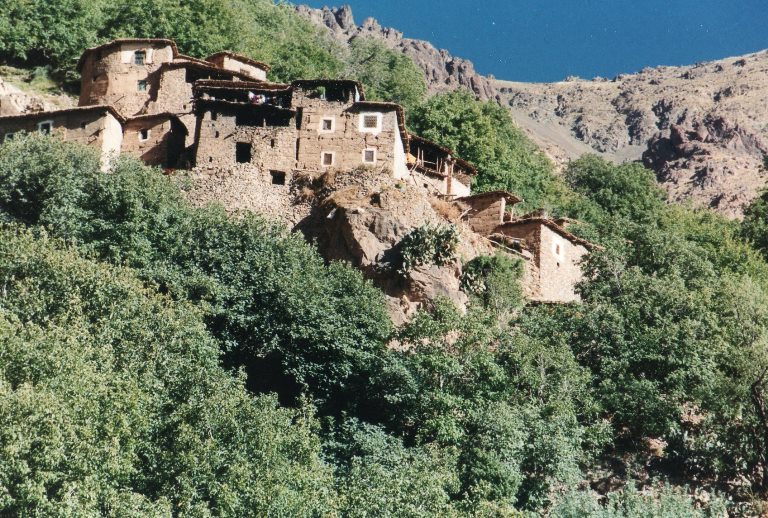 Top
Responsible travel matters, a lot. How you travel will make a real difference - for better or worse. PLEASE consider this when making plans. Read more