Overland Track
Key information: Overland Track
Tasmania's world-class walk, indeed the best in Australia. 5-6 days, 65km, of glorious mountain wilderness in Tasmania's (very) wild west.

Wonderful scenery and possibly the most beautiful mountain vegetation anywhere - Scottish heather and South African fynbos beware - with wildlife galore.

This is a demanding walk in remote mountains with notoriously fickle weather. Come prepared.
Walkopedia rating
(Top 100)
Walkopedia rating88
Beauty

34

Natural interest

18

Human interest

3

Charisma

34

Negative points

1

Total rating

88

Note: Negs: expect bad weather
Vital Statistics
Length:

Variable 65km (+side trips)

5-6 days

Maximum Altitude:

1,617m

Level of Difficulty:

Strenuous
Top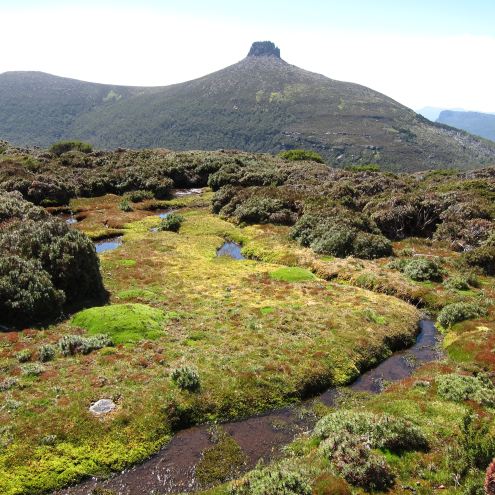 WALK SUMMARY
The Overland Track, Tasmania's best-known trail, winds, for six to eight days depending on whether you allow time for some side trips, through outstanding glacially scoured scenery and varied vegetation. Think peaks, broken ridges, scree, high moorland, perfect lakes, waterfalls, plunging gorges; and near tundra to surprisingly beautiful low scrub to rich, thick forest.
The Overland Track richly deserves its increasing fame. This is one of the most enjoyable - happiness inducing - walks Walkopedia has encountered, despite two days of rain out of six.
The Cradle Mountain-Lake St Clair National Park, through which the trail passes, is part a network which constitutes the Tasmania Wilderness World Heritage Area, one of the southern hemisphere's great wilderness areas.
Here you will find genuinely breathtaking (overused expression, but it is thus) scenery: great buttes, scarps, and spires of dolerite rock dominating a world of high moorlands, forest and deep river valleys.
Much of the trail is above the tree line, winding, often on trademark boardwalks, through fragile, almost poignantly beautiful bogs and low shrubland. The forests, when you get there, are themselves delightful and seldom dull. You will meet wallabies and may encounter an enchanting echidna or traces of the Tasmanian devil.
Camping or basic but excellent huts (can be crowded in Summer) are the only options here, so you will need to carry your food, sleeping and cooking kit (fuel stove) - and a tent, so they say, even if you are staying in the huts. Or you can make a guided expedition using the excellent but expensive Cradle Mountain Huts (www.cradlehuts.com.au), which provide food, sleeping bags and a hot shower.
It will be mad not to make some side trips. The views on a good day from Mount Ossa, Tasmania's highest at 1,617m are to die for - and some have. Cradle Mountain itself shouldn?t be missed and Mount Oakleigh is a tough slither up and down tree roots, but very rewarding. You can safely leave your packs to make the side trips.
The final 17km walk out beside Lake St Clair: diminishing returns will apply. Take the thrice-daily ferry from the lakehead pier, which needs to be booked ahead ( 0061 3 6289 1137; a rip-off but somehow worth it).
Due to its position at the west of an island in the path of the Roaring Forties, the weather here is extremely variable; while it can be lovely, and not just in summer, you must come prepared for, and be philosophical about, some pretty horrible stuff. The summer months (December to February) give the best weather but are busy (it gets over 9,000 walkers a year), and the numbers are necessarily kept down by a booking system (Oct-May, 2012), so you will have to book ahead and pay fees; and a north-south journey is imposed. Come prepared: this is tough country. Early Autumn is lovely and Spring good for wild flowers (but likely to be wetter and windy) and both get fewer visitors. Try to start midweek if there in Summer. Permits and parks pass cost A$230 (2012). Expedition organizers will arrange this.
Do keep to the paths, to avoid damaging the delicate environment.
As the OLT is not a circuit, getting there and away needs planning. Using a hire car is problematic, and bus is likely to be the best answer if you are travelling independently. Tassielink (0061 1300 300520; tassielink.com.au) will take you to the OLT start at Cradle Mountain and then back from the end at Lake St Clair to Launceston (via Hobart) for A$129/£84, or on to Hobart at the end from A$99/£64. They will transport your surplus baggage, too.
If you are walking the OLT on a walking package, you will be usually be picked up at and returned to Launceston, although you can make other tailored arrangements.
Cradle Mountain Huts (0061 3 6391 9339; cradlehuts.com.au) will guide you, sleeping and cooked for in their comfortable, hot showered huts, from A$2600/£1690 per person (2012). Also see Great Walks of Australia for more information, and some great walking ideas.
Tasmanian Expeditions (0061 1300 666856/tasmanianexpeditions.com.au) will guide you on a camping trek from A$2095/£1362 per person (2012). This will be at the hard core end, carrying your tent and everything else.
Walking in Australia (Lonely Planet) has good details, as has Cradle Mountain ? Lake St Clair and Walls of Jerusalem National Parks by J Chapman and J Siseman.
Wikipedia has a good Overland Track page, as has www.besthike.com.
See our Tasmania page for extensive general and practical information.
THIS PAGE IS AT AN EARLY STAGE OF DEVELOPMENT. PLEASE HELP US BY MAKING SUGGESTIONS AND SENDING PHOTOS! THANK YOU!
WILLIAM MACKESY'S ACCOUNT
of this walk
So, this is the Roaring Forties. On the fourth day of Autumn, a gale is hurling horizontal rain into our faces on a blasted heath. I feel like King Lear in boots. We are below Cradle Mountain, Tasmania's best known peak, although you wouldn't know it, as it swamped by the swirling cloud.
The weather here is notoriously fickle, and we started our six days on the famous Overland Track, which traverses the island's highest country, in drizzle. Even on this dourest of grey days, though, the vivid exuberance of the shrubland cannot be extinguished.
Straight from the hut.....
READ MORE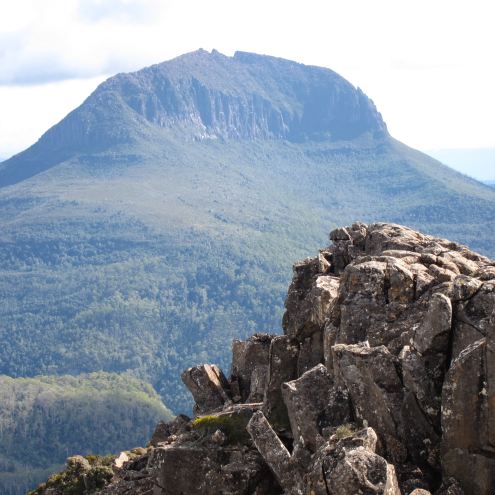 Safety and problems: All walks have inherent risks and potential problems, and many of the walks featured on this website involve significant risks, dangers and problems. Problems of any sort can arise on any walk. This website does not purport to identify any (or all) actual or potential risks, dangers and problems that may relate to any particular walk.

Any person who is considering undertaking this walk should do careful research and make their own assessment of the risks, dangers and possible problems involved. They should also go to "Important information" for further important information.
COMMUNITY COMMENTS AND PHOTOS
Name: Laurens
Posted on: 18/12/2009
Hi, I did the Overland track in 2003 so it's been a couple of years but also having done Milford Sound in NZ and the Grand Canyon believe the Overland superior but similar in that all three have no human interest it's just you and nature. The overland required you to be the best prepared I believe but so worth the effort.

Name: Qantas
Posted on: 15/09/2010
An ever-changing landscape. Best walked in March/April as over Summer it is now very crowded (although the days are very long). Stunning rugged scenery along the length of this iconic walk.

Name: Greg Locock
Posted on: 19/10/2010
I think you'd miss too much of the 'fun' stuff if you do this in 4-5 nights. I've done it twice, and was dead lucky with the weather. The most recent time we did 6 nights, and climbed Cradle Mountain (not much fun, for me) and Mt Ossa (where at least the scary bit was short). Great views from the tops of those. The first day in from the North is a gruelling one with a full pack, and it isn't obvious which is the better path. I prefer going round Dove Lake to the direct assault, it is prettier, but longer. Fitting the ascent of Cradle Mt in to that first day is not a given unless you have an early start. After that the rest of the walk is fairly cruisy in my opinion. In good weather it is great fun, and spectacular. I haven't done it in bad weather but it has a bad rep. Incidentally the walk out along Lake St Clair is a nice enough walk through spooky forest in itself, but nothing special. If you are knackered or the weather is bad get the boat out, radio for it from Narcissus Hut. Then have a well earned beer at the Visitor's Centre.

Name: Administrator
Posted on: 26/08/2012
I recently completed the Overland Track, in Tasmania, and I have no hesitation in recommending this walk to those fit enough to undertake it. I found it tough going but the superb scenery made it all worthwhile. We took four and a half days to walk the 65km of the track. Every member of my group of four said that they would do it again, and would check out some of the side tracks as well.


Your comments on this walk, your experiences and suggestions, and your photos are very welcome. Where appropriate, you will be credited for your contribution.
Top
Top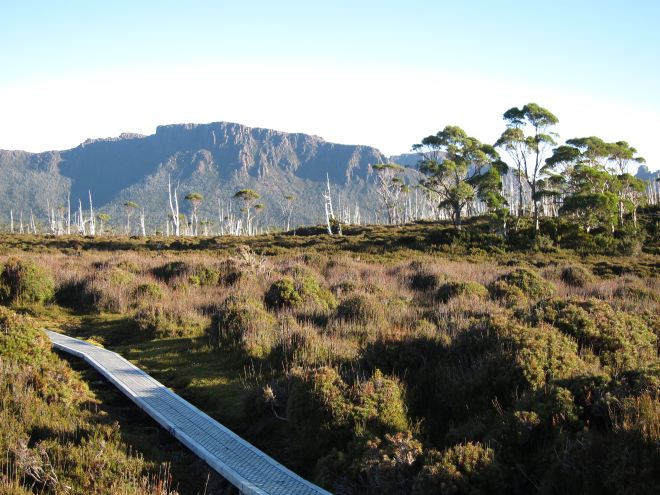 Top
Responsible travel matters, a lot. How you travel will make a real difference - for better or worse. PLEASE consider this when making plans. Read more