Nahuel Huapi Traverse
Key information: Nahuel Huapi Traverse
The scenic forests and lakes of Nahuel Huapi, surrounded by dramatic mountains, make this one of Argentina's most popular trekking areas.

Covering areas which once formed the heartland of the Mapuche Indians, this national park varies from the wet rainforests of the west to the dry, coniferous east, with stunning alpine forest at higher altitudes.

Beautiful wildflowers, numerous bird species, pumas and deer can be seen in the forests and around the many lakes.

This is a demanding walk in mountains, on which you will have to be self-sufficient. Come prepared.
Walkopedia rating
Walkopedia rating84
Beauty

34

Natural interest

16

Human interest

0

Charisma

34

Negative points

0

Total rating

84

Note: Negs: popularity.
Vital Statistics
Length:

40km

4-5 days

Maximum Altitude:

2,076m

Level of Difficulty:

Strenuous
Top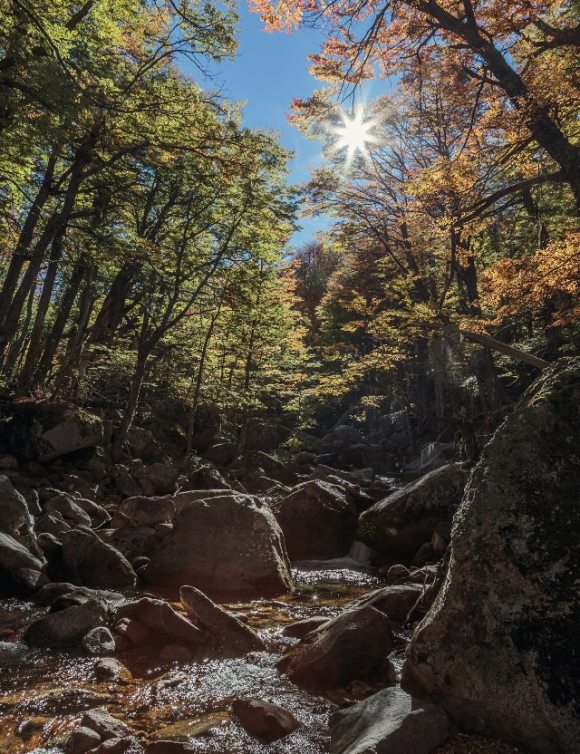 WALK SUMMARY
Trekking the Nahuel Huapi Traverse is the perfect opportunity to take in the wonders of the Nahuel Huapi NP, with its astonishing range of environments. The jagged mountains are covered in extraordinary rock formations, pointed towers rising from the shadows of their peaks. Snowy summits soar above you, with the huge Mount Tronador often dominating the horizon.
Lower down, deep blue lakes sparkle in the sunlight, surrounded by greenery. Rainforests cover areas of the park to the west, whilst further east the terrain is dry, with little of the rainfall which lands so readily on the other side of the park. Gorgeous flowers and plants, and interesting greenery throughout all add to the experience of this walk.
Protection of the wildlife was a major reason for the creation of the National Park, the oldest in Argentina, and there are plenty of fascinating creatures to be seen. Puma, various different types of deer (including that claimed to be the world's smallest), otters, guanacos (a relative of the camel and of the llama) and maras (of the same family as the capybara, found elsewhere in South America, and of the guinea pig) live here, along with parakeets and the famous condors.
The area managed to remain free of European influence for longer than many others in the Americas. Due to Spanish presence in Chile, the Mapuche Indians moved here around the seventeenth century, and quickly absorbed the culture of the various tribes living peacefully around Nahuel Huapi. Despite an earlier, failed, attempt to civilise' the Indians even before this, Europeans did not manage to occupy the area fully until 1879 however, they then did their best to suppress native Indian culture.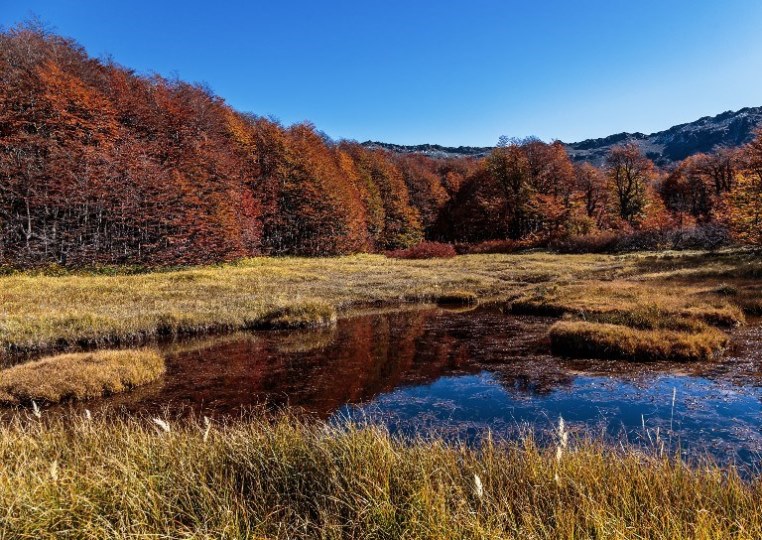 See also expedition planning, including our universal expedition checklist. Walkopedia encourages responsible travel.
Guidebooks/maps/background reading
Guidebooks
Trekking in the Patagonian Andes – Lonely Planet walking guides
The Andes – A Trekking Guide – John and Cathy Biggar
Trekking in Bariloche – a guide to trekking in the area published by the CAB (Club Andino Bariloche)
Other books
In Patagonia- Bruce Chatwin
Nowhere is a Place: Travels in Patagonia – Bruce Chatwin, Paul Theroux, Jeff Gnass
Maps
Lonely Planet recommends the 1:50,000 map of the Refugios in the Sendos y Picadas series, Trekking 1. This can be bought from bookshops or kiosks in Bariloche, or is sold by the 'Club Andino Bariloche' (tel: 0944-24531). Also, a 1:100,000 colour sheet of the same Refugios, in the same series, called Parque Nacional Nahuel Huapi. However, short sections of the route are not shown accurately by these maps.
Best times to walk/weather
Best times to walk
Most of the scenic routes go high into the mountains and, as a result, it is not really worth walking there between mid May and mid November. At the beginning and towards the end of the season, any breakdown in weather is likely to mean snow in the higher areas. However, during the high season of January and February, the trails and many alpine refugios can be crowded with walkers – to avoid these you may have to risk not such ideal weather. So, best to try and be here in December, March or April.
Weather
The area is drier than western Patagonia – lower down, temperatures average about 2°c in winter and 18°c in summer. Most precipitation tends to fall during winter and spring, during which everywhere 1,000m+ is snow-covered. However, there is huge variation; average annual rainfall is 4,000mm in the west, and only 800mm in the east.
For detailed weather information, have a look at: www.worldweather.org or www.bbc.co.uk/weather/world/country-guides
Getting there/transport/permits
It is a good idea to begin at Bariloche, where you can buy supplies etc., and from the Estación Terminal de Omnibus y de Ferrocarril here there are regular buses covering the 20km to Villa Catedral, where the trek begins.
Permits are needed to do this walk. They can be obtained from the Club Andino Bariloche (tel: 0944-24531), in Bariloche, or from local ranger stations (called guarderías). If you are on an expedition, check whether organisers arrange these.
If you enter the park through an official park entrance gate, there is a small entrance fee, however this doesn't apply if the road is a public right of way.
Route(s)
Beginning in the ski village of Villa Catedral (easily accessible by a regular bus service from Bariloche), on the first day cross the Arroyo Van Titter and make your way, often through forest, to the Refugio Frey, on the shore of Laguna Tonchek.
Day 2: go around the lake and follow a stream to Laguna Schmoll. You will see a waterfall on your way to the Paso Brecha Negra, where there are brilliant views. Not long after this you reach the Refugio Jakob (San Martin).
There is a short (about 1½hrs) walk to a beautiful lake and back which can be done from the Refugio Jakob, before setting off towards Refugio Segre, climbing to the summit of Cerro Navidad on the way.
Day 3: this section of the walk has outstanding panoramas – a view of the Chilean-Argentine border and the great Mount Tronador is followed by treks to the summit of both Cerro Principal and Cerro López. See the glacial scenery of La Hoya before arriving at the Refugio López.
Day 4: the last section of this walk is also the shortest, and runs from Refugio López to Colonia Suiza, a small lakeside holiday village. From here, buses pass about every two hours heading back to Bariloche.
This popular route is well described in Lonely Planet's 'Trekking in the Patagonian Andes', which is well worth using as a guide if you are doing this independently. This is the simplest version – the guidebook contains alternative routes each day and side-walks from many places.
Possible problems, health, other warnings
Mountain weather:

snow, rain, severe cold and wind are possible at any time of year.

Heights:

can be dangerous; not for those who have difficulties with heights.

This is remote country:

you will have to carry all your food and other supplies and help may be hard to get if things go wrong.

Health risks:

you will not get prompt medical help of a standard available elsewhere if you become ill. Come prepared, including getting all appropriate inoculations/medications.
See also the websites in our useful links page for more detailed, and up-to-date, information.
Safety and problems: All walks have inherent risks and potential problems, and many of the walks featured on this website involve significant risks, dangers and problems. Problems of any sort can arise on any walk. This website does not purport to identify any (or all) actual or potential risks, dangers and problems that may relate to any particular walk. Any person who is considering undertaking this walk should do careful research and make their own assessment of the risks, dangers and possible problems involved. They should also go to "Important information" for further important information.
Make sure you have appropriate insurance.
Guided or independent?
Independent
You can do this walk independently, but (while refuges are available) you will need to be self-sufficient, so come prepared.
Guided/supported
While this walk can be done independently, many people form or join organised/supported expeditions. Given the remoteness of the country and difficulty of getting supplies, many will prefer to do it this way, and travelling here with a knowledgeable guide has real advantages. Expedition organisers include:
• Adventure Bariloche Patagonia Trekking – www.eco-family.com
Accommodation
Thanks to the alpine refuges along the trail, it is possible to do this trek without bringing a tent. They are generally open from early December to mid April at least; however, it is advisable to carry a tent with you anyway, as they can fill up very quickly. There is a charge for using the refuges; also remember a sleeping bag, as they are very basic, and for the most part contain no bedding.
If you want to camp, there are proper campsites you can use in some places, particularly towards the end of the trek, some of which even have hot showers.
Other information and tips
- Best not to try and reverse the usual route (the best one to do if you are walking independently).
- If you are aiming to make the difficult crossing from Refugio San Martin to Refugio Segre, you may be asked to fill out a form as a safety precaution; should you not reach it, people may then try to find you.
Useful websites and information
There are many websites with relevant information. Here are some that we think are useful or have been recommended to us.
Other things to do in the area
Other walks
Paso de las Nubes – another walk in the Nahuel Huapi National Park. (See the Lonely Planet guide)
Other activities
Shopping, if you must
We are not a shopping website. But, anything bought from local people must be of some help to this desperately poor area. So, wallets out!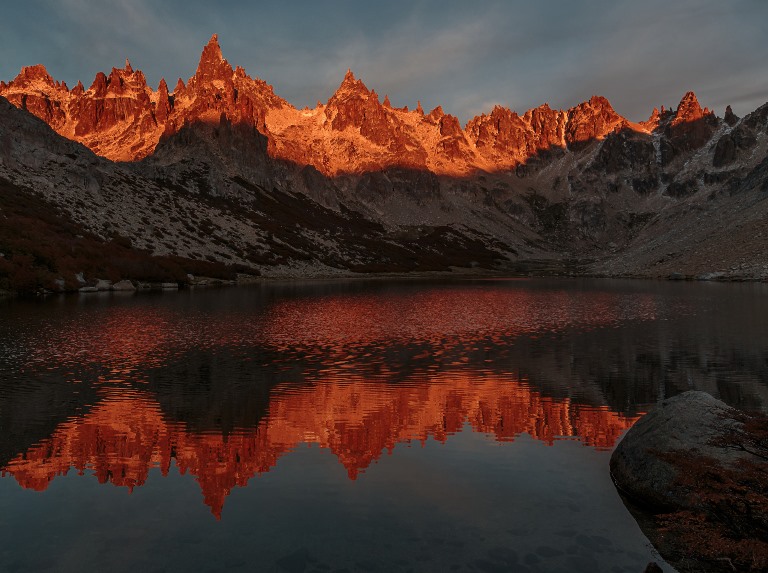 OTHER ACCOUNTS
share your experiences
Top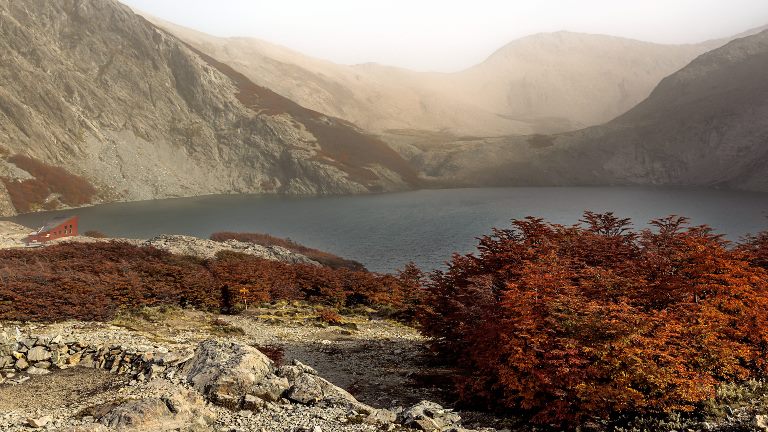 Top
Responsible travel matters, a lot. How you travel will make a real difference - for better or worse. PLEASE consider this when making plans. Read more