Aiguilles Rouges
Key information: Aiguilles Rouges
The magnificent Aiguilles Rouges, named for their reddish colour in early morning light, lie to the north-west of the Mont Blanc massif. Their popular south-eastern slopes provide spectacular vistas across to the illustrious Mont Blanc. The centre of the range is harsh, brutal and empty.
A range of walks of varying lengths (multi-day to a few hours) show off the fabulous alpine scenery of this pristine natural reserve.
During the summer months the popularity of the area means that most of the walks are crowded (particularly around Lac Blanc) - if you are after isolation, then you'll have to go further afield.
These are serious mountains, so come prepared.
Walkopedia rating
Walkopedia rating88.5
Beauty

35

Natural interest

16.5

Human interest

5

Charisma

34

Negative points

2

Total rating

88.5

Note: Negs: ski areas, some crowding
Vital Statistics
Length:

Variable

Maximum Altitude:

3,096m

Level of Difficulty:

Variable
Top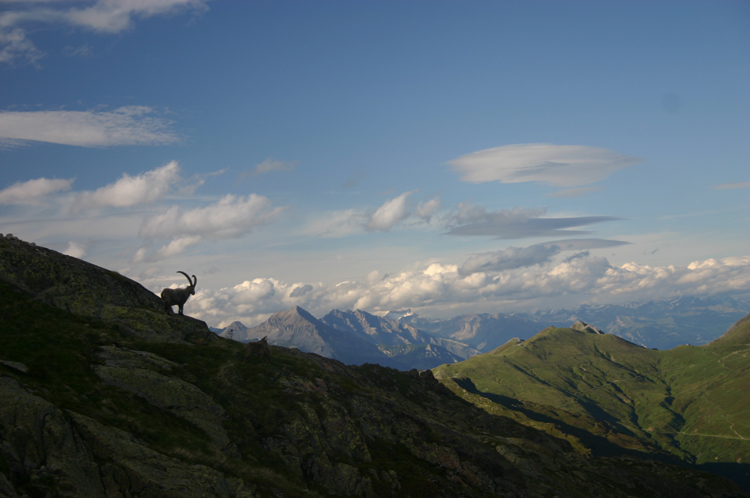 WALK SUMMARY
The Aiguilles Rouges gained their name (the "red needles") from the glowing red of their iron-infused granite spires in the morning light. This relatively small range lies across the deep Chamonix valley to the north of the huge Mt Blanc massif with its glaciers and wildly broken ridges surmounted by serene permanent snows. With dramatic serrated ridges and wonderful scenery of their own, they also command outstanding views of Mont Blanc.
The Aiguilles are riddled with beautiful tarns, including the famous Lac Blanc at the foot of Belvedere. Typical alpine vegetation alongside orchids and other less common flora, and surprisingly un-shy ibex (especially around Lac Blanc), further enhance the excitement. An Aiguilles Rouges Nature Reserve was created in 1972.
Unsurprisingly, tourists flock here in peak season, and the area - particularly the slopes above Chamonix - is packed with walkers throughout the high summer. In order to enjoy some peace and quiet, seek out more isolated walks (that, during high season, can be few and far between). For the more adventurous, in search of an antidote to the busy slopes on the steep but (relatively) gentler southern face of the range, the areas further from Chamonix offer opportunities for more isolated exploration. The best way to discover the area, however, is a balanced combination of the two, offered by the unofficial 'Tour of the Aiguilles Rouges'.
Longer Walks:
Tour of the Aiguilles Rouges

(4-6 days): There are a number of ways of creating a circuit through the best of the Aiguilles. The one described here begins and ends in the hamlet of Le Buet. Crossing the Col des Montets pass and making your way to Lac Blanc on the first day, you can stay overnight here and so enjoy it at its best - in the early morning before the first day-walkers start to arrive. The walk from here leaves behind the lifts and ski runs scarring the mountain side, later reaching the Col de Brévent and so entering the more isolated areas of the trail, away from the Chamonix valley. This night can be spent in the Refuge Chalet Moede d'Anterne (or Refuge du Col d'Anterne, depending on your map), and an extra day here to explore is often well worth it. The next day's walking is more remote and more rugged than before, and finishes with a substantial climb, which you need to leave enough time and energy to complete. The final day is the climb up Mont Buet (see below) - this is fairly difficult, and hard work; you are amply rewarded, though, by the fabulous 360 degree views from its summit.
The route for this walk is described in detail, including a basic map, in Trekking Atlas of the World (Ed. Jack Jackson) and is also proposed in the Cicerone book.
A shorter (2 or 3 day) alternative on similar ground is to start at Vallarcine (or Le Buet) and end at Plaine Joux, west of the Col d'Anterne
Tour du Pays du Mt Blanc

, a shorter but varied 'official' circuit around the popular south-eastern slopes and remote interior.
Mont Buet

(2 days): There are various ways to tackle Mont Buet. The classic approaches from the north are two day walks. The first day is a walk from Le Buet up the Cabane du Vieux Emosson or the Refuge de la Pierre y Bérard, the latter approach up a particularly pretty valley. The second day begins early along long and arduous paths to the summit. This is a long and tiring day but the views more than repay the pain (The

Cicerone

says "I defy anyone to find a walk more beautiful than that from The Vieux Emosson to the summit of Mont Buet in good weather"). Then retrace your steps - or follow the other route out. Mont Buet is known locally as Mont Blanc chez les Dames (The Ladies' Mont Blanc).
Tete de Villy

(2 days): The western Col d'Auterne is very popular, with superb views and scenery. The great GR5 route passes over it. The nearby 2,451m Tete de Villy is lovely - and relatively lonely. The

Cicerone

has a wonderful-sounding 2 day walk from Le Brevant to here, overnighting at the Ref. du Col d'Auterne.
South-eastern slopes: The slopes above Chamonix contain a plethora of superb walks - albeit crowded at popular times of year - and showcase the Aiguilles' remarkable Mont Blanc views. You can do some, or a combination, of:
Lac Blanc

: a 3-4hr trail to a beautiful pair of milky blue lakes with classic views across to the vast Mer de Glace glacier and the soaring Aiguille Vert sections of the Mont Blanc massif. This is the Aiguilles' best known walk, and commensurately crowded in high season. The trail begins at the top of the La Flégere cable car, and heads steadily upwards. There are fantastic views of Mont Blanc and the surrounding area. Walk back along a superb ridge between lovely tarns, south-eastward to the Grand Balcon walk, and return to Flégere. (Better still, walk this circuit in reverse.) Stay a night in the slightly cramped refuge - but book well ahead.
The

Grand Balcon Sud

, a long and very satisfactory contour-hugging trail which, because it is also part of the Tour du Mont Blanc and

Tour du Pays du Mont Blanc

trails, can get overcrowded.
Higher-level traverses

, less-walked and with superb scenery and views of Mont Blanc.
Le Brévant

: A good walking peak at the far south of the rouge, but accessible by cable car from Chamonix so seldom peaceful. Great walks on the high ground around it - start here and walk away!
See our Lac Blanc and Southern Aiguilles Rouges Traverses page for more detail.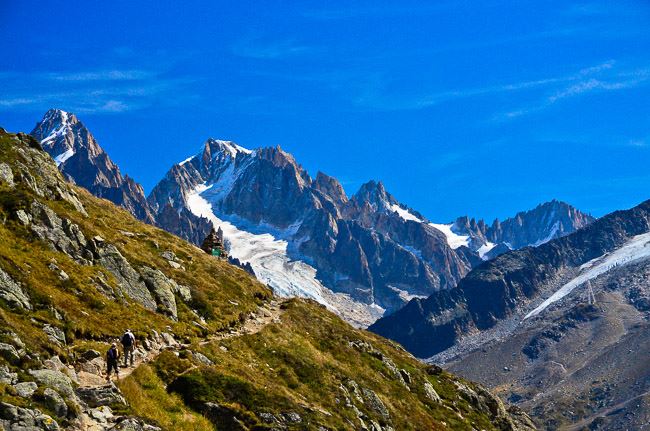 See also expedition planning, including our universal expedition checklist. Walkopedia encourages responsible travel.
Guidebooks/maps/background reading
Guidebooks
Walking in the Alps – Lonely Planet
Mont Blanc Walks: 50 of the Best Walks and 4 Short Treks – Cicerone: excellent information.
Other books
France – Lonely Planet
Mont Blanc and the Aiguilles Rouges: A Guide for Skiers – Anselme Baud (author) and Vosephwe Cleere (translator)
Chapter in Trekking Atlas of the World – Ed. Jack Jackson.
Maps
Good maps can easily be bought locally in bookshops and activity shops.
Stanfords: www.stanfords.co.uk.An excellent (and user-friendly) online specialist source of worldwide maps (it is also good for guidebooks).
Best times to walk/weather
Best times to walk
The high country hiking season lasts only from late June through to mid September, and snow can remain in the high areas well into July. You can walk the middling slopes for much longer periods (late May to October): check the likely snow conditions in the area you are off to. Avoid the French high holiday season (14 July to 15 August) if you can. High refuges tend to only be open late June to mid September, but do check.
Beware of areas of névé – old snow; long icy slopes can be very dangerous to cross.
Weather
Weather and temperatures will vary hugely depending on your height and the general conditions, which can change rapidly even in high summer. Always come prepared for rapid changes. Snowfall is heavy during the winter, and remains on the highest peaks all year round. Altogether it is generally fine in season, come prepared for unpredictable mountain weather and cold nights.
Changing weather can cause difficulties, so keep a close track of developments if you're doing a longer walk, and be prepared to reconsider your route if the weather looks unstable.
For detailed weather information, have a look at: www.worldweather.org or www.bbc.co.uk/weather/world/country-guides.
Getting there/transport/permits
There are good road links to Chamonix, the main starting point, so driving in from any direction, at least outside of snowy times of year, should not cause a problem. There are plenty of flights to Geneva, and from here transport to Chamonix. For the trek up Mt Buet, you need to go out of the Chamonix valley to the town of Le Buet to begin the walk; for Lac Blanc it is 3km from Chamonix to Les Praz, a small village with a cable car to the beginning of the trail at La Flégère.
Route(s)
See Walk Summary above.
Possible problems, health, other warnings
·Altitude: will affect you a bit at the high points, come prepared to cope.
·Mountain weather: snow, rain, severe cold and wind are possible at any time of year.
·Heat and strong sun. Carry enough water and protect yourself.
See also the websites in our useful links page for more detailed, and up-to-date, information.
Safety and problems: All walks have inherent risks and potential problems, and many of the walks featured on this website involve significant risks, dangers and problems. Problems of any sort can arise on any walk. This website does not purport to identify any (or all) actual or potential risks, dangers and problems that may relate to any particular walk. Any person who is considering undertaking this walk should do careful research and make their own assessment of the risks, dangers and possible problems involved. They should also go to "Important information" for further important information.
Make sure you have appropriate insurance.
Guided or independent?
Independent
These walks (at least the day walks) are relatively simple and during high season can be full of people; they can be walked independently fairly easily.
Guided/supported
Although various companies offer guided walks around Mont Blanc and its immediate surroundings, there are fewer operators that run guided walks in the Aiguilles. It should be fairly easy to hire guides locally (see below). For longer walks in the Aiguilles Rouges, there are some options, such as:
Compagnie des Guides de Chamonix -

www.chamonix-guides.com

who do a circular 'Aiguilles Rouges Tour' from Chamonix.

Yokmok (

www.yokmok.com

) offer a four-day tour of the Aiguilles circuit
Accommodation
As a hugely popular destination for visitors to the Alps, there is a significant range of accommodation (and prices) around Chamonix. Some of the more luxurious (and more expensive) include the Hotel L'Oustalat, at the foot of the Aiguille du Midi, near the centre of town, and the Chalet Chocolat.
However, cheaper options are available: several hotels and guesthouses hover around the £40 a night mark, whilst the Mountain Highs Hostel offers great accommodation for people on a budget.
www.chamonix.net/english/accommodation/index.htm is a good website, providing a reasonably comprehensive listing of accommodation in the Chamonix area.
There are plenty of refuges scattered in the Aiguilles. They can get crowded, so book early. And check when they open (mid-June onward).
Other information and tips
Useful websites and information
There are many websites with relevant information. Here are some that we think are useful or have been recommended to us.
Other things to do in the area
Other walks
See our Mont Blanc Area page.
Other activities
In the winter of course there is skiing, along with snow boarding and other snow sports. However there are also plenty of things to do in the summer, including:
·Paragliding
·Horse riding
·Mountain biking
·Mountaineering
·Climbing
Water sports (including white water rafting)
Safety and problems: All walks have inherent risks and potential problems, and many of the walks featured on this website involve significant risks, dangers and problems. Problems of any sort can arise on any walk. This website does not purport to identify any (or all) actual or potential risks, dangers and problems that may relate to any particular walk.

Any person who is considering undertaking this walk should do careful research and make their own assessment of the risks, dangers and possible problems involved. They should also go to "Important information" for further important information.
COMMUNITY COMMENTS AND PHOTOS
Name: Jeff Black
Posted on: 12/09/2013
I did several other hikes around La Clusaz. I can recommend a terrific B&B chalet at La Clusaz. There are two rooms each with two single beds run by a delightful couple Chantal and Joel Collomb-Patton. It's called La Trace. www.laclusaz.com > se loger > chambres d'hôtes. It's a bit far from Chamonix but it has some terrific hiking paths although not as dramatic as Chamonix.


Your comments on this walk, your experiences and suggestions, and your photos are very welcome. Where appropriate, you will be credited for your contribution.
Top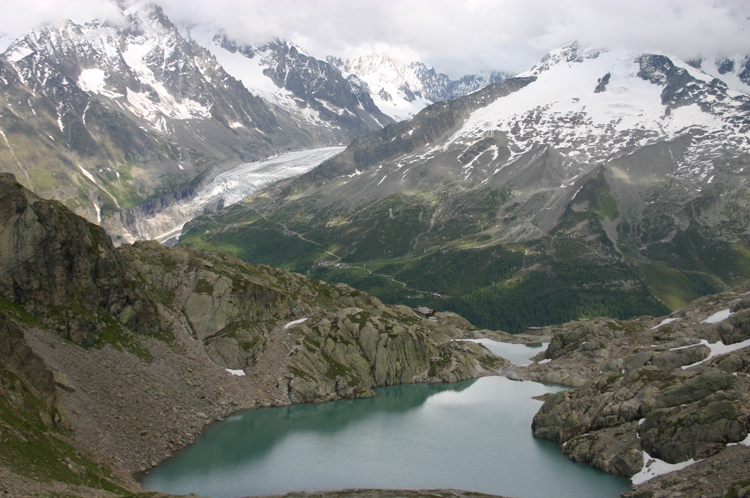 OTHER ACCOUNTS
share your experiences
Top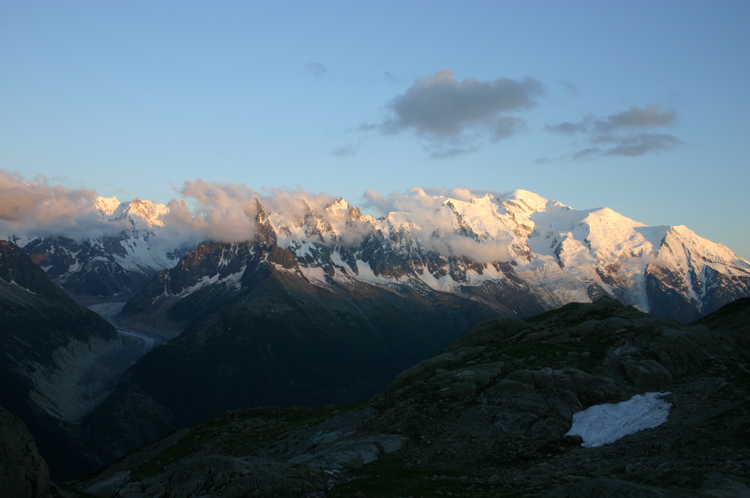 Top
Responsible travel matters, a lot. How you travel will make a real difference - for better or worse. PLEASE consider this when making plans. Read more