Lebanon Mountain Trail
Key information: Lebanon Mountain Trail
Newly-opened trail that runs from north to south of the biblical land of milk and honey.
A wide range of mountain scenery, and an ancient way of life. Inspect a huge range of historic remains.
440km in length and passing along ancient tracks through 75 towns and villages many entry and exit points.
A valuable contribution to both the regeneration and the preservation of this verdant, historically fascinating, country.
Though the Lebanon is making great strides in rebuilding itself after decades of strife, the Middle East is still a troubled area and staying informed of the current political situation is a sensible precaution.
WE ARE SEEKING MORE PHOTOS CAN YOU HELP??
Walkopedia rating
Walkopedia rating86
Beauty

30

Natural interest

14

Human interest

12

Charisma

30

Negative points

0

Total rating

86
Vital Statistics
Length:

440km total; 26 day walk sections of 12-20km

Maximum Altitude:

1800m

Level of Difficulty:

Variable
Top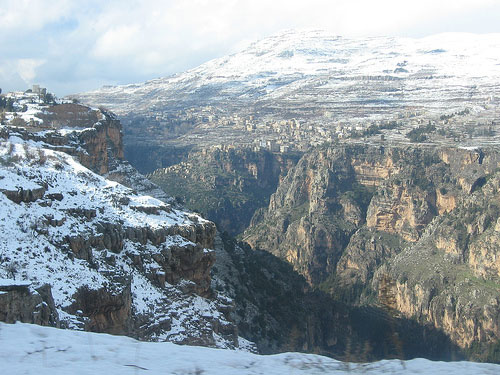 WALK SUMMARY
His branches shall spread, and his beauty shall be as the olive tree, and his smell as Lebanon. Though to the modern ear the country is synonymous with all of the worst travails suffered by the people of the Middle East, the Lebanon, with its fertile soil and relatively cool maritime climate, has always inspired poetic outbursts among the desert people around it. Its cedars and mountains, lush orchards and, if the Song of Solomon is anything to go by, handsome people, crop up over and over in the Old Testament as an earthly paradise: the original land of milk and honey. And fought-over since history began.
The newly-established Lebanon Mountain Trail, which runs some 440km from Qbaiyat in the far north down to Marjaayoun in the south, is a mammoth and admirable undertaking aimed at both preserving and protecting the bucolic traditions of the country's rural inhabitants and bringing much-needed tourism to the country as a whole.
A joint venture between USAID (the US development agency), government and local communities, a series of 26 linked trails, each easily entered, locally administered (and with local guides on each), make up the whole route. This exceptionally beautiful rural landscape follows old drovers' roads, footpaths, pre-Roman trade routes and the odd metalled road through verdant fields and laden orchards - olives, plantains, orange, grapes, apples, figs, almonds and cherries are the main crops here and silent forests of the country's majestic, scented cedars up to snowfields at 2100 metres, passing through some 75 small towns and villages en route.
The trail is scattered with remnants of biblical, pre-biblical, Greek and Roman civilizations temples, roads, remains of villages, niche tombs, rock carvings Ottoman castles, Byzantine churches and palaces including the house of that great nineteenth-century adventurer, Lady Hester Stanhope. Lodgings and guesthouses can be found and booked at virtually every entry-point, with plans to expand this network in the future.
Obviously, the future fortunes of this exceptional project depend on the future fortunes of the region as a whole, and at times sections of the trail are inevitably cut off because of the ever-changing political situation. One can only hope that its planners' dreams of peaceful outcome and an improvement in the lives of the local inhabitants can stand a chance of success.
NOTE: This trail has only just opened up, Jun 09. Information given is necessarily sketchy, and most of it directs to the LMT's own website. Will be updated further as things settle down.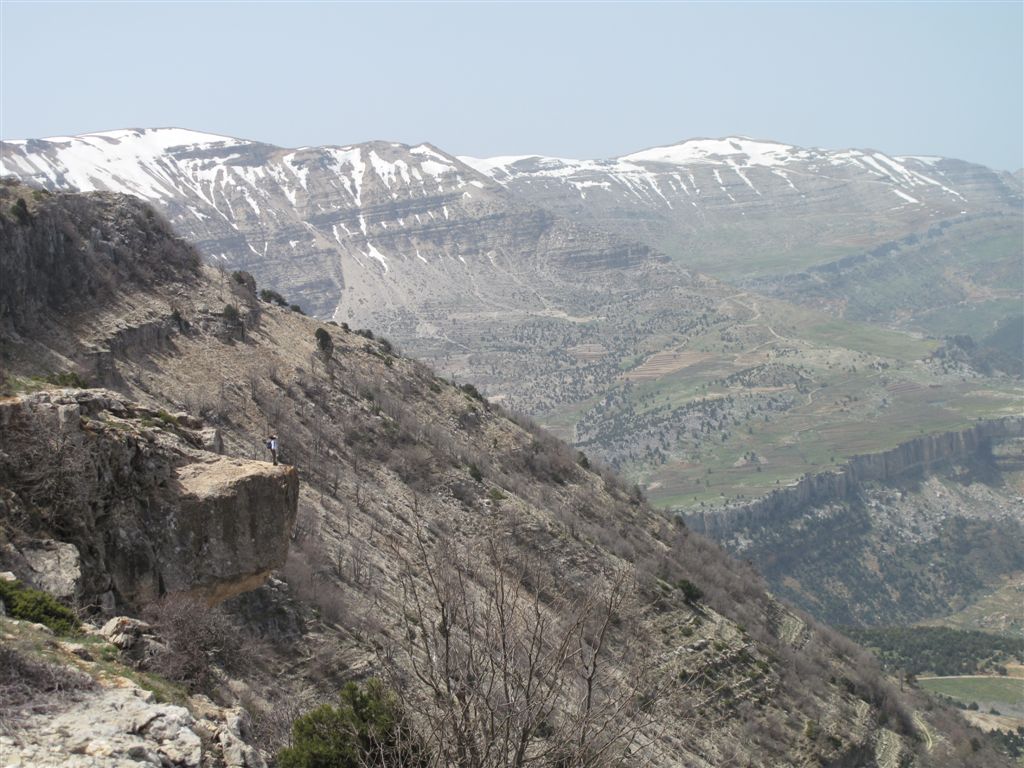 See also expedition planning, including our universal expedition checklist. Walkopedia encourages responsible travel.
Guidebooks/maps/background reading
Guidebooks
Currently, guides are limited to the official booklet produced by the LMT organization itself. As guiding is generally a good idea in current circumstances, the general information and map in this is pretty good. Download a PDF of the booklet here: http://www.lebanontrail.org/pdf/english-brochure.pdf
Other books
A Guide to the Lebanon Mountain Trail – LMT association: mail-order worldwide from: http://www.lebanontrail.org/guidebookregular.asp
Maps
The LMT booklet has a basic map of the twenty-six sections; detailed maps will be available soon: http://www.lebanontrail.org/pdf/english-brochure.pdf
Stanfords: www.stanfords.co.uk. The best (and the most user-friendly) online source of maps (and is also good for guidebooks).
Best times to walk/weather
Best times to walk
Though the Lebanon is relatively temperate in comparison with it neighbours, Summer temperatures can still be ferocious, and the higher trails cross snowfields for some part of the year. Spring – April-June – offers the best temperatures and an abundant flush of flora before the parched brown Summer; Autumn is great for colour.
Weather
Generally fine in season, but come prepared for unpredictable mountain weather and cold nights. Summer days can be unpleasantly hot, though not humid.
For detailed weather information, have a look at: www.worldweather.org or www.bbc.co.uk/weather/world/country-guides
Getting there/transport/permits/fees
Arrange driver-transport to the relevant villages in Beirut; or use one of the tour companies in the link below.
Those on organised expeditions are likely to be transported from/to Beirut.
No permits are needed to do this walk.
Route(s)
There are twenty-six routes altogether, although some of the southern routes require military clearance and are often closed. The routes themselves, being based on ancient roads and tracks, are pretty easy to follow; but guiding is recommended.
The LMT seems particularly keen to promote its Literary Trail in the region of Baskinta. 24km long, it covers a number of literary landmarks possibly only of interest to those comfortably familiar with Arabic literature; but as a taster of the historical Lebanese countryside, it has much to recommend it: http://www.lebanontrail.org/BLT.asp.
A full list of the trail sections can be found on Wikipedia: http://en.wikipedia.org/wiki/Lebanon_Mountain_Trail
Possible problems, health, other warnings
Mountain weather:

snow, heavy rain and fog are hazards in winter.

Heat

and strong sun. Carry enough water and protect yourself.

Harmful animals

, including snakes and scorpions. Take all appropriate precautions.

Landmines:

Though the organization has made every effort to clear landmines from areas affected by war, there is always some small risk. Stick to the paths, and this risk is negligible.

Unregulated hunting

can be a problem here; the locals are keen on supplementing their pots with pot-shots. Again, sticking to the trail, and wearing something that identifies you as human, are strongly advised.

Health risks:

water is of variable quality; drinking the bottled stuff is advisable.

Political situation is not stable

, with all the will in the world, the Lebanon cannot guarantee ongoing peace. A guide

is essential, as if following all guidelines set out by your country of origin.
See also the websites in our useful links page for more detailed, and up-to-date, information.
Safety and problems: All walks have inherent risks and potential problems, and many of the walks featured on this website involve significant risks, dangers and problems. Problems of any sort can arise on any walk. This website does not purport to identify any (or all) actual or potential risks, dangers and problems that may relate to any particular walk. Any person who is considering undertaking this walk should do careful research and make their own assessment of the risks, dangers and possible problems involved. They should also go to "Important information" for further important information.
Make sure you have appropriate insurance.
Guided or independent?
Independent
See below.
Guided/supported
Given the region's unsettled history, and the potential for leftover landmines around some parts (especially in the Druze-held south) of the trails, guiding is highly recommended. The LMT have a network of local guides for each section: http://www.lebanontrail.org/localguides.asp and a list of (supposedly) ecological tour operators here: http://www.lebanontrail.org/ecotour.asp
Accommodation
Camping is an option, but making use of the LMT's list of guesthouses will, obviously, help to bring some money into an area that suffers many challenges. http://www.lebanontrail.org/guesthouses.asp. Despite everything, the Lebanese have a great reputation for hospitality and friendliness.
Other information and tips
Useful websites and information
There are many websites with relevant information. Here are some that we think are useful or have been recommended to us.
· http://www.lebanontrail.org/
· http://www.discoverlebanon.com/#top
· http://www.lebanontrail.org/pdf/articles/LMT_in_Geographical_Magazine,_Sept_2007.pdf
Other things to do in the area
Other walks
Other activities
Beirut, when not ducking mortars, is a fine city with a rich and cultured history. And Lebanese cuisine, a delicious mish-mash of all the traditions of the Levant, is widely regarded as one of the world's finest.
Shopping, if you must
We are not a shopping website. But, anything bought from local people must be of some help to this poor area. So, wallets out!
COMMUNITY COMMENTS AND PHOTOS
Name: ImadM
Posted on: 05/05/2011
Dears Thanks for compiling this great list! - I've done some 15 of them already, so still have a long way to go :-) I've just spent some 7 days on the Lebanon Mountain Trail, and I'd like to share with you a few thoughts and photos: on the grading of the Human part, the LMT should score no less than 16 in my opinion due to: - variety - the villages crossed by the LMT represent all the 2 biggest creeds currently present (and clashing) in the world. One day you're sleeping in a Christian Maronite village, the next in a Druze one, the next in a Sunni place etc ... - the trail passes in the Qadisha valley which is home to ancient hermitages and Monasteries carved in rock - few places in the world rival this mystical valley - the trail passes as well places with Roman, Byzantine and Phoenician presence in one of the oldest inhabited lands Please do not hesitate to contact me if you would like to develop any of these ideas further Regards Imad


Your comments on this walk, your experiences and suggestions, and your photos are very welcome. Where appropriate, you will be credited for your contribution.
Top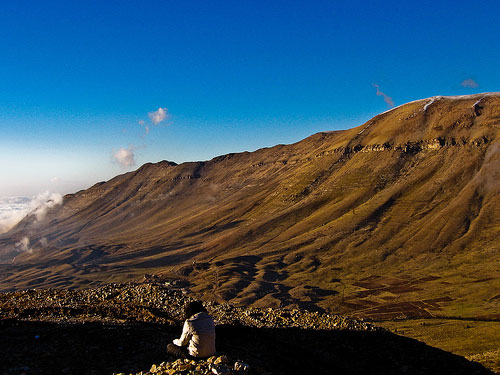 OTHER ACCOUNTS
share your experiences
Top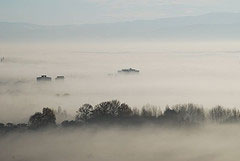 Top
Responsible travel matters, a lot. How you travel will make a real difference - for better or worse. PLEASE consider this when making plans. Read more