Kilimanjaro Summit
Key information: Kilimanjaro Summit
The highest mountain in Africa, a spectacular, charismatic freestanding volcano. Justly famous, but can suffer from crowding.

Pass through varied ecosystems, gaze at cliffs, caves and lava fields. Catch the vast views at dawn.

Six-day (or more) treks, using huts or camping on the lesser-known routes.

This is a high walk and very tough, turning into an altitudinous slog at the end: be prepared.
Walkopedia rating
Walkopedia rating84
Beauty

34

Natural interest

19

Human interest

3

Charisma

36

Negative points

8

Total rating

84

Note: Negs: altitude misery, crowds leaving huts on best known paths, miserable final slog on scree to the crater rim.
Vital Statistics
Length:

Variable

6 days upward

Maximum Altitude:

5,896m

Level of Difficulty:

Very Difficult
Top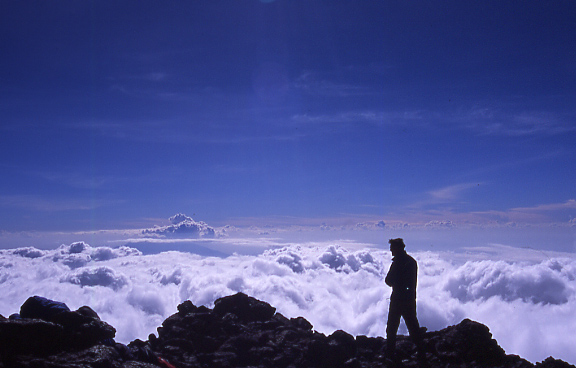 WALK SUMMARY
The highest mountain in Africa, and the highest free-standing mountain in the world: Kilimanjaro is spectacular, romantic and a famous bag; but the 40,000 people on the mountain each year make at times for crowded huts and trails on the summit approaches. You will feel triumph and exhilaration if you are one of the 40% who reach the peak, which your altitude misery will not wholly ruin. Most people, though, are too debilitated by headache, nausea or worse to manage the final ascent. This is one tough mother.
You can understand why Kilimanjaro has been so admired, and draws adventurers from all round the world. A view of it, on a rare clear day, towering in all it majesty above the acacia plains of East Africa, breathes life into that tired word "iconic".
You will ascend through dense rainforest, damp giant heather, sparse scrub moorland, alpine desert, and then rock and ice, deep into a complex of volcanic craters, cliffs and glaciers. As the trail climbs, you may catch spectacular views across a region of natural wonders and you should spot animals of interest - eagles and buzzards will soar above but bigger game is scarce, unlike on neighbouring Mt Meru.
The most popular route to the summit is the Marangu (Cola-Cola) trail, from Marangu village and the Kilimajaro National Park headquarters. This is the only all-hutted route and the most direct. As a result it gets the highest numbers. There are several other routes, which are likely to be less crowded and happier experiences, but all require camping, and thus a larger and more expensive expedition. See "Routes", below.
The final night-time ascent to the summit, to catch the views at sunrise, will be tough and not much fun (a long arduous slog on frozen scree, nose to the bum in front), but should be fabulously rewarding if you make it, as you gaze across the sea of clouds covering the slumbering Tanzanian plains, toward the dim outline of Meru on the pre-dawn horizon.
The altitude will be very tough, so physical fitness and mental preparation, as well as ample time for proper acclimatisation, will make for a more enjoyable trek and increase your chances of getting to the top. Ideally, you will climb Mt Meru or Mt Kenya (albeit demanding in their own right) as a warm-up.
It is a requirement of the Kilimanjaro National Park to have a Tanzanian guide to ensure safety and to organise suitable lodgings/camping, food and porters (you really won't want to carry everything yourself to these heights).
Kili patriots will be shocked that the ascent of this famous mountain does not make our Top 100. In the end, however, drama and boasting rights do not compensate for the miseries of life at 19,000 ft. If you only have time for one mountain here, tackle Meru or Kenya.
www.tourdust.com organise an expedition here : we have travelled with Tourdust, and were delighted. They were very nice and flexible to deal with, and evidently cared about quality, as their walk was meticulously prepared and our support team were outstanding in every way. We are proud to be their partners.​
See our Kilimanjaro Massif page for further information on Kili.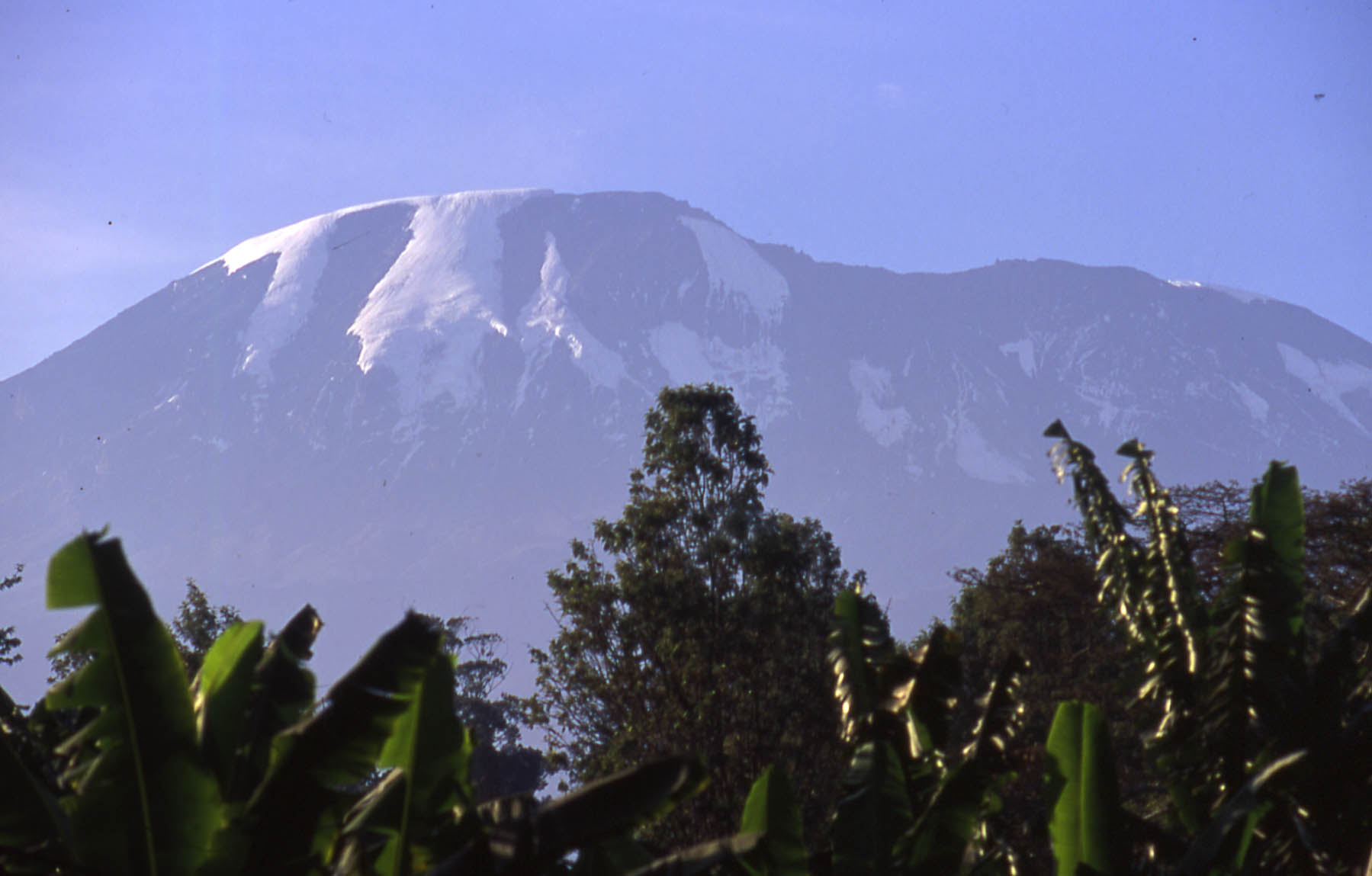 See also expedition planning, including our universal expedition checklist. Walkopedia encourages responsible travel.
Guidebooks/maps/background reading
Guidebooks
Kilimanjaro: A Complete Trekker's Guide - Cicerone
Guide to Mount Kenya and Mount Kilimanjaro - comprehensive guidebook, available through the Mountain Club of Kenya.
Kilimanjaro – The Trekking Guide; Trailblazer . We really like Trailblazer's book on Kili, which has excellent route descriptions and photos, and is very clear about what is a complex and multi-optioned mountain: especially helpful is its condensed summary of the different options. We also like the history of the mountain and discussion and pictures of the fauna and flora.
Trekking East Africa - Lonely Planet
Relevant chapters in Trekking Atlas of the World: An Illustrated Reference to the Best Treks edited by Jack Jackson; The Worlds Great Adventure Treks, edited by Jack Jackson; and Classic Hikes of the World: 23 Breathtaking Treks by Peter Potterfield.
General
Tanzania – Lonely Planet (Mary Fitzpatrick, 2005)
Northern Tanzania – Bradt (Philip Briggs, 2006)
Other books
The Snows of Kilimanjaro and Other Stories – Ernest Hemingway
Under Kilimanjaro – Ernest Hemingway
The Shadow of Kilimanjaro – Rick Ridgeway
The Road to Kilimanjaro – Geoffrey Salisbury
Kilimanjaro: Mountain at the Crossroads – Audrey Salkeld, 2002. Companion to the IMAX DVD (also well worth a watch).
Maps
Map and Guide to Kilimajaro, Andrew Weilochowski (1:75,000)
Kilimajaro Map and Guide, Mark Savage (1:50,000)
Delightful hand-drawn and illustrated map, issued by Maco Editions (http://www.gtmaps.com/) can be bought locally. Artist Giovanni Tombazzi is a talented man.
ITM Kilimanjaro Travel Map
TMB 1:62,500 Kilimanjaro trekking map – Stringall, 2004
Best times to walk/weather
There are two main trekking seasons– from late December to March and from August to October. The busiest time is around Christmas. The best times are January February and September. April to June is rainy season (November and December can also be rainy). July and August can be very cold.
Weather
Daytime temperatures are usually quite warm, considering the altitude, and can reach 10ºc, but in the early hours it can get really cold, especially above 15,000 feet (4,570m). Cloudy days certainly feel cooler on the mountain so you still need to carry warm clothing and a comfortable sleeping bag. The final night ascent is likely to be bitterly cold, so bring lots of layers in case you have to stop.
For detailed weather information, have a look at: http://www.worldweather.org/ or www.bbc.co.uk/weather/world/country-guides
Getting there/transport/permits/fees
AIRPORT: Kilimanjaro International Airport (KIA), between Arusha and Moshi, or Nairobi. From the UK: BA to Nairobi, then KIA; or KLM to Amsterdam then KIA. Flights can get expensive so book ahead.
TRANSPORT: It is possible to travel by bus from Arusha, Moshi or even Nairobi to Marangu. Taxis are also possible, but be sure to agree on the price before starting.
You will need a four wheel drive vehicle to take you and your team to the start of the routes. Transport is best organised in advance.
Those on organised expeditions (i.e. most people) will be transported from the airport or other starting point.
COST: Climbing Kilimanjaro is not cheap. Assume at least US$100 per day (2008) in park fees and other fees, plus organisational costs such as guides, porters and food.
Route(s)
Choosing your route carefully is vital. While factors such as cost and your time available will be relevant, the longer you take to ascend this tough mountain, the more you will enjoy your experience and the more likely you are to make the top. If you can, follow the less-used and more gradual routes. The two most-used routes are:
The Machame route (from the southwest) requires camping so is less heavily used than the Marangu route. It reaches altitude fairly quickly, but then takes more time to reach the final ascent which aids acclimatisation.
Day 1 (6.5 miles) –

Machame Gate to Machame Huts

Day 2 (4.5 miles) –

Machame Huts to Shira Hut

Day 3 (6.5 miles) –

Shira Hut to Barranco Hut

Day 4 (5 miles)

– Barranco Hut to Barafu Huts

Day 5 (12 miles) –

Barafu Huts to Horombo Huts

Day 6 (12 miles)

– Horombo Huts to Marangu Park Gate, alternatively the route can lead down to the Mweka Gate.
The Marangu (or "Coca Cola") route (from the east) is the shortest route with huts all the way. It is heavily used, with crowded huts and a nose to bum slog at the end. You are most likely to suffer from altitude sickness if you take this route. Whilst this route can be extended, at its most basic it is:
Day 1 (7.5 miles/12km) -

Marangu Gate - Mandara Hut

Day 2 (9 miles/15km) –

Mandara Hut - Horombo Hut

Day 3 (9-10 miles/15km) -

Horombo Hut - Kibo Hut

Day 4 (16 miles/27km) -

Kibo Hut - Uhuru Peak - Horombo Hut

Day 5 (16 miles/27km) -

Horombo Hut - Marangu Gate
The Shira and Lemosho routes approach from the west and can be extended to create an almost leisurely ascent. The more direct Mweka and Umbwe routes from the South are also available, ascending steeply through the vast cliffs of the Western Breach. All these routes involve camping.
Remember: the slower you ascend, the less miserable it will be at the end. Most of these routes can be extended. See our Kilimanjaro Massif page for information on other routes on the mountain.
Possible problems, health, other warnings
Altitude:

will affect everyone; potentially fatal. Acclimatize appropriately, come prepared to cope, be ready to evacuate people in extreme cases.

The top of Kilimanjaro is unreasonably high. Altitude stops over half of those who attempt the summit and kills in most years. It is unpredictable and can strike the fit, tough and experienced. Get fit, be prepared, keep hydrated and obey your guide. If he tells you to stop/descend, do so. Watch your friends for signs of acute mountain sickness (AMS)

Mountain weather:

snow, rain, severe cold and wind are possible at any time of year. Come prepared.

Heat

and strong sun. Carry enough water and protect yourself.

Heights

: can be dangerous.

Dangerous/harmful animals

, including snakes, stinging/biting insects and plants. Take all appropriate precautions.

This is a remote country:

You will have to carry all your food, water and other supplies and help will be hard to get if things go wrong.

Health risks

: This is a relatively under developed country and you will not get prompt medical help of a standard available elsewhere if you become ill. Problems in Tanzania include malaria. Come prepared, including getting all appropriate inoculations/medications.
See also the websites in our useful links page for more detailed, and up-to-date, information.
Safety and problems: All walks have inherent risks and potential problems, and many of the walks featured on this website involve significant risks, dangers and problems. Problems of any sort can arise on any walk. This website does not purport to identify any (or all) actual or potential risks, dangers and problems that may relate to any particular walk. Any person who is considering undertaking this walk should do careful research and make their own assessment of the risks, dangers and possible problems involved and get appropriate insurance. They should also go to "Important information" for further important information
Make sure you have appropriate insurance.
Guided or independent?
It is a requirement of the Kilimanjaro National Park that you have a guide – you can only book through approved tour agents, who usually offer a cook, porters and other support as well. Most people form or join an organised expedition, which is likely to give you more certainty and reduce worry, but will cost you more than if you fix things up locally. Expedition organisers include:
Important: Different operators can offer very different routes and experiences. Take time to understand what is involved, and compare carefully, to find what suits you best. It will be worth it.
Accommodation
On the mountain – huts or camping, depending on the route you decide. It is usual to camp rather than use the huts, which are in a poor and dirty condition, apart from those on the Marangu route, and these can be crowded and noisy. There are plenty of lodges and hotels in and around Marangu, Arusha, and Moshi.
Other information and tips
Useful websites and information
There are many websites with relevant information. Here are some that we think are useful or have been recommended to us.
Other things to do in the area
Other walks
Other activities
Shopping, if you must
We are not a shopping website. But, anything bought from local people must be of some help to this desperately poor area. So, wallets out – but try to avoid the more obvious rip-offs and "big" tourist-focussed set-ups.
Safety and problems: All walks have inherent risks and potential problems, and many of the walks featured on this website involve significant risks, dangers and problems. Problems of any sort can arise on any walk. This website does not purport to identify any (or all) actual or potential risks, dangers and problems that may relate to any particular walk.

Any person who is considering undertaking this walk should do careful research and make their own assessment of the risks, dangers and possible problems involved. They should also go to "Important information" for further important information.
COMMUNITY COMMENTS AND PHOTOS
Name: ZiaraSafaris
Posted on: 31/03/2011
http://www.ziarasafaris.com/


Your comments on this walk, your experiences and suggestions, and your photos are very welcome. Where appropriate, you will be credited for your contribution.
Top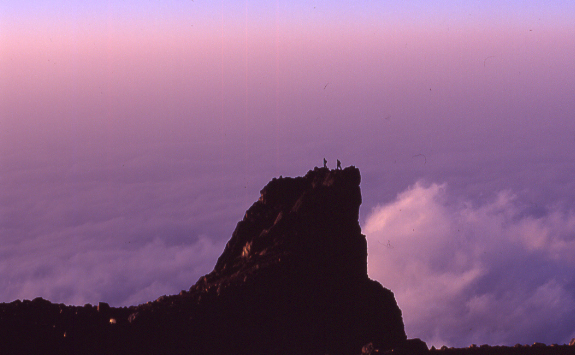 OTHER ACCOUNTS
share your experiences
Top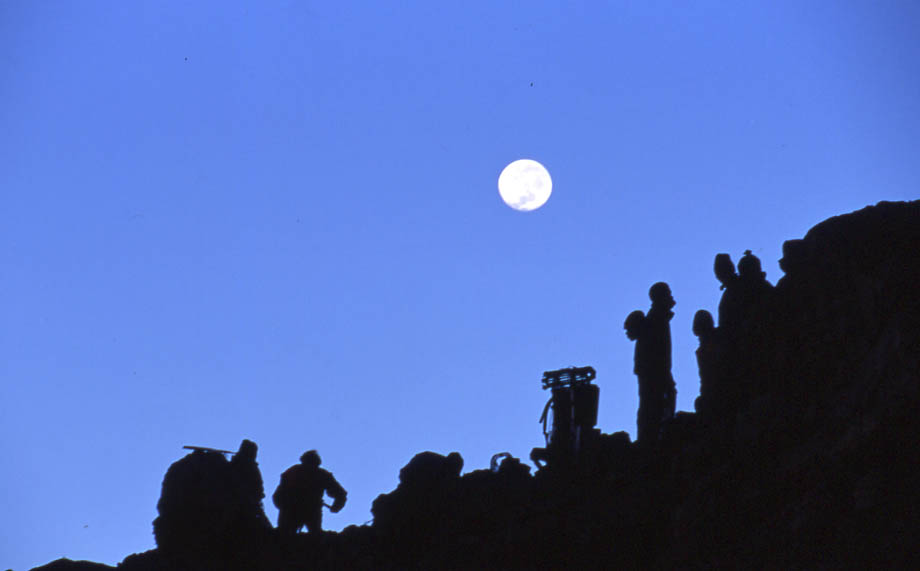 Top
Responsible travel matters, a lot. How you travel will make a real difference - for better or worse. PLEASE consider this when making plans. Read more