Petra Area
Key information: Petra Area
Ancient trade settlement carved from towering sandstone cliffs. A UNESCO World Heritage Site, described as one of the most precious cultural properties of man's cultural heritage.
Approach through the famed, timeless Siq (chasm), a metres-wide gorge in the bare, crazed rock leading into the basin. Admire the workmanship of the intricately carved tombs and buildings of this Nabataean stronghold.
A heroic selection of walks: climb to the High Place and the Monastery, walk in from Little Petra, explore tomb-infested gorges and walk back out via royal tombs and a metre-wide siq.
Siqs (slot canyons) are vulnerable to flash-flooding. Be absolutely certain of the weather (both recent and approaching) before entering.
Walkopedia rating
(Top 100)
Walkopedia rating93.5
Beauty

31.5

Natural interest

15

Human interest

19

Charisma

35

Negative points

7

Total rating

93.5
Vital Statistics
Length:

Day Walks

Level of Difficulty:

Variable
Top
WALK SUMMARY
Petra, nestled among towering pinnacles and cliffs of bright orange sandstone, is undoubtedly one of the finest archeological and anthropological sites in the world; a cultural epicentre of the magnitude of Machu Picchu. Here is a settlement as fantastical as is conceivable, extraordinary structures hewn from living rock. This "rose-red city, half as old as time" [(John William Burgon)] is one of the "new" Seven Wonders of the World and a World Heritage Site.
Petra's founders, the still mysterious Nabataeans, were originally a nomadic tribe from Southern Arabia, who become supreme traders along the routes that crossed the area, dealing in frankincense and spices and goods from Africa, their influence extending as far away as Rome. Its ornate, cosmopolitan tomb facades demonstrate influences of Egyptian, Greco-Roman, Assyrian and Byzantine design. While little is known of their religion, its relics, especially its high places of sacrifice, are all around and are essential to its mystique.
This is a biblical landscape, recorded in the Old Testament: under four hour's trek away is the tomb of Moses's brother, Aaron. There is some dispute as to whether the city, thought to date from the 6th century BC (and to have continued for a millennium), is actually mentioned in the Bible, but Wadi Musa, the local town, is reputedly built on the spot where Moses struck his staff on a rock and produced flowing water.
This reliable water was the source of the city's wealth. The Nabataeans hived off much of the area's water with a vast network of cisterns and aqueducts, allowing them to dominate this key point on the region's trade routes. Hidden and protected by its situation amidst impenetrable desert mountains, it grew to both prominence and wealth through trade.
The site (and the nearby Little Petra, in a gorge of its own) is so large and crowded with marvels that one could spend weeks here and not cover it all. That the Nabateans were admirable engineers is evident not only in the water-courses, but in the very rocks of the city - gargantuan, ornate tombs carved by hand halfway up towering cliff faces, and the High Place: a plateau with a sacrificial altar, overlooking the city, edged by monolithic obelisks carved from the living rock: this can only have been achieved by the wholesale removal of its original peak.
Petra's fame - in particular the world-famous, metres-wide siq (gorge), which forms its main entrance, and which opens directly onto the stunning Khazneh (treasury) - indeed, stardom (it is the site of the climax of Indiana Jones and the Last Crusade, among other media appearances), makes it a magnet for tour groups. Fortunately, many of these make it not much further in than the Roman theatre a few hundred metres down the main drag, leaving great tracts of the city, with its Roman central colonnaded street and temples, high monastery (Ed Deir), royal tombs, Byzantine church, mosaics, monuments and myriad other tombs, relatively peaceful. Entering via the Siq, however, and its breathtaking culmination, is an essential part of the experience: beat the crowds by coming in the early morning, or approaching sunset, when the light catches the Khazneh's scarlet sandstone and seems to set it ablaze.
Don't miss the torch-lit "Petra at Night" - but it only happens once every two nights in high season, so plan ahead.
You can spend days walking in and around Petra. The Cicerone book contains a wide variety of walks, including multi-day hikes. Here are some you must not miss, and others that are more optional.
The Siq and city centre

Al Deir (Monastery) Circuit

round the mountain behind the famous "Monastery".

Little Petra to Petra

via the Three Valleys.

Royal Tombs and Wadi al Mudhlim Siq. This is a fabulous alternative entry or exit route.

Jebel Haroun: this is a fine six or seven hour (expect to be tired) trek to the top of a distinctive 1,350m mountain with its white shrine where Aaron, Moses' brother, is said to be buried. [more text]

Sabra area

. This remote area with a Roman theatre needs two days, camping in Wadi Sabra. Walk back out along the outstanding Wadi Tibn

siq

. Wonderful if you have the time; we didn?t get to do it and regret it the most.

Umm al Biyara, scramble of about 3 hours to mountaintop southwest of Petra on which are the remains of an iron age village. Superb views.

Jebel umm al'Amr: a quite tough slog up via four "High Places" to fabulous viewpoints above the Royal Tombs and onto the Treasury.

Wadi Siyagh: a long canyon which can be followed as a difficult hike. Or, you can wander down some of the way from the Petra basin, enjoying the tombs and open riverbed of its upper reaches.
In our two days at Petra, we did the following (this won't be to everyone's taste!):
Day 1

: In via the Siq and city centre with a guide. To Ed Deir (the Monastery) and round the mountain on a stunning path, descending beautiful Wadi Muaysra al Charbiyya. Back out via the Royal Tombs and Wadi Muthlim. We were in Petra for 9 hours and shattered (it was mid May and very hot).

Day 2

: Little Petra to Petra via Wadi Muaysra as Sharkiyya, then (after lunch) up and over the High Place. Out, slowly and contemplatively, via the Street of Facades and the Siq. This was another 8 hours but somehow less exhausting.
Through the main sites: Siq - Kasneh - theatre - Qasr al-Bint - Roman road -siq. From the visitors' centre, go through the Petra gate (ticket required) and follow the path to the head of the Siq, passing the Djinn blocks, the Triclinium and the Obelisk Tomb. To the right is the Nabataean tunnel cut to carry flash-floodwater away from this main route and through another extraordinary siq (see above). The Siq, a stunning, eerie path between towering, striated sandstone cliffs, lasts a little over 1km, and is peppered with shrines, water-channels, carving and Roman paving (and tourists riding tough little Arab ponies); as you near the end, tiny glimpses of the Khazneh ("Treasury") will begin to show themselves between the rocks, but nothing will prepare you for the shock of emerging and seeing it in its full glory. Allow five minutes for inarticulate swearing, then follow the main drag down the widening canyon. Take time to take in the Street of Facades, Roman theatre and much else. The track up to the High Place (see above) is clearly marked just on the Siq side of the theatre.
Then walk, on Roman paving still remarkably intact in places, along the Colonnaded Street, past the Great Temple and the stub of a triumphal arch. Beyond, on the left, are the huge walls and columns of the Qasr al-Bint, said to be the only free-standing building left in the city after the earthquakes of the last two millennia. At its end is open space surrounded by more remarkable tomb-filled cliffs; when you've had your fill, return up the main drag to the Siq. Because of the endless possibilities for small detours into jaw-dropping archaeology, this route is roughly as long as a piece of string, but don't expect to complete it in less than three hours.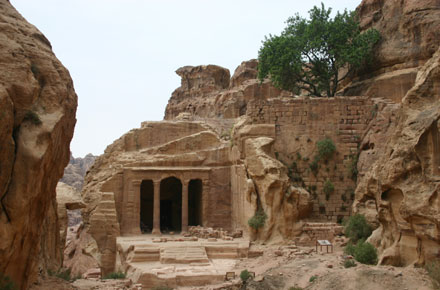 See also expedition planning, including our universal expedition checklist. Walkopedia encourages responsible travel.
Books and Maps
Books on this walk
Jordan: Walks, Treks, Caves, Climbs and Canyons – Cicerone, by Di Taylor and Tony Howard. You must have this book.
Petra: A Traveller's Guide – by Rosalyn Magsood
Jordan - LonelyPlanet, by Hugh Finlay
The Rough Guide to Jordan – by Matthew Teller
Jordan Insight Guide – by APA Publications
Other books
Travels in Syria and the Holy Land – J.L. Burckhardt: detailed account of the travels of the 19th century "rediscoverer" of Petra.
Married to a Bedouin – by Marguerite Geldermalsen
Jordan Jubilee – Ruth Caswell http://www.jordanjubilee.com/book/bookorder.htm or in various shops in-country
Maps
A good large-scale map can be bought locally.
Stanfords: www.stanfords.co.uk.An excellent (and user-friendly) online specialist source of worldwide maps (it is also good for guidebooks).
Best times to walk/weather
Best times to walk
Spring (late January to mid May) and Autumn (October and November) are best: generally clear, sunny days and moderate temperatures make them the best times to visit. To avoid tour-bus crowds, early morning and late afternoon are best.
Weather
Around three quarters of the country can be said to endure a desert climate, with very little rainfall. However during November to April there can be rain and even snow. Summers see very hot temperatures and should be avoided. Beware rain: though not a problem in itself (unless torrential, when Petra can be closed), even a small fall can render gorges vulnerable to flash floods.
For detailed weather information, have a look at: www.worldweather.org or www.bbc.co.uk/weather/world/country-guides.
Getting there/transport/permits/fees
Royal Jordanian, the national airline, flies to Amman from numerous destinations worldwide. British Airways, BMI, Air France, KLM and Lufthansa also operate routes to the capital.
A visa is needed to enter Jordan: you can obtain single entry visas – valid forone month from any port of entry (except the King Hussein Bridge at the Jordan/Israel border), costing about ten Jordanian Dinars (around £7, €9 or $14).
Those on organised expeditions are likely to be transported from arranged departure points, usually Amman airport.
Many visitors hire a car and driver, which is still (as of 2010) a surprisingly cheap option. You can get to Petra by bus.
Permits to enter Petra need to be purchased before entering, from the Visitors' Centre. Permits (prices in 2008) cover 1 (21JD) 2 (26JD) and 3+ (any number, but the ticket needs to state how many) (31JD) days; under-15s free.
Route(s)
See Walk Summary above.
(Above) Map of Petra, by Hobe (Holge Behr). Permission: Creative Commons Attribution-Share Alike 3.0 license.
(Below) Interactive map of Petra.
Possible problems, health, other warnings
Heat

and strong sun. Carry enough water and protect yourself.

Heights:

some of these walks are not for those who have difficulties with heights.

Canyon dangers:

canyons can be lethal, particularly as a result of

flash floods

. Assess and prepare for all risks on those walks involving canyons or potentially wet siqs. In particular, check the weather carefully and don't go after rain or if it is possible.

Dangerous animals

, including snakes and scorpions. Take all appropriate precautions.

This is remote country:

help may be hard to get if things go wrong.

Health risks:

you may not get prompt medical help of a standard available elsewhere should you become ill.Potential problems include insect born diseases – and water-born, a problem because of a lack of safe drinking water.Come prepared, including getting all appropriate inoculations/medications.

Stability:

as of 2010, Jordon has been safe and stable for years. But the region is inherently unstable, so check the current position.
See also the websites in our useful links page for more detailed, and up-to-date, information.
Safety and problems: All walks have inherent risks and problems of any sort can arise on any walk. Many of the walks featured on this website involve significant risks and possible problems. This website cannot, anddoes not purport to, identify all actual or potential risks, dangers and problems that may relate to any particular walk or to a country in general. Any person who is considering undertaking this walk should do careful research and make their own assessment of the risks, dangers and possible problems involved. They should also go to "Important information" for further important information.
Make sure you have appropriate insurance.
Guided or independent?
The first question is: how do you plan to get about, generally? Public buses cover many places, but don't go to Wadi Rum or out-of-the-way sites. Many people hire taxis or cars, or cars with drivers, still a relatively good value option and one which can add huge benefits in local know-how.
And: do you make your own arrangements (perfectly doable especially if you have a helpful driver), or use a travel company? The latter will add cost but will simplify the process.
We used Petra Tours to arrange our 8-day expedition. They are a large and reputable local firm and, while not walking specialists, made generally very satisfactory arrangements to fit the detailed plans we gave them. We were lucky to get the delightful and kind Ahmed Tahoon (mob. (+926) 799249146) as a driver (you can ask for him specifically): knowledgeable and happy to expand on any subject.
There is a multitude of other Jordon tour organizers, including the following:
You can also visit Petra on Headwater's excellent-looking Jordan trip, travelling the length of the country and including some leisurely and more strenuous (optional) walks through its stunning landscapes.
As regards

Petra specifically

:
Independent
You can do most of these walks independently, but come prepared.
Guided/supported
There are many guiding companies based in Wadi Musa, and walking here (at least in the city centre) with a knowledgeable guide has real advantages, both in terms of routes and because they will have knowledge of sites that one might well miss out on if going it alone. You can hire a local guide on the spot, although you will take pot luck as to quality. Otherwise, a Jordan expedition organisers will have its own ideas about appropriate local guides, including finding specialist trekking guides.
Accommodation
There is a surfeit of hotels available, though even these may become full quickly during peak times.
Hostelbookersusually has a good selection of cheaper-end accommodation.
Other information and tips
Tipping: a delicate subject. Guides, drivers etc do not necessarily earn high wages as they are expected to get good tips. So, if you get decent service, you should err on the side of generosity. Regard it as a cost to plan for.
Useful websites and information
There are many websites with relevant information. Here are some that we think are useful or have been recommended to us.
Other things to do in the area
Other walks
Wadi Rum; Lawrence of Arabia's refuge and a desert of wondrous multi-hued rock formations and barren, rugged terrain.
100km guided walks to Rum, or 150km to Aqaba, afford spectacular vistas across desert and terrain so bizarre and barren that it is easy to understand how Petra managed to get entirely lost to the outside world for the best part of 400 years.
Jordon has a huge variety of great walks: there is likely to be a good walk within range, where ever you may be. The Cicerone book has a multitude of ideas. Have a look at Dana, Wadi Mujib and Ajloun areas.
Other activities
Various street festivals are organised throughout Jordan in the summer months. The festival celebrating the end of Ramadan, the Muslim month of fasting, is a particularly special occasion.
Jordan is crammed with historical and archaeological marvels: particularly recommended, the Roman ruins at Jerash, in the north, and Crusader castle at Al-Karak.
Aqaba has plentiful hotels and famous Red Sea diving and snorkeling.
The Dead Sea: via several hotels and spas can often be organized on day-trips and shuttles from Amman. As well as its historical significance, the Dead Sea is renowned for its healing effects.
Safety and problems: All walks have inherent risks and potential problems, and many of the walks featured on this website involve significant risks, dangers and problems. Problems of any sort can arise on any walk. This website does not purport to identify any (or all) actual or potential risks, dangers and problems that may relate to any particular walk.

Any person who is considering undertaking this walk should do careful research and make their own assessment of the risks, dangers and possible problems involved. They should also go to "Important information" for further important information.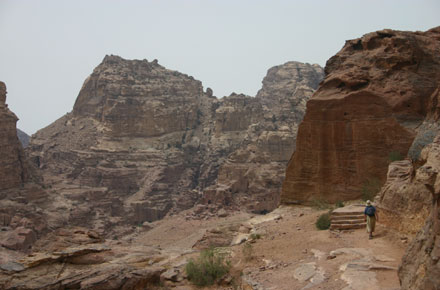 OTHER ACCOUNTS
share your experiences
Top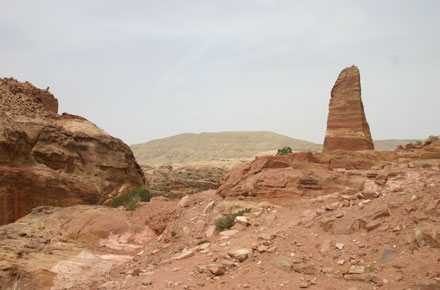 Top
Responsible travel matters, a lot. How you travel will make a real difference - for better or worse. PLEASE consider this when making plans. Read more