Zion National Park
Key information: Zion National Park
Walkopedia rating
Walkopedia rating95
Beauty

37

Natural interest

18

Human interest

4

Charisma

38

Negative points

2

Total rating

95

Note: Negs: Popularity; crowding on the best trails.
Vital Statistics
Length:

Your Choice

Maximum Altitude:

Around 2,300m

Level of Difficulty:

Variable
Top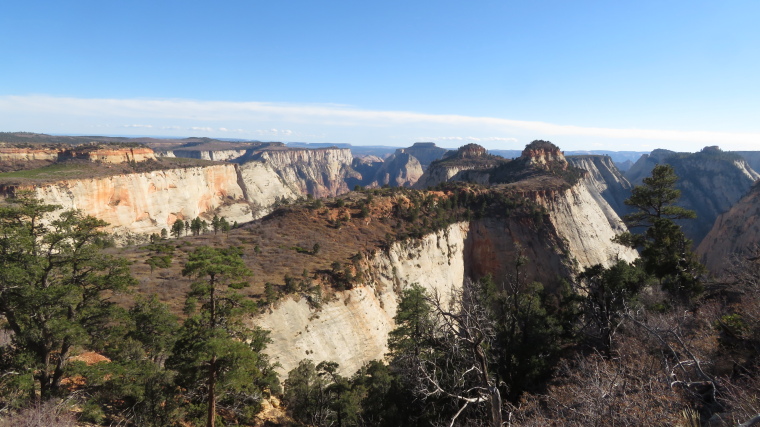 WALK SUMMARY
Zion has some of the world's finest desert-canyon landscapes. Millions of years of erosion of these deep sandstone lands has produced extraordinary scenery of vast, sheer-sided, colourful canyons and an astonishing selection of towers, spires, cliffs and slot canyons cut into high, forested plateau.
There is a huge array of splendid and varied walks here, from short canyon-bottom strolls to demanding climbs to remarkable viewpoints, to famous slot canyons, to multi-day yomps.
The heart: Zion Canyon
There are plenty of great walks here, but the following are probably the finest:
Angel's Landing: this outstanding 1,500 ft climb up a huge and absurdly narrow spine ("only an angel could land on it") at the heart of the park is justly famous. Marvel at superb and gripping all-round views of the deep Zion canyon and its spires, towers and red sandstone walls. The 1,000 ft climb to Scout Point, the turn-off to the Angel's landing spine, is steep but straightforward. Thereafter it is a thrilling clamber up the spine on a steep and narrow path, often teetering, horribly exposed, over huge drops, with many cable-assisted stretches: don't try this bit if you are uncomfortable with heights.
Observation Point and Hidden Canyon: Observation Point is enthroned, at 1,984m (6,508ft), on the eastern rim of the main Zion canyon, more than 2,000ft above a major bend in the canyon, directly across from the for once diminutive-looking Angel's Landing. The 4-5hr, 12km (7.5 miles) round trip is stunningly good. From the Zion floor, you can't see how the trail could get up above the sheer walls, but it is superbly constructed and does just that in a series of switchbacks. You emerge into a magnificent upper bowl, from which a long series of switchbacks and a balcony walk to Observation Point gets you to a series of ever-better views as the whole of inner Zion appears below you. Wonderful. If you can, take in the one hour round walk, itself a marvel chiseled into sheer walls and slickrock, to admire the extraordinary narrow, sheer-side Hidden Canyon.
The Emerald Pools Loop: a series of.. er... green pools and waterfalls up a short, steep side-valley below the main canyon's huge, sheer western wall. The pools and valley are gorgeous; stunning views of some of the area's most famous formations. 3miles return, a moderate walk. Very popular! You can walk to the lower pool in a bit over 2 easy kilometres.
The Watchman: a steep slog up a side canyon onto the eastern highlands and out to a fine viewpoint (at just under 2,000m) near the southern park entrance. Estimates of length vary; the Day Hikes of Zion NP map says 3.3miles/5.4km.
Zion Narrows: this extraordinary deep, narrow "slot" canyon is the best-known, and arguably the best, of its kind in the world. Water-smoothed red sandstone walls soar above, over 1,000m high in places. The canyon is some 26km long, from the trailhead at Chamberlain's Ranch to the north-east to the exit into the main Zion canyon. It can be walked in a long day (or with an overnight); but most people walk in from the bottom of the Narrows, whether on the easy, maintained Riverside Walk or, more adventurously, on the longer "Bottom Up Route". The Virgin River is a permanent feature, so, once you are past the Riverside Walk, you are paddling/wading (sometimes waist or even chest deep) the majority of the time. The Top Down Route is the big 'un, a tough but thrilling and fascinating hike the entire length of the Narrows. One very long day, or two with an overnight camping in the Narrows. The Bottom Up Route is demanding and tiring walking, much of the time in the river after the end of the Riverside Walk. But an extraordinary experience. 15km/9.4 miles return. Beyond Orderville Canyon is Wall Street, 3km+ of exceptionally narrow and high walls, the defining section of he Narrows. The Riverside Walk: is an easy, dry, maintained 2.1 mile (3.3km) return trail which meanders beside the river up to where the walls have narrowed such that the river occupies the whole floor. A stunning walk, but a mere foretaste for the wonders of the longer trails. Beyond here, you will be walking in water much of the time; come prepared for wet and variable canyon conditions – and for getting really cold. You can hire water boots and sticks in Springdale. Flash floods are a menace: take careful precautions before you go.
Mystery Canyon: this deep and beautiful hanging canyon feeds into Zion Narrows; it is a canyoneer, and one of the finest in Zion and probably in the USA. Expect a steep and demanding entrance, numerous rappels, some of them major, in gorgeous dark sculpted narrows, an enormous landslide/rockfall obstacle. The grand finale is the rappel down Mystery Falls into the mottom reaches of Zion Narrows.
Western Side
The West Rim Trail is a long, but fascinating, beautiful and dramatic walk. Starting near Lava Point in the far north of the main park area, it winds along the high plateau west of the main Zion canyon areas, with superb views west across the dramatic Wildcat Canyon, then drops on amazing dynamited paths across the cliffs and slickrock of the Zion canyon sides to Scout Lookout, then down endless switchbacks into the narrow Refrigerator Canyon and down to the Zion canyon-bottom at The Grotto. It would be negligent not to take in a climb of Angel's Landing while you are at it.
Wildcat Canyon: a superb 9.3km, 3hr tramp across the grass and forest lands of the plateau and the rocky slopes above this magnificent canyon between the main Zion area and Kolob to the north-west. You should make the 2+mile side-trip to the Northgate Peaks for exceptional southward views.
The Connector Trail connects the Hop Valley Trail into the Kolob Canyons area from the Kolob Terrace road in the north-west, with the Wildcat Canyon Trail. A fine walk in its own right.
The Subway/Left Fork: The Left Fork of North Creek breaks spectacularly through the high western plateau, from Wildcat Canyon to run below the Kolob Terrace Road. It contains a superb and famous section of near-subterranean slot canyon known as The Subway. There are two ways to explore it:
From the bottom up: a strenuous round-trip. You don't see as much of the amazing sections as from the top-down, but this is a hike not canyoneering, and still a fine and fascinating walk by any standards.
From the top down: a strenuous and demanding hike/canyoneer. You will also need to swim through several deep, cold, clogged pools.
Permits are required for both routes.
In the far south-west, the Chinle Trail makes an interesting journey out into desert scenery, to admire a petrified forest, among other delights.
Eastern Side
The East Rim Trail is a fine walk-in to the heart of Zion from the east entrance to the park. It spends much of its time on the eastern highlands before dropping into the huge bowl to the east of Observation Point. Thence it descends to the base of Zion at Weeping Rock.16km, 4hrs one way. A shorter there-and-back along the beginning of the trail takes you along the trail to the contorted Jolley Gulch slot canyon.
The East Rim Summits Trail is a major undertaking, 43km/27 miles along the East Rim Trail in from the eastern entrance to the park to the eastern rim of the main Zion canyon and eventually down through Echo Canyon to the canyon floor, but detouring to take in all 3 main walking summits: Deertrap Mountain, Cable Mountain and Observation Point – or one or two of them, as your energy dictates.
The East Mesa Trail is a superb walk-in from the east across the high ground to Observation Point, one of the finest of all the park's viewpoints. 4km, 1hr one way. You can then walk on down to the main Zion canyon.
North-west: Kolob Canyons
The Kolob Canyons area to the north-west of main Zion is itself gorgeous and fascinating, but much less visited. Two days at Zion won't be long enough for most walkers to get out here, but if you have three or more, you should take time up here away from the crowds in the heart of the park.
La Verkin Creek Trail: a 22km there-and-back to the foot of the climb to see the huge Kolob Arch, arguably the world's longest free-standing arch, and the junction with the Hop Valley Trail and the Willis Creek Trail. You can walk back out, or take these trails for onward backpacking: Lovely Hop Valley takes you south to the Kolob Terrace Road and the Connector Trail to the West Rim Trail and the heart of the park.
Walkopedia walked here as part of a Zion, Bryce, Goblin, Capitol Reef, Arches NP, Canyonlands, Monument Valley, Grand Canyon loop. We had 1.5 days at Zion, so walked Observation Point on the first half day (we wanted to whizz up to Hidden Canyon en route, but ran out of daylight). On day 2, over-optimism hit, and we walked the brilliant West Rim Trail, which comes down right by the Angel's Landing ridge, so we planned to take that in en route. But we were too leisurely about the West Rim Trail, stopping to enjoy its delights too often, and got to Scout lookout just after 5pm, when, in November, twilight was already there. We walked a bit of the Landing, but had to turn back because the light was seriously fading. We hardly dare admit, as it deserves ridicule, we'd hoped to explore a bit of the Narrows too, indeed hired and lugged water-boots 15 miles for that purpose.
This can be tough walking in remote mountains with uncertain weather. Come fully prepared, including carrying enough water.
Zion is heavily visited, so you won't be alone on its better-known trails. Quite a lot of concreting of the main trails is inevitable, and a bit depressing to the purist.
Have a look at TripAdvisor – there are tens of millions of reviews, so you may get good, current views on guides, places to hike and places to stay on the Galapagos.
The Grand Canyon with Zion and Bryce Canyon NPs – Cicerone: excellent, although one can sometimes feel one has not got a sense of what a walk will really be like; includes all relevant practical information. Recommended. Find relevant books on Amazon.
Our friends and partners Responsible Travel have a selection of walking and other holidays in South-west USA. You should get good ideas, perhaps for something you hadn't thought of!
We want to tell more - please send us your ideas, suggestions, experiences and photos. Thank you!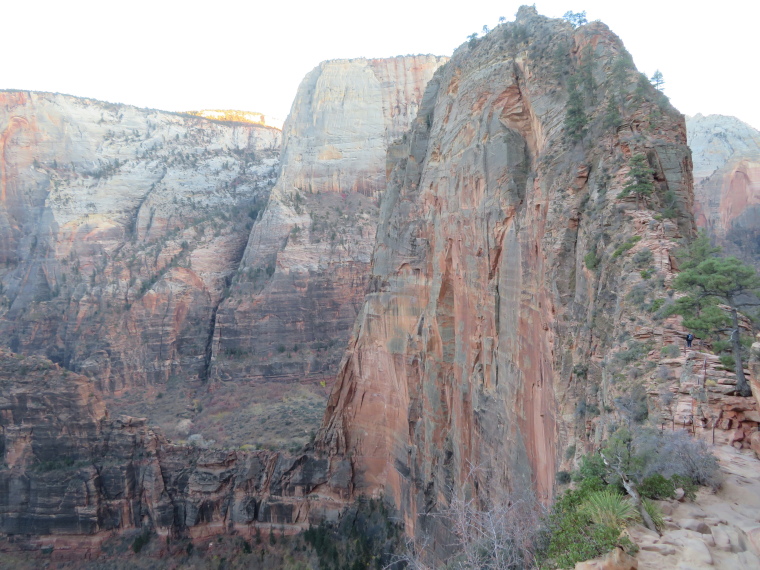 See also expedition planning, including our universal expedition checklist. Walkopedia encourages responsible travel.
See also expedition planning, including our universal expedition checklist.
Walkopedia encourages responsible travel.
Books and Maps
Books on this walk (support us: find books using our Amazon search box)
The Grand Canyon with Zion and Bryce Canyon NPs – Cicerone: excellent, as usual, although one can sometimes feel one has not got a sense of what a walk will really be like; also covers all the practical information you would get in a general guidebook.
Hiking Zion and Bryce Canyon National Parks – Erik Molvar
50 Best Short Hikes in Utah's National Parks – Ron Adkison
Lonely Planet Zion & Bryce Canyon: National Parks – Campbell, Vlahides, Lukas
Frommer's Zion & Bryce Canyon National Parks – Laine & Laine
Find these and other books on Amazon.
Other books (support us: find books using our Amazon search box)
Rough Guide to SouthWest USA
Lonely Planet SouthWest USA – Grant, Blond, Vlahides
Find these and other books on Amazon.
Maps
Good maps can be bought locally, easily. The Visitor Centre is an excellent source, providing a free sheet on the park including a basic map, plus lots of other maps. Go there on arrival.
The Trails Illustrated Series, and other specific trail maps, can be bought at the visitor centre. For real remote walking, you will need the US Geological Survey maps. May be gettable locally, but need to be ordered online to be sure.
Stanfords: www.stanfords.co.uk. A good online specialist source of worldwide.
Best times to walk/weather
March-May (but weather can be inconsistent). Generally cold until late April.
September-Mid November - best times, including tree colours October-November.
Weather
Whilst the summer is extremely hot inside the canyon, the winter can be appealing for visitors who are happy with cold and shorter days, although icy conditions near the rim can make a winter expedition perilous. Temperatures can take visitors by surprise, as temperatures in the canyon are often a lot hotter than at the rim.
For detailed weather information, have a look at: www.worldweather.org or www.bbc.co.uk/weather/world/country-guides.
Getting there/transport/permits/fees
International/internal flights to Las Vegas or Salt Lake City; internal flights to smaller airports, including Springdale.
Skyscanner is an excellent (relatively new) site for finding the flights you need; otherwise try Lastminute.com, or look at what's available on Tripadvisor.
158 miles/3hrs from Las Vegas. 325miles/6hrs from Salt Lake City.
This being the USA, almost all visitors arrive by car. There is little other relevant public transport. Car hire is pretty easy.
There is a very good and frequent shuttle bus service in the main Zion Canyon and elsewhere. Private cars are not allowed in, a huge mercy.
A vehicle-based park fee is payable. If you are travelling widely, think of getting a National Park pass.
Those on organised expeditions are likely to be transported from/to arranged start/departure points.
Permits are needed for some Zion walks, including the Left Fork.
Overnight Backcountry Permits are required for all camping within the park. Some areas are closed for camping. There are a limited number of permits, so applications should be made well in advance. For details, check the guidebooks and also (in case of changing rules) – see www.nps.gov/zion. There is a permit fee.
Possible problems, health, other warnings
Variable temperatures: often broiling, but it can get very cold. Always bring layers and a waterproof and come prepared for the time of year – and the unexpected.
Heat and strong sun. Carry enough water (and plan for water supplies in an emergency) and protect yourself.
Heights: dangerous! Not for those who have difficulties with heights.
Dangerous animals, including mountain lions and coyotes, snakes, scorpions, stinging/biting ants and other insects and stinging or sharp plants. Take all appropriate precautions. Check before sitting on or moving rocks and logs.
Mice and other rodents can gnaw through your bags. Hang packs with food up – or store them in metal boxes if provided.
Canyon dangers: canyons can be lethal, particularly as a result of flash floods. Assess and prepare for all risks on those walks involving canyon beds, including checking the weather forecast - don't go into narrow canyons when rain is expected. Main risk season is July – beginning of September.
Summer lightning storms: get into shelter if one is coming.
This can be remote country: you will have to carry all your food and other supplies, and help may be hard to get if things go wrong.
See also the websites in our useful links page for more detailed, and up-to-date, information.
Safety and problems: All walks have inherent risks and problems can arise on any walk. Many of the walks featured on this website involve significant risks and possible problems. This website cannot, does not purport to, identify all actual or potential risks, dangers and problems that may relate to a walk or a country. Any person who is considering undertaking this walk should do careful research and make their own assessment of the risks, dangers and possible problems involved. They should also go to "Important information" for further important information.
Make sure you have appropriate insurance.
Guided or independent?
Independent
The great majority hike independently. But you will need to be self-sufficient, so come fully prepared.
Guided/supported:
Some people form or join organised/supported expeditions. Travelling here with a knowledgeable guide has real advantages.
If hiring a guide locally, meet him/her and get comfortable before committing. Make sure all requirements are understood and agreed.
Expedition organisers include:
Audley Travel – www.audleytravel.com
Grand American Adventures – www.grandamericanadventures.com
Zion Jeep Tours – https://www.zionjeeptours.com/
Mountain Kingdoms – www.mountainkingdoms.com
[Trek America]
PLEASE HELP Walkopedia by recommending any reputable tour organizers that you know of – local or otherwise.
Accommodation
Springdale near the southern entrance, and other towns further afield, have lodges, hotels and stores. Accommodation can need to be booked months in advance, so plan ahead.
Other than at Zion Lodge, camping is the only realistic option once in the NP. There are various campsites which often need booking ahead. Wild camping is not allowed.
There are relevant accommodation websites. See Useful Websites below.
See what the commentary on Tripadvisor is on possible places to stay – although do take their reviews with a pinch of salt, as they can be "interested".
Other information and tips; responsible tourism and charities.
Tipping is expected, so come mentally prepared and with enough cash. Check guidebooks for current rates.
Water will be essential: plan carefully.
Useful websites and information
There are many websites with relevant information. Here are some that we think are useful or have been recommended to us.
Other things to do
Other walks
Other 'great' walks within easy striking distance include the Grand Canyon [link] and Bryce [link]. Many amazing areas a bit further off.
The USA has a huge variety of great walks. There is likely to be a good walk within range wherever you may be going.
Other activities
Endless.
Safety and problems: All walks have inherent risks and potential problems, and many of the walks featured on this website involve significant risks, dangers and problems. Problems of any sort can arise on any walk. This website does not purport to identify any (or all) actual or potential risks, dangers and problems that may relate to any particular walk.

Any person who is considering undertaking this walk should do careful research and make their own assessment of the risks, dangers and possible problems involved. They should also go to "Important information" for further important information.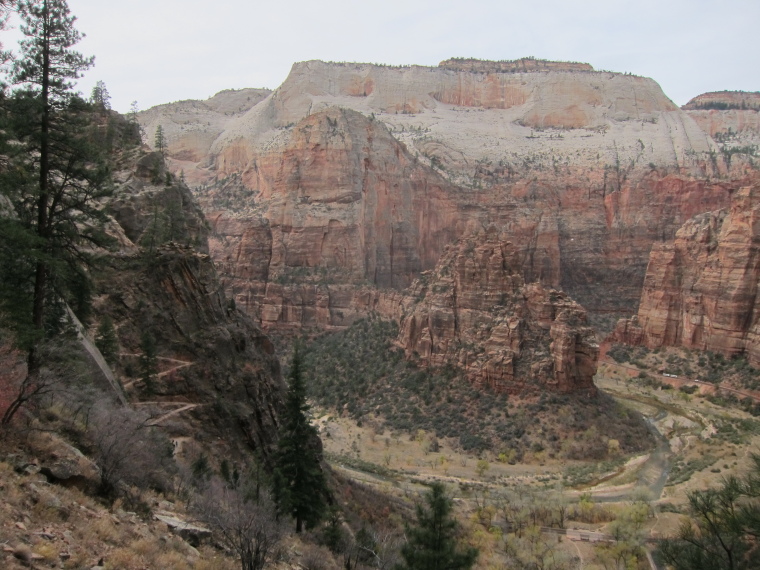 OTHER ACCOUNTS
share your experiences
Top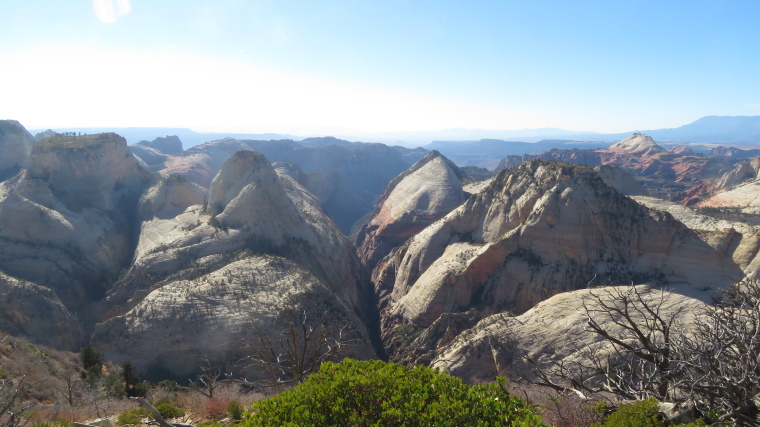 Top
Responsible travel matters, a lot. How you travel will make a real difference - for better or worse. PLEASE consider this when making plans. Read more