Canyonlands National Park
Key information: Canyonlands National Park
A famous area of remarkable red sandstone cliffs and canyons, spires and arches, with a wide range of outstanding walks.
The two key areas are The Island in the Sky, with its truly iconic views, and the dramatic, crazed Needles.
Walkopedia rating
Walkopedia rating89
Beauty

35

Natural interest

18

Human interest

0

Charisma

36

Negative points

0

Total rating

89
Vital Statistics
Length:

Variable

Maximum Altitude:

Around 1,900m

Level of Difficulty:

Variable
Top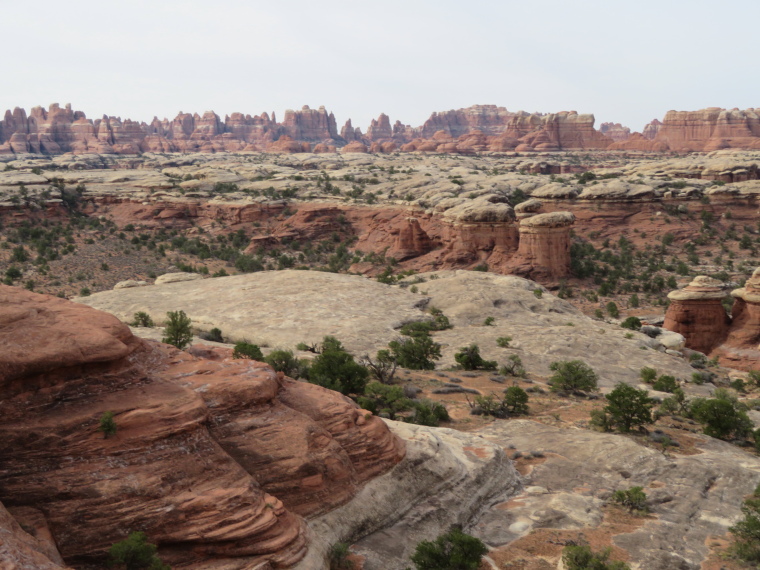 WALK SUMMARY
Canyonlands lies at the junction of the Colorado and Green rivers, which, over millions of years, have carved a huge area of superb red sandstone mesas, buttes, canyons, spires and arches.
What makes Canyonlands so outstanding – in Walkopedia's eyes, anyway – is the way that different layers of rock have interacted with the great forces of erosion to produce a series of flat plateaux and cliffs – the long, narrow platform of the Island in the Sky and other mesas at the top of the heavenly ladder, with their hard pale topping; the wide mid-level table of the White Rim all around it, again protected by harder pale rock from erosion – but each eaten away at the sides by the gnawing at their softer bases as the great rivers and their side streams do their destructive work.
This has resulted in all sorts of special beauties. The distances are huge: you can see for miles from the Island in the Sky in the clear desert air, gazing across the abyss to the far canyon sides and distant mountains. Immediately below, the White Rim table land is eaten into beautiful shapes, curves and arabesques worthy of Matisse, by the encroaching lower canyons, breaking up at its edge into some stunning white-topped buttes and spires. Further away are the broken jumbles of the Maze and the Needles. And in the north is the other-worldly weirdness of the Upheaval Dome.
Canyonlands is dry, rocky desert, with hardy, adapted vegetation and wildlife. But both are varied and interesting, although much of the wildlife is nocturnal. Wildlife includes big horn sheep, mule deer, mountain lions, bobcats, coyotes, eagles, hawks and falcons.
The area has long been occupied, with ruins and petroglyphs remaining as silent evidence.
The best views are from the Island in the Sky, with some unforgettable walking up there as a result. But there is top-quality walking to be had throughout the park. The key walking areas, and their pedestrian brood, are:
The Island in the Sky:
This huge mesa at the heart of the park plays host to some outstanding and famous scenery – and to some fine if relatively short walks: its glory is its rim: dare one say, its interior is not specially thrilling, so longer walks tend to involve descending to the lower levels.
Grand View Point Overlook: this 2 mile circuit winds out to the extreme southern tip of the Island for some unforgettable views – indeed, it is the proud possessor of these throughout. Throngs of people, at least in its early stages, but an unmissable experience. Take a picnic lunch, or get there for dawn or sunset…
Mesa Arch: a half-mile loop to this fine cliff-edge arch on the east side. You are unlikely to be alone. Almost too short to count as a walk.
White Rim Overlook: 1.8 mile there-and-back to a fine point on the eastern cliffs. Ridiculously gorgeous views. From just by the roadhead, the Gooseberry Trail descends very steeply to the White Rim – 5.4 miles return.
Aztec Butte: a steep 2 mile return climb to the remains of ancient Pueblo granaries tucked into rocky niches. Fine views from the top.
Murphy Point: a 3.6 mile trail to a superb viewpoint on the western side, and back. Much of the trail is on the nice-enough top of the mesa, with remarkable views opening up as you approach the propontory end.
Murphy Loop: walk the 19+km Murphy Trail, down off the Island cliffs, then along the sharp, spectacular Hogback ridge and down to the upper reaches of the White Rim table. Swing south briefly on the White Rim Trail track, then climb back up a wash to the base of the cliffs and on up to the Island. Walkopedia covets this walk.
Lathrop Trail, in the north-east: drop from the Island in the Sky to the White Rim (in nearly 7 miles) and on down to the Colorado river (another 3.6). A demanding overnighter if going the whole way down and back.
Alcove Spring Trail: a long descent into Taylor Canyon in the far north, to view the stunning Moses and Zeus towers. 11+ miles return.
The Upheaval Dome is a very peculiar feature in the north-west of the Island in the Sky. A ring of huge, bright and often sheer sandstone cliffs surrounds a great hole some 5km across, with what looks like a white miniature mountain range, actually underlying shale, at its centre, with spires of what look like vitrified rock or volcanic plug protruding.
There are two theories about its formation, that it is either the heavily eroded remains of a meteor impact crater, or an upheaval pushed by the great salt layers that underlie the area.
A must is the short walk from the roadhead to the two Upheaval Dome Overlooks perched on the inner ring, which give fascinating views of the heart of the crater. The dramatic bare, smooth sandstone ridge of the Whale is also very worthwhile.
The famous walk here is the Syncline Loop, a demanding 13km/8mile circuit which runs between the rocky rings around ther Dome, much of the time in spectacular dry red sandstone canyons.
You can also walk in to the weird white centre of the Dome; and out west through the great gap in the cliffs and down the Upheaval Canyon trail to the Green River.
White Rim table:
The White Rim Trail/Road is a 4WD track which runs round the entire White Rim plateau, below the Island in the Sky. While it is most popular with off-roaders, it is often beautiful and always interesting walking, as well. Quite a lot of walking options.
This big area in the south-west of the park consists at its heart of extraordinary – even weird at times – brightly coloured sandstone towers, spires, needles (even), mushrooms, cliffs and walls and arches laced with canyons big and small and scrubby pockets. The Needles have been shaped by the erosion of a multitude of vertical fractures.
Around the core of "needles" are eroded slickrock and shallow canyons. The whole area is a bit of a maze. Access is by a long road in from the east.
In the south-west is the peculiar area of dry grassland surrounded by extraordinary needly formations known as Chesler Park; many would argue this is the area's finest walking, but it takes some getting to. There is consensus that the best walk is the Chesler Park Loop/Joint Trail, a 11 mile (18km) circuit of Chesler Park from/to Elephant Hill (6miles appx if already in Chesler Park), which gets to admire the local rocky peculiarities. The dramatic Joint Trail section creeps through very narrow, deep gaps in the formations.
There are other great walks within the main Needles area, including:
A walk further out from Chesler Park to the elevated Druid Arch to the south (11 miles or so return from Elephant Hill).
Big Spring Canyon to Squaw Canyon, a magnificent 7.5 mile loop from Squaw Flat.
Big Spring Canyon to Elephant Canyon, demanding, but remarkable views of canyons and formations, from slickrock and mesa tops.
Squaw Canyon to Lost Canyon, an at times demanding but superb 9 mile loop.
Outside the main Needles area, there is further magnificent walking:
The Confluence Outlook Trail runs west from the northern roadhead, across open country to a superb high lookout over the… er…confluence of the Colorado and Green rivers.
The Slickrock Trail meanders for 4 km or so through the rough bare rock of the north of the area, a very atmospheric trail with fine views over the Big Spring and Little Spring canyons.
Gorgeous Salt Creek Canyon to the south-east passes through fabulous scenery, including a diversion to the famous Angel Arch, and takes in old Indian ruins and rock art.
The Peekaboo Trail is a demanding 10 mile there-and-back from Squaw Flats with 2 ladders to climb, superb views and thrilling landscape.
The Maze:
This is true wilderness, a fascinating, tough, confusing and complex area, very remote and thus very pristine. It requires 4WD access and some days.
Slot Canyons:
Unsurprisingly, there are numerous thrilling slot canyons to explore.
Blue John Canyon is the famous one, as a result of the film 127 Hours, about a scrambler who had to cut off his own arm with a penknife after it got trapped under a boulder. Blue John is in the ultra-remote Horseshoe Canyon area in the far North-east. Rapelling needed, so a technical expedition.
-------------------------------------------------------
This can be tough walking in hot, dry conditions. Come fully prepared, including carrying plenty of water.
Have a look at TripAdvisor – there are tens of millions of reviews, so you may get good, current views on guides, places to hike and places to stay.
The book is Canyonlands and Arches National Parks by Bill Schneider for Falcon Hiking Guides. Find relevant books on Amazon.
Our friends and partners Responsible Travel have a selection of walking and other holidays in South-west USA. You should get good ideas, perhaps for something you hadn't thought of!
We want to tell more - please send us your ideas, suggestions,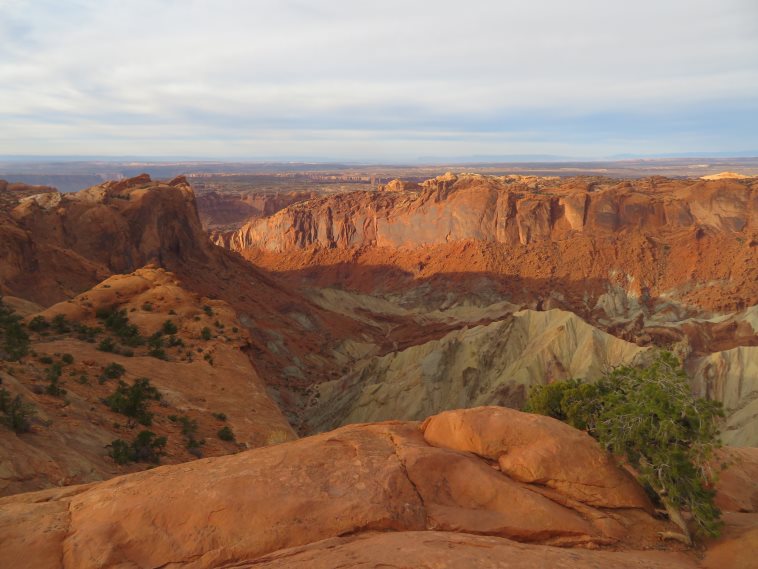 See also expedition planning, including our universal expedition checklist. Walkopedia encourages responsible travel.
Books and Maps
Books on this walk (support us: find books using our Amazon search box)
The book is Canyonlands and Arches National Parks by Bill Schneider for Falcon Hiking Guides.
Hiking in the USA – Lonely Planet
Find relevant books on Amazon.
Other books (support us: find books using our Amazon search box)
Find relevant books on Amazon.
Maps
Good maps can be bought locally, easily. The Visitor Centres are an excellent source, providing a free sheet on the park including a basic map. Go there on arrival.
The Trails Illustrated Series, and other specific trail maps, can be bought at the visitor centre. For real remote walking, you will need the US Geological Survey maps. May be gettable locally, but need to be ordered online to be sure.
Stanfords: www.stanfords.co.uk. A good online specialist source of worldwide.
Best times to walk/weather
Best times to walk
March-May (but weather can be inconsistent). Generally cold until late April.
September-October – best times.
Winter is very cold. Summer is too hot, and crowded.
Weather
Temperatures can vary hugely within a day. Always come prepared for heat and cold, as well as lack of water.
For detailed weather information, have a look at: www.worldweather.org or www.bbc.co.uk/weather/world/country-guides.
Getting there/transport/permits/fees
International/internal flights to Las Vegas or Salt Lake City; internal flights to nearer local airports such as Flagstaff. Skyscanner is an excellent (relatively new) site for finding the flights you need; otherwise try Lastminute.com, or look at what's available on Tripadvisor.
TRANSPORT: This being the USA, almost all visitors arrive by car. There is little other relevant public transport. Car hire is pretty easy.
A vehicle-based park fee is payable. If you are travelling widely, think of getting a National Park pass.
With its high visitor numbers, Canyonlands' roads and car parks are under strain at high times. Some roads and car parks are becoming prohibited to private cars.
Those on organised expeditions are likely to be transported from/to arranged start/departure points.
Permits are needed to do 4WD, motorbike and mountain bike trips on certain routes, including Elephant Hill in the Needles and the White Rim Trail.
Overnight Backcountry Permits are required for all walks involving camping within the park. Some areas are closed for camping. There are a limited number of permits, so applications should be made in advance. For details, check the guidebooks and also (in case of changing rules) contact the Backcountry Information Centre – see www.nps.gov/canybackcountry. There is a permit fee.
Possible problems, health, other warnings
Variable temperatures: often broiling, but it can get very cold. Always bring layers and a waterproof and come prepared for the time of year – and the unexpected.
Heat and strong sun. Carry enough water (and plan for water supplies in an emergency) and protect yourself.
Heights: dangerous! Some trails are not for those who have difficulties with heights.
Dangerous animals, including coyotes, snakes, scorpions, stinging/biting ants and other insects and stinging or sharp plants. Take all appropriate precautions. Check before sitting on or moving rocks and logs.
Mice and other rodents can gnaw through your bags. Hang packs with food up – or store them in metal boxes if provided.
Canyon dangers: canyons can be lethal, particularly as a result of flash floods. Assess and prepare for all risks on those walks involving canyon beds. Main risk season is July – beginning of September.
Summer lightening storms: get into shelter if one is coming.
This can be remote country: you will have to carry all your food and other supplies, and help may be hard to get if things go wrong.
See also the websites in our useful links page for more detailed, and up-to-date, information.
Safety and problems: All walks have inherent risks and problems can arise on any walk. Many of the walks featured on this website involve significant risks and possible problems. This website cannot, does not purport to, identify all actual or potential risks, dangers and problems that may relate to a walk or a country. Any person who is considering undertaking this walk should do careful research and make their own assessment of the risks, dangers and possible problems involved. They should also go to "Important information" for further important information.
Make sure you have appropriate insurance.
Guided or independent?
Independent
The great majority hike Canyonlands independently. But you will need to be self-sufficient, so come fully prepared.
Guided/supported
Some people form or join organised/supported expeditions. Travelling here with a knowledgeable guide has real advantages.
If hiring a guide locally, meet him/her and get comfortable before committing. Make sure all requirements are understood and agreed – including how you will eat and the importance of avoiding illness, as well as overnighting and, of course, remuneration!
Expedition organisers include:
https://www.moabadventurecenter.com/canyonlands-national-park-tours
https://www.oars.com/canyonlands-national-park/
https://www.utahluxurytours.com/canyonlands-national-park-tour.php
PLEASE HELP Walkopedia by recommending any reputable tour organizers that you know of – local or otherwise.
Accommodation
Moab and other towns, have lodges, hotels and stores.
Camping is generally the only option once in the NP. There are a number of campsites, which often need booking ahead. There are a lot of primitive campsites allowed with backcountry permits.
The guidebooks have a selection of possible accommodation.
There are various relevant accommodation websites. See Useful Websites below. A good range of hotels can be found on the unimaginatively named but effective Hotels.com. If you're on a budget, Hostelbookers usually has a good selection of cheaper-end accommodation; or perhaps try for some bargain luxury on Lastminute.com.
See what the commentary on Tripadvisor is on possible places to stay – although do take their reviews with a pinch of salt, as they can be "interested".
Other information and tips
Tipping is expected, so come mentally prepared and with enough cash. Check guidebooks for current rates.
Useful websites and information
There are many websites with relevant information. Here are some that we think are useful or have been recommended to us.
Safety and problems: All walks have inherent risks and potential problems, and many of the walks featured on this website involve significant risks, dangers and problems. Problems of any sort can arise on any walk. This website does not purport to identify any (or all) actual or potential risks, dangers and problems that may relate to any particular walk.

Any person who is considering undertaking this walk should do careful research and make their own assessment of the risks, dangers and possible problems involved. They should also go to "Important information" for further important information.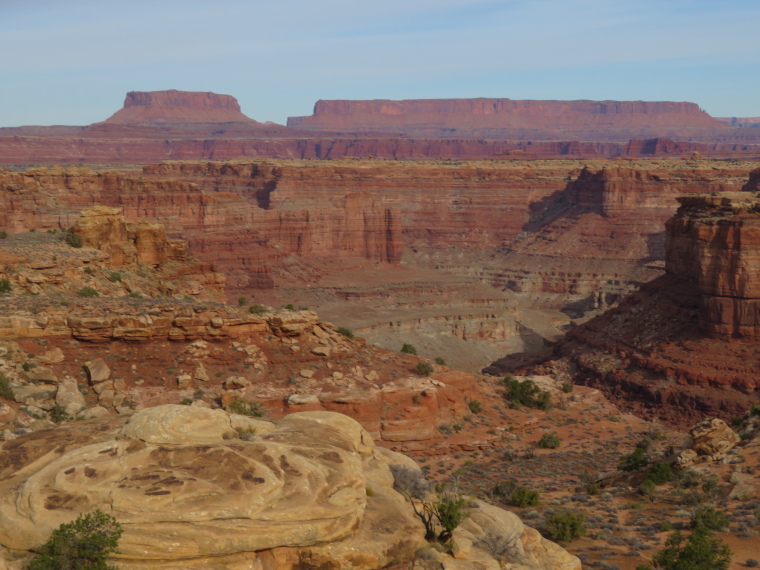 OTHER ACCOUNTS
share your experiences
Top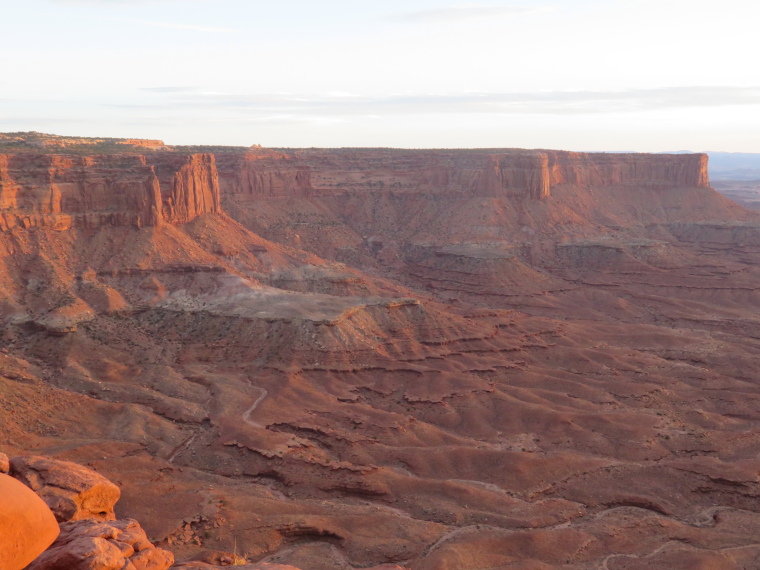 Top
Responsible travel matters, a lot. How you travel will make a real difference - for better or worse. PLEASE consider this when making plans. Read more