Torres del Paine / Fitz Roy Massif
Key information: Torres del Paine / Fitz Roy Massif
The Torres del Paine of Chile, and the Fitz Roy Massif of Argentina, are geologically similar and geologically astounding; and, geographically, next door.

Incredible, iconic spires of heavily eroded granite surrounded by the glaciers, lakes and forests of Patagonia. Superb walking into the heart of these magnificent areas.

A surprising variety of flora and fauna too, considering these regions' frigid and often bare moonscapes: Magellanic forest, llama-like guanacos, condors, the occasional puma, and the 1.5m tall rhea (of the ostrich family).

This is wild, remote country. While you will be inspired by nature's harsh beauty, you need to be well prepared. The weather, particularly in Los Glaciares National Park, can be horrible.
Walkopedia rating
(Top 100)
Walkopedia rating92
Beauty

37

Natural interest

18

Human interest

2

Charisma

36

Negative points

1

Total rating

92

Note: Neg: likely bad weather. Consistently bad weather in Fitz Roy.
Vital Statistics
Length:

Variable - up to 10 days

Maximum Altitude:

Not high

Level of Difficulty:

Strenuous
Top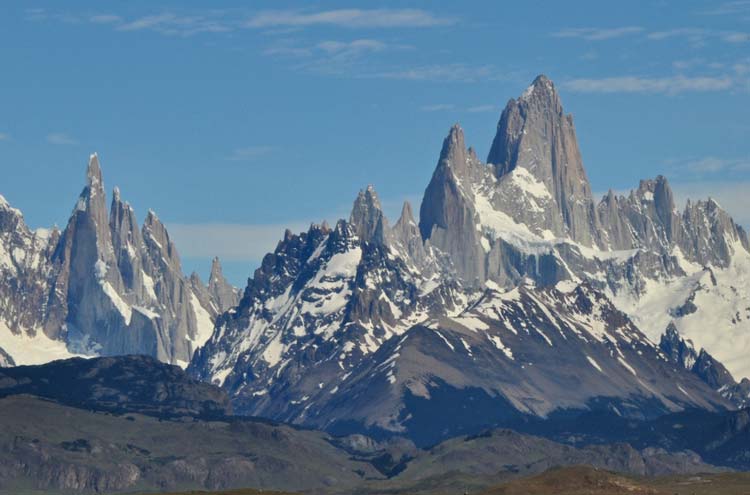 WALK SUMMARY
Both Chilean and Argentinean Patagonia demonstrate the full scale and drama of the South American continent, narrowing to the sea at Tierra del Fuego and the notorious Cape Horn. Between them the regions present a modern ice age, replete with calving glaciers, frigid lakes and rough-hewn towers of striated rock.
Chilean Patagonia is perhaps the nation's most famous region: some claim, given Chile's other wonders. Cut off from the rest of the country by impassable mountains and violent storms, only by air or sea or overland from Argentina can you penetrate into this astounding landscape. Islands, glaciers, icebergs and mountains all vie for fame. It is truly a natural, glacial wilderness.
The world's southernmost city, Puntas Arenas, sits amidst this extreme landscape. Its airport makes it a natural base for expeditions here, albeit still some 400km from the Torres Del Paine National Park. In Chilean Patagonia, these could entail:
A Torres del Paine hike, to or round the eponymous mountain range at the heart of its National Park (a UNESCO World Biosphere Reserve).

Parque National Laguna San Rafael

Plaena Lake National Reserve

Bernardo OHiggins National Park

Queulat National Park

Isla Magdelena National Park

Plus many more!
Argentinean Patagonia tells a similarly spectacular story. Los Glaciares National Park, which hosts the fantastic Fitz Roy Massif, is a UNESCO World Heritage Site, and at 8,500sq miles, its scale is matched only by its grandeur.
Approximately a third of that area is covered by ice-fields connecting over 45 major glaciers. Pristine vistas wherever you turn, and a marvelous variety of terrain, make for breathtaking stuff.
An excursion to Argentinean Patagonia could include:
The beautiful Fitz Roy Massif (Mount Fitzroy), standing at 3,405m.

Lago Viedma and Lago Argentino, the largest lake in Argentina.

The Perito Merino glacier, regarded as Argentina's most famous and important, which routinely bisects Lago Argentino in its capricious advance.

The Upsala and Onelli glaciers (Onelli with its accompanying forest and hidden, mountain-ringed lake).

Estancia Cristina, a rustic relic of early 20th Century wool farming.

Cascada de los Perros, with views to the daunting Upsala Glacier.

Don Bosco mountains.
To locate Torres del Paine and the Fitzroy Massif in relation to each other, see here (Fitzroy is nearby El Chalten on the map).
Given these walks' fundamental similarity, and the fact that few travellers will have the time and energy to explore both areas, we have combined these areas for assessing our Top 100 walks.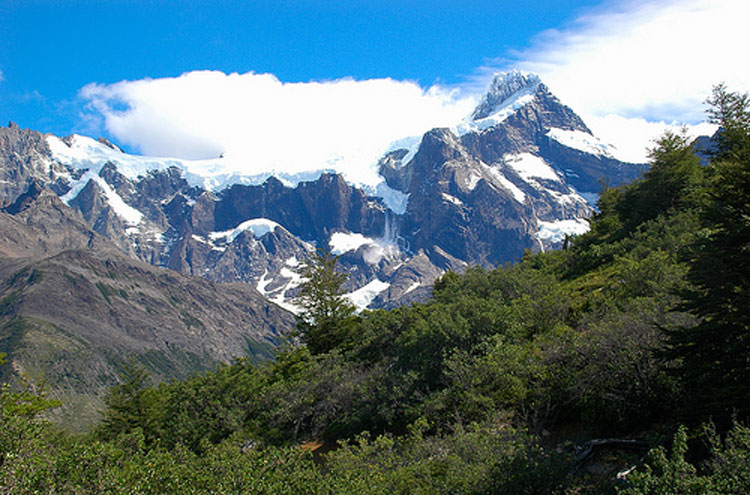 See also expedition planning, including our universal expedition checklist. Walkopedia encourages responsible travel.
Books and Maps
Books on this walk
Trekking in the Patagonian Andes (Lonely Planet Walking Guide) – by Carolyn McCarthy.
Torres Del Paine: Trekking in Chile's Premier National Park (A Cicerone Guide) – by Rudolf Abraham.
The Andes: A Trekking Guide – by Cathy Biggar and John Biggar.
Chapters in Trekking Atlas of the World – ed. Jack Jackson and Walking the World's Natural Wonders – Jon Sparks. (Torres del Paine only).
Chapters in Classic Hikes of the World – Peter Potterfield (good practical information) and Trek! The Best Trekking in the World – Claes Grundsten (a more artistic approach, with great photos): both Torres and Fitz Roy.
Other books
For general books on Patagonia (in its entirety), start with:
Natural Patagonia: Argentina and Chile – by Marcelo D. Beccaceci (1998).
In Patagonia – by Bruce Chatwin. An account of Bruce Chatwin's journey through Patagonia, where he searched for almost-forgotten legends, Butch Cassidy's log cabin, and the descendants of Welsh immigrants.
Fodor's Patagonia – by Fodor Travel Publications (2008).
Patagonia Handbook (Footprint Handbooks) – by Lucy Cousins and Janak Jani (2009).
Frommer's Argentina and Chile – by Haas Mroue, Kristina Schreck, Michael Luongo (2005).
For general guidebooks on Argentina:
The Rough Guide to Argentina – by Danny Aeberhard, Andrew Benson, Rosalba O'Brien, Lucy Phillips (2010).
Argentina (Lonely Planet) – by Sandra Bao (2010).
Frommer's Argentina (Frommer's Complete) – by Michael Luongo, Charlie O'Malley, Christie Pashby (2009).
For general guidebooks on Chile:
The Rough Guide to Chile – by Andrew Benson and Melissa Graham (2009).
Chile and Easter Island (Lonely Planet) – by Carolyn McCarthy and Kevin Raub (2009).
Frommer's Chile and Easter Island (Frommer's Complete) – by Nicholas Gill, Caroline Lascom, Christie Pashby (2009).
Maps
Patagonia & Tierra del Fuego: ITM.5661 ­­– by ITMB (2008) (Folded Map).
Chile – Patagonia Nelles Ma (Nelles Map) – Ed., Günter Nelles (2010) (Folded Map).
Patagonia Map Guide – by Horacio de Dios (2004).
Argentina: South, Patagonia, Uruguay Nelles Ma (Nelles Map) – Ed., Günter Nelles (Jan 2011) (Folded Map).
Independent Travel Map: Argentina and Chile – by Collins Publishers (2000) (Folded Map).
Specific maps for a Torres del Paine trek or a Fitz Roy Massif trek can be bought locally – fairly easily – from Puntas Arenas (Torres), or El Calafate and El Chalten (Fitzroy).
Stanfords: www.stanfords.co.uk. Online specialist source of worldwide maps. MapsWorldwide and TrekTools also stock maps on the area.
Walk Patagonia has a good array of maps in its online catalogue.
Best times to walk/weather
Best times to walk
The Argentine high season runs through January/February (summer holidays) and July (winter vacation). During these periods there is substantial internal tourism, and prices in general rise too.
The Chilean high season is from October to April (Spring and Summer). This time of year has more sunny days, with less rain and more than 16 hours of natural light as a result of the earth's curvature.
Book well ahead if you are coming in high season.
In general, with its mild temperatures and long days, Summer (mid December; January; February; part of March) is the best time to visit Patagonia.
Weather
Temperatures typically range from about -2 degrees Celsius to around 20 degrees Celsius (winter – summer); bear in mind that being in the southern hemisphere means seasons here run opposite to those in the northern.
Patagonian weather is unpredictable, even in Summer. Come prepared for unpredictable mountain weather - at times really miserable - and cold nights. Wind (up to 80km/hr) is always a factor; rain, sleet and snow can follow a day of bright sunshine, even into early summer. Fitz Roy in particular has a reputation for bad weather.
See our individual Torres del Paine and Fitz Roy Massif pages for more detail, including Fitzroy's infamous, inhibiting rain-showers.
For detailed weather information, have a look at: www.worldweather.org or www.bbc.co.uk/weather/world/country-guides
Getting there/transport/permits/fees
Most visitors do not need visas and receive free renewable 90-day tourist stamps upon arrival. From December 2009, Argentina has charged a new one-time entrance tax for all visitors holding passports from United States, Canada, and Australia. The total tax will be equivalent to the one that Argentines pay to get their visa to travel to these respective countries.
See our individual Torres del Paine and Fitz Roy Massif walk pages for detailed information on getting to these treks (it is unlikely one will have the time or energy to complete both).
In brief:
A likely entry point for Torres Del Paine expeditions is Puntas Arenas, Chile's southernmost city, replete with airport (access also available overland from Argentina). El Calafate in Argentina can also provide access to the national park, which has accommodation dotted in and around its myriad lakes, glaciers and spires.

Almost all Fitz Roy treks begin in the small hiking village of El Chalten, known as the Trekking Capital of Argentina. The village is approximately 140 miles north of the larger tourist centre of El Calafate, which receives regular flights from Buenos Aires.
Those on organised expeditions are likely to be transported to and from their arranged start/departure points.
Permits are needed to do these walks: see their individual pages.
Route(s)
See our individual Torres del Paine and Fitz Roy Massif walk pages.
Possible problems, health, other warnings
Some treks here can involve glacier-walking: make sure you have the right equipment and, where necessary, an experienced guide.

Extreme weather: snow, rain, severe cold and strong wind are possible at any time of year. Come prepared.

Strong sun, particularly that reflecting off the many glaciers. Carry enough water and sun protection.

Heights: can be dangerous; not for those who have difficulties with heights.

This is remote country: you will have to carry your food and other supplies from camp to camp, and help may be hard to get if things go wrong.
See also the websites in our useful links page for more detailed, and up-to-date, information.
Safety and problems: All walks have inherent risks and problems can arise on any walk. Many of the walks featured on this website involve significant risks and possible problems. This website cannot, does not purport to, identify all actual or potential risks, dangers and problems that may relate to a walk or a country. Any person who is considering undertaking this walk should do careful research and make their own assessment of the risks, dangers and possible problems involved. They should also go to "Important information" for further important information.
Make sure you have appropriate insurance.
Guided or independent?
Independent
You can do some of these walks independently, but you will need to be self-sufficient, so come fully prepared.
See our Torres del Paine and Fitz Roy Massif pages for more detailed information.
Guided/supported
Most people form or join supported expeditions. Given the remoteness of the region and difficulty of getting supplies, many will prefer to do it this way, and traveling here with a knowledgeable guide has real advantages. Expedition organisers are identified in our individual Torres del Paine and Fitz Roy pages.
Accommodation
Depends on which walk you do. On some, there are campsites and refuges once en route; a few resorts and hotels dot the Torres del Paine National Park while El Chalten is the only realistic base for a Fitz Roy trek.
Camping is the only way at points along each trek, and both Parks run strict campsite rules.
See our individual Torres del Paine and Fitz Roy Massif pages for further, more detailed information.
Hostelbookers usually has a good selection of cheaper-end accommodation.
Other information and tips
See our individual Torres del Paine and Fitz Roy Massif pages for more information.
Useful websites and information
There are many websites with relevant information. Here are some that we think are useful or have been recommended to us.
Other things to do in the area
Other walks
Patagonia has a huge variety of great walks, in both Chile and Argentina. There is likely to be a good walk within range wherever you may be.
Other great walking areas:
Cape Horn

Parque National Laguna San Rafael

Plaena Lake National Reserve

Bernardo O'Higgins National Park

Queulat National Park

Isla Magdelena National Park
Other activities
Kayaking

Climbing (particularly El Chalten: Cerro Torre)

Boat Trips (to Tierra del Fuego / various lakes right up to glaciers)

Fishing

4x4 driving

Swimming: lakes are glacial(!), so summer only.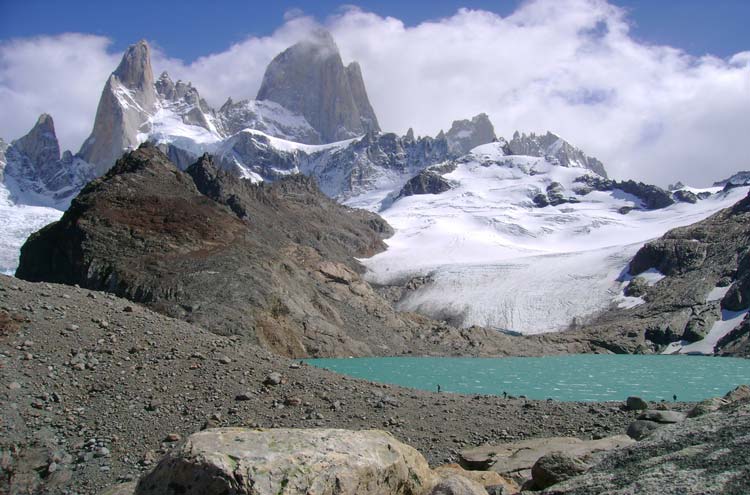 OTHER ACCOUNTS
share your experiences
Top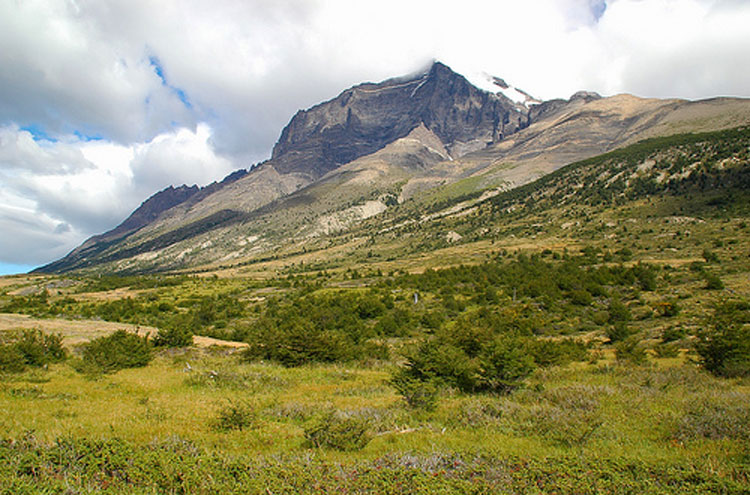 Top
Responsible travel matters, a lot. How you travel will make a real difference - for better or worse. PLEASE consider this when making plans. Read more