French Pyrenees
Key information: French Pyrenees
The Pyrenees are truly amazing, a surprisingly narrow rampart of wild mountains separating the plains of France and Spain. Gorgeous scenery: broken peaks, crags, cirques, lakes, gorges and canyons, meadows and deep-forested valleys.
Some of Europe's best walking, and to suit all tastes, from the drama of the magnificent high routes to gentler explorations of the valleys and foothills, and the history-laden Sentier Cathare.
This can be tough walking in high, remote mountains, with very unpredictable weather. Come prepared.
Walkopedia rating
(Top 100)
Walkopedia rating91
Beauty

34

Natural interest

17

Human interest

5

Charisma

35

Negative points

0

Total rating

91
Vital Statistics
Length:

Variable

Maximum Altitude:

3,298m

Level of Difficulty:

Variable
Top
WALK SUMMARY
The Pyrenees are wonderful, but less known than they should be. Long may this last.
This great barrier between France and Spain, spanning the 400km between the Bay of Biscay and the Mediterranean, is almost shocking the first time you see its snowy peaks looming high above you on the plains of south-west France, with apparently no foothills in the traditional sense. While it is not like this when you get close up, and it has a rich and varied selection of foothills on both sides, the range is still remarkable for the steepness of the French side in particular, and the rapidity of its rise through forest and flowery pasture to crag, ice and high, rocky ridge-tops.
The variety of the Pyrenees' appearance is shaped by the weather it meets. The often wet air flows from the Bay of Biscay render the northern slopes vividly green until close to the Mediterranean, whereas the southern Spanish and eastern slopes are much drier.
You will find overwhelming beauty in its peaks, lakes and forests as well as geological wonders, an abundance of floral delights and animal life, and thrills and challenges galore both in its harshly beautiful uplands and its lusher foothills.
Features to relish include the struggling remains of the mighty glaciers that gouged out the famous cirques such as that at Gavarrnie, needle peaks and serrated ridges, deeply-hewn canyons and lovely alpine valleys. The Pyrenees were formed by the usual tectonic pressures, with a heart of granite and limestone flanks, pushed up to form the range?s highest peaks. Water and ice have eroded this softer rock to create the dramatic landscape we now know, including the famous cirques ? huge, sheer-sided scoops out of the mountainsides.
The range supports a rich variety of animals, include the izard (the local chamois), deer, some recently re-introduced brown bears and hordes of endearing silly marmots. Raptors and vultures head up an extravagant birdlife, especially at migration times.
The floral world here is gloriously mixed, with plants usually found further north and south mixing it with hardy alpines and a large number of Pyrenean endemics.
See also our Spanish Pyrenees page.
There are endless multi-day walks to be made, using the network of high refuges or camping. These can be made within the areas described below, or crossing the high cols between them.
There are three great long-distance trails in the Pyrenees, which can be walked in sections or indeed, for the tough and time-rich, their entire length.
HRP or Pyrenean Haute Route

: The great Pyrenean trail, this path winds among the ranges' highest peaks, crossing in and out of Spain. Superb high-level walking, albeit a long tough hike and an exhausting slog in places. You will need to carry a light tent (etc) for parts of this trail.

GR10:

while this 900km trail sticks to the (relative) mid-slopes, enabling more nights in more comfortable accommodation, this is a serious undertaking, and a ridiculously beautiful route. Most people choose chunks to walk, but we met several people tackling its entire length.
GR11:

the Spanish equivalent to GR10.

One other multi-day walk that must be mentioned is the

Gavarnie-Ordesa

circuit. The consensus is that, if you had to identify a single best route, it would be ascending above the extraordinary Cirque de Gavarnie, crossing the high range through the famous Breche de Roland and descending into the tremendous limestone Ordesa Canyon, then climbing back up to the high peaks and trekking along the

Haute Route

for a bit or circuiting back to the Gavarnie area.
And finally there is the Sentier Cathare a very different and history-laden trail which winds through the foothills of the eastern French Pyrenees.
We describe below the great walking areas from the west to the east.
WESTERN PYRENEES
Roncesvalles / Camino de Santiago: many people cross the Pyrenees here, on this historic pilgrimage route. What will be lost in solitude will be balanced by romance and atmosphere, although whether sufficiently so comes down to your preferences.
Cirque de Lescun: This area south-west of Lescun in the Vallée d'Aspe deserves its own page, which we are working on. Further east in the Vallée is more fine walking, including the vertiginous Chemin de la Mature, a loggers path cut into spectacular cliffs. This walk also deserves its own page, which we are working on. Please help us with ideas and photos.
Pic du Midi d'Ossau: a huge (2,884m) stand-alone peak. The walk around it is one of the finest in the Pyrenees. It can be ascended in a tough day, revealing exceptional views. This area deserves its own page, which we are working on. Please help us with ideas and photos.
Balaitous: a very remote, pristine, but rough wilderness around a tough, rocky peak or the border ridge.
Gourette: a lower but thoroughly challenging massif standing out to the north of the high range. The central valley contains some exquisite walking, and there are some fine ridge walks as well.
HIGH PYRENEES AND THE NATIONAL PARKS
Vallee d'Estaing: the mountains surrounding this particularly lovely valley beg to be explored. Think lakes, high cols and high refuge to use as bases.
Vallée de Marcadau: an exceptionally beautiful area of varied walking south-west of the pleasing town of Cauterets. You can spend several very varied days here based on Refuge Wallon.
Vignemale and Vallée de Gaube - the biggest mountain in the entire French side of the range (at 3,298m), with fine walking in the surrounding French and Spanish slopes - in particular in the vallée de Gaube to the north - and an ascent of the mountain itself. Think granite, high lakes and crazed ridges.
Vallée de Lutour: another lovely valley above Cauterets, this time to its south-east. Immaculate and classically Pyrenean scenery. A gorgeous valley surrounded by high broken ridges and peaks.
Gavarnie Area: superb walking as in the environs of three dramatic but very different glacial cirques. See also the Cirque de Troumouse and the Cirque d'Estaubé. And an ascent to the dramatic Breche de Roland is unmissable. Consider extending this to make a great multi-day walk such as the Garvanie/Ordesa Circuit.
Néouvielle NP: the GR10 passes by this ludicrously rough and granite massif which nestles some particularly lovely lakes.
EAST CENTRAL PYRENEES
Bagneres de Luchon area: south of this spa town is some of the best walking in the Pyrenees: the cirque d'Espingo and The Vallée de la Pique and Vallée du Lis.
The Carlit Massif: east of Andorra: a lovely and popular area: its granite base and glacial origins make for rough terrain, visual drama and lakes. We will be creating a separate page for the Carlit - all input welcome.
Ariege Valley: The area around this great gash into the (French) eastern Pyrenees is home to a mass of great walking, as well as the upper reaches of the Sentier Cathar. Major peaks, lakes, wonderful scenery but relatively empty. Rich in animal life and riotously floral. This area deserves its own page, which we plan to work on. Please help us with ideas and photos.
For the historians among you, the Sentier Cathare winds, through lovely and varied foothill country, between some of the great Cathare sites; the Sentier des Bonshommes, then crosses the high Ari?ge Pyrenees into Spain along paths used by the Cathars to escape their persecutors.
EASTERN PYRENEES
The Capcir: a slightly strange high plateau with mountains around, including the magnificent Carlit Massif. Bare and less enthralling than the high range, it is nonetheless beautiful and rich in animal life and flowers. There is a 4 day Tour de Capcir. This area deserves its own page, which we plan to work on. Please help us with ideas and photos.
Canigou: the last great eastern bastion of the range, the 2,785m Canigou massif more than merely dominates its surroundings: it has a special place in the Catalan imagination. It makes for fine and varied walking, its lower slopes forested but its peaks all rock, scree and cliff. Unsurprisingly, you get huge views (Andorra to the Med) from its peaks on a good day.Sitting between the Tech and T?t valleys, Canigou can be climbed from many directions, but all require a night in a refuge. The routes are many and varied, so plan carefully. There are many day walks you can do on the massif.
See our Eastern Pyrenees page for more on the varied and fascinating walking at the eastern end of the range, within striking-distance of the coast. Including the Pilo de Belmaig ridge.
Expect rain at any time on the western and central slopes of the French side, although you will be unlucky not to get gorgeous clear days for the majority of a summer expedition. Snow lies late, with the high range only really clear by mid July. July and August are the best months for tackling the high range, with clear(er) passes and better (less unpredictable) weather. September can the best month of all, with clear day and fewer people, although it gets colder at night and the chances of snow increase toward the back end of the month. Be ready for any weather at any time, though, in the high mountains.
Parts of the range really heave with tourists in high summer (Gavarnie especially), and many day walks are busy at that time. So, come prepared to tolerate or to look for remoter walking. May and June (if you are happy not to have access to the highest paths) and September are accordingly the best times to come.
There are many expedition organizers who will arrange a wide variety of trips throughout the Pyrenees. See our Practical Information section for further details.
Accommodation varies from hotels and inns to gites and camping in the valleys. Once on the high ground, the array of fine refuges are the main option - although they get busy, so book well ahead if coming in the popular months. Camping is very restricted in the high country, so check out the current requirements at the planning stage. See our Practical Information section for more information.
Mention must be made of one particular guidebook, Cicerone's - Walks and Climbs in the Pyrenees which you should not approach this area without. See our practical information section for more books.
SEE ALSO OUR SPANISH PYRENEES PAGE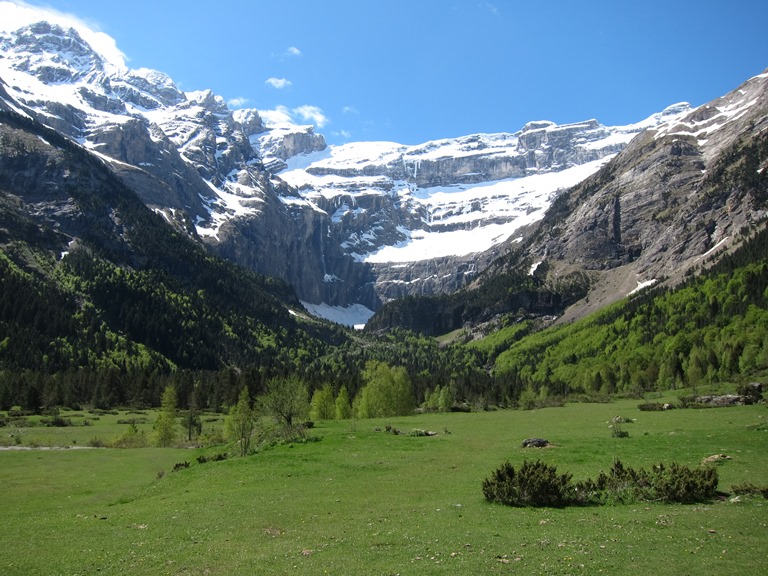 We have a lot of helpful practical information and tips about this walk, covering everything from the best books and maps, to timing and weather, geting there, possible problems, whether you need a guide and where to find them, and useful websites. This section is only open to members.
Membership is FREE AND JOINING TAKES 30 SECONDS. To login or sign up click here
Safety and problems: All walks have inherent risks and potential problems, and many of the walks featured on this website involve significant risks, dangers and problems. Problems of any sort can arise on any walk. This website does not purport to identify any (or all) actual or potential risks, dangers and problems that may relate to any particular walk.

Any person who is considering undertaking this walk should do careful research and make their own assessment of the risks, dangers and possible problems involved. They should also go to "Important information" for further important information.
Anyone planning an expedition to this place should see further important information about this walk.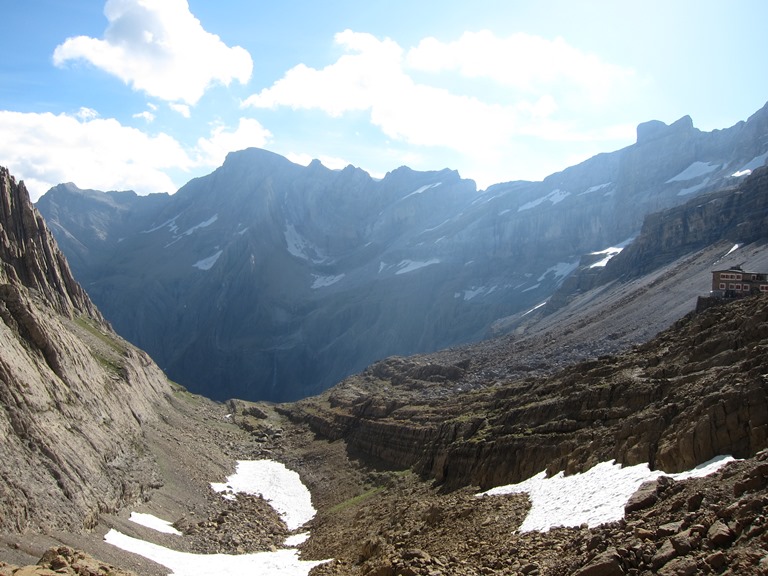 OTHER ACCOUNTS
share your experiences
Top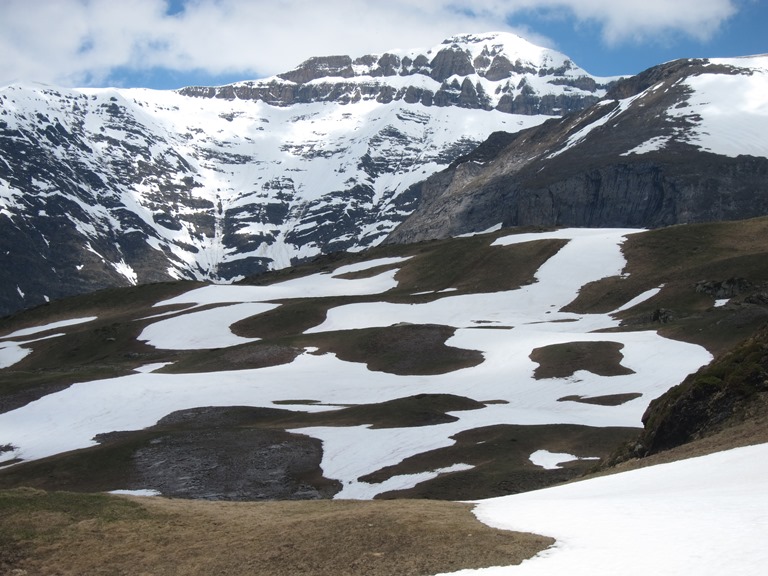 Top
Responsible travel matters, a lot. How you travel will make a real difference - for better or worse. PLEASE consider this when making plans. Read more