Spanish Pyrenees
Key information: Spanish Pyrenees
The Pyrenees are truly amazing, a surprisingly narrow rampart of wild mountains separating the plains of France and Spain. Gorgeous scenery: broken peaks, crags, cirques, lakes, gorges and canyons, meadows and deep forested valleys.
Some of Europes best walking, and to suit all tastes, from the drama of the magnificent high routes to gentler explorations of the valleys and foothills.
This can be tough walking in high, remote mountains, with very unpredictable weather. Come prepared.
Walkopedia rating
(Top 100)
Walkopedia rating90
Beauty

34

Natural interest

17

Human interest

2

Charisma

37

Negative points

0

Total rating

90
Vital Statistics
Length:

Variable

Maximum Altitude:

3,375m

Level of Difficulty:

Variable
Top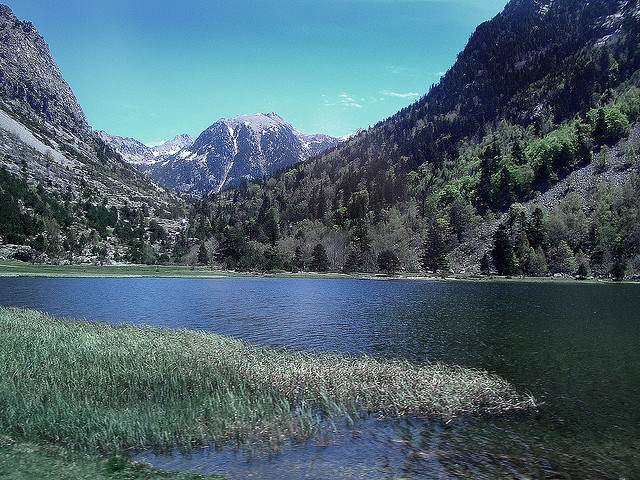 WALK SUMMARY
The Pyrenees are wonderful, but less known than they should be. Long may this last.
This great barrier between France and Spain, spanning the 400km between the Bay of Biscay and the Mediterranean, is almost shocking the first time you see its snowy peaks looming high above you on the plains of south-west France, with apparently no foothills in the traditional sense. While it is not like this when you get close up, and it has a rich and varied selection of foothills on both sides, the range is still remarkable for the steepness of the French side in particular, and the rapidity of its rise through forest and flowery pasture to crag, ice and high, rocky ridge-tops.
The variety of the Pyrenees' appearance is shaped by the weather it meets. The often wet air flows from the Bay of Biscay render the northern slopes vividly green until close to the Mediterranean, whereas the southern Spanish and eastern slopes are much drier.
You will find overwhelming beauty in its peaks, lakes and forests as well as geological wonders, an abundance of floral delights and animal life, and thrills and challenges galore both in its harshly beautiful uplands and its lusher foothills.
Features to relish include needle peaks and serrated ridges, deeply-hewn canyons and lovely alpine valleys and the struggling remains of the mighty glaciers that gouged them out. The Pyrenees were formed by the usual tectonic pressures, with a heart of granite and limestone flanks, pushed up to form the range's highest peaks. Water and ice have eroded this softer rock to create the dramatic landscape we now know, including the famous cirques - huge, sheer-sided scoops out of the mountainsides.
The range supports a rich variety of animals, include the local chamois, deer, some recently re-introduced brown bears and hordes of endearing silly marmots. Raptors and vultures head up an extravagant birdlife, especially at migration times.
The floral world here is gloriously mixed, with plants usually found further north and south mixing it with hardy alpines and a large number of Pyrenean endemics.
See also our French Pyrenees page.
There are endless multi-day walks to be made, using the network of high refuges or camping. These can be made within the areas described below, or crossing the high cols between them.
There are three great long-distance trails in the Pyrenees, which can be walked in sections or indeed, for the tough and time-rich, their entire length
HRP or Pyrenean Haute Route: "The" great Pyrenean trail, this path winds among the ranges' highest peaks, crossing in and out of Spain. Superb high-level walking, albeit a long tough hike and an exhausting slog in places. You will need to carry a light tent (etc) for parts of this trail.
GR11: Which winds across the highlands of the Spanish side. Often outstanding walking.
GR10: The French equivalent of GR11.
One other multi-day walk that must be mentioned is the Gavarnie-Ordesa circuit. The consensus is that, if you had to identify a single best route, it would be ascending above the extraordinary Cirque de Gavarnie, crossing the high range through the famous Breche de Roland and descending into the tremendous limestone Ordesa Canyon, then climbing back up to the high peaks and trekking along the Haute Route for a bit or circuiting back to the Gavarnie area.
We describe below the great walking areas from the west to the east.
WESTERN PYRENEES
Roncesvalles / Camino de Santiago: many people cross the Pyrenees here, on this historic pilgrimage route. What will be lost in solitude will be balanced by romance and atmosphere, although whether sufficiently so comes down to your preferences.
HIGH PYRENEES AND THE NATIONAL PARKS
Vignemale - the biggest mountain in the entire French side of the range (at 3,298m), with fine walking in the surrounding French and Spanish slopes - in particular in the vallée de Gaube to the north - and an ascent of the mountain itself. Think granite and high lakes. This area deserves its own page, which we are working on. Please help us with ideas and photos.
The Ordesa and Monte Perdido Area, a network of rightly famous canyons and a World Heritage Site.
- Ordesa Itself:
- Faja de Pelay - a famously giddy balcony walk high up in the huge southern cliffs of the Ordesa Canyon.
- Pico Anayet / Vertice de Anayet: good trekking hills above Ordesa Canyon.
- Monte Perdido (3335m). Above Refugio de Goriz and Ordesa.
- An ascent to the dramatic Breche de Roland is unmissable. Consider extending this to make a great multi-day walk such as the Garvanie/Ordesa Circuit.
- Pineta Valley - Adjoining Ordesa to the east (also part of World Heritage Site) is wider than its neighbouring canyons but with huge crags to its north, the border-ridge with France. Glacier-carved, it still retains some ice-cliffs in the face of Monte Perdido. The tough ascent to Lago de Marbore is said to be superb (11km), so it the Llanos de la Larri.
- Anisclo Canyon - Adjoining Ordesa (also part of World Heritage Site). Classic limestone canyon, running due south from the Monte Perdido massif. It is less easily explored than Ordesa and consequently less famous, but its very different character (narrower and perhaps more numinous) will reward the effort. On the rim is Mondoto with super views into the canyon and across to the high Pyrenean range.
- Garganta de Escuain - a superb (if less famous) gorge between the Pineta and Anisdo systems, shockingly narrow and high-walled.
Panticosa Area
Pico de Baclas (2760m) – near Bañas de Panticosa.
Garmo Negro (2066m) - big peak, big views across the neighbouring mountains. And a fine if rough scramble along the ridge to Argulas (at 3046m).
Circo de Piedrafita: a huge, wild, broken, lake-strewn area with Tebberai (2,916m) above it.
Valle de Tena: Can follow GR11 - to Refugio Respomuso, nestled among some of the range's highest peaks.
EAST-CENTRAL PYRENEES
Posets Massif: wonderful. Pico Posets is the highest regularly climbable mountain in the range, at 3,375. This area deserves its own page, which we are working on. Please help us with ideas and photos.
Maladeta Massif: particularly beautiful. This area deserves its own page, which we are working on. Please help us with ideas and photos.
Aigues Tortes - a lovely area of winding lakes and mountains on the Spanish side of the range. Very rugged and remote. This area deserves its own page, which we plan to work on. Please help us with ideas and photos. All camping is forbidden here.
EASTERN PYRENEES
We are preparing an Eastern Pyrenees page for more on the varied and fascinating walking at the eastern end of the range, within striking-distance of the coast. Please help us with ideas and photos.
You will be unlucky not to get gorgeous clear days for the majority of a summer expedition. Snow lies late, with the high range only really clear by mid-July. July and August are the best months for tackling the high range, with clear(er) passes and better (less unpredictable) weather. September can the best month of all, with clear day and fewer people, although it gets colder at night and the chances of snow increase toward the back end of the month. Be ready for any weather at any time, though, in the high mountains.
Parts of the range really heave with tourists in high summer (Gavarnie especially), and many day walks are busy at that time. So, come prepared to tolerate or to look for remoter walking. May and June (if you are happy not to have access to the highest paths) and September are accordingly the best times to come.
There are many expedition organizers who will arrange a wide variety of trips throughout the Pyrenees. See our Practical Information section for further details.
Accommodation varies from hotels and inns to camping in the valleys. Once on the high ground, the array of fine refuges are the main option - although they get busy, so book well ahead if coming in the popular months. Camping is very restricted in the high country, so check out the current requirements at the planning stage. See our Practical Information section for more information.
Mention must be made of one particular guidebook, Cicerone's Walks and Climbs in the Pyrenees which you should not approach this area without. See our practical information section for more books.
SEE ALSO OUR FRENCH PYRENEES PAGE
OUR FRIENDS' EXPERIENCES
Rupert de Borchgrave told us about an amazing-sounding walk he did in 2016, mainly on the Spanish side of the range.
THANK YOU Rupert!
"A friend of mine told me about your website https://www.walkopedia.net/100-best.asp
So I thought you might be interested to read about the trek I made through the High Pyrenees last year for the charity MIND. It's a longer walk than your Gavarnie-Ordesa listing (#26= in your top 100), 300km from Pica d'Estats in the East to Balaitous in the West and took 23 days (+ 5 rest days). But if you know the Pyrenees, then you might find it inspiring. There is an explanation, then the details of the route divided into 23 etapes, and photos at the end.
_______________________________
Dear Friends, To those of you who sponsored me to make this trek through the High Pyrenees: THANK-YOU. https://www.justgiving.com/fundraising/Rupert-de-Borchgrave
Over 28 days I walked from Àreu in Catalunya to Arrens-Marsous in Béarn, and climbed solo to the summits of 10 of the 11 massif peaks of the range. Having lost some days to weather, injuries, and disintegrated equipment, I could not take the detour to Pic Long, which lies some distance off the main route of the other peaks, and was also advised that the rocks along the crest ridge are unstable and dangerous to climb solo. Five rest days aside, over 23 étapes, the 300km route involved an average daily denivelation of ~1200m up & down. Lest anyone think that peak hopping is as languid as island hopping, even as I became fitter towards the end, I was still gasping for.....
READ MORE
Your comments on this walk, your experiences and suggestions, and your photos are very welcome. Where appropriate, you will be credited for your contribution.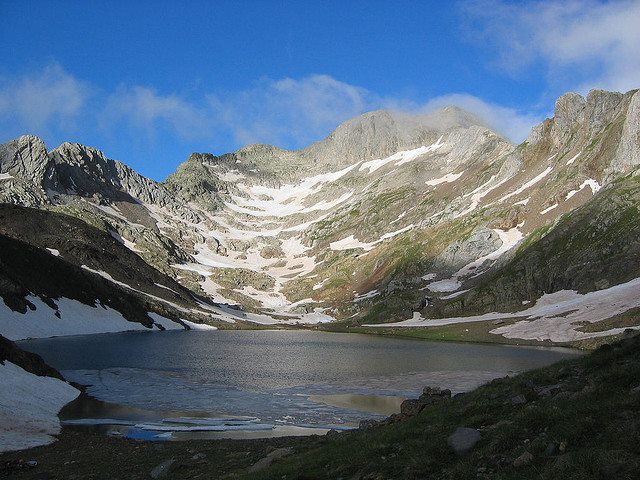 See also expedition planning, including our universal expedition checklist. Walkopedia encourages responsible travel.
Practical Information
See also expedition planning, including our universal expedition checklist.
Walkopedia encourages responsible travel.
Books and Maps
Books on this walk
Walking in the Pyrenees – Cicerone: the essential book to Pyrenean walking, with an excellent selection of routes. Doesn't cover the eastern Pyrenees.
Trekking in the Pyrenees – Trailblazer
Pyrenean Haute Route – Cicerone
Other books
The Rough Guide to the Pyrenees – Rough Guides: a really good guide to the area, with much excellent focus on walking, and thoughtful coverage of cultural and historical aspects.
Birds of Europe – Lars Jonssan
Maps
Maps can be bought locally, fairly easily. They are not always entirely reliable or up-to-date, so handle with some care.
Stanfords: www.stanfords.co.uk. A good online specialist source of worldwide maps (it is also good for guidebooks). Also try www.mapsworldwide.com and www.trektools.com.
Best times to walk/weather
Best times to walk
For the high ground July to late September, when the refuges are open but the snow mostly gone.
For the lower hills not requiring refuge accommodation, May to mid-October.
Avoid high summer (July-August) if you can as it is the busiest time and the refuges get very full.
Weather
Lots of it, and very varied. The Spanish side is much drier than the French, but even so come prepared for rain and cold at any time in the higher areas. The central areas are known for suddenish and rough thunderstorms in Summer: get away from exposed areas if they appear.
For detailed weather information, have a look at: www.worldweather.org or www.bbc.co.uk/weather/world/country-guides.
Getting there/transport/permits/fees
Many airports (including Toulouse, Pau, Lourdes, Perpignan, Barcelona and Girona). Most people then hire cars if heading for the high hills, although some areas (eg the valleys of the eastern Pyrenees) are accessible by public transport.
Those on organised expeditions are likely to be transported from/to arranged start/departure points.
Route(s)
See Walk Summary above.
Possible problems, health, other warnings
See also the websites in our useful links page for more detailed, and up-to-date, information.
Safety and problems: All walks have inherent risks and problems can arise on any walk. Many of the walks featured on this website involve significant risks and possible problems. This website cannot, does not purport to, identify all actual or potential risks, dangers and problems that may relate to a walk or a country. Any person who is considering undertaking this walk should do careful research and make their own assessment of the risks, dangers and possible problems involved. They should also go to "Important information" for further important information.
Make sure you have appropriate insurance.
Guided or independent?
Independent
You can do many of these walks independently, but you will need to be self-sufficient, so come fully prepared.
Guided/supported
Many people form or join guided expeditions. Given the remoteness of the country and sometimes tough walking, many will prefer to do it this way, and travelling here with a knowledgeable guide has real advantages.
Expedition organisers include:
Accommodation
Accommodation in the valleys varies from hotels and inns to camping. The guidebooks have a selection of possible accommodation.
Once on the high ground, the array of fine refuges (from comfortable to pretty basic, but usually providing food) are the main option – although they are open for a limited period (usually July to end September, but check carefully when planning) and get busy, so book well ahead if coming in the popular months. Camping is very restricted in the high country, so check out the current requirements at the planning stage.
See what the commentary on Tripadvisor is on possible places to stay – although do take their reviews with a pinch of salt, as they can be "interested".
A good range of hotels can be found on the unimaginatively but effectively named Hotels.com.
If you're on a budget, Hostelbookers usually has a good selection of cheaper-end accommodation; or perhaps try for some bargain luxury on Lastminute.com.
Expedition organisers will usually organize accommodation, some from their own houses or hotels.
Other information and tips
Text here
Useful websites and information
There are many websites with relevant information. Here are some that we think are useful or have been recommended to us.
Other things to do in the area
Endless!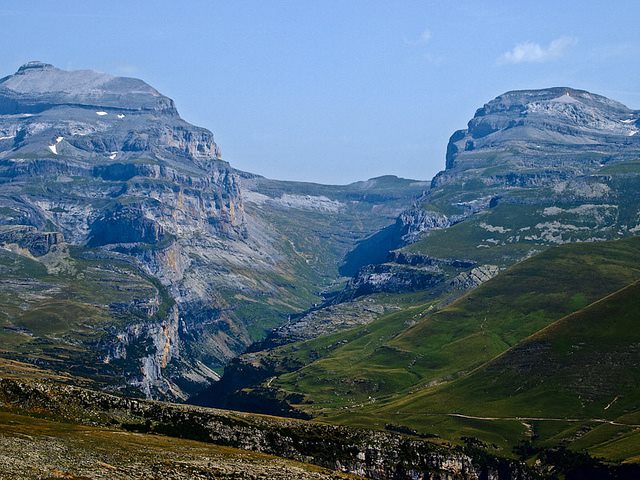 OTHER ACCOUNTS
share your experiences
Top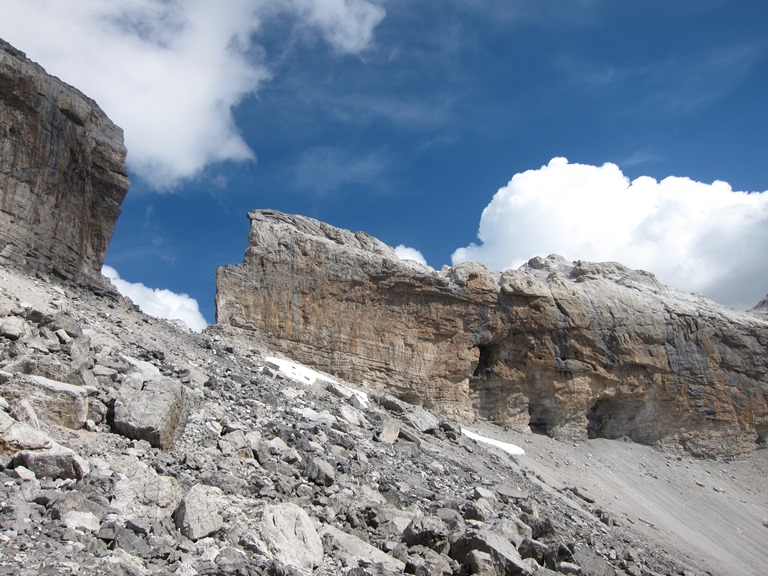 Top
Responsible travel matters, a lot. How you travel will make a real difference - for better or worse. PLEASE consider this when making plans. Read more