Grand Canyon
Key information: Grand Canyon
Outstanding hikes down into the world's most famous canyon, or along its rim.

Revel in huge views across the vast canyon; enjoy the changing colours and fantastic shapes of the cliffs, buttes and spires.

Enter another world with wildly varying ecosystems as you plunge deeper into the gorge
Walkopedia rating
Walkopedia rating93
Beauty

34

Natural interest

20

Human interest

2

Charisma

38

Negative points

1

Total rating

93

Note: Neg: popularity
Vital Statistics
Length:

Variable

Kaibab Trail is 35km / 3 days

Maximum Altitude:

2,510m (Kaibab Trail)

Level of Difficulty:

Variable
Top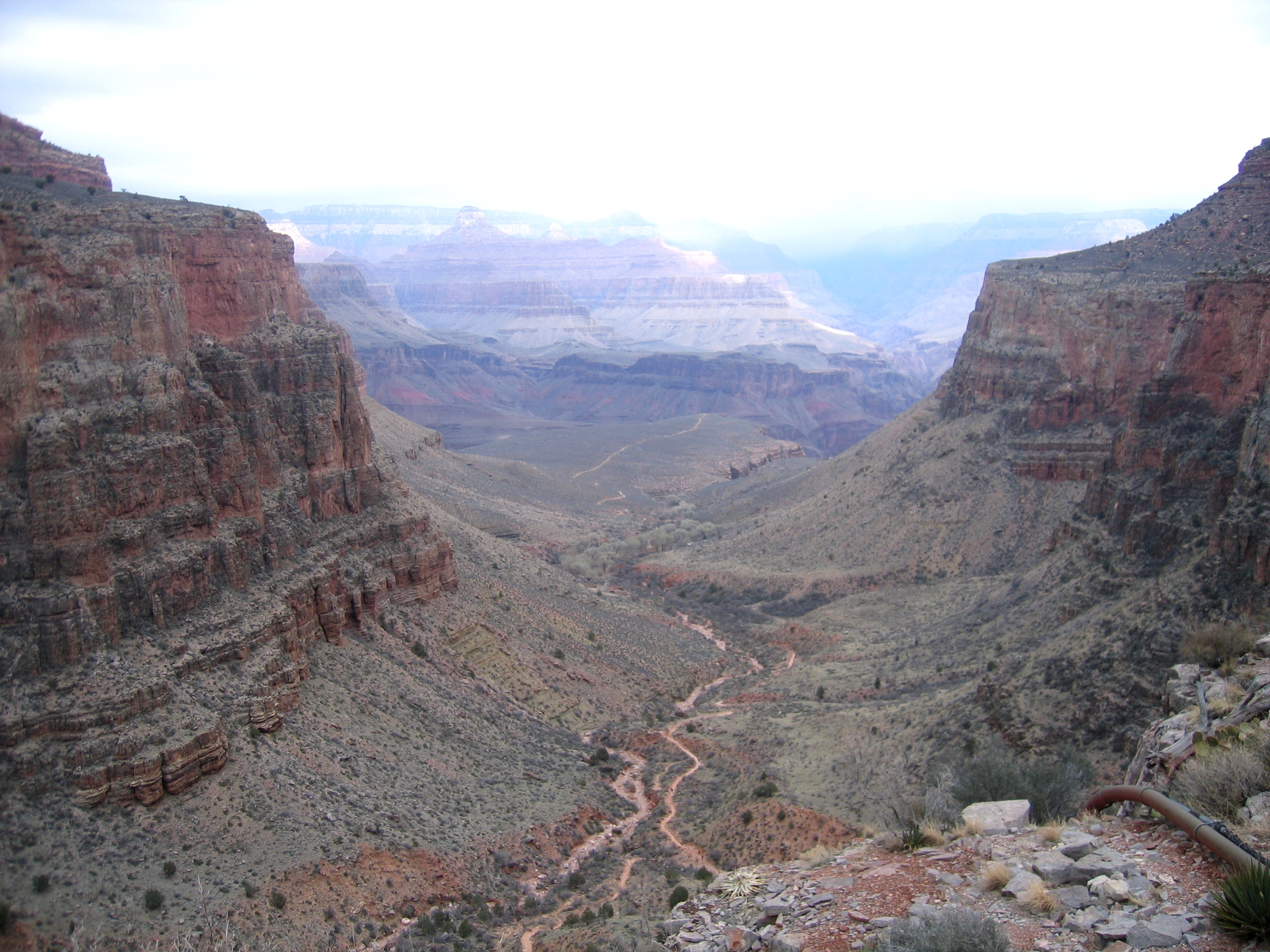 WALK SUMMARY
The Grand Canyon National Park is one of the Seven Natural Wonders of the World, a World Heritage Site, and geological heaven. It is hard to overpraise the canyon's raw, majestic beauty and glamour, or the awe that it inspires. Its varied colours and outlandish shapes and formations are they are justly famous.
The sheer size of the Grand Canyon is astounding. Up to 1,830m (well over a mile) deep, 450 km long and up to 25 km wide, it is the canyon against which all others are measured. There are many different ways to explore the Canyon: tough trails that cross its entire width, day hikes into the vast cauldron, or walks which savour the outstanding views from its rim.
The Canyon abounds in natural wonders: nearly 2 billion years of geology are revealed in its cliffs (although, amazingly, it took a mere six million years to excavate it), and you move quickly between different layers of history (young sandstone at the top, ancient granite near the river) and between hugely varied ecosystems, from the temperate pine forests of the rim to the stark desert of the floor.
There are areas of greenery such as the overpopular Indian Garden and the Havasu Canyon, where streams converge to produce rich and vivid vegetation. Layers of harder rocks alternate with soft, resulting in vast cliffs and majestic buttresses above flatter terraces, the best known and most useful being the Tonto Platform.
You will see birds of prey soaring on the Canyons thermals. Dangers and pests include rattlesnakes and scorpions. Beware.
The Canyon contains various intriguing archaeological sites, including rock paintings and the detritus of old civilizations, indication that even this most inhospitable of places has long been lived in.The Nasa people were here from the sixth to 13th centuries, other tribes from the 15th, one tribe now occupying the remote and lovely Havasu Canyon. (The trail in is native managed, and a permit is needed to get there.)
The Canyon gets more than 5 million visitors a year, so its rim - and the main trails - can get crowded. Getting away requires effort, and planning. A wonderful way to appreciate both its immense size and beauty is to walk across the Canyon, or at least deep into it. A hike deep into its bowels will, though, test both your physical and mental fortitude with its extreme heat, steep climbs and tough trekking. You can still savour the views from its rim walks, although you will not be alone.
The best known cross-Canyon route is the South / North Kaibab Trails. These, along with the Bright Angel Trail which later joins the Kaibab Trail, are called the corridor trails, and are the recommended routes for first-timers as they are well maintained and even patrolled. Another option, which gets you to the deep campgrounds but returns to the South Rim, is to descend the South Kaibab Trail and then come back on the Bright Angel Trail. See our Kaibab and Bright Angel Trails page.
Experienced walkers should be able to use less-frequented trails, such as the Hermit to Bright Angel Loop or the Grandview Trail, even if it's their first time. There are many other trails into the Canyon. The Tonto Trail and Escalante Trail, which wind along the Canyon's southern side, offer useful links for many of these trails, enabling circuits and all sorts of combinations to be made involving, for instance, descents on one path, overnighting in the canyon, and returning by another path. For proper canyon wilderness, check out the Thunder River / Deer Creek Trail.
Kaibab Crossing
Day 1

- 7.5miles - Yaki Point to Bright Angel Campground

Day 2

- 7.5miles - Bright Angel Campground to Cottonwood Campground

Day 3

- 7 miles - Cottonwood Campground to North Kaibab Trailhead
Beginning at the south rim trailhead at Yaki Point near Grand Canyon Village, the South Kaibab Trail makes a quick descent, tumbling along for seven miles down through nine layers of the Canyon. Unlike most trails down, which follow side canyons, the South Kaibab Trail sticks to ridgetops, so you get huge views much of the way down. Across the sloping Tonto Platform, the scene of the eponymous lateral trail, you drop steeply to the river. The first night will be spent at the Bright Angel Campground on the north side of the Colorado River.
The following day is a 12km (7.5mile) hike up the North Kaibab Trail along the Bright Angel Creek.
The third day starts gently then becomes, after Roaring Springs, a tough switchback haul to the North Rim.
A popular alternative is to either turn onto the Tonto Trail and then onto the Bright Angel Trail for a long day's walking back to the South Rim. This can also be done after a night at the bottom, reascending to the South Rim on the Bright Angel Trail which is a longer (and less steep) route than the South Kaibab, so an easier ascent.
If you get a chance, the Havasu Canyon is outstandingly beautiful, and remote. Waterfalls, bright blue mineral pools, greenery.You can camp down by the Colorado, or walk the Havasu Trail as a day trip.
Day walks
There are plenty of fabulous routes (mostly from the South Rim) for those without the time or inclination to sleep down-inside. Consider:
The Bright Angel Trail

: A wonderful name but is very crowded because it starts from Grand Canyon Village, tumbling seven miles to the Colorado River. Some say this is the best day hike for newcomers to the Canyon (bear in mind that this is a very long day if you're returning the same way).

South Kaibab Trail

: Best as a descent because of lack of shade.

The Hermit Trail: from Hermit's Rest (shuttle bus available)

: The Hermit Trail is tough, demanding even for experienced canyon walkers. Originally built by horsethieves, there are major obstacles and descents, and hair-raising drops. The path is not officially maintained by the park rangers, and is at the mercy of natural and manmade erosion. The trail descends into the canyon steeply, past the usual wondrous and weird formations, before meeting the Tonto Trail about six miles in; a few miles further is the Hermit Trail campsite. Stick with the trail right up to its stunning finale - the hermit Rapids on the Colorado River - and then return to and along the

Tonto Trail

to pick your route back up to the rim.

Grandview Trail: from Grandview Point parking area

: The Grandview Trail opens with a quick descent - some switchbacks - through Kaibab Limestone and the Toroweap Formation, generally following the ridge marking the fault in the Coconino Sandstone. Thereafter, a turn to the north means a further descent, this time through the Hermit Shale and Supai Group until it reaches Horseshoe Mesa. You've just descended 2,500 feet in around 3miles - phew! After the Last Chance Mine, a steep spur track leads down through the Redwall Limestone break, heading east past Miners Spring to its rendezvous with the Tonto Trail just over 4miles later, and then to Hance Canyon. Back to and following the Tonto Trail you can pick up a western spur of the Grandview Trail, following Cottonwood Creek up to an alternative break in the Redwall Limestone, making a loop back to the Horseshoe Mesa camp.

The Boucher Trail: access to the South Rim via Hermit & Dripping Springs Trails

: The Boucher Trail is tough, with gradients exceeding 25% in places. However, it is less travelled than many, and dips down into the same stunning scenery and geology as its more famous sister trails. Some of its more dramatic features include, after just a few miles, contouring around beneath Yuma Point; a steep descent through the Supai Group to the head of Travertine Canyon; the climb east out of Travertine Canyon to the Whites Butte saddle; the natural fissure in the Redwall Limestone that leads to its junction with the Tonto Trail and platform; and the narrow Boucher Creek itself that splits off and down to the Colorado River at the trail's terminus. Return to the

Tonto Trail

to choose an alternative trail back to the rim.
Cicerone recommends a long day down the South Kaibab Trail, turning onto the Tonto Trail, which meanders for miles along the southern side of the Canyon, then returning to the rim on the

Bright

Angel

Trail

.

North Kaibab

Trail

from the North Rim.
Note that many of these will make very long and tough days if tackled in their fullest extent, so be realistic about your capabilities. Many of these trails can be linked by the Tonto Trail to make marvellous if long day circuits.
Hiking on the South Rim is limited (which is very tedious) to the Rim Trail and the Shoshone Point Trail. The views are wonderful, though, and may be worth the 10km stretch of dirt path between Maricopa Point and Hermits Rest, which is said to feel more like a genuine hike than other sections. Things are more relaxed on the North Rim - eg. the Widforss and Cape Final trails.
The Cicerone guide has good information on all these walks.
Public domain image from http://www.nps.gov/grca/grandcanyon/maps/. See http://www.nps.gov/disclaimer.htm ("Information presented on this website, unless otherwise indicated, is considered in the public domain.") for license information.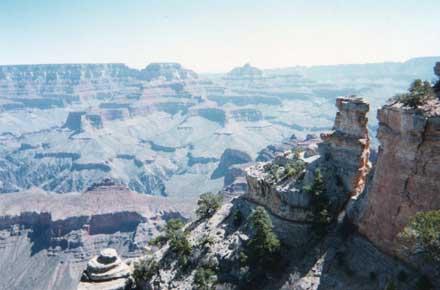 See also expedition planning, including our universal expedition checklist. Walkopedia encourages responsible travel.
Books and Maps
Books on this walk
The Grand Canyon – Cicerone: excellent, as usual. Unlike most Cicerones, which deliberately restrict their focus to closely walk-related matters, this covers all the practical information you would get in a general guidebook.
Hiking in the Grand Canyon

- John Annerino

Hiking the Grand Canyon National Park

- Ron Adkison

Official Guide to Hiking the Grand Canyon

- Scott Thybony

Hiking in the USA

- Lonely Planet

Grand Canyon Treks: 12,000 Miles

- Harvey Bouchart

Day Hikes from the River: A Guide to 100 Hikes from Camps on the Colorado River in Grand Canyon National Park

- Tom Martin
Chapters in Trekking Atlas of the World – Ed. Jack Jackson; Trek! The Best Trekking in the World – Claes Grundsten; Classic Hikes of the World – Peter Potterfield; and Classic Treks(ed. Bill Birkett) for ideas.
Other books
A Field Guide to the Grand Canyon

- Stephen Whitney

Over the Edge: Death in Grand Canyon

- Myers and Ghiglieri

Hiking the Grand Canyon's Geology

- Terri Cook and Lon Abbot

Beneath the Rim: A Photographic Journey through the Grand Canyon

- C.C. Lockwood

The Photographer's Guide to the Grand Canyon

- John Annerino
Maps
Good maps can be bought locally, easily. Stanfords: www.stanfords.co.ukare a good online specialist source of worldwide.
Best times to walk/weather
Best times to walk
March-May (but weather can be inconsistent). Generally cold until late April.
September-October- best times.
Winter is very cold, and it can snow on the rim. Winter weather can lead to road closures, limiting access to some trailheads. Summer is too hot, and crowded.
Weather
Whilst the summer is extremely hot inside the canyon, the winter can be appealing for visitors who are happy with cold and shorter days, although icy conditions near the rim can make a winter expedition perilous. Temperatures can take visitors by surprise, as temperatures in the canyon are often a lot hotter than at the rim.
For detailed weather information, have a look at: www.worldweather.org or www.bbc.co.uk/weather/world/country-guides.
Getting there/transport/permits/fees
AIRPORTS:Grand Canyon airport is 7 miles (11.5km) from Grand CanyonVillage. There are flights to/from Flagstaff, Phoenix and Las Vegas.
TRANSPORT:There are regular buses from Flagstaff to Grand CanyonVillage. A shuttle bus runs every 15 minutes from Grand Canyon to Yaki Point. A daily shuttle bus also runs between south rim and the north rim (closed November to late Spring), an important facility for those wanting to cross the Canyon.
This being the USA, almost all visitors arrive by car. There is little other relevant public transport.
A vehicle-based park fee is payable. If you are travelling widely, think of getting a National Park pass.
With its grotesque visitor numbers, the South Rim's roads and car parks are under strain. Some roads and car parks are becoming prohibited to private cars. Shuttle bus services are growing. Check the latest position when planning an expedition.
Those on organised expeditions are likely to be transported from/to arranged start/departure points.
OVERNIGHT BACKCOUNTRY PERMITS are required for all camping within the Grand Canyon (but not if staying at Phantom Lodge). There are a limited number of permits, so applications should be made several months in advance.For details, check the guidebooks and also (in case of changing rules) contact the Backcountry Information Centre – see www.nps.gov.grca. There is a permit fee.
A permit (call ahead) is needed to walk the trail from the remote Supai village into the HavasuCanyon.
Route(s)
There are a huge number of routes. See the Walk Summary, above.
Possible problems, health, other warnings
Variable temperatures

often broiling, but it can get cold. Come prepared for the time of year – and the unexpected.

Heat

and strong sun. Carry enough water (and plan for water supplies in an emergency) and protect yourself.

Heights:

dangerous! Not for those who have difficulties with heights.

Dangerous animals

, including mountain lions and coyotes, snakes, scorpions, stinging/biting ants and other insects and stinging or sharp plants. Take all appropriate precautions. Check before sitting on or moving rocks and logs.

Mice

and other rodents can gnaw through your bags. Hang packs with food up – or store them in metal boxes if provided.

Canyon dangers:

canyons can be lethal, particularly as a result of

flash floods

. Assess and prepare for all risks on those walks involving canyon beds. Main risk season is July – beginning of September.

This is remote country:

you will have to carry all your food and other supplies, and help may be hard to get if things go wrong.
See also the websites in our useful links page for more detailed, and up-to-date, information.
Safety and problems: All walks have inherent risks and problems can arise on any walk. Many of the walks featured on this website involve significant risks and possible problems. This website cannot, does not purport to, identify all actual or potential risks, dangers and problems that may relate to a walk or a country. Any person who is considering undertaking this walk should do careful research and make their own assessment of the risks, dangers and possible problems involved. They should also go to "Important information" for further important information.
Make sure you have appropriate insurance.
Guided or independent?
Independent
The great majority hike the Grand Canyon independently.
Guided/supported
Some people form or join organised/supported expeditions. They can be the only option if you want to stay near or in the Canyon but haven't booked months ahead. Travelling here with a knowledgeable guide has real advantages. Expedition organisers include:
Accommodation
Grand CanyonVillage and Tusayan to the south have lodges, hotels, stores, and a campground.
At the bottom of the Canyon, Phantom Ranch has cabins and dormitory accommodation, and a campground; meals can be provided if booked in advance.
The north rim has limited lodges, cabins and camping. Famous Grand Canyon Lodge is one.
Camping is generally the only realistic option once in the canyon, save for Phantom Ranch. Other campgrounds are at Bright Angel, Indian Ranch and Cottonwood.
The guidebooks have a selection of possible accommodation.
Hostelbookersusually has a good selection of cheaper-end accommodation.
Important: accommodation can need to be booked months in advance (it is said a year for Phantom and Grand Canyon Lodge), so plan ahead. Even campsites require reservations. Bookings should be made through Xanterra Parks and Resorts (885) 297 2757, who manage the National Park.
Other information and tips
Fires are prohibited, so bring a stove and think about light foods.
Water will be essential: plan carefully. Lots of people cache water en route, to pick up on their return journey and save haulage. Make sure your water is marked, dated, and well hidden (plus out of the sun). Relying entirely on this is inadvisable.
Useful websites and information
There are many websites with relevant information. Here are some that we think are useful or have been recommended to us.
Other things to do in the area
Other walks
The Cicerone book has a multitude of ideas for the Grand Canyon area.
Other 'great' walks within striking distance include Zion, Bryce Canyon, Canyon de Chelly and Monument Valley walks.
The USA has a huge variety of great walks. There is likely to be a good walk within range wherever you may be going.
Other activities
Aside from casual sightseeing from the south rim, plane and helicopter viewing and whitewater rafting, 'river running', are deservedly popular.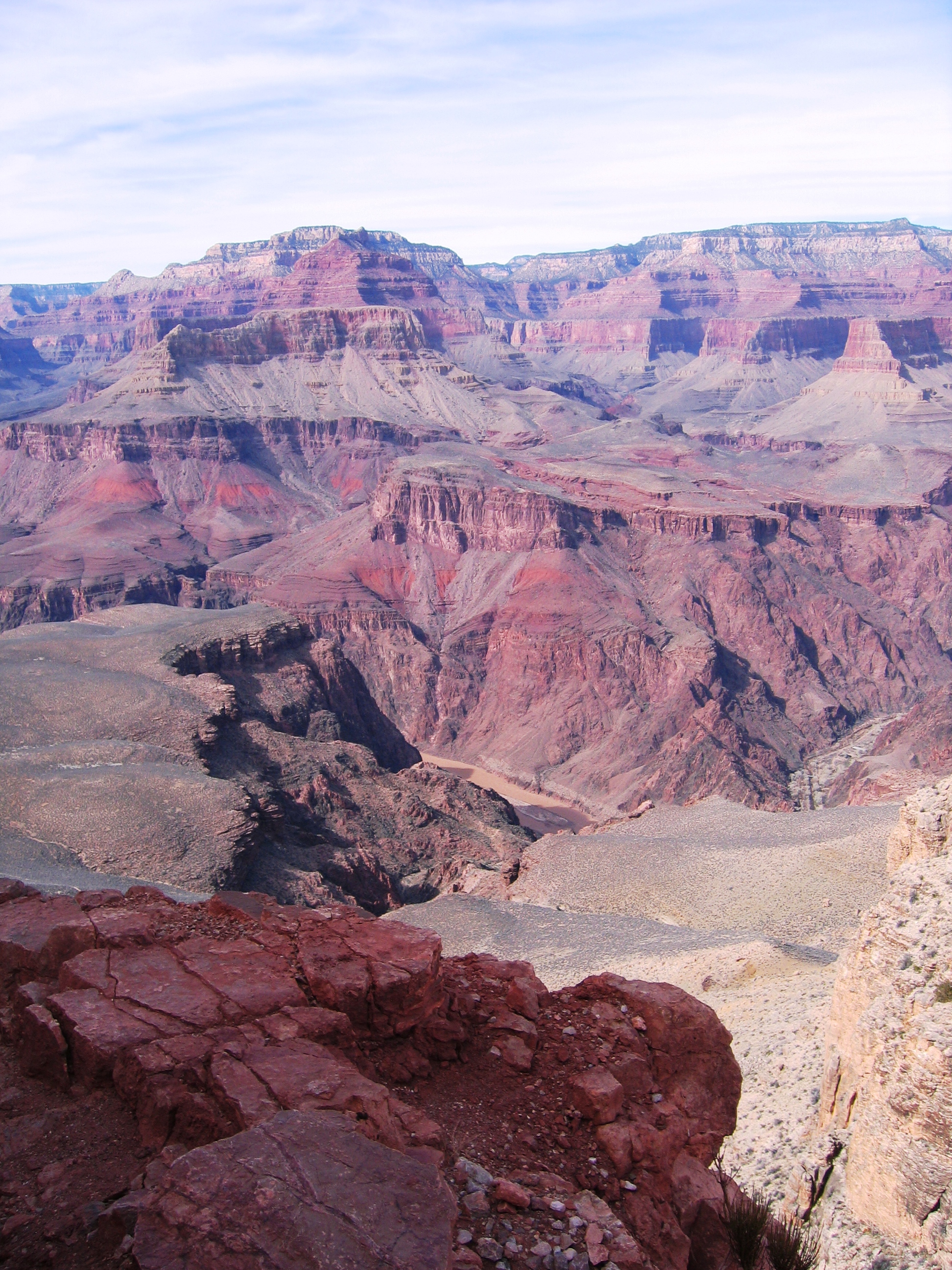 OTHER ACCOUNTS
share your experiences
Top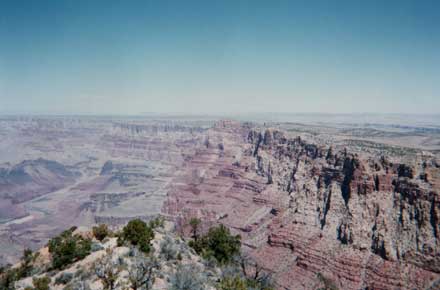 Top
Responsible travel matters, a lot. How you travel will make a real difference - for better or worse. PLEASE consider this when making plans. Read more